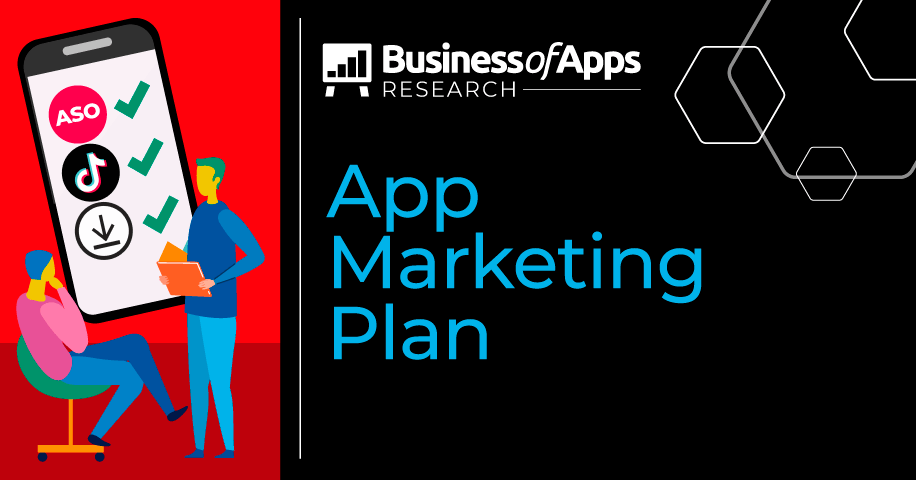 It's been proven time and again, one of the very basic requirements for a mobile app marketing campaign to succeed is that it needs a decent plan. Regardless of a mobile app project size, to go into a market full of competitors and build a sustainable business, you, as an app marketer, need to have a clear actionable plan on how to market the app. This is a crucial component of any app marketing strategy.
To save you time, effort and money, we've put together the following robust app marketing plan, you may customize it for your needs but the bulk of it is applicable to the majority of apps. Over time, as new app marketing channels will be popping up, you'll need to consider them to promote your app but again – you'll be having a foundation to build your plan with.
Research
Identify Target Audience
The gold rule of marketing is "Know Your Customers" and it's even more true for mobile app marketing because a vast number of people that app marketer needs to approach with the app and know what language to use to talk to them. So the first step of a mobile app marketing plan should always be identifying its target audience. Before a single line of code or any graphic for the app is drawn, the app marketing team needs to get a good grasp on what people the app to build for. And it leads us to the next item on our app marketing plan – coming up with a personas list.
Featured App Marketing Companies
Build Personas List
In a nutshell, when you're building a personas list you're answering the following questions:
Who are the app's users? Their gender, age, occupation, and other relevant information you can find to get a good picture of how are these people
What specific friction/pain point you're solving with your app for these people
What OS do they use – iOS, Android, or, perhaps, both
What content will appeal to them
On what social media you can reach them
Are they known to spend on in-app purchases or pay a subscription (meaning if you can figure out that they pay for one app subscription already, chances are they will pay your app subscription as well)
Assess Competitive Landscape
Today, it is absolutely fair to say that mobile apps cover performing all imaginable tasks that previously were the roam of a desktop computer and many more that didn't exist before the smartphone revolution of 2007. That is to say that when you work on your app to release on a market, it's almost given that there are existing apps that are more or less capable of doing for app users what your app can. For your app project to succeed in a market, you need to know who are your competitors, what features their apps have, what level of satisfaction those apps have, as well as what geographies they cover and how well and frequently those apps are funded. The way to beat your competition is to work harder with features that fail their app users, deliver a superb user experience and manage your funding well to win in a long race.
Now, that we've covered the Research phase of the plan, let's switch to the Pre-Launch App Promotion phase – the set of activities to take care of when the app is in development and yet to be released on the app stores.
Choose Monetization Strategy
Identifying what monetization model to choose for the app is essential to build a sustainable app business. The choice is to be made between the Freemium and Subscription models.
The Freemium one implies offering a basic version of the app for free and generating revenue via in-app purchases that unlock additional features, remove in-app ads, and more.
The Subscription model is based on charging app users' a monthly/annual fee to consume content via the app or use a service.
Both the Pre-Launch and Post-Launch phases of the plan consist of the number of items that imply a set-up process within the former and execution within the latter.
Pre-Launch
App Website
Throughout the lifecycle of a mobile app, a dedicated website is its information hub, the place where you can layout out all its features even better than you can do it on the app stores, establish two-way communication channels with your app users, and provide links on all social media accounts for the app. Unlike all other online presences for the app, its dedicated website provides the best place for branding, where you don't need to share it with any other brand, like with Apple on the App Store, Meta on Instagram, and so on. Such a website should be up and running before the app's launch on app stores.
Internal & Guest Blogging
Blogging, both internal and external, via guest blogging, is a powerful tool in the app marketing toolbox. Apart from the app itself, it's the second-best communication tool with the app's audience. By blogging regularly and keeping the app's audience up-to-date with what's going on with the app, you get an effective tool to combat mobile churn. Guest blogging is an excellent way to do thought leadership and draw people's attention to your app's brand.
Featured App Marketing Companies
PR
A public relations campaign should involve reaching out to multiple online publications to spread the word about the app's brand and increase the app's chances of being picked up by the top tier of tech publications and possibly by Apple and Google's app store editors' team.
Social Media Accounts
Along with a website and blog, social media presence is the third important marketing channel for a mobile app's brand. Instagram, Twitter, YouTube, and TikTok are four major social media platforms for your mobile app that needs a presence. People spend the bulk of their online time on these platforms and you need a presence to communicate with your potential and existing users.
Content Marketing Plan
The best marketing tool that helps to sell countless products and services around the globe is storytelling, which is the essence of content marketing. Your app's content marketing plan is essentially your strategy for applying it to your app's promotion. The plan should consist of a list of topics to cover on the app website's blog, a publishing schedule, a list of third-party publications to pitch and publish on guest posts, as well as a dedicated person on your team who will be responsible for implementing the plan.
Email Marketing Strategy
In the current digital marketing landscape, email is still a very efficient marketing channel and it is now even more fruitful than it used to be because social media marketing channels are cluttered, in contrast, email provides a better reach, especially for long-term communication with app users. To have a robust email marketing strategy, you need to have in place the following components – topics, email templates, schedule, mail server, and email list management system.
With topics, you may go beyond informing your app users about new versions of the app and introducing new features. Because every mobile app serves a specific function(s), it's always possible to go broader and put on the list of topics your email covers related ones. Email templates will be needed to automate the whole process and make it efficient, along with a schedule to reach your app's audience on a regular basis, which will improve retention. And, finally, MailChimp and ActiveCampaign are two established and time-proven mail servers to consider using for your app's email marketing strategy. Each of these provides extensive email list management capabilities to put to work.
Top Mobile App Marketing Companies:
App Store Optimization
ASO is one of the core app marketing techniques which helps to generate installs for a mobile app natively. According to various estimates, 65-70% of mobile app downloads are driven by the search on the app stores. An effective ASO for a mobile app implies keyword research, app marketing copy optimization, as well optimization of the app's screenshots and video preview. App Store Optimization also involves an ongoing effort to track the app's competitors ranking on the app stores, calculating such KPIs as Conversion Rate, Tap Through Rate, and more. To make the most of ASO, it's essential to perform keyword research and optimize an app's screenshots and video preview before the app is released on the app stores.
This item concludes the Pre-Launch stage that encapsulates all activities that either should be completed before the app's release or started at that time frame.
Next up is the Post-Launch stage which covers all app marketing techniques to perform once the app is released.
Post-Launch
Paid Ads
In conjunction with app marketing steps to drive native app traffic for free, paid mobile app advertising platforms should be factored into a robust app marketing plan. As effective as built-in search on the app stores is, on many occasions, it isn't capable to meet the needs of app marketers. When it's necessary to grow an app's user base predictably, launching a mobile app advertising campaign is the way to go. The leading paid ad platforms of today that form the top tier are Meta's Facebook Ads, TikTok Ads, Google Ads, and Twitter Ads. The second tier consists of ironSource, Vungle, AppLovin, and Unity.
Influencer Marketing
Because smartphone users spend most of their online time on social media, people who have become popular and influential on Instagram, YouTube, TikTok, Pinterest, and other platforms have become the key players in mobile app marketing. Running a well-managed Influencer marketing campaign via the right influencers can be a very efficient way to promote a mobile app and grow its user base. To launch an efficient influencer marketing campaign with multiple influencers you need an Influencer marketing company. Such a company will allow you to save time and money on a search for the right influencers for your app brand, manage compensations for influencers, and will let you keep your hand on the pulse of the campaign and be on top of any possible issue that may pop up.
Content Marketing
One of the best ways to popularize your app's brand, and reach out to new communities to grow your app's user base is Content marketing. It's a great tool to tell the story of your app's brand, demonstrate your expertise in the field, to engage with your app's potential users via interesting articles. To utilize content marketing with your app's promotion you would need a blog, as we mentioned earlier, also you can utilize an online publishing platform Medium, web recommendation platform Outbrain and social news aggregation platform Reddit.
Pitching to App Store & Google Play editors
Both leading mobile app stores – Apple's App Store and Google Play by Google have a featured section with apps that were chosen by their editor teams. Thanks to a very prominent location on the app stores, as well as the stamp of approval, given by the editors' team, the apps, listed in these sections, get a significantly great number of downloads. There are app marketing agencies that may give you a piece of advice on how to be featured but, at the end of the day, it is always your job, as an app marketer, to come up with the right pitch, be creative and persuasive.
Tracking & Testing & KPIs
In a long run, any app project is as successful as efficient an app analytics system that you use for the app. It allows app marketers to track an app's performance on app stores, monitor how stable the app is, and have a complete and comprehensive picture of how the app users use the app. There are several leading app analytics companies you need to keep on your radar, such as App Annie, AppsFlyer, SensorTower, Apptopia, and Singular.
Retention
Regardless of an app's project size, retention is guaranteed to be on your mobile app marketing agenda. To be financially sustainable apps need a big user base, prices for the app's copies are low and to make a viable app business you need to grow your app's user base and what is more important retain your app users.
There are multiple marketing channels that help with app users' retention and some of these are presented below.
In-App Messaging
An in-App message is a message you can send to your app users inside the app, with these messages you can engage with your app users at the right moment and location. This is how you can help people who use your app with the right piece of information provided via a personalized message and build healthy relationships with them.  Companies that provide in-app messaging services are Braze, Firebase, Intercom, Airship, Leanplum.
Push Notifications
Another messaging tool to help you with app user retention is Push notifications. It's one of the most effective app marketing tools to help you re-engage users who have abandoned your app, and keep your app users up-to-date with updates about the app or any product or service the app is meant to be a sales channel for. The market-leading Push notifications sending service providers are Airship, MoEngage, Braze,
Users Feedback
Two-way communication with your app users is what powers your efforts to improve the app and deliver a better experience for your app users. To avoid a negative effect caused by either too frequent or two rare requests to provide feedback from your app users, you need to identify a proper pace.
Referral Program
A referral is one of the oldest marketing channels that helps you to grow your app user base and increase sales. With a help of a referral program, you can let your app users share via their friends, family, colleagues, and so on.
Final Thoughts
An effective app marketing plan allows to minimize app marketing costs and implies all above mentioned major parts such as Research, Pre-Launch, Post-Launch, and Retention. Some of the components we've listed inside these parts may be altered, removed, or replaced to meet the demands of a specific mobile app project. Using this plan, you can assess the required funding to market your app efficiently. And of course, you need to remember that any plan is as good as its execution.