Enterprise apps are built for speed and scale and help large organizations engage with customers and partners. These apps are becoming more popular over time, but they require expert level development to get right. Despite this, 66% of organizations are expected to increase their investment in this area in the next three years.
Like any industry, building and developing enterprise apps requires several must-have features. These apps need to be able to have seamless integration with business systems, feature real-time updates, and require a high level of security. A good result here is effective and efficient communication between departments and an application that employees enjoy using for their work.
Enterprise app developer example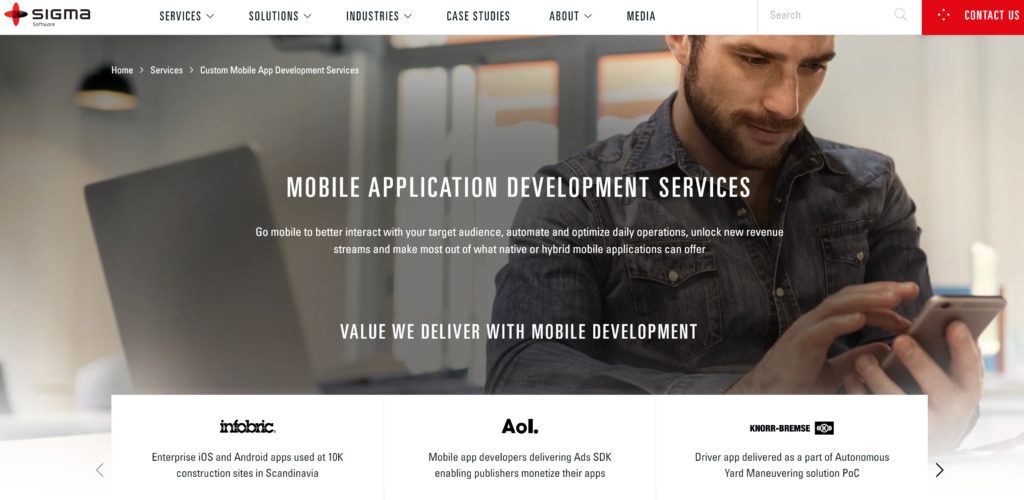 Source: Sigma
Why have an enterprise app?
The most critical reasons for having an enterprise app are the following:
Organizations can save time and money
These apps will provide access to important information securely
They can improve workflow and overall efficiency
It can solve problems and make jobs easier
Complex business processes can be streamlined
There are a number of app development companies who take on enterprise app development projects and have app developers with experience specifically catered to these apps. Here we've put together for you a list of the best.


Engineering Your Vision
10
(1 vote)
(1) REVIEWS

| Founded | Employees | Revenues | Social | Traffic |
| --- | --- | --- | --- | --- |
| 2007 | 300+ | - | - | - |
...a Top App and Software Developer in 5 categories by Clutch in 2020 Ranked a Top App Developer in Enterprise and Retail categories by Clutch in 2019 Recognized as a "Global Leader" in software....
Intellectsoft is a digital transformation consultancy that provides cutting-edge engineering solutions for global organizations. Each day companies ranging from startups to the world's most recognizable brands, including Universal Pictures, Jaguar Motors, Qualcomm, Ernst & Young, Clinique, Bombardier, London Stock Exchange, Harley-Davidson leverage Intellectsoft's creative solutions and mobile development services to enhance their products and maximize KPIs.
Platforms: Android, iOS, HTML5
Sector Focus: Construction, Healthcare, Insurance, Fintech, Logistics & Automotive, Travel & Hospitality, Retail & Ecommerce, Sports & Teams, Musicians & Bands.
US Office: 721 Colorado Avenue, Suite 101 Palo Alto, CA USA 94303
Learn more about Intellectsoft