This guide will cover gaming influencer marketing agencies, what they do, their benefits, and why they're essential for your app strategy.
Gaming influencer marketing is where you use popular gaming personalities to promote a product (or service). These influencers have a large following that trusts their opinions and recommendations, making them an effective marketing tool for companies, particularly those in the gaming industry.
By partnering with these influencers, brands can tap into their audience and increase their brand awareness, drive sales, and build up their brand loyalty.
Gaming influencer marketing agencies themselves are the online platforms that connect you with these gaming influencers.
Finding the best gaming influencer marketing agencies can be tough, however; that's why we've listed the best of them for you below.
What is gaming influencer marketing?
Gaming influencer marketing is a type of marketing that involves cooperating with well-known gaming personalities who can promote brand products and services to specific target audiences.
By using the power of gaming influencer marketing, businesses can connect with audiences more authentically.
Gaming influencer marketing agency example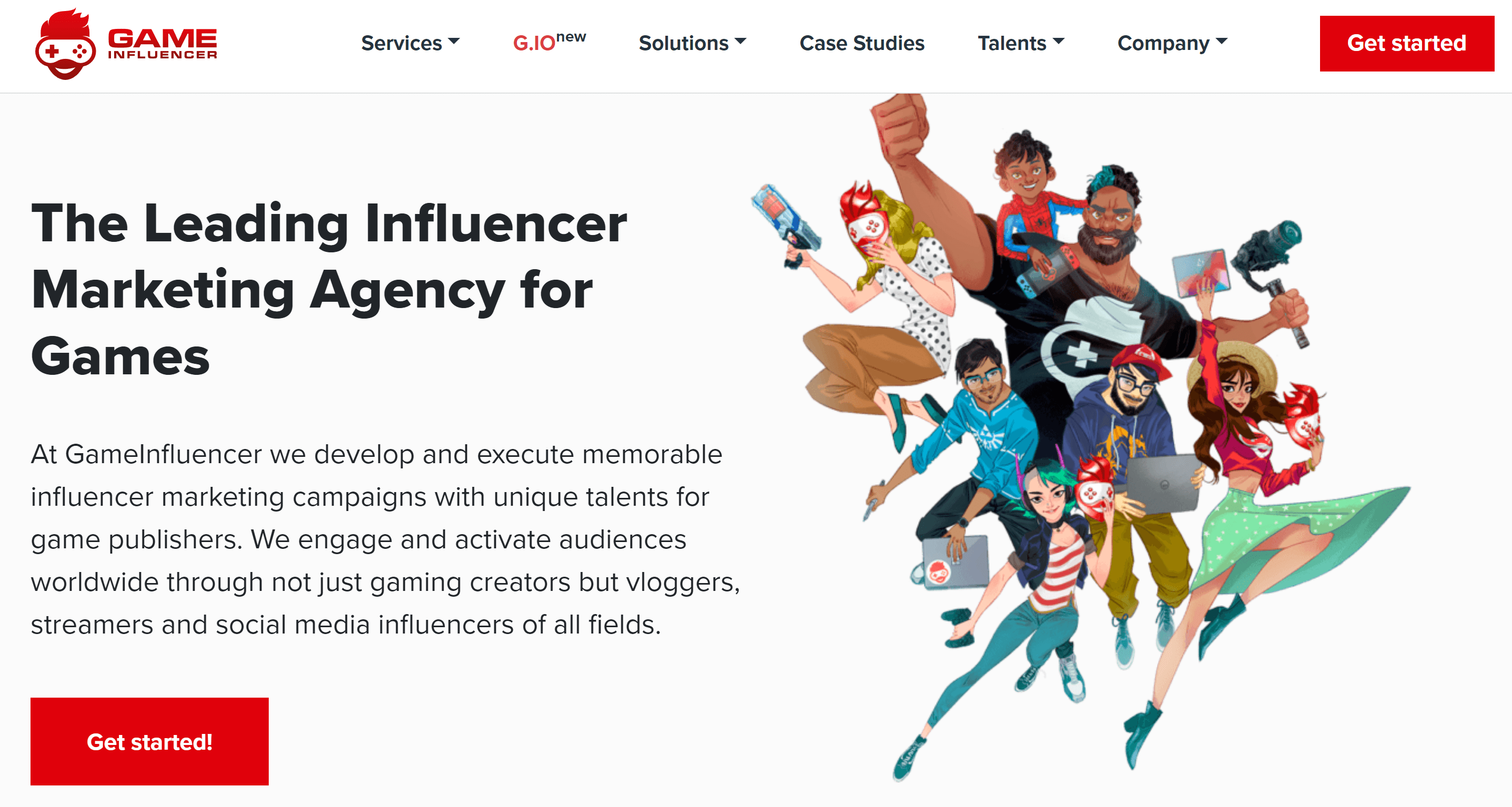 Source: GameInfluencer
Gaming influencer marketing is becoming increasingly standard as more people turn to social media (and other online streaming channels) for the latest gaming products and services.
For example, on YouTube, the number of views on videos has doubled, and the social network records over 100 billion hours of views on gaming videos alone, 10% of which are from live streams.
What do gaming influencers do?
Gaming influencers use their popularity and vast influence to promote new gaming products, services, and accessories. This marketing tactic can help businesses to increase their sales, create awareness, and boost their brand perception by connecting with audiences in fresh and exciting ways.
The duties of gaming influencers include the following:
Promoting gaming products and accessories through videos
Being honest and transparent about partnerships with companies
Attending new and upcoming sponsor events
Participating in online advertising campaigns
Playing and reviewing new games and products on their channels
Mega gaming influencers will have huge audiences but typically lower engagement rates and require a substantial marketing budget.
Why is gaming influencer marketing important?
Gaming influencer marketing is important because it helps businesses increase their sales and mobile app installs, creates awareness, and improves brand perception by connecting with your target audience.
Via the popularity and influence of gaming influencers, brands can reach a broader audience and establish credibility (and trust) with customers.
Gaming influencer marketing agency example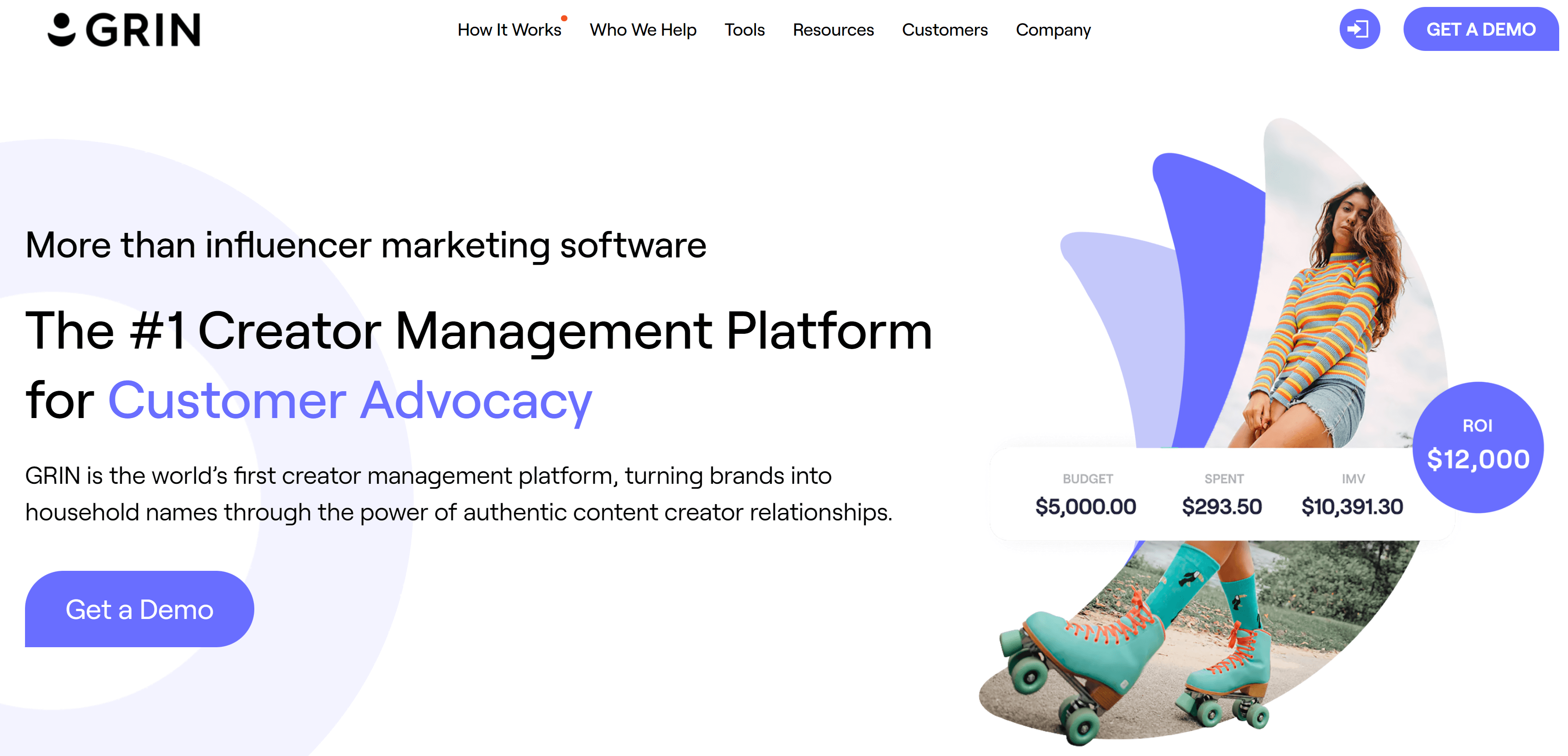 Source: GRIN
Keep in mind the estimated value of the video game industry is now over $300 billion in revenue and is bigger than the film and music markets combined.
By using a gaming influencer, companies can create new and compelling marketing campaigns that help to drive conversions and app installs.
How do gaming influencer marketing agencies help your mobile app?
Gaming influencers allow you to reach a target audience and help to increase your mobile app's visibility. You'll be able to establish credibility for your app, increase your user loyalty, app downloads, sales, and brand awareness.
In short: gaming influencers are able to support you in promoting new products (and gaming accessories), and marketing agencies make it happen.
Gaming influencer marketing agency example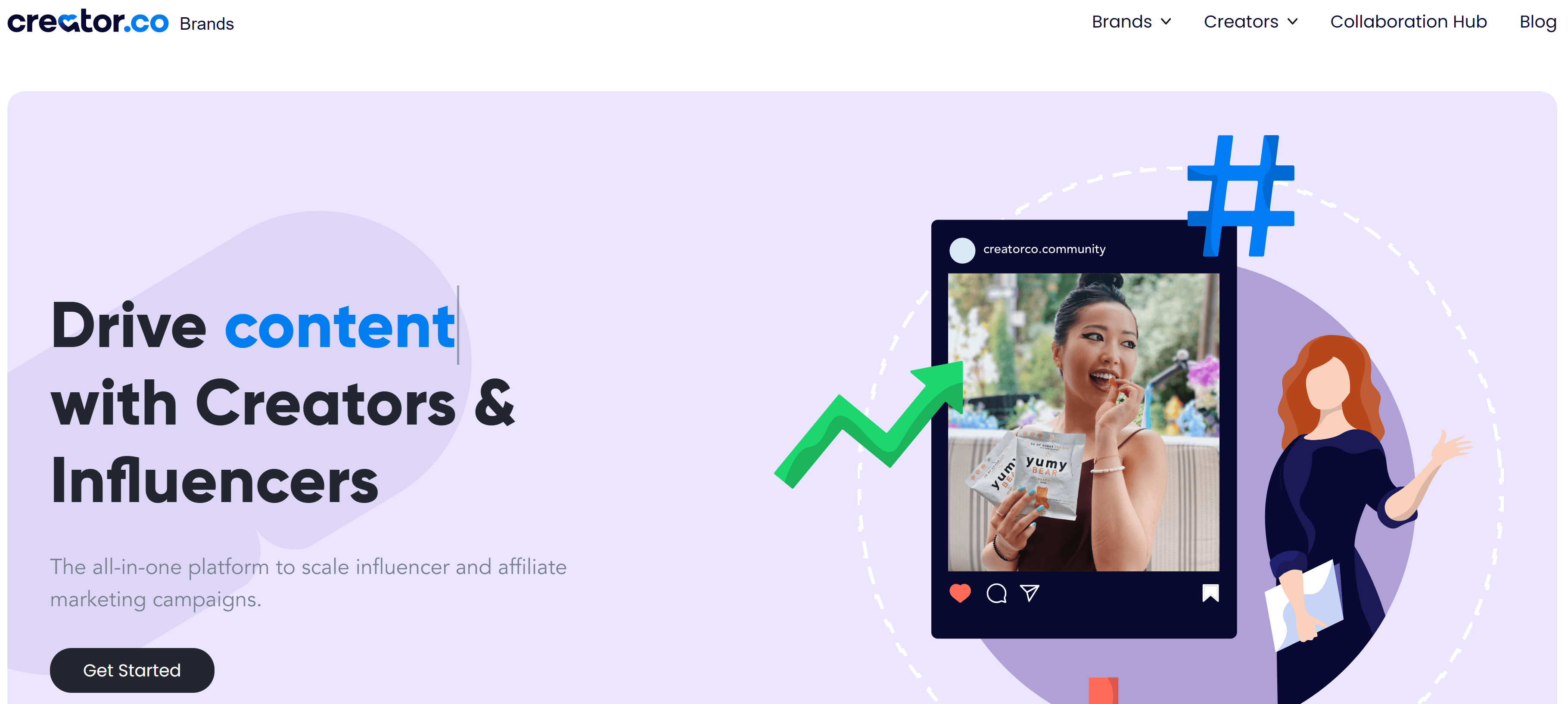 Source: Creator.co
It's important to work with gaming agencies that prioritize transparency and ensure that their influencers promote your app in a way that aligns with your brand values.
We'll take a look at some of the key benefits of gaming influencer marketing agencies in the next section.
What are the benefits of gaming influencer marketing companies?
Gaming influencer marketing agencies allow you to promote your products and services to an expanded audience. By working with gaming influencer marketing agencies, brands can identify and collaborate with the best influencers out there.
Below, we've detailed the other key benefits.
Reach target audiences
Working with gaming marketing agencies is a savvy move if you want to reach new users. Gaming agencies have relationships with a variety of different gaming influencers that help you connect with target audiences as well as lend their advice and expertise to proceedings.
Using gaming influencer agencies enables you to create content that drives users to take action, such as installing your app.
Gaming influencer marketing agency example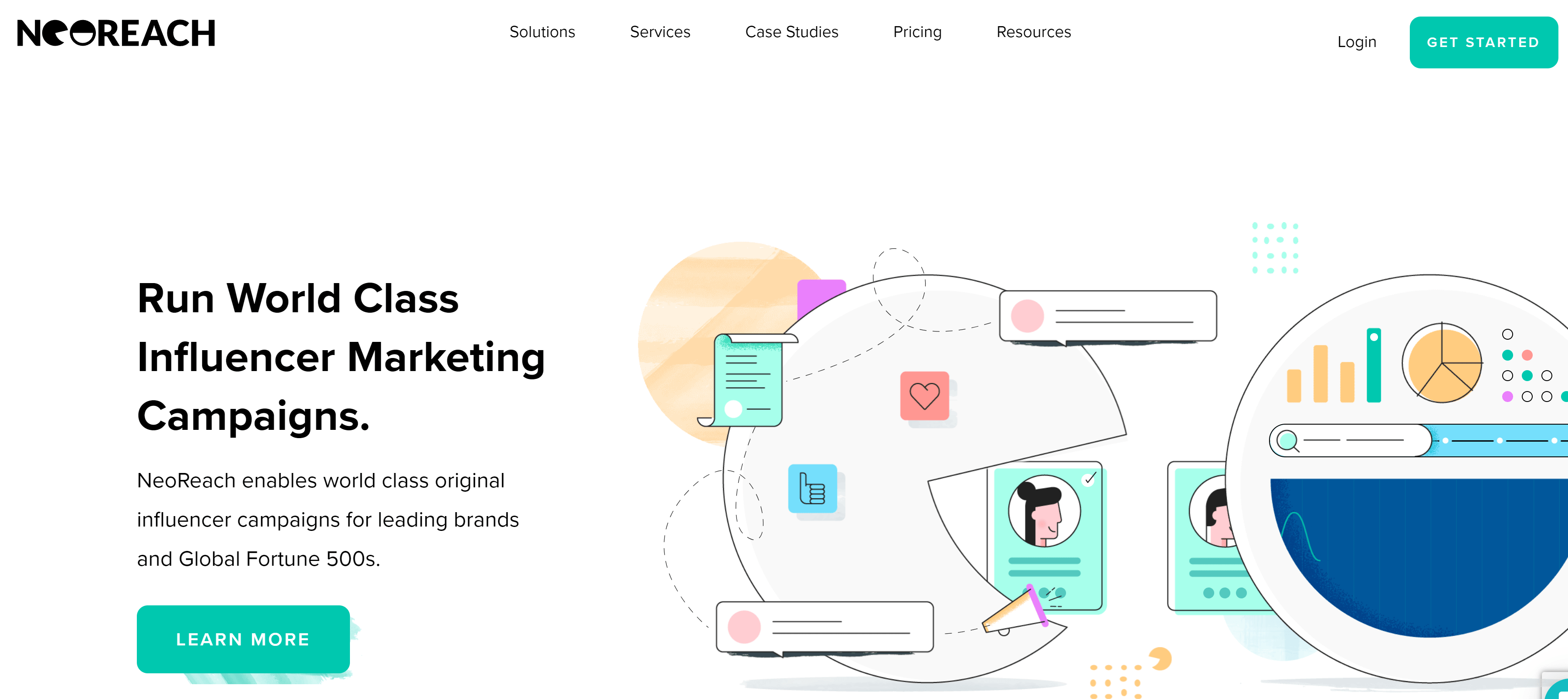 Source: NeoReach
Re-establish trust with users
Gaming influencers typically have long-term relationships with their fans. They develop these relationships over many years, and audiences remain faithful and enthusiastic for new gaming videos, whether they're simply reviews of games or unique accessories.
By collaborating with a well-respected gaming influencer, you'll gain attention from this audience.
Renew interest in your company
Gaming influencer marketing renews interest and boosts the appeal of your brand, especially if you've been losing out to larger companies for some time.
You can use gaming influencers to bring in new and excited users that energize the entirety of your brand and its reach.
Top Influencer Marketing Platforms and Agencies
Examples of a top gaming influencer marketing agency
The top gaming influencer marketing agencies have a verified record of creating new partnerships and helping you to develop a custom strategy that aligns with your app's goals. Whether you're looking to drive downloads or increase brand awareness, working with a gaming marketing agency can be a solid investment.
Gaming influencer marketing agency example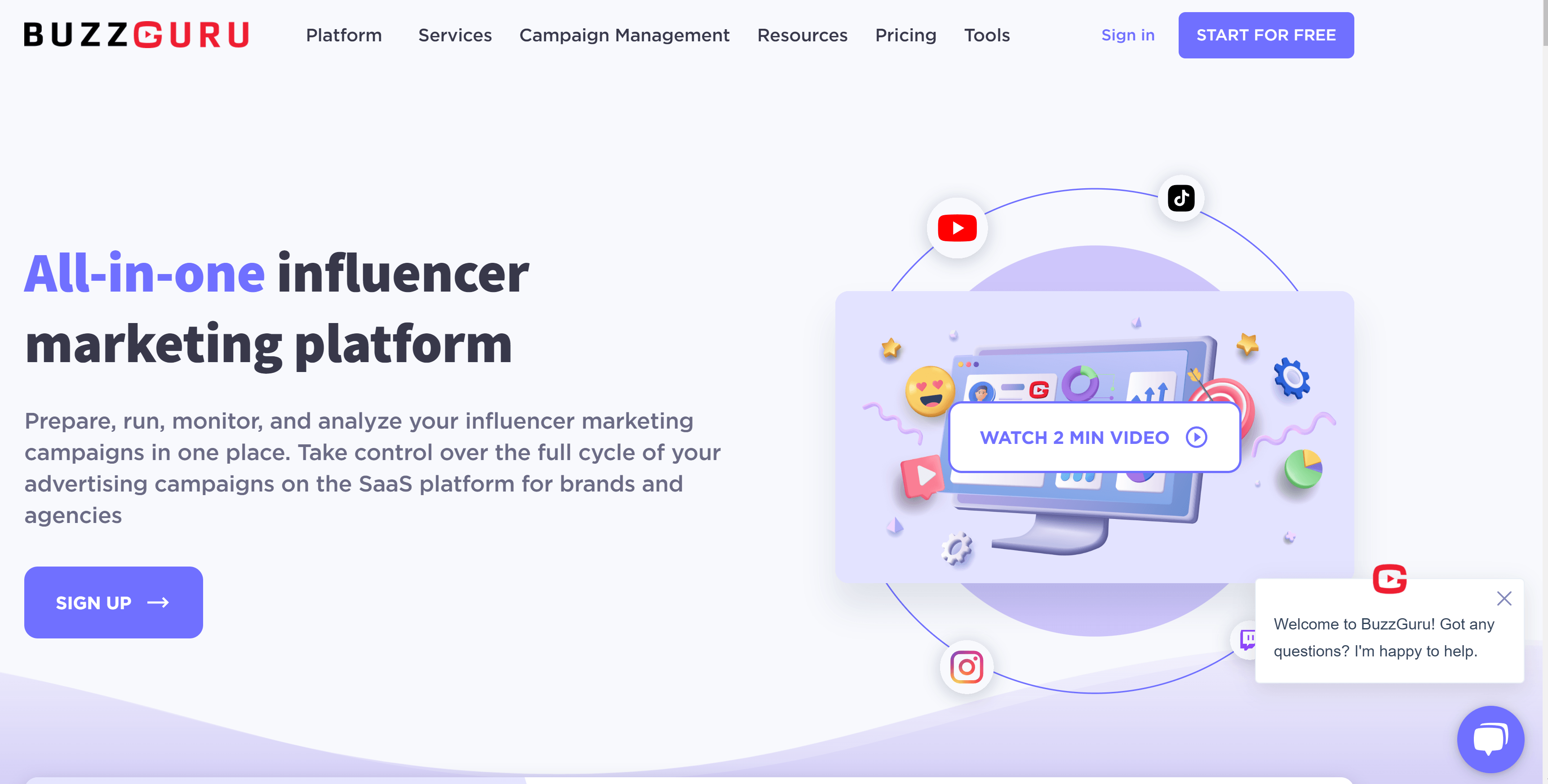 Source: BuzzGuru
Core features and services include the following:
New content strategies—

You can build up your content with more exciting and conversion-driven development and optimization strategies that will upgrade your mobile app campaigns.

Fraud detection–Gaming influencer agencies can flag and weed out what's known as gaming "uninfluencers"; these are influencers that companies should avoid.
Influencer networks–Gaming agencies have access to vast influencer networks and can take care of campaign management.
Funnel activation–Influencer marketing agencies help to structure campaigns for cross-channel, full-funnel activation so you can reach new and passionate audiences.

Social media management

–Influencer agencies will estimate a brand's target demographic, create a follower growth strategy, and collaborate across social media networks

.

Branding

–Gaming marketing agencies are able to connect with a brand's target audience, set up a branding model as well as influencer connections, provide relevant materials as well as show you how to market to gamers.
What are the best gaming influencer marketing agencies?
Gaming marketing agencies allow you to connect with popular gaming influencers that increase your brand awareness and build trust with users.
These gaming marketing agencies help you to create fresh content that aligns with your brand values and can re-establish interest in your brand, bringing in some of the most passionate and dedicated audiences on the planet.
Gaming influencer marketing boosts your mobile app campaigns and levels you up across the board. Below you'll find our curated list of the top gaming marketing agencies.
List of gaming influencer marketing agencies