This guide will cover everything from being a social media affiliate, how you stand to benefit from getting involved, and how to choose the best social media affiliate programs.
Top Social Media Affiliate Programs
Social media affiliate programs join publishers and networks together and enable marketing affiliates to promote offers related to social media tools.
Generally, these types of offers get accepted by noteworthy affiliate networks with some occasional restrictions.
The primary traffic sources for such offers are Facebook, LinkedIn, Twitter, Snapchat, and Pinterest.
People use a limited number of apps daily, with a strong focus on social networking apps. These channels present a unique opportunity to reach new audiences.
Thanks to sophisticated targeting capabilities, publishers can laser-focus their ad campaigns and yield high profits.
Below you'll find the most well-established social affiliate networks.
What is a social media affiliate?
A social media affiliate is someone who promotes offers and services related to the social media vertical.
Social media tools offer many affiliate marketing programs, each offering a different set of benefits and precise requirements.
For example, SocialOomph rewards marketing affiliates when they send visitors to their site and sign up for a free account.
Affiliates in this program can earn a commission of 40% of purchases made and fees paid by the referred person.
Top Social Media Affiliate Programs
Performcb - #1 Performance Marketing Network Worldwide
Below you'll find the main pros and cons of social media affiliate marketing:
Pros
Long cookie lifespans track all referral transactions for 90-days or more

.

Account managers are available and can help you to improve your campaigns.

There are offers available across both mobile and desktop, so there's plenty to choose from overall

.

It's a risk-free vertical for both sides, with good returns available for each

.
Weekly payments, including from platforms such as PayPal and Wise, as well as low payment thresholds.
Variety of creative banners and pre-written content that will cut down promotional efforts.
Social media affiliate program example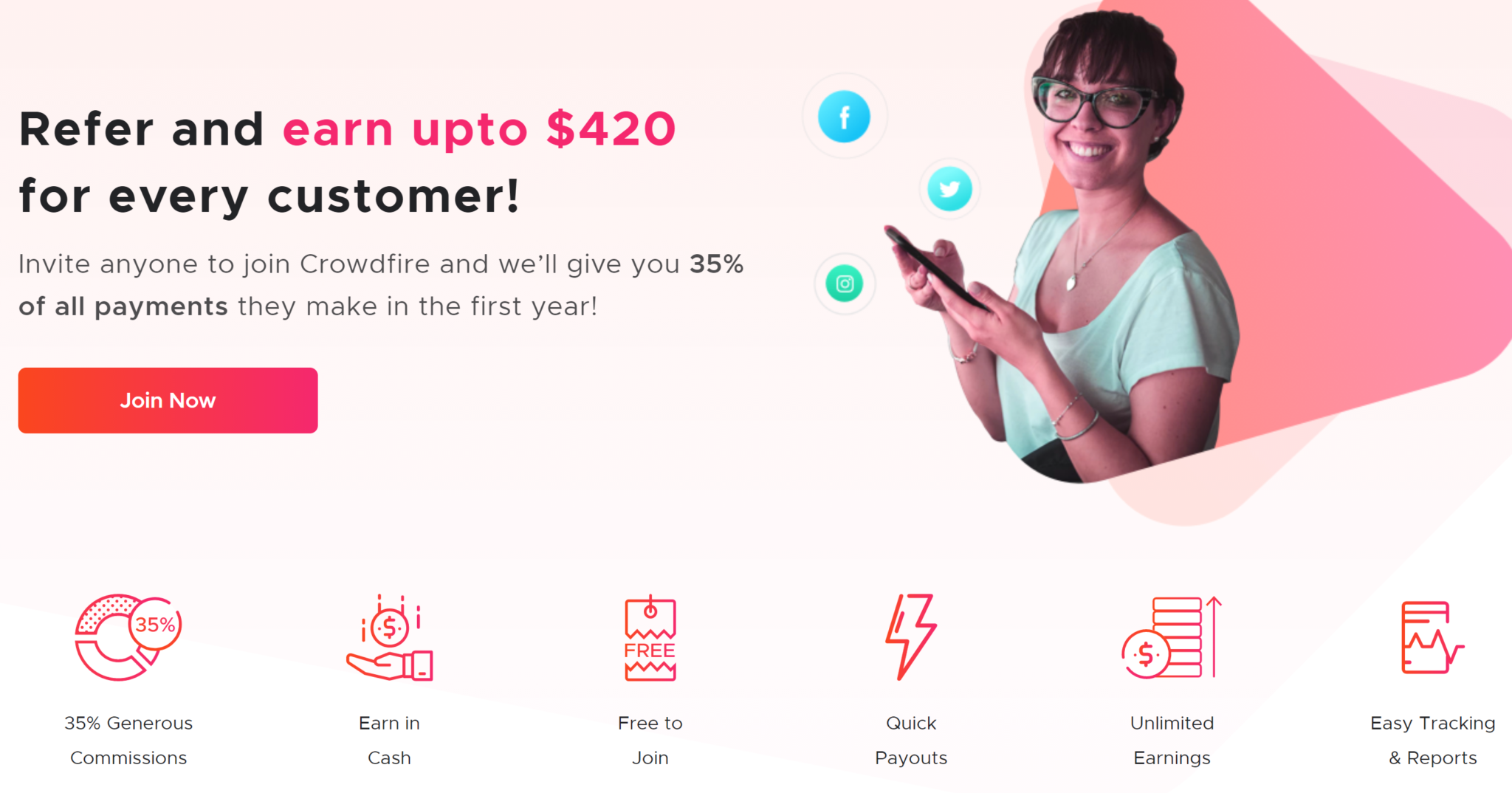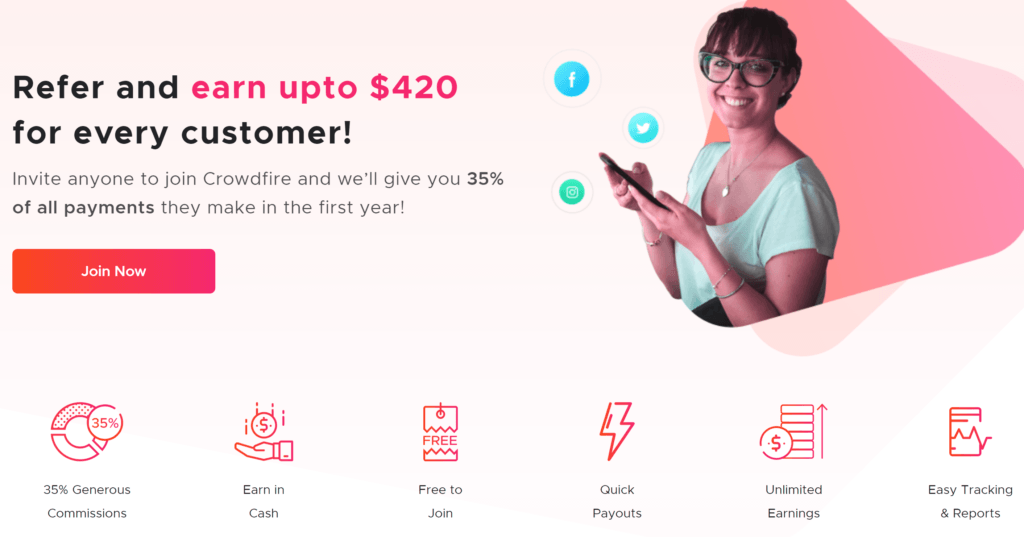 Source: Crowdfire
Cons
It can be challenging to gain traction at first, especially if you're new to affiliate marketing

.

You generally need an established platform or channel to see quick-fire success

.
Social media affiliate programs can change their terms without much in the way of notice.

Getting to the point where you have a consistent income takes time and a lot of effort

.
That said, social media affiliate networks can be more than worth your time.
With names such as Crowdfire and Hootsuite offering great offers, there's a lot of potential for affiliate marketers and brands that want to get involved.
How does social media affiliate marketing work?
Like most forms of affiliate marketing, social media affiliate marketing is where publishers (affiliates) drive users to a specific service or offer.
A referral gets typically locked to your affiliate account across social media programs as soon as the person signs up for a free account.
Affiliate marketers promote these offers through targeted campaigns. You can earn a commission based on the completion of an action by the person you referred.
Some social media affiliate marketing programs don't need to use sessions or cookies because the referrals get tracked within an internal system.
Those with demonstrated channels on YouTube, social media platforms, or personal blogs, can use their built-up traffic to drive new leads for affiliate networks.
If you're new to affiliate marketing, the social media vertical can be a good place to start due to the availability of offers and ease of getting started.
Social media affiliate network example
Source: SocialPilot
The best bet for most marketers is to use dedicated social media affiliate programs.
Social media affiliate programs share similar features and are great at allowing you to take your affiliate marketing efforts further.
Here's what you should look out for before signing up:
The affiliate programs should be free to join–be careful of those charging "sign-up" fees.
Performance and analytics should be available in an easy-to-use dashboard.

The minimum threshold amount for payout is ideally $100 or less

.
Monthly or weekly payouts that get made via PayPal, wire transfer, and multiple other methods.

Your target customers are small and medium-sized companies, which enables you to secure referrals

.
We'll take a look at some of the other key areas to look out for a little later on–if in doubt, these programs are the way to go.
How can you benefit from social media affiliate programs?
There are many benefits to joining social media affiliate programs, from the high commission rates to the specialist management teams.
With the best networks, you'll get commission paid directly to you without having to do anything else–this is usually an automatic process that allows you to focus on driving referrals.
These programs usually have a personal affiliate area with easy access to earnings data, marketing and additional promotional materials.
Some networks will also give you access to early updates on new product launches, so you can tailor your marketing as you go.
That's without mentioning the potential of earning from lifetime commissions on other products your referrals buy.
Commission rates for offers in this vertical range between 5% to 40%. Some programs offer exclusive offers that can go up to $1000 per sale.
Some of the best social media affiliate programs provide a healthy range of pre-made marketing content, such as multilingual banners, landing pages, codes, and even pre-written content.
The job's flexibility and ability to earn passive income are often key perks for most affiliate marketers.
Social media affiliate network example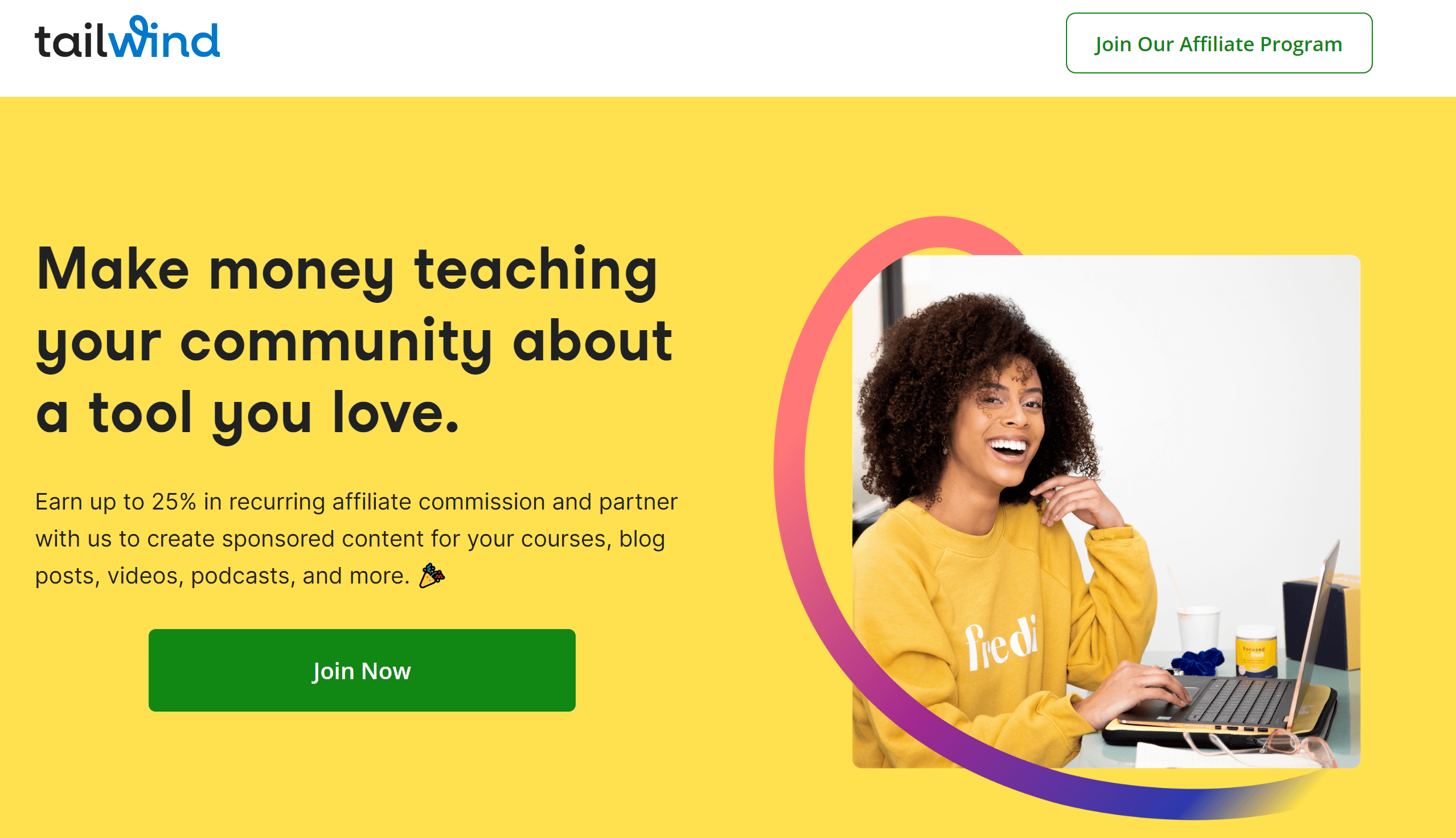 Source: Tailwind
Not only that, but there are many different campaigns you can run in the social media vertical.
Some unique campaigns, for instance, can focus on selling online marketing courses, and you get paid with each sign-up. In contrast, others will see you creating sponsored content or videos that advertise the social media tool in question.
Other networks feature dedicated teams that manage the partner programs and provide support when needed.
Extra bonuses are often available based on your performance. These give you the chance to win quarterly challenges and offer incentives as your skills grow.
The 90-day cookie duration, which is often commonplace in the vertical, means you have a better chance of getting a commission on a sale too.
In fact, some of the best networks don't put a limit on this and referrals get tracked within an internal system instead–either way, affiliates won't have to worry about restrictive time limits.
It's particularly worth getting involved with social media affiliate marketing if you have the right audience already interested in what you have to say.
If you have a blog, YouTube channel, popular social media account or something else, driving a suitable audience to these offers can be very profitable.
The benefits of using social media affiliate networks are plentiful; just be sure to do your research before signing up.
What to look for in social media affiliate programs?
How do you choose the best social media affiliate program? We've listed some key areas to look at before signing up.
Commission rate
As you might expect, commission rates vary across different programs and networks.
Ideally, you should look for social media affiliate programs that offer 20% commission or higher, with some of the best topping 50%.
Also, consider joining fees, or any minimum commitments that can mean looking elsewhere is a better deal.
Management team
Social media affiliate programs–the best ones–offer dedicated management teams.
These teams are available, often 24/7, to provide support when you need it. Some teams will even advise you on how to approach specific offers.
Think about how important this is for you before signing up for a program.
Promotional materials
Social media affiliate programs provide promotional materials to help you advertise for them.
These promotional materials vary a great deal, with some programs going above and beyond with highly creative banners and landing pages.
Look for networks that offer at least some form of creatives across desktop and mobile.
What are the biggest social media affiliate offers and their platform?
Here are some of the biggest social media affiliate offers along with their platform in the table below.
| | | |
| --- | --- | --- |
| Platform/Company | Affiliate Offer | Payout Data |
| Social Pilot | 30% recurring commission | Payments made monthly |
| SocialOomph | Recurring 40% commissions | Monthly payments |
| Crowdfire | Up to $420 per customer | Choice of payments |
| Send Social Media | 5% commission rate | Monthly payments |
| Hootsuite | Earn 15% of all paid fees | 30-day payments |
| Sendible | Up to $716 per client signed up | Monthly payments made into account |
Here we've put together for you the best social media affiliate networks that cover offers for all major mobile operating systems.
Get started with the best social media affiliate programs
Social media affiliate programs enable you to earn passive income and maintain a flexible lifestyle.
If you have a channel or other platform you can use to promote social media tools, they're more than worth getting involved with overall.
Check out our top social media affiliate programs list and start supercharging your income. We've put together the best social media affiliate programs below.
List of social media affiliate programs and offers