Are you looking for the top Los Angeles app developers? It's easy to see why. App developers in Los Angeles create user-friendly, high-quality mobile apps that showcase your products and services in the best possible light.
This guide will share tips and tricks on finding the most appropriate mobile app developers in Los Angeles from our carefully curated list.
Los Angeles provides top teams of app developers, innovators, and strategists that focus on native iOS and Android app development and web design. These mobile app development companies utilize agile development to ensure you're getting optimal ROI and an excellent quality app at the end of the day.
Developing a mobile app is a challenging task, though, and selecting the correct app developer is key to maximising results and ensuring your business stands out.
Let's explore the advantages of working with a top Los Angeles app developer and find out who the best players are in the industry.
The app developer market in Los Angeles
There are a variety of development agencies in Los Angeles that create award-winning Android and iPhone apps for enterprise and startup businesses alike.
These app developers help aspiring entrepreneurs strategize, code, and establish their apps in the Apple Store and Google Play, respectively.
In fact, you can find some of the most trusted app development companies in Los Angeles, from Rootstrap to Hyperlink InfoSystem, Dom & Tom and Saritasa.
These Los Angeles app developers are entrepreneurs, business strategists, and top product engineers who combine business strategy and automation to build customer and employee experiences that rival the best.
Los Angeles app developer example
Source: Saritasa
Mobile app development companies in Los Angeles are typically platform-atheist and prefer to recommend optimum solutions that focus on good results–their experience with the latest tech and trends is leading.
These app developers are able to make content management systems that integrate with existing systems and provide scalable hosting packages so your app can grow without problems.
With QA specialists and top UI/UX designers, Los Angeles app developers can bring to life even the most complicated and challenging mobile app ideas, with various options to suit most requirements.
Why work with an app developer based in Los Angeles?
App developers in Los Angeles offer expertise and decades of shared experience in product, software, and design, with the city's renowned culture of innovation enabling them to design some of the best apps on the market.
App development in Los Angeles typically features robust methodology, expertise, and experience across not just one but many verticals–the user is often at the centre of the design. Los Angeles is home to a diverse pool of founders, leaders, and ideators that offer unique insights.
Mobile app development companies in Los Angeles specialize in developing apps for both Android and iOS. These app developers focus on the following:
Discovery and UX research: They work closely with your team to define goals and success metrics.

Coding

:

 They make continuous changes and concentrate on using the latest tech during the mobile app development process

.

UX and UI design: 

They believe good products get built by the people who use them and know user-centred and intentional design when they see it

.
Software development and testing: They offer decades of experience with a wide variety of tech stacks and frameworks.
Launch and iteration: They provide continual QA and market testing and invest in delivering seamless user experiences.
Los Angeles app developer example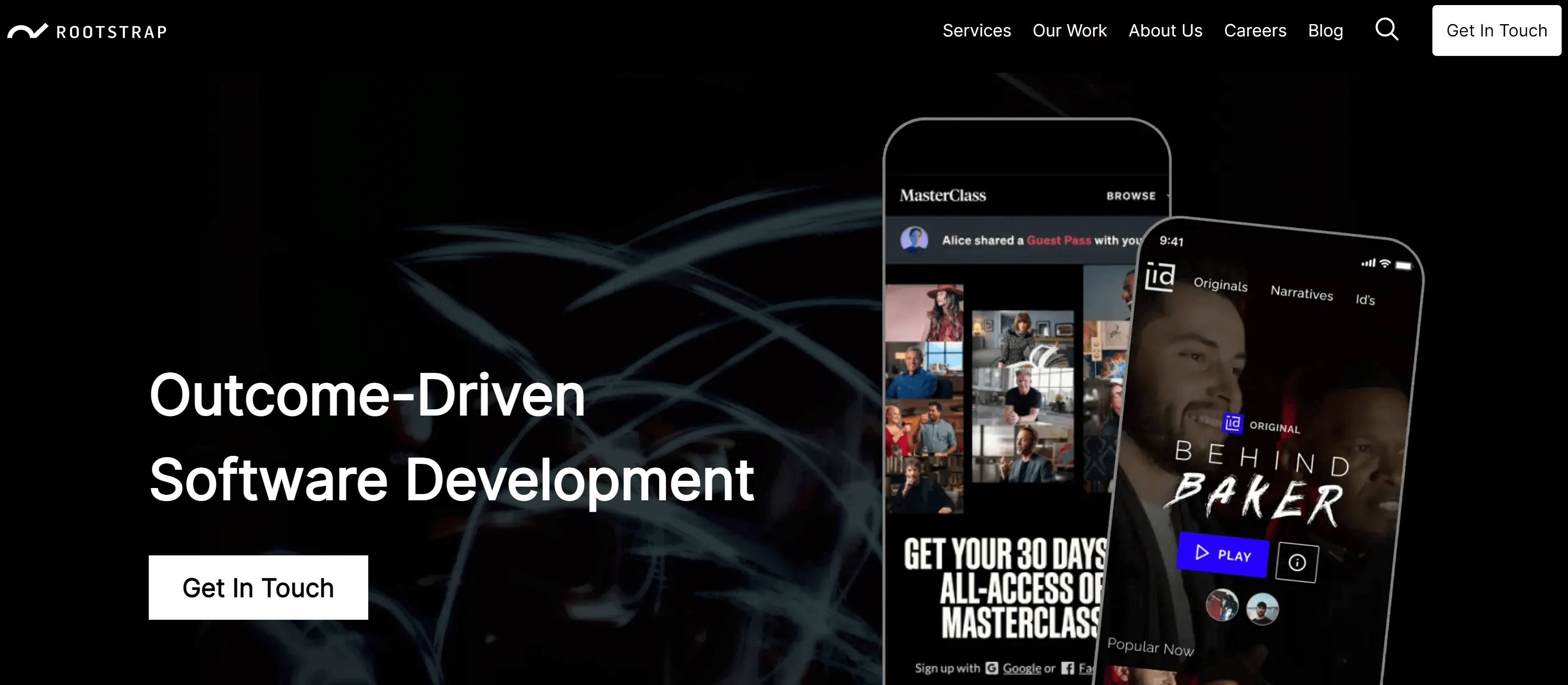 Source: Rootstrap
You'll have access to varied and skilled teams of app developers in Los Angeles that will obsess about your app and provide goal-oriented solutions that keep you ahead of the intense competition.
With intuitive UI elements, advanced features like IoT components, and the ability to integrate with your existing back-end architecture, there's a lot on offer.
That's not to mention the advanced tech stacks, reliable test runs, and clean code with a user-centric approach. Los Angeles app teams can even deliver localized app development projects that are structured and work effectively for location-specific audiences.
App development companies in Los Angeles support key platforms, too, including Android, iOS, Unity, and VR, with expertise in developing marketing strategies and helping startups.
How much does hiring Los Angeles app developers cost?
The total pay for a mobile app developer in Los Angeles is around $95,844 per year. That said, the total cost will vary based on the following additional variables:
Developer experience (in years)
Mobile app features (and their complexity)
Customization
Project size
UI/UX design
App developers in Los Angeles make the following per hour based on experience:
Junior developer – $43-$52 per hour
Middle developer – $56-$72 per hour
Senior developer – up to $73 per hour
In a nutshell: the larger the project, the higher the cost, so think carefully about the scope of your mobile app and how many of its features are necessary vs simply being nice-to-haves.
Los Angeles salary ranges

Data source: Glassdoor
The average base salary in the US for an iOS developer is $118,465. For Android, it comes in at $109,927. In other words, hiring an app developer in Los Angeles costs a little bit less than average, although, of course, this can vary.
For iOS, a breakdown per experience averages the following:
An entry-level junior iOS developer's salary is around $40,000 per year
A mid-level iOS developer's salary is around $114,000 per year
The most experienced iOS developers earn up to $172,000 per year
For Android, a breakdown per experience averages the following:
An Android developer with less than two years of experience makes approximately $51,600 per year
An Android developer with between two and five years of experience makes approximately $73,200 per year
An Android developer with an experience level between five and ten years makes approximately $96,200 per year
Los Angeles app developer example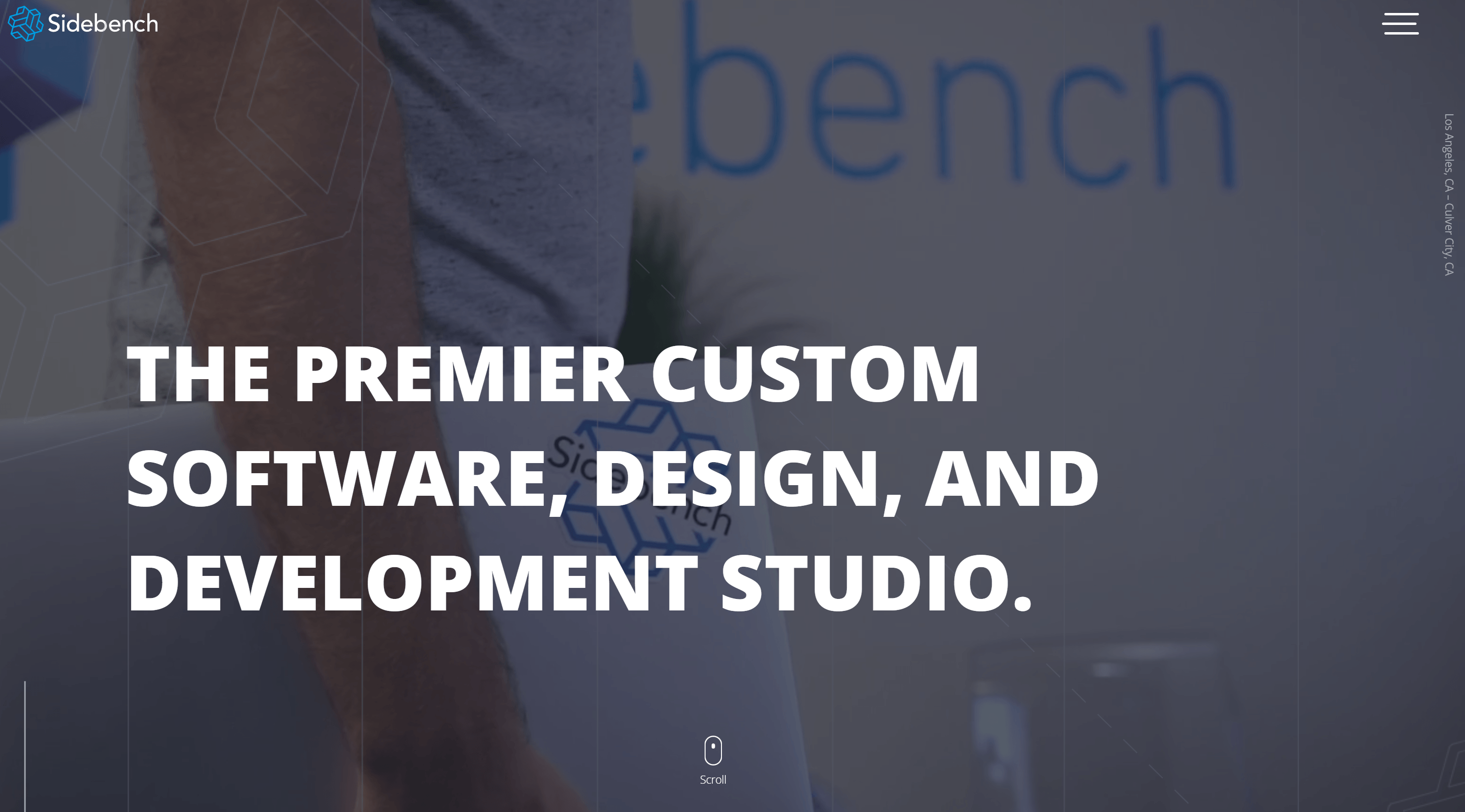 Source: Sidebench
A large number of people are employed by app development companies in bustling Los Angeles, such as designers, developers, and QA testers, so they have access to a professional team to assist you no matter the stage you're at with your mobile app.
Paying a freelancer in Los Angeles to build you an app will mean there's no fixed rate that you'll pay. The skills they have and the software they're familiar with will significantly affect the costs of hiring an app developer in the area.
Generally speaking, iOS developers familiar with Foundation, UIKit, and Cocoa will charge higher prices, and Android developers who can use Ionic, Corona, and Material Foundation will charge higher rates–the more tools they can use, the higher the cost.
Receiving a custom quote from a Los Angeles app development company before you set off on your development journey is a smart move. Yet how do you go about choosing the right one?
How to choose the top Los Angeles app developers
To choose the best app developer in Los Angeles, you first need to research the mobile app developers available. From there, you'll need to set up interviews with them and find out about their skills and experience while they learn about your business and app objectives.
During the research phase, it's best to think about the following key areas below.
Portfolio
Check the apps that app developers have built for their customers and ask them to show you examples of their best work–particularly any in the same area you want your chosen app to be in overall.
Keep an eye out for a well-developed user interface, too, as this will give you an indication of how much the developer focuses on the all-important user experience.
Client reference
Ask for references from previous clients and look for mobile app developers who provide customer contact information so you can get feedback about their company.
Learn about the brands they have served, as well as the challenges they have overcome, the tech they have used and how well they have worked in the past. Client satisfaction is a quick way to tell if an app developer is worth hiring.
Los Angeles app developer example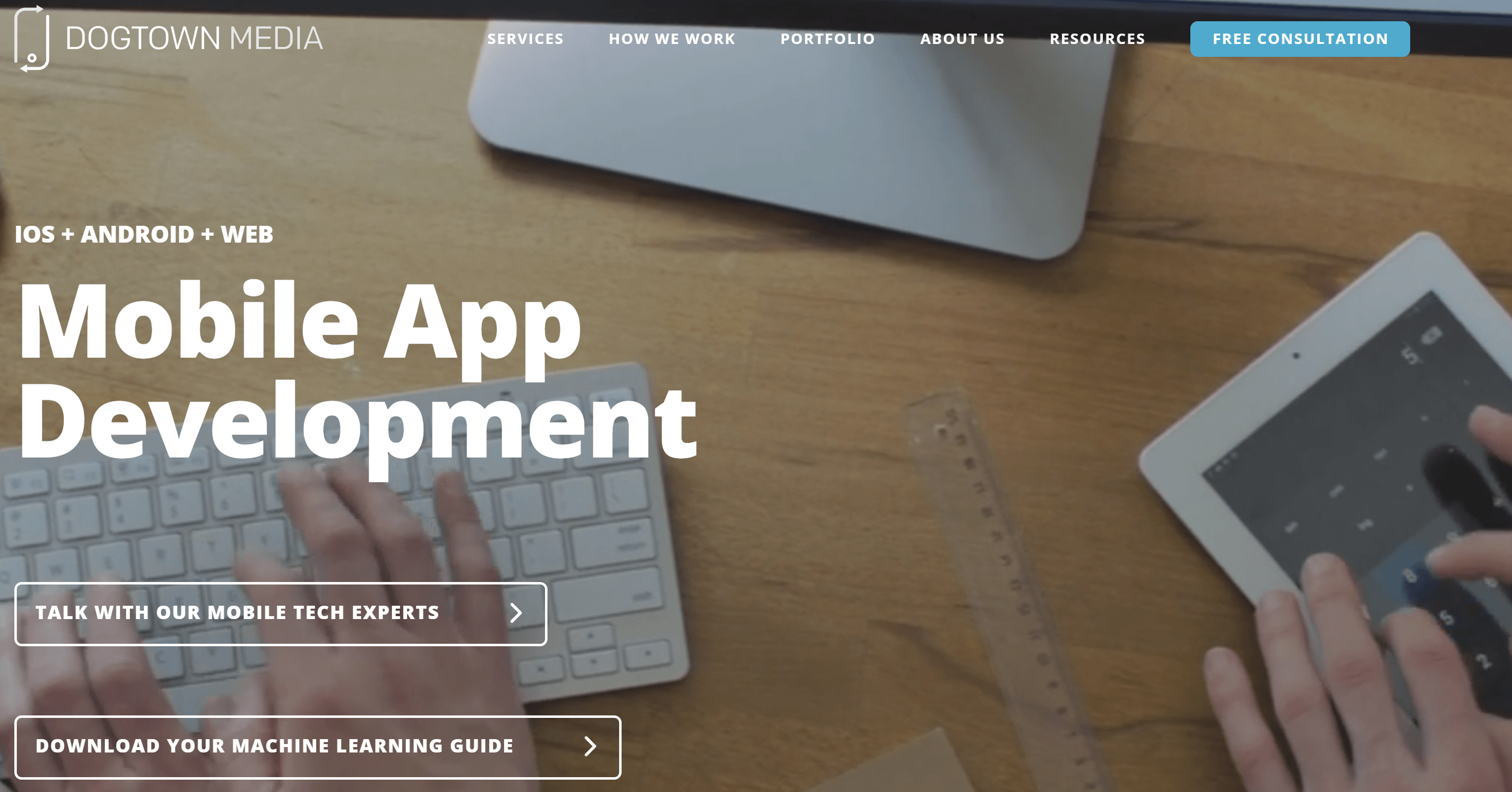 Source: Dogtown Media
Client focus
Los Angeles app development companies will have more expertise with certain types of customers; some of them may only work with startups, while others could be more focused on larger organisations or favour enterprise businesses outright.
It may not be obvious from an app developer's site what types of organisations they typically work with, so it's important to ask these questions directly to determine how well they work with your type of business.
Post-launch support
Be sure to work with a developer that can guarantee the right support when you need to update or change your app; long-term support for a mobile app is vital, and you simply can't do without it today.
For example, will your preferred Los Angeles app developer help you after launching the app and what's their policy on post-release bug fixing? Do they offer formal agreements or something else? Get the answers to these questions before going any further.
Experience in the sector
Whether an agency has worked in the same industry as yours is an important consideration, especially in highly regulated verticals like banking and healthcare.
If they have worked in your industry, it means that they have probably faced some of the same problems you intend to solve with your app or have dealt with related services–this can save on app development time.
Los Angeles app developer example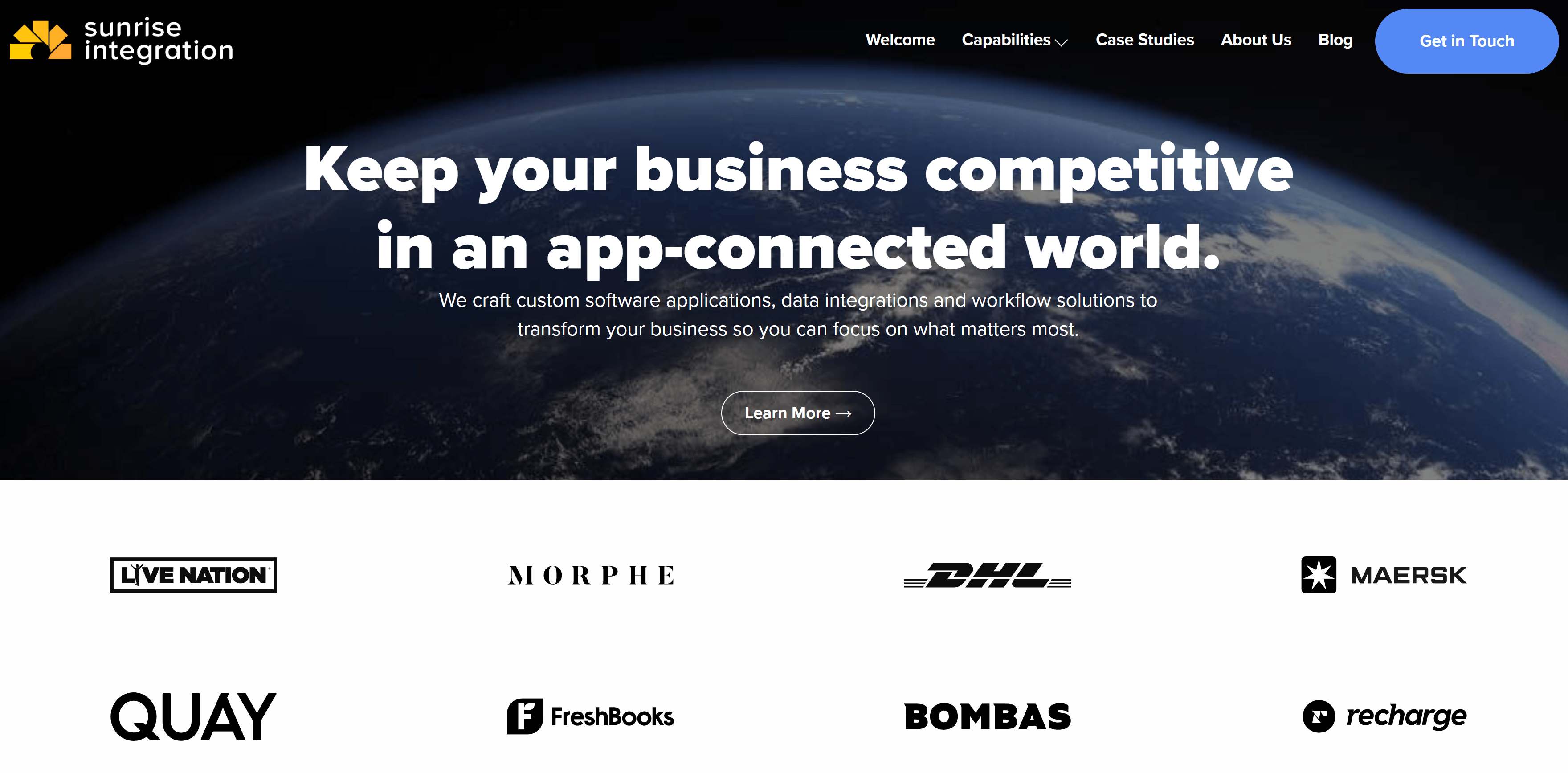 Source: Sunrise Integration
Start a trial contract
With mobile app developers, the only true way to find out if you and a contractor are a good match is to start working together. You can define the scope of work for the first one to two months in a trial contract and go from there.
The minimal risks associated with a trial contract allow you to see if the app developer is the right one for you. By the end of the trial, you'll likely know if you're comfortable working with them long-term because you know how they work and the quality they can provide.
Top US App Development Companies:
Top mobile app development companies in Los Angeles
Now that you've seen the opportunity and expertise available in Los Angeles, you may want to hire an app developer.
Working with a Los Angeles app developer will enable your mobile app to reach a more expansive user base with the help of highly talented individuals in the industry.
Other benefits of hiring a Los Angeles app developer include the following:
Cost and time-effective mobile app development
Unique skills and expertise with a strong focus on innovation
Ongoing app maintenance and support
Round-the-clock team availability
Guaranteed results and legal certainty
Hassle-free workflows and project tracking
We've put together the top app development companies and app developers in Los Angeles. We collected a list that combines a mixture of budgets, skills, and experience that will suit your mobile app and secure the long-term sustainability of your business.
List of mobile app development companies in Los Angeles