CPA stands for Cost / or Commissions per Action and is essentially an umbrella type for a number of other models such as CPI and CPS. This is the most popular model among publishers because it offers a win-win relationship for advertisers and publishers.
The former find this model the most attractive one because, with a catastrophic level of fraud that devastates CPC and CPM models, CPA provides a safer ground to work with. The latter have less headache as well, knowing that they can safely deliver something advertisers want.
CPA affiliate – how it works example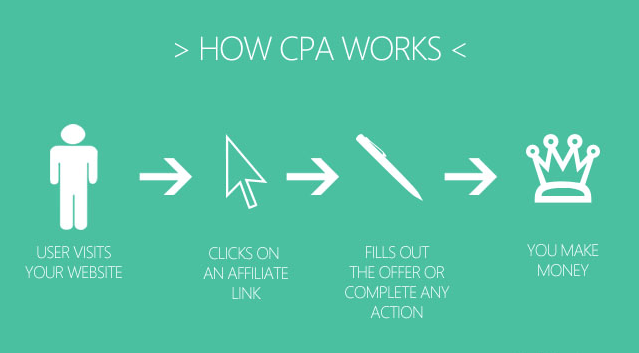 Source: Growtraffic.com
CPA Guide
CPA, most commonly known as cost-per-action, can also be referred to as cost per acquisition or pay per action. It means that brands only pay for their ads when those (who view it) complete the desired action.
CPA Rates
Here are some CPA offers along with their platform and country in the table below.
| | | |
| --- | --- | --- |
|  Platform/Network |  Country |  Offers/Revenues |
|  Thryv |  US | Affiliates earn up to $1,243 per sale |
|  3snet |  Europe | Per lead €150.00 (gambling) |
|  3snet |  US | Per lead €150.00 (gambling) |
|  G4offers |  US | $87.50 per lead, email traffic only |
|  G4offers |  US | Per purchased plan: $165 (health) |
| MaxWeb Network | US | $80 per sale – commission paid on each sale |
Here we've put together for you the best CPA affiliate networks that cover offers for all major mobile operating systems.
List of CPA affiliate programs and offers