This guide will cover everything from being an entertainment affiliate, how you stand to benefit from getting involved and how to choose the best entertainment affiliate networks.
Entertainment affiliate networks connect publishers with affiliate programs that allow them to promote entertainment-related offers.
As you would expect, entertainment offers are very popular with mobile customers, particularly as they can promote top streaming services, mobile apps and games, and sport-focused content.
In our directory, we have a number of top entertainment affiliate networks for your mobile marketing strategy.
What is an entertainment affiliate?
An entertainment affiliate is someone who promotes entertainment-related affiliate offers.
The entertainment industry generates billions in revenue annually, so plenty of new offers are available to affiliates.
Entertainment offers typically offer strong commission rates and long cookie lifespans, and affiliates get to promote the shows, games, and music they love.
An affiliate gets rewarded for driving traffic to the entertainment offer, for example, an offer advertising the latest toys, gifts, and collectables, sometimes at discount prices.
Top Entertainment Affiliate Networks
Below you'll find the main pros and cons of entertainment affiliate marketing:
Pros
Entertainment affiliate program example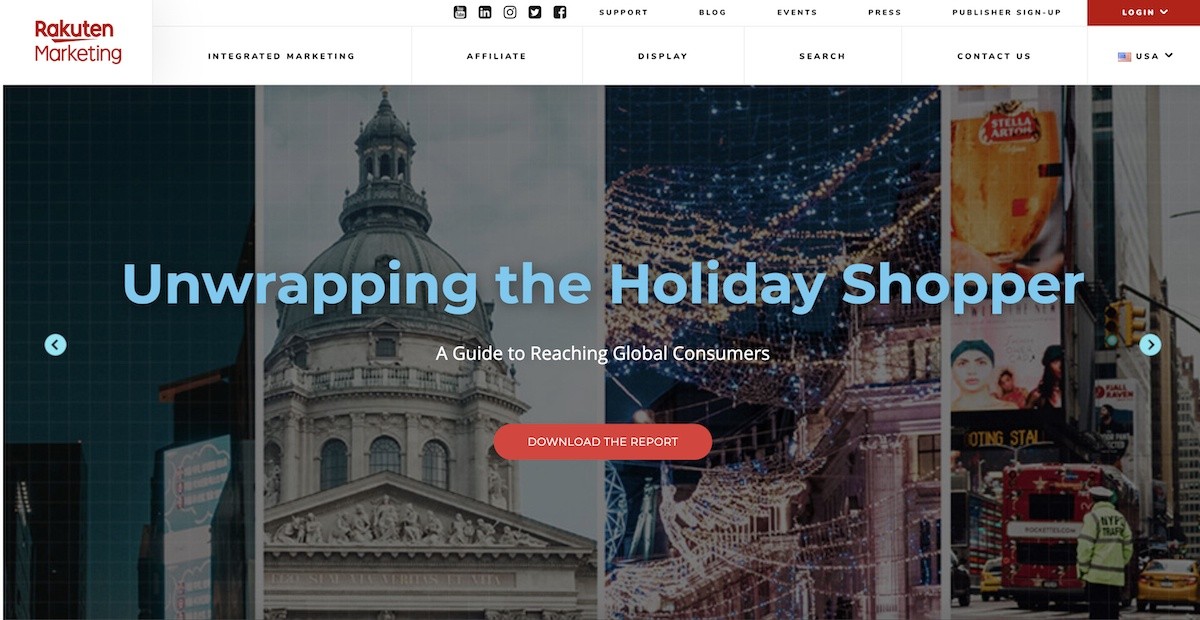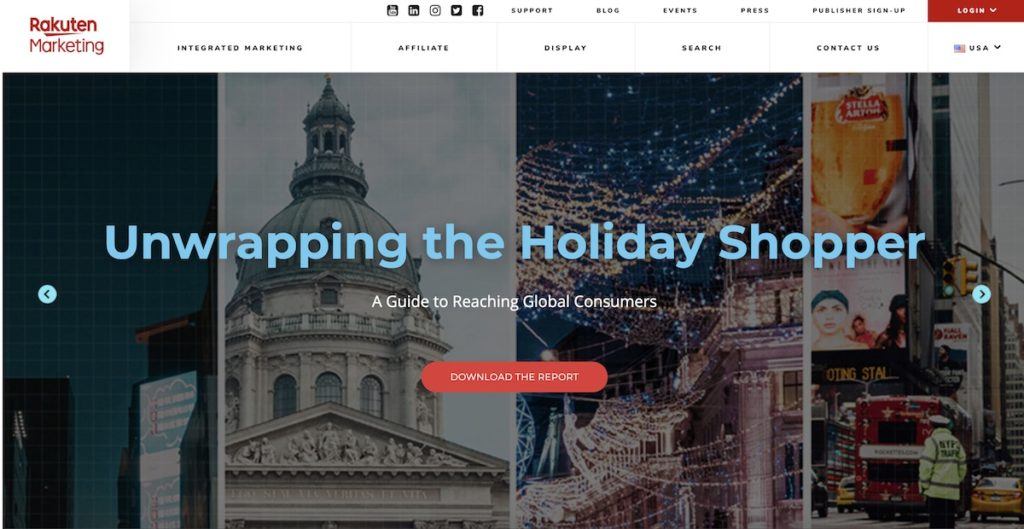 Source: Rakuten
Cons
That said, entertainment affiliate offers are both highly popular and profitable.
With names such as GameFly and Hulu offering great affiliate programs, there's a lot of potential for affiliate marketers and brands.
How does entertainment affiliate marketing work?
Entertainment affiliates effectively advertise entertainment-related offers on their site or channel and earn money for doing so.
For instance, an affiliate might create a series of YouTube videos about the entertainment product and earn money for their efforts when customers sign up.
Sometimes special discount codes are applied if customers arrive from that channel or blog, which can be especially effective for engaged and suitable audiences.
Influencers on YouTube can often command huge audiences to buy a product or service because trust between the two is high.
In the best scenarios, the entertainment affiliate gets rewarded for promoting a service or product, the customer finds a great deal that offers value, and the network earns money in the process.
The best places to advertise entertainment offers include the following:
If you're new to affiliate marketing, the entertainment vertical is an exciting place to start with vast potential.
Entertainment affiliate network example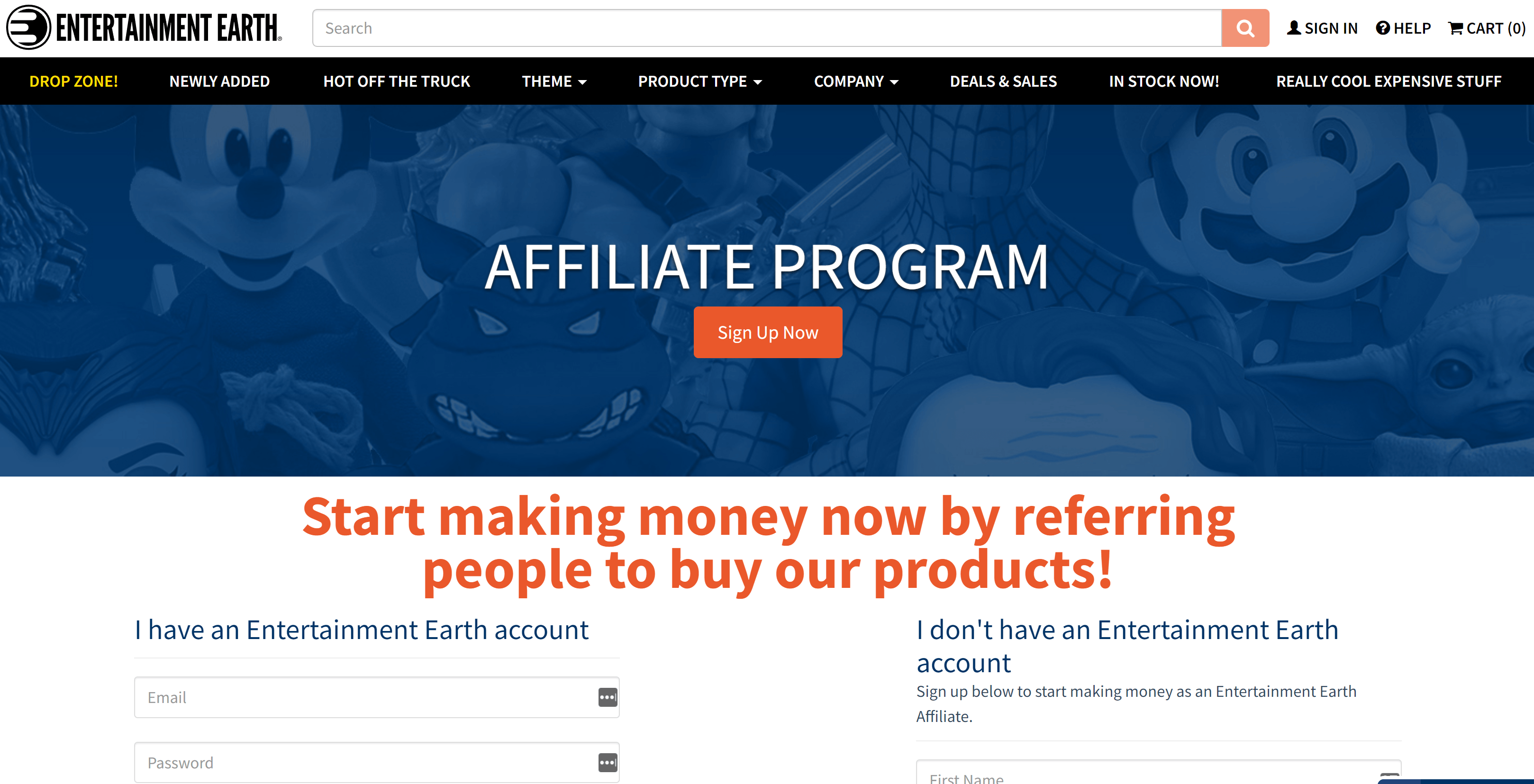 Source: Entertainment Earth
Here's what the entertainment affiliate referral process typically looks like, explained in four quick steps:
1. The publisher or affiliate promotes the entertainment offer on their prefered channel.
2. The user clicks on the affiliate link or banner.
3. The user gets redirected to sign up for a free account or buy a product or service.
4. The user makes an eligible purchase (or signs up for free), and a commission gets paid to the publisher or affiliate.
The majority of entertainment affiliates find the process straightforward, and the best networks will pay on time when they've confirmed the purchase or new account.
The activity of referring a customer generally takes place in a few minutes, but it helps to have long cookie durations to ensure you get paid.
How can you benefit from entertainment affiliate networks?
Entertainment affiliate networks provide publishers (affiliates) with many exciting entertainment-related offers.
These affiliate networks help in a multitude of ways, allowing entertainment affiliates to focus on advertising links across their homegrown YouTube channels or blogs.
For example, some entertainment networks feature detailed reports that can show affiliates where their marketing efforts are working and the areas that need improvement.
These reports are usually accessed via dashboards across both mobile and desktop offerings.
Some networks provide a dedicated program management team that can steer you in the right direction when you get lost.
It's free to access and use these teams; most of them work around the clock, ensuring that affiliates get help when needed.
Most entertainment affiliate networks offer fast payments and multiple payment options so affiliates can be confident they won't be waiting forever.
Of course, earning passive income is one of the main benefits, and the best entertainment affiliates live off their work, even if it can take a lot to get to the top.
Entertainment affiliate network example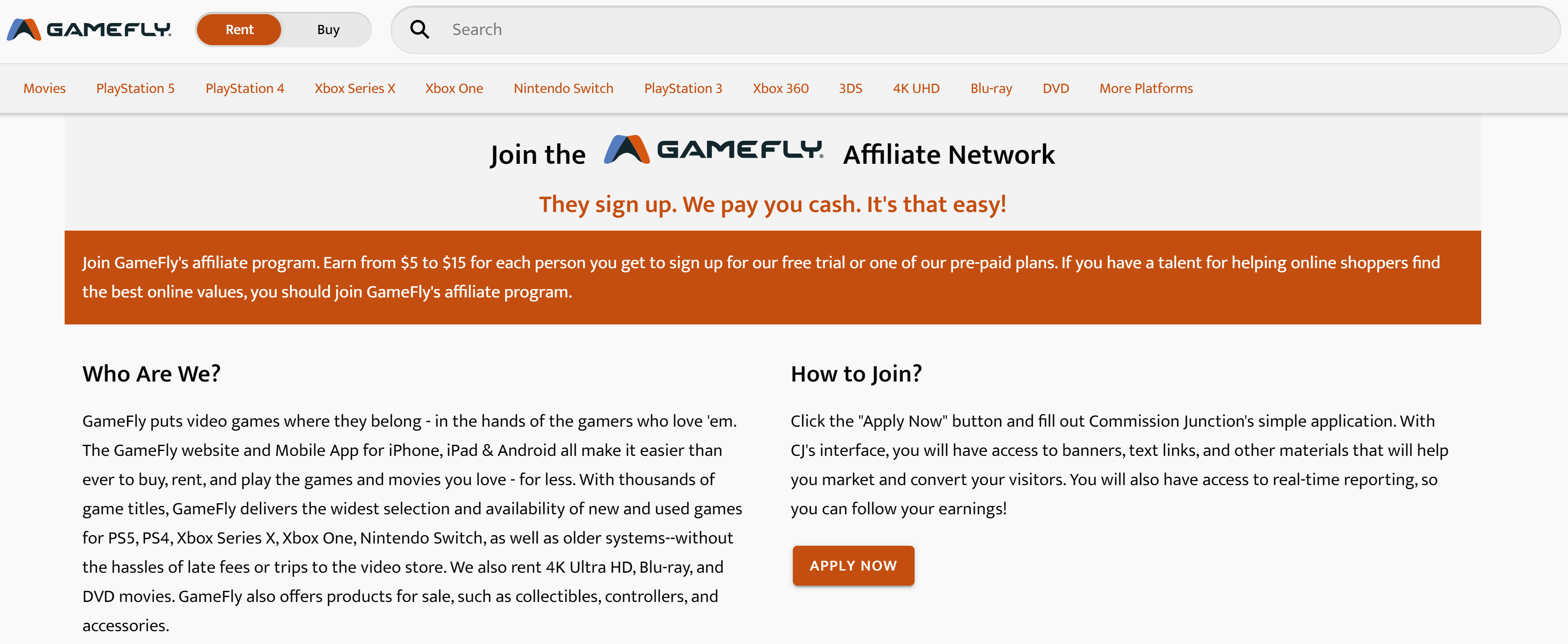 Source: GameFly
As the vertical is such a popular one, affiliate networks can provide fresh offers throughout the year, from promoting toys to the latest video games and accessories.
The best offers tend to be available promoting the following areas within the entertainment niche:
The entertainment industry is continually growing, and it's not an area that affiliates will need to worry about concerning future work once established.
Networks, and their affiliate marketers, will see a consistent number of offers and, more crucially, sustained interest throughout the key seasons as new releases fill the calendars.
That's not to mention that the payouts networks provide are often high in this vertical with decent cookie lifespans, too, so there's more chance to get paid in the first place.
What's more, the best entertainment networks offer everything from ready-made banners to text links and even dedicated emails and templates.
For example, GameStop's affiliate program enables you to link to thousands of games and systems and earn promoting what you love.
In short, there are many entertainment affiliate networks available and powerful benefits to signing up and using them.
What to look for in entertainment affiliate networks?
How do you choose the best entertainment affiliate network? We've listed some key areas to look at before getting started.
Commission rate
The commission rate across entertainment affiliate networks does, of course, vary, but the best networks should offer at least a starting commission of 5%.
Some networks offer an increasing revenue percentage based on an affiliate's performance.
It's best to check commission rates before signing up for a network so you don't miss out on the top rates.
Cookie duration
Ideally, 30-day cookie windows are the standard to look for, with the exception of places like the iTunes Store (around 24 hours).
Some networks offer cookie durations right up to 60 days and more, with a few even offering an unlimited period of time for customers to purchase a product.
Payout threshold
The payout threshold is how much revenue affiliates have to accrue before they can get paid.
Payments thresholds set at $50 are reasonable and should be the standard you look for, although some networks go further and offer payouts at $30 and lower.
Be sure to spend some time looking around before committing to any one network.
What are the biggest entertainment affiliate offers and their platform?
Here are some of the biggest affiliate entertainment offers along with their platform in the table below.
| | | |
| --- | --- | --- |
| Platform/Company | Affiliate Offer | Payout Data |
| GameStop | Up to 5% commission | Payments made at $50 |
| WorldWinner | $25 commission rate | Monthly payments |
| Twitch | 5% commission rate | Monthly payments |
| GameFly | 10% commission rate | Payout made at $50 |
| Hulu | $9.60 (up to) per sale | Monthly payment at $50 |
| Acer | Up to 4% | Monthly payment at $50 |
Here we've put together for you the best entertainment affiliate programs and networks that cover offers for all major mobile operating systems.
Get started with the best entertainment affiliate networks
Entertainment affiliate networks allow you to accumulate passive income and support a flexible lifestyle while promoting exciting offers to your audience.
If you have a channel or other platform you can use to advertise these offers, they're more than worth a look.
Check out our top entertainment affiliate networks list and start growing your income. We've put together the best entertainment affiliate networks below.
List of entertainment affiliate programs and offers