Interstitial mobile ads offer marketers an exciting way to engage mobile app users while boosting user experience. Appearing as full-screen ads at a variety of app transition points, such as pre-roll or launch, interstitial mobile ads gain high impression rates, CTRs, and conversions.
Top Interstitial Mobile Ads
So how can you find out how to use this form of advertising to boost engagement and revenue? We've designed this guide to help publishers and advertisers discover more about the broad usage of interstitial ads and the scale of impact they can have.
Take a look at our analysis of the best ways to drive interstitial mobile ads. Plus, we'll give you our full directory of the top interstitial mobile ad networks that can help you achieve your goals.
What are interstitial ads?
Interstitial mobile ads are full-screen advertisements that cover an app's entire screen or interface. They show up in the form of rich media such as video or audio and contain interactive elements. Users can engage with interstitials in-between content or during natural transition points.
Interstitial ads often include end cards that contain a call-to-action or app store listing preview. Once they've watched an ad, users can either close the ad and get back to their app or click through to visit the destination page.
Interstitial ads are like other mobile ad formats but with some distinct differences:
Along with incentivized advertising such as rewarded video, interstitial apps have become one of the most popular ad formats. This is likely due to the positive experience they offer users at key transition points during their app flow experience.
What are the different types of interstitial ads and how are they used?
Interstitial ads come in a choice of formats for apps. But they're also a key advertising format for gaming. Here are a few of the most common formats:
Text Ads: Traditional text ads offer a simple and reliable way to promote brands.
Static image ads: Static ads often have an immediate ad closing option. And while there are fewer static ads these days, it's worth noting in a report by Smaato that interstitial ads generate 18x higher average CTRs than banner ads.
Video ads: Video interstitial ads are sometimes also playable and allow users to sample an app before installing it. They usually have a timed closing option of a few seconds.
Rich-Media ads: Rich media ads can include playable content, video, or at least some level of interaction in the interstitial during an app flow interlude.
Interstitial playable ads: Interstitial ads can include playable ads featured in gaming apps that lead to 40% better retention. Meanwhile, interstitial ads themselves make up over 70% of ads that gamers see.
Interstitial ads vs banner ads: What's the difference?
Both interstitial ads and banner ads are important advertising formats to drive app installs. And while there are pros and cons to using banner ads, there are also some key differences worth noting in the graphic below:
Interstitial ads vs Banner ads

What are the benefits of interstitial ads?
Interstitials are a popular choice for mobile advertisers. So here are a few of the stand-out reasons why they're preferred by advertisers.
Drives revenue
When Shanghai-based gaming developers Brighthouse added interstitial ads to their gaming app White House 4 they saw significant results. By implementing AdMob video interstitials, they increased app-generated revenue by 130%. Plus, the interstitial ad format now accounts for 60% of their app income.
Top Interstitial Mobile Ads
Gets higher CTRs
Interstitial ads tend to drive higher CTRs than banner ads. Usually, this is because interstitial ads are bigger in size so they have more space for creativity. But also, by dominating the entire screen, they're better at getting users' attention. And once users view the ads, they can either click through or skip them before returning to the app.
Increases app install rates
According to Statista, interstitial ads showed the highest rates of in-app conversion at over 20% on Android and close to 15% on iOS.
Conversion rates of selected in-app advertising formats from January to October 2020, by platform

Avoids banner blindness
Because they take up the full screen, interstitial ads avoid issues with banner ad blindness. Plus, since they're immune to ad blockers, interstitial mobile ads can lead to increased views and engagement.
Improves engagement levels
Interstitial ads can gain higher engagement levels than banner ads. Plus, since interstitial video ads make up three-quarters of gaming ads, they're often the most seen. Overall, users deem playable interstitial mobile ads the most interesting to engage with.
Types of ads rated by users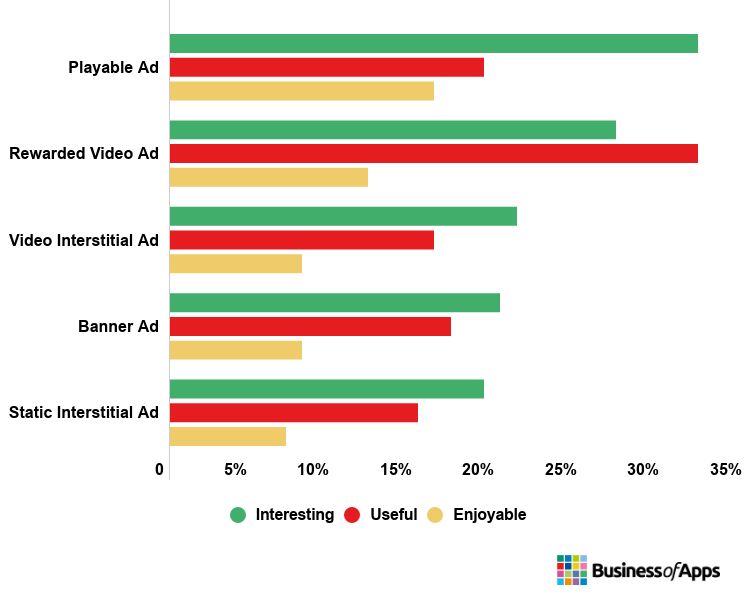 Source: Udonis.co
How much do interstitial ads pay?
Compared to other ad formats, interstitial ads have one of the highest eCPM prices. In 2021, US publishers enjoyed the highest eCPM rates coming in at $9.64 on iOS and $10.11 on Android.
So what about some of the leading providers? We've outlined the average rates for them below:
Interstitial Ads eCPMs
| Platform/Network | Country | eCPMs/Revenues |
| --- | --- | --- |
| AdMob | US | $11 iOS, $6 on Android |
| Smaato | UK | Up to $10 on iOS, up to $7 Android |
| Epom | US | Up to $3.70 |
| Exoclick | US | Up to $2 |
| InMobi | UK | $2.5: Androids. For iOS: $2.5 to $7.5 |
| Startapp | US | $3-$10 – US only rate |
Source: Udonis.co
How should you use interstitial ads?
Interstitial mobile ads work when a user lands on an app, then a request for an interstitial ad gets sent to the publisher's ad exchange. Advertisers can then respond with any size creative as long as it fits half of the screen width and around half of the screen height. Interstitials are also subject to frequency capping by Google, which is where ads get capped at a limited number of impressions across either an entire app or a single ad.
The highest bidder wins, and their creative gets sent to the publisher through the ad exchange. And this gets displayed on the app for the user.
Interstitial mobile ads are effective for many apps but in particular gaming apps. Playable or interactive in-game ads have some of the lowest CPIs and also offer a way for players to trial games or apps before they buy them.
Best practice tips for effective interstitial mobile ads
Here are some key points when you want to convert customers using interstitial ads:
Add a close button: Make sure to place your exit button so users can see it. This can appear at the start of static image ads or a few minutes before the end of video ads.
Try to avoid obstructing your app: Your interstitial ads will cover the whole screen at particular points in the app experience. So, make sure they fit into app flow.
Think of the frequency cap: Be mindful of overloading users with ads and limit the number of caps per user. Google sets the frequency capping at one interstitial ad per hour, per each unique user.
Keep the ad loading time to a minimum: These types of ads use plenty of graphics and interactive images. So make sure your ads aren't slow to load otherwise users will soon switch off.
Steer away from custom templates: This can alter the frequency capping set by Google.
Follow Google guidelines: Marketers will receive penalties from Google if their interstitials step outside of guidelines. Read on for some areas to be mindful of.
Plan to improve the user experience: If you're a gaming app then consider placing your ads after each completed level. Plus, keep in mind that placing too many ads can harm the user experience and damage your brand.
What should you be considerate of when using interstitial ads?
While interstitial mobile ads have plenty of benefits, they also come with some considerations. Here are a few to consider:
Google can penalize publishers for using interstitial ads
Interstitial ads can appear intrusive and annoy users. So they have to be well placed and positioned to avoid this. Some of the reasons you may find you get penalized include the following:
Consecutive and repetitive ads: Google will restrict placing interstitial ads after each user engagement with the app.
Unexpected ad placements: Interstitial ads shouldn't disrupt the flow and appear where the user expects them to.
Encouraging accidental clicks: Engagement should be consensual so advertisers and publishers should not try to trick or conceal information to gain engagement.
Showing ads as soon as the user enters an app: In general, Ads shouldn't interfere with users' ability to start up the ad function or leave the app. But there are exceptions to this rule such as cookie usage and age verification interstitials.
Interstitials can skew analytics
There is a risk that mis-clicks could distort your reporting by raising CTR rates and depressing Click-to-Install rates. So if you end up with an artificially inflated CTR, it may undermine accuracy when assessing campaign performance.
What are the benefits of working with an interstitial ad network?
Finding an interstitial ad network to partner with could determine the success of your campaigns. So consider the following when selecting a network.
They make it easier to deploy multi-platform, cross-promotional ad campaigns
Cross-promotional advertising is a tactic used to target users who are likely to churn. But deciding how, where, and when to display cross-promotional ads isn't straightforward.
As a general rule, cross-promotion ads that incorporate interstitial ads, banner ads, and others should show up fast to ensure they convert before users churn. But you will need to strike a balance since large ad displays could interfere with user experience and affect retention.
Interstitial ad networks can help you to strike the right balance and find the most appropriate approach.
They help with testing the frequency of ads to optimize performance
Interstitial ad networks can work with you to strike the right balance and find the most appropriate approach to ad frequency. For example, Google suggests placing one interstitial ad after every two user actions. And this sort of intel is easier to glean when you're working with the right ad network.
They support you to prioritize the user experience
Interstitial mobile ads can come with many benefits but only if they avoid harming the user experience. By working with an interstitial ad network, you'll find it easier to plan suitable types of campaigns that don't interrupt the user or gaming experience and get results from a third party with plenty of experience in this area.
You avoid the risk of Google penalties
Ensuring your campaign follows Google's guidelines is imperative. And bear in mind, Google isn't trying to be mean for the sake of it. Instead, they want to promote a good user experience so that users continue to enjoy their experience.
Recruiting an interstitial ad network to support you in the area could save much time, headaches, and potentially hefty costs.
Why should you work with interstitial advertising networks?
Interstitial ad networks can offer much-needed guidance to deploy effective and appropriate ad campaigns. But they can also provide the latest techniques to drive success for your campaigns.
Some of the key benefits of working with them include:
RTB access to publishers and advertisers
Creating and designing campaigns to direct targeted traffic to post-click landing pages
Designing appropriate application of exit buttons
A/B test campaigns to drive optimization
Supporting multi-platform campaigns using other ad formats
Audience segmentation to target users and gamers appropriately
So that's our round-up of everything interstitial. And with this further information at hand, you should be in a strong position to select the best ad network for your needs. So take a look at our curated list below.
List of interstitial ad networks