By popping up into a full-screen ad, behind the active browser screen, popunder ads offer a subtle but effective way to generate traffic. Because of this, they're effective for lead generation, retargeting, and conversion.
Popunders are also a great way to address ad blindness, where users ignore ads or banners when they're placed in predictable positions. And this makes popunders a worthy alternative to display ads.
So, how can you find out more about popunder ads and use them in your marketing? We've created this guide to help you. It includes a list of popunder advertising networks to approach along with a roundup of the benefits of this medium. By aligning with the experts, you can use popunder ads to achieve higher rates of lead gen and ROI.
What is a popunder ad?
A popunder ad is a non-intrusive pop ad that appears in the full screen behind an active browser window. It's like a popup ad but, instead of superimposing the ad in front of the main browser window, it hides the ad in a new browser window behind the current one. This means users only see a popunder ad after they've closed the main browser window.
Reports suggest banner or ad blindness affects up to 86% of online consumers. So in practice, less than 20% of people won't notice or respond to display ads. Because they offer a clever and unexpected way to overcome this problem, popunders are sometimes referred to as the 'sneakier cousin of the popup ad'.
Popunder ads are also effective for driving traffic from users who find ads intrusive and set up ad blockers to stop them. For example, statistics suggest around 27% of Americans use ad blockers while browsing. And this extends to over 40% of users worldwide.
Reasons for using ad blockers
What's the difference between popunder and popup ads?
Popads is a catch-all term for both popup ads and popunder ads. And since popups are the more well-known of the two, they are usually relied on for conversions. In 2020, the average conversion rate for popup ads was 3.09%.
Example of a popunder, popup, and interstitial ad
Source: Froggyads.com
But what makes these two types similar is where they 'pop' into a separate window. And it's important to note that pop ads are different from interstitial ads which usually open in the same window or cover the entire page. Instead, pop ads open in a separate window.
Popup vs Popunder: What's the difference?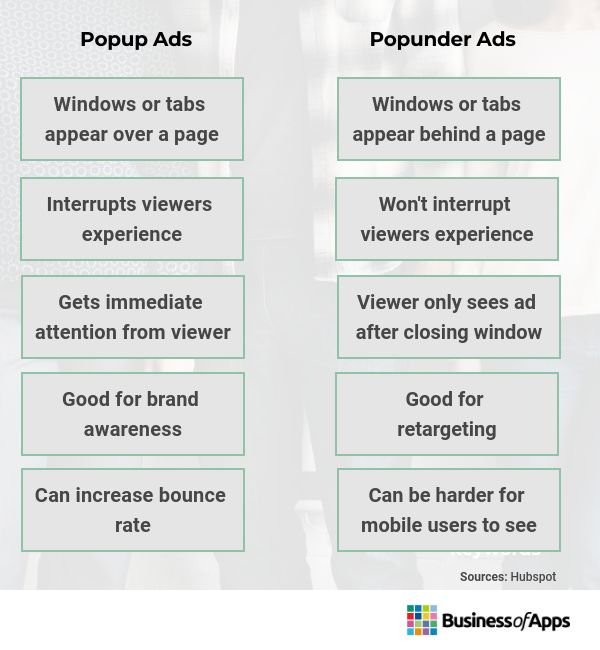 How does a popunder ad work?
Popunder ads work by triggering a new browser to appear behind the current page. Users click on a link and see a page load as usual. But then, at the same time, another web page loads up behind it. This process prevents a popunder ad from interrupting a user's experience.
Popunders can appear in various forms, including video, animated, and static. And they're effective across many verticals such as sweepstakes, gambling, antiviruses, mobile carrier content, and traffic arbitrage. Also, because CTRs are often higher than other forms, popunders provide a more effective alternative to more ignorable display ads like banners.
When it comes to generating leads, popunders work by leading users towards the advertiser's page through a redirect or with a bespoke landing page (a pre-lander) that features a CTA button. Pre-landers are effective in warming up a user before making a direct offer.
Popunder ads are usually designed for specific GEOs. In practice, this means rates are calculated based on geographic territory and the type of offers used. Rates can include CPC, CPS, CPA, and CPM.
Top Popunder Ads
What is popunder traffic?
Whether its a popup ad or popunder ad, popads appear in new browser windows and apply to a range of devices, from desktops to tablets and mobiles.
When users click through to a pop ad they get grouped together and called 'pop traffic'. Pop traffic measures the number of impressions made across each GEO that an advertiser or publisher works in. So, to ensure you're able to check performance it's often better to create individual campaigns for each GEO. Grouping popunder traffic this way enables publishers to monetize traffic and track CPMs.
Advertisers and publishers should also be aware of the risks of invalid bot traffic such as masked traffic and GEO mismatch.
Why should you consider popunder ads over other types?
Popunder ads offer a refreshing alternative to traditional display ads, SEO, Google ads, email, and social traffic. They're great at raising brand awareness and increasing leads.
To give you the full picture, here are some of the key ways they can make a difference:
High conversion rates
CTR rates for pop ads are 6 times higher than banner advertising. And with an effective, creative ad that doesn't intrude or annoy viewers, marketers can expect to increase conversions.
Low cost and great ROI
Due to higher CTR rates, popunder ads often command very high conversion rates – as high as 300%. Tiered verticals and pricing models in different geographical (GEO) areas will determine rates. Plus, they're inexpensive to fund.
More effective than banner ads
Both popads and banner ads are effective for driving traffic to a website. But users will either ignore them or feel as though banner ads are intruding on their experience.
While CTRs vary for banner ads, popads are generally less expensive. But because they're non-intrusive, they offer a more user-friendly and effective way to gain high CTRs and build brand awareness.
Good for lead generation
Popunders are very effective for lead generation in particular verticals. Again, generated leads will often depend on the chosen GEO, the rate, and the opt-in offer. For example, an SOI (Single Opt-In Offer) works well with a CPA (Cost-Per-Action).
Good for affiliate marketing
Along with generating leads and conversions, and increasing ROI, popunder ads offer an effective avenue for affiliate marketing. In part, this is because affiliates don't need to prepare creatives themselves, since popunders only need a landing page to launch a campaign.
And when it works well, affiliate marketing for popunder ads can lead to significant results. For example, an affiliate managed to generate a 202% ROI for a music app in the US and Canada GEOs.
Pros and Cons of Popunder ads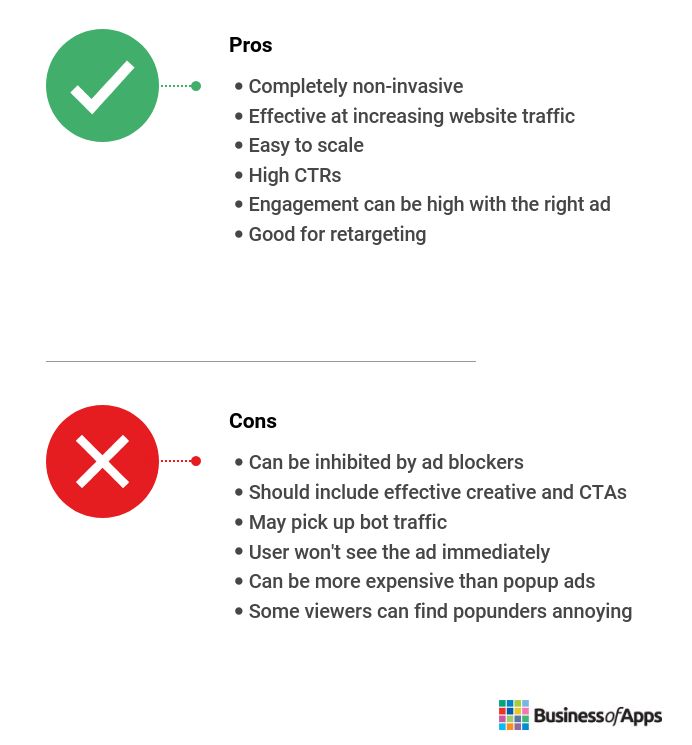 Popunder ad rates
Popunder ads are usually inexpensive. And you can pay for 1,000 impressions immediately. An example from RichAds suggests the lowest CPC rate starts from $1 in Tier 1 and from $0.5 in Tiers 2 and 3.
Pricing models are often glued to the verticals, for example, CPM works for cryptocurrency ads. Either way, popunders are often based on several variables. So, we've highlighted the key popunder eCPMs in the table below:
Popunder ads eCPMs
| Platform/Network | Country (traffic) | eCPMs/Revenues |
| --- | --- | --- |
| Propeller Ads | US | Propeller ads have an 80/20 revenue share ratio and have a NET 30 days payment cycle. Publishers can request payment once they have crossed the minimum payment threshold of USD 50 for Paypal/ USD 100 for Payoneer. |
| Exoclick | US | The minimum payout threshold for PayPal, Paxum, and Payoneer users is 20 Euros/Dollars and 200 Euros/Dollars for WebMoney users. For monthly payments which get paid on every 20th of the month, the minimum amount has to be reached by the end of the previous month |
| PopAds | US | $5 Minimum payout |
| Poptm | US | The minimum payment threshold for Poptm is $50 if you're withdrawing money through Paypal. |
| RevenueHits | US | The minimum payout threshold for PayPal and Payoneer is USD 20 while it is USD 500 for Wire Transfer. |
| Hilltopads | US | The mobile and desktop pop-under rates for tier one traffic in the US, UK, Canada, and Germany are in the range of USD 3 to USD 5. For tier 3 traffic countries like India, Pakistan, and Bangladesh, the CPM rates are well below 50 cents. |
Source: Blognife
How should you advertise with popunder ads?
Popunder ads can cater to audiences who prefer that you don't disturb or interrupt them with advertising when they're online. But to get results, there are several factors you should include.
Best practice tips for effective popunders
Publishers and advertisers should consider several different factors when running successful popunder ads:
Go by GEO: Each region will have certain times to plan for that can lead to better conversions. For example, the best time to advertise in the US is from 8 pm.
Choose a simple offer and conversion flow: Keeping it simple is the key to converting new customers. In new GEOs, you should consider offering trials that can lead to installs.
Have a fast landing page: Your ads are your landing pages when it comes to popunder ads. So make sure they load fast. And make sure to test this out.
Use ad capping: Frequency capping can help you limit the number of times your target audience sees the same popunder ad.
Include a clear CTA: Your call to action should be clear, simple, and stand out.
Don't over-optimize: Avoid adding too many traffic filters at the start. Take a step-by-step approach instead.
Choose the right rates: CPM pricing works well for long-term traffic. CPA may be better for faster conversions such as app installs.
What are the benefits of working with popunder advertising networks?
Here are some strong reasons to consider working with popunder advertising networks:
Broader targeting options
Aligning with a popunder advertising network means advertisers and publishers have more opportunities to target customers. These can include:
Geographical location.
Operating system or version.
Device type.
Connection type.
Browser or browser language.
Individual ad zones.
Helps to overcome ad blockers
Some users will turn on ad blockers to remove or reduce the ads they see, including popads. But there are several popunder ad networks that can support you to navigate this terrain when it comes to popunder ads.
Better security to pick up bots
Popunder advertising networks can usually offer publishers and advertisers special anti-bot filters. And this can ensure you receive 100% quality traffic. Click and conversion fraud are both areas of concern in the industry. And ad fraud as a whole is set to grow to $100 billion in 2023.
Powerful auto-optimization tools
Ad optimization is a time-consuming process, especially if you have lots of campaigns. To help overcome this, popunder advertising networks can offer tools that do the optimization for you. And this will save you resources and money. Plus, it's also beneficial if you work with any affiliate marketers.
Drives retargeting
This format works well for retargeting by showcasing attractive offers the second time around. And that's because it's not usually possible to show most of this information to users the first time they encounter your ad. This makes popunders a good way to increase your ability to remind existing viewers of new updates to drive more conversions.
Why should you work with popunder advertising networks?
Popunder ad networks have the specialist knowledge, tools, and experience to support you to develop the best approach to popunder advertising.
By recruiting a popunder advertising network to support your next campaign, you could benefit in the following ways:
Get help to craft winning ad content with attractive CTAs.
Access large GEO targeting regions and audiences.
Design and production of a variety of popunder ads.
A/B testing to ensure optimization.
High volume lead generation and increased brand awareness.
Support to find the best offer for your vertical or strategy, e.g. flash sales or SOI.
You should now have a better understanding of popunder ads and how they can improve your business. So take a look through our list of popunder advertising networks, agencies, and platforms that can support your goals.
List of popunder advertising networks