Dating affiliate networks put publishers in touch with affiliate programs that advertise dating-related offers. Dating is one of the affiliate marketing niches that never ceases to grab people's attention and has a great potential to generate revenue for publishers.
Top Dating Affiliate Networks
Dating affiliate networks are appropriate for those with a large and growing social media presence or another online platform such as a YouTube channel. Whether it's a blog or some other dominant online presence, they allow you to generate a revenue stream that you don't have to put a great deal of time and effort into to see results.
One thing's for sure: if you specialize in creating excellent content, you can monetize your actions and do well. With well-designed landing pages running comprehensively targeted ad campaigns based on the "Cost-Per-Action" paying model, mobile publishers are in a solid position to make money with dating affiliate networks. We've collected the top-notch dating affiliate networks in this directory.
This guide will cover everything from how being a dating affiliate marketer works, how you benefit from getting involved, and how to choose the best dating affiliate programs available from a vast list. It will also feature the top dating affiliate networks in the industry.
What is a dating affiliate?
A dating affiliate is an online marketer who can earn a considerable income by promoting dating products–they offer high conversion rates and commissions due to the evergreen interest surrounding them. Whenever a successful referral occurs, typically a completed sign up, the affiliate receives a commission. Below you'll find the main pros and cons of dating affiliate marketing:
Pros
Dating affiliate marketing is a large and continuously growing industry; there's a high potential at all times of the year. Super affiliates in this niche can earn up to $500,000 per month.
It's painless to get started. Signing up for most dating affiliate programs is quick.
You don't need a wealth of experience to start dating affiliate marketing, and the more you put in, the more you get back.
The potential to earn passive income throughout the day is a reality. The first few months may even lead to a full-time job if you have the drive.
More than 1500 dating sites and apps are available, so offers are plentiful.
Dating affiliate network example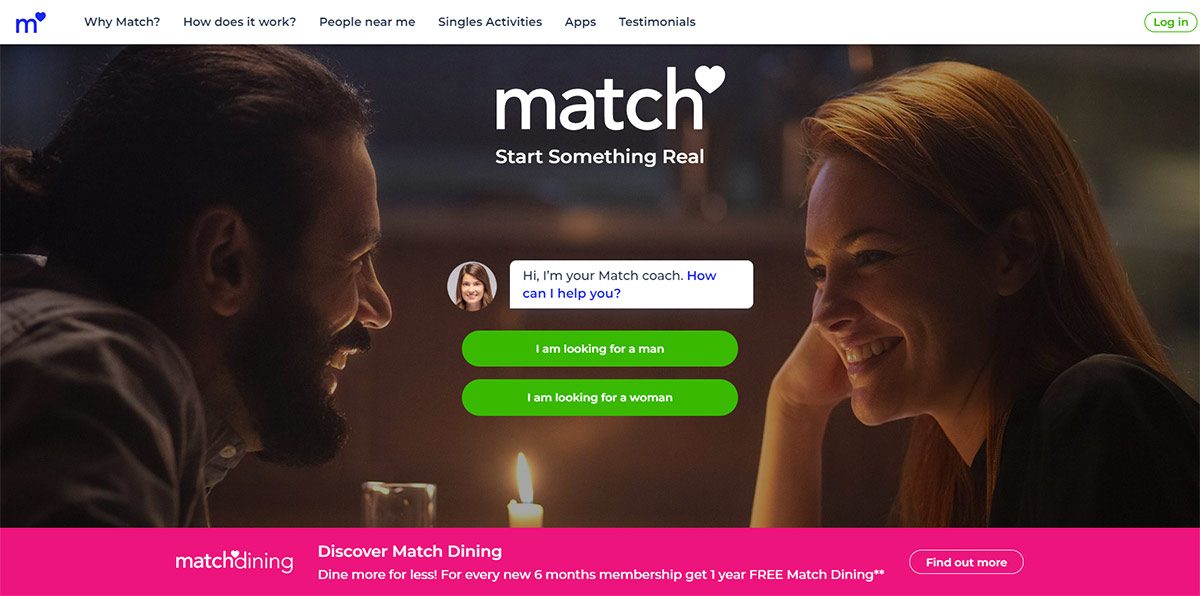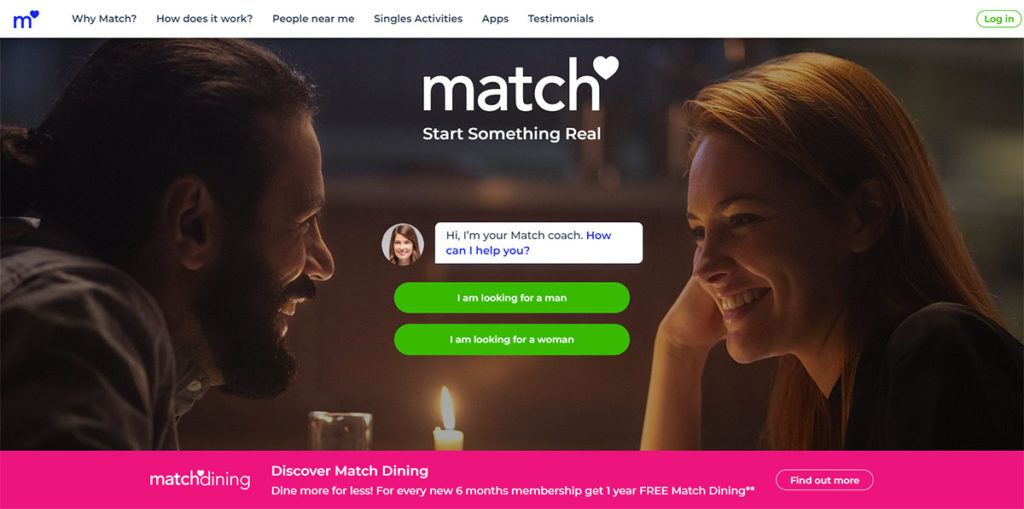 Source: Match
Cons
You don't control the dating affiliate marketing programs; you are dependent on their rules, and they can change without warning.
Affiliate links can be hijacked, resulting in someone else profiting from your work.
Repeat customers won't purchase from you again as the affiliate network takes over from there.
Affiliate marketing is a growing industry, so you'll likely encounter many competitors, and the competition will be fierce.
Top Dating Affiliate Networks
How does it work?
Dating affiliate marketing is where marketers essentially host sites they use to advertise the latest dating offers. They promote these offers on behalf of brands and feature them across blogs, ads, videos and product links. Dating affiliate marketers only receive payment when a successful transaction has taken place, typically when a customer clicks on a link, but this can also be when they buy a specific product as well.
Dating affiliate offers are more popular than ever, and it's a niche that isn't likely to go away any time soon, especially with the rise of matchmaking apps like Tinder and online dating services such as match.com. Affiliate offers include CPS, CPA and CPL, so there's plenty to choose from overall. It's as straightforward as joining a dating affiliate program, promoting products and other offers, and optimizing conversions when required. One of the most important questions marketers need to ask themselves is: what dating product do I want to sell? From there, it's about picking the most suitable network for you.
How can you benefit from dating affiliate networks?
Affiliate marketers benefit from using dating affiliate networks for several reasons. Perhaps the most important of all, however, is that the necessity of creating a product and having the right marketing material isn't something they have to worry about at all. In fact, the speed at which you can generate online income is considerable, as long as you have the skillset and the ability to market a product for the network. After you've been successful, the commission is typically paid quickly and without hassle.
It's not just basic, low income either; those who dedicate themselves to becoming good at dating affiliate marketing will find quitting their day job becomes more likely and is not as rare a concept as it once was. For instance, some dating networks pay a commission rate of up to 75% for each sale alone–with a decent-sized blog, this can add up in a few short months.
Dating affiliate program example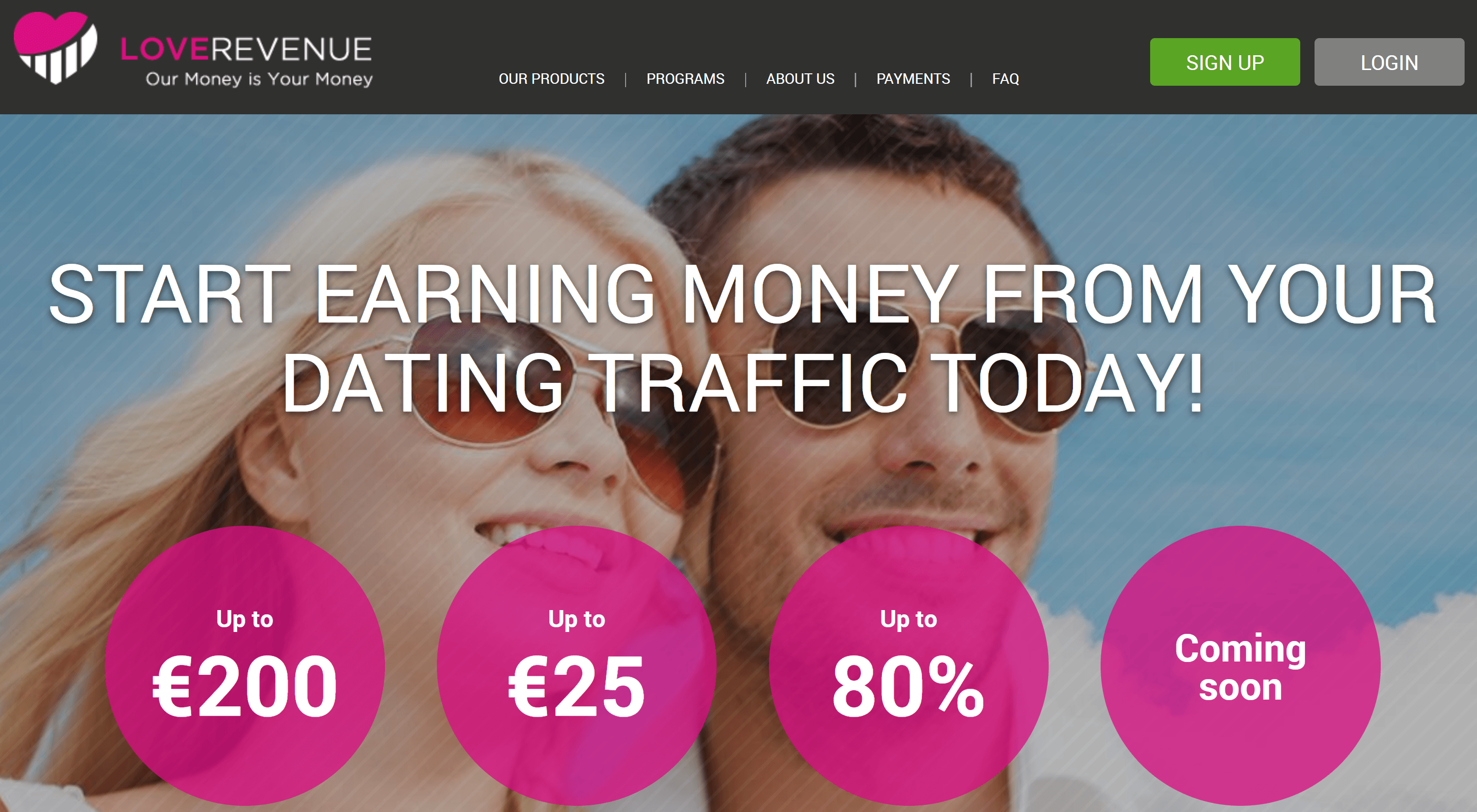 Source: LoveRevenue
Not to mention the very nature of the income is passive, meaning you can earn while doing other things (and on the go). For example, after setting up an affiliate marketing plan and including the relevant promotion, any sales or commissions generated later will continue to trickle in, even if you're working elsewhere or promoting something else entirely. On the other side, the affiliate networks focus on pure product creation and effectively leave the sales and marketing to affiliates–when these relationships work well, both sides greatly benefit.
Finally, the security of networks ensures that products live up to their name–and that both sides adhere to commitments.
How to choose the best dating affiliate network?
With so many dating trading affiliate programs available and the list growing every day, how do you choose the right one for you anyway? We've detailed some of the key dating affiliate program types to help you arrive at the best networks and set you on the right path. Let's have a look at each of them.
Dating platforms
These are the most common types of programs in which you refer people to a dating site and get them to sign up, usually via a product link–you get paid when a referral installs, for example, a mobile dating app. Some of these dating platforms will pay you just for directing traffic to them and getting visitors to sign up for free; others will only pay when a referral subscribes to a paid premium plan. Keep in mind that commission structures vary significantly between these types of programs.
Self-improvement programs
Promoting self-improvement programs is another way to earn via your blog or another online platform if you have a solid online presence. This type of dating program helps people improve their spiritual well-being and calm their minds. There are now affiliate networks that concentrate on self-improvement from the dating perspective. Some commissions here can reach over 80% and typically require successful sign-ups.
Dating advice
These are dating networks and digital platforms that tell people how they can be better at dating. The programs are created by experts and provide tips on how the person can enhance their dating skills and meet the best match for them. Some of these programs are more useful than others, and there's a large variety to choose from–it's prudent to take your time when picking these and ensure they're a high-quality and certified network.
Dating Affiliate Offers And Payouts
Here are some of the biggest dating affiliate offers along with their platform in the table below.
| | | |
| --- | --- | --- |
| Platform/Company | Affiliate Offer | Payout Data |
| Match.com | Affiliate scheme available at www.uk.cj.com | Affiliate commissions up to £4 CPL and £45 CPA |
| Tinder | No program, offers on Crack Revenue | CPA / $3.00 |
| eharmony | Dedicated program at eharmony.co.uk | Up to £70 per subscription |
| Zoosk | No dedicated scheme |  CPA / $2.50 |
| OkCupid | Affiliate referral scheme |  75% for each sale |
| EliteSingles | Via Awin, each completed personality test | £5 per lead |
| Cupid | Per order completed | $135 |
| Loveme | Per sign up | $20-30 |
| FriendFinder | Per Sign up | PPL, $2 for women and $1 for men per sign up |
| SeekingArrangement | Complete registration | $25 in commissions to receive payment |
What are CPA offers?
A commonly asked question when just getting started in the dating niche revolves around what CPA offers mean. In short: CPA stands for "Cost Per Action", and–as the name might suggest–it pays an affiliate marketer for each completed action their referral performs. This action could be as simple as signing up or staying on a particular page for a specified time. It can even include upgrading to higher plans.
Some of the highest paying networks in the dating affiliate niche use the CPA commission structure. It tends to work out best for both sides: the dating affiliate networks can guarantee visitors sign up and buy their products, while affiliates get rewarded with some of the best rates in return.
Get started with the ultimate affiliate networks
You must be a pro in all things affiliate marketing and dating affiliate networks by now. Put these tips and tricks to good use, stay focused, and set yourself reachable targets.
Remember that online dating has transformed how relationships work, and dating affiliate programs present the potential for significant revenue and sometimes life-changing opportunities. Just watch out for any partnerships where your ad spend is higher than your earnings to keep things balanced.
Check out our list of the top affiliate networks and make the dream of passive income a reality–we've put together for you the leading dating affiliate networks that cover offers for all major mobile operating systems.
List of dating affiliate networks and programs