This guide will cover everything from how being an eCommerce affiliate marketer works, how you stand to profit from getting involved, and how to choose the best eCommerce affiliate programs available.
Top eCommerce Affiliate Programs
eCommerce affiliate networks connect online publishers with affiliate programs that allow them to promote eCommerce-related offers.
eCommerce affiliate programs can be a profitable niche in mobile affiliate marketing with high payouts, particularly as they promote the latest popular gadgets, websites and online offers to mobile consumers.
We've assembled many top eCommerce affiliate networks in our directory for your mobile marketing strategy.
What is an eCommerce affiliate?
An eCommerce affiliate promotes another company's products, services, or site via their own channels and earns a commission for doing so.
eCommerce affiliate marketing is increasingly popular and is used to drive sales and generate online revenue beneficial to both brands and affiliate marketers.
A steady, reliable income is possible, but it doesn't have to stop there: some of the best eCommerce affiliate marketers have become millionaires through their craft.
Top eCommerce Affiliate Programs
Below you'll find the main pros and cons of eCommerce affiliate marketing:
Pros
There are few barriers to entry, and it's easy to join and get started.

You don't need to be a marketing expert; the aim is to build your experience as you go.

There are few operating expenses compared to other industries. You work online, so you only have basic electricity and subscription costs to cover.

You don't have to leave your full-time job; most people perform eCommerce affiliate marketing as a side job

.

There's flexibility: you can create multiple campaigns and choose when to leave the poorly performing ones while optimizing the successful ones

.
eCommerce affiliate program example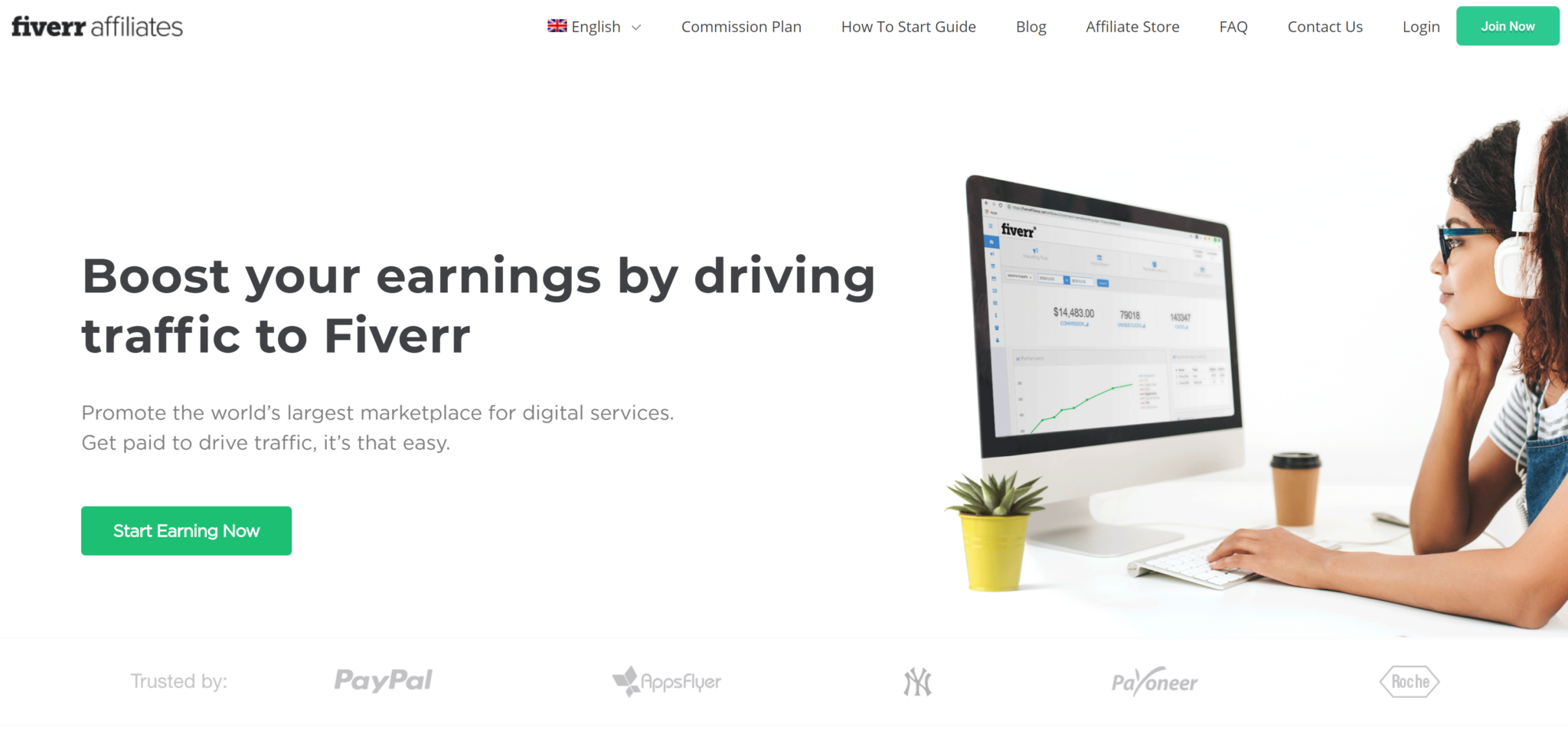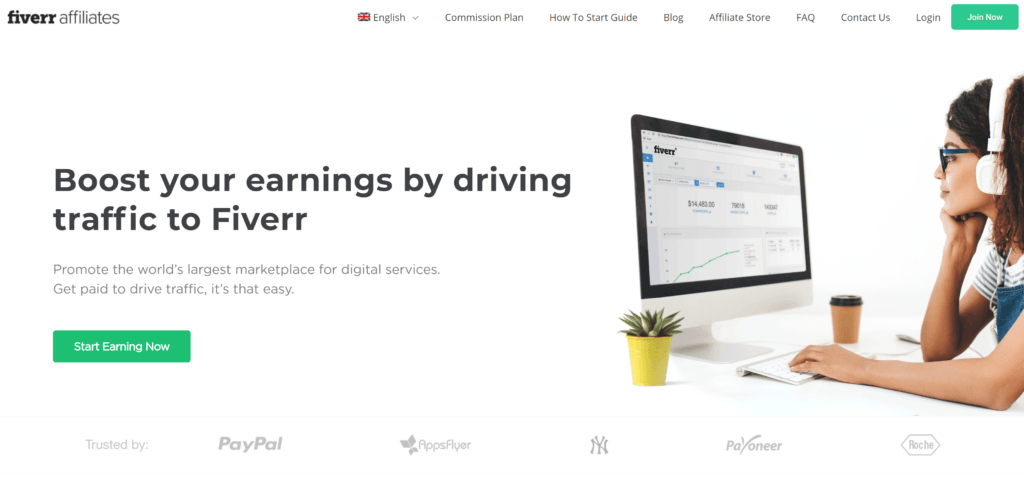 Source: Fiverr
Cons
You don't own affiliate marketing programs and have to use existing ones, so you must respect their conditions

.

There's no guarantee of revenue: most don't earn what they expect immediately

.

Programs can shut down with little in the way of warning, so affiliates will need to be ready to adjust

.

You'll need to combine your methods, such as direct marketing and drop shipping, as well as create multiple affiliate sites to be stable

.
eCommerce affiliate offers are somewhat niche, but they are most definitely profitable.
With names like Amazon and Shopify offering great affiliate programs, there's a lot of potential for affiliate marketers and brands.
Other benefits include:
It's proven to be cost-effective

The audiences you can reach are vast and constantly growing

It's easy to track your progress with powerful metrics
How does eCommerce affiliate marketing work?
eCommerce marketing is where you use promotional tactics to drive traffic to your online store.
The traffic gets converted into paying customers, and the aim of the day is to keep customers returning for more.
A crucial part of promoting your online store is using eCommerce marketing tools to drive more sales for specific products.
eCommerce affiliate marketing is similar but involves driving traffic to a product or service on behalf of an affiliate network instead.
This scenario is where an online merchant effectively promotes another company's products, services, or website on their own site.
The affiliate earns a commission each time someone makes a purchase–typically via a unique link given to them before they start.
It looks something like this (when all is said and done):
1. You show an ad or a link for Store X on your site, blog, or social channel
2. A customer clicks the unique link
3. The customer purchases a product in Store X
4. The affiliate network records the transaction
5. Store X confirms the purchase
6. You get paid a commission
Keep in mind the commission rates vary depending on the company and offer. For example, you'll earn about 5% of a sale on the lower end, but you can earn as much as 50%.
Affiliate marketing programs usually provide a flat rate per sale instead of a percentage.
You don't have a boss giving you a weekly paycheck as an affiliate marketer.
Affiliate networks almost always work on commission, whether you get paid by click or sale.
Brands use a browser cookie to track peoples' actions from your content. When someone takes the desired action, that's when you get paid.
How can you benefit from eCommerce affiliate networks?
Why would you want to join an affiliate program? There are many advantages to doing so.
Joining an affiliate program is a speedy way for eCommerce businesses to open up an additional revenue stream.
Each time one of your contacts purchases from your affiliate partner, you'll earn an affiliate commission.
So, by simply marketing their products or services and referring your contacts to them, you can watch the extra income start rolling in, which you can then invest back into your business.
For instance, you could purchase new tools to improve your business processes.
You'll be able to grow your customer base and boost revenue while keeping up with changing consumer preferences.
It also allows you to get noticed within new circles with little effort or cost–you can start to think of partners as an extension of your existing marketing or sales team when all goes well.
eCommerce affiliate network example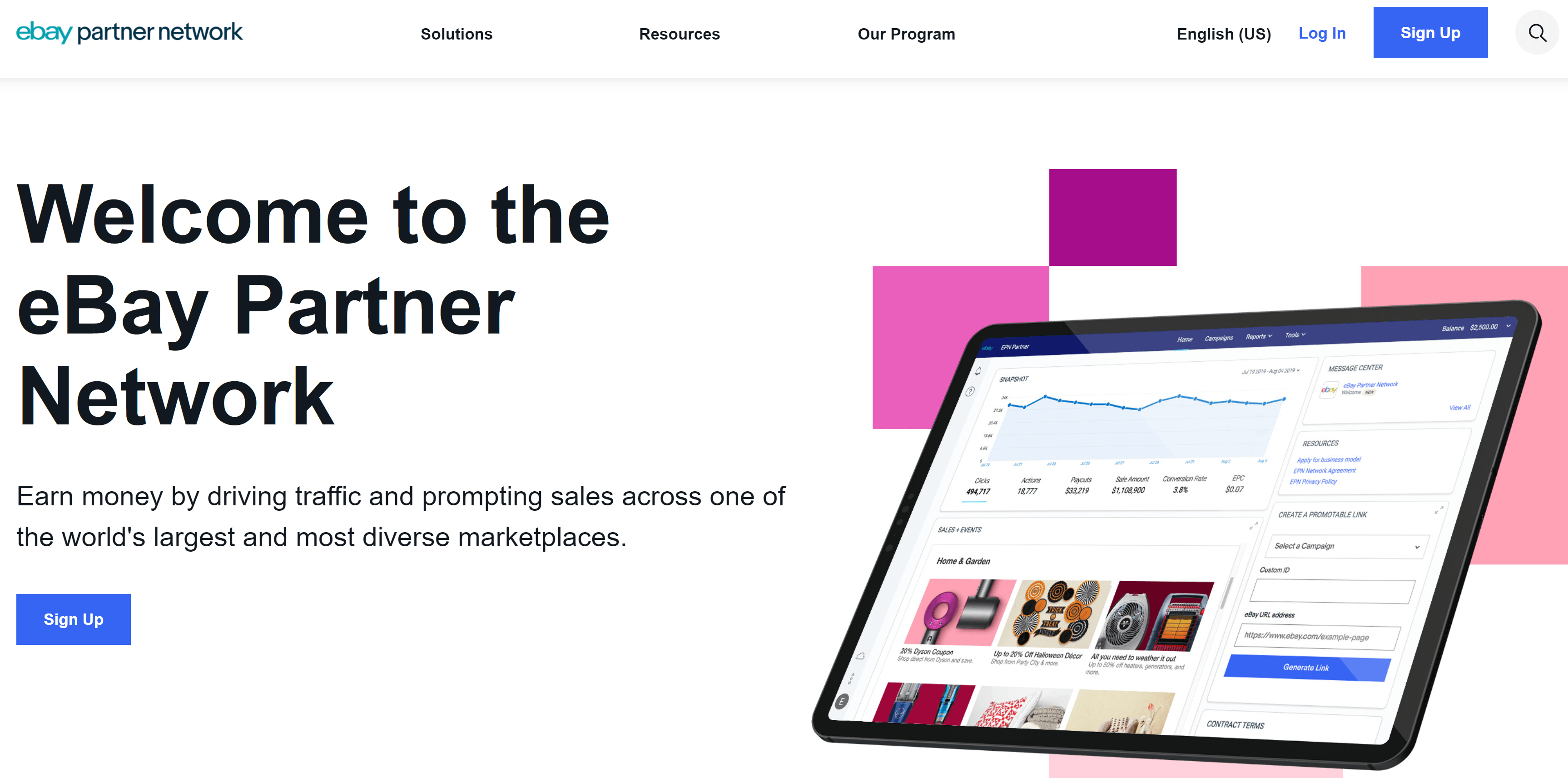 Source: eBay Partner Network
There's a lot of competition in the eCommerce space, so joining an affiliate program can help you distinguish yourself from competitors.
You'll be able to connect your audience with products and services your affiliate partner offers—without having to take on the hassle of providing them yourself.
Your customers will likely get recommendations for products they need from someone they trust, saving them time and effort.
In other words: you can earn higher customer satisfaction scores, and that's good for any online business.
When customers like your brand, they want everyone else to know about it through photos, videos, and product reviews.
More sales get generated through word-of-mouth compared to paid ads themselves.
How to choose the best eCommerce affiliate network?
How do you choose the best eCommerce affiliate program with so many available? We've listed some critical things to look out for before you get going.
Vendor reputation
It's always preferable to work with long-established vendors with a good reputation and high traffic where possible.
Be sure to research, and don't be discouraged by brand new vendors if they offer an excellent product.
The best networks provide conversion metrics and allow you to keep track of things as you go.
Commission levels
You need to search for programs that will make you a good and dependable return.
While you may think higher commission levels provide the most attractive opportunities, it's always wise to look at the bigger picture as well.
For example, high commissions may be offered on products with low sales, while a high selling product may have a lower commission rate.
How many products you sell will affect your average order rate, which is something you need to keep high.
Vendor support
Knowing you have support from an affiliate network when needed gives peace of mind.
Support can be offered in several ways and depends on the size of the vendor, from a personal account manager to live chat or email support.
It's worth seeing what marketing materials are available and how good the quality is–some networks provide landing pages and banners to place on your site.
Consider all options carefully and consider how to make them work for your business.
What are the biggest affiliate eCommerce offers and their platform?
Here are some of the biggest affiliate eCommerce offers and their platform in the table below.
| | | |
| --- | --- | --- |
| Platform/Company | Affiliate Offer | Payout Data |
| Shopify | $58 for each additional user | A minimum of $25 in credits |
| Amazon Associates | Earn up to 10% in referral fees | At $100 |
| Ebay Partner Network | Driving traffic to listings | $25 is the threshold |
| Apple Affiliate Program | Earnings depend on the number of visitors to a site that click Apple text links and banners | This varies by country and currency |
| Walmart Affiliate Program | This is around 4% on each eligible sale | Payout at $50 |
| Target Affiliate Program | Up to 8% in commission on products | Uses the corresponding commission rate |
| Coinbase | If the referred individual initiates a buy or sell of $100 | Low payout at $10 |
| ClickFunnels Affiliates | Up to 40% recurring commission per month | Referrals, SAAS at $50 threshold |
| Bluehost Affiliate Program | For every visitor who clicks through links and signs up, receive $65 | Referrals, payout at $65 |
| Wayfair Affiliate Program | Up to 6% on commissions and a 30-day referral period | Referrals, payout on each order |
Get started with the ultimate eCommerce affiliate networks
eCommerce affiliate programs are more than worth getting involved in for those who persevere.
That said, it's best to keep your eyes open for better offers over time and keep trying new methods to have a strong chance of success.
Check out our top eCommerce affiliate networks list and make the dream of quitting your job a reality.
Here we've put together the top eCommerce affiliate networks that cover offers for all major mobile operating systems.
List of eCommerce affiliate programs and networks