Affiliate marketing is a great way to monetize your app and make profit from the advertising content you provide, so there are several benefits from working with publishers through affiliate programs to secure that cash flow.
Top Affiliate Marketing Programs
Whether you choose to monetize your app with video content, a website, a blog or with social media posts, using affiliate marketing programs are efficient at generating results, for both the advertiser and publisher, and are easy to get started with.
Find out in this guide what affiliate programs can do for your app monetization strategy, how they work as well as a carefully selected list of the best affiliate marketing programs in the industry to reach a wider audience, and attract more potential customers to your business.
What is an affiliate marketing program?
Affiliate marketing is a marketing concept that relies on performance, rewarding one or more affiliates for each visitor they bring to a brand's site through their own advertising efforts. These publishers are paid a commission according to what they have agreed on with the brand, and the affiliate program facilitates this arrangement.
Essentially, you partner your mobile app, website, blog or video content with the highest paying affiliate marketing program that rewards you, for example, for directing customers to a location in which they buy a product.
Brands are able to find the right affiliate that aligns with their marketing campaign through an affiliate program, and work with one that will help increase ROI significantly. Both parties can sign up for the chosen affiliate platform and collaborate, benefiting from valuable services the programs provide.
Top Affiliate Marketing Programs
It's fruitful for the brand involved because the content creator can, often, successfully persuade customers to visit and order. The creator receives a share of the revenue in return – which varies greatly between programs, it must be said – for bringing customers to the brand.
How do affiliate programs work?
Affiliate marketing programs work by allowing marketers and advertisers to create a profile on their platform and find suitable brands to work with and promote. The affiliate program generates a link that is exclusive to the publisher who can share this on their site, encouraging visitors and/or social media followers to click the link.
Each time a user follows the link and makes a purchase from the brand, the affiliate receives a commission. This way, companies take advantage of affiliate programs to improve and increase their sales. And these platforms should ideally be based on platforms with efficient tracking features to monitor affiliates.
The way the clicks are tracked is typically by the use of cookies. The cookie tracks each user's behavior, and if they make a purchase. The 'cookie life' determines how long the cookie tracks the activity of an online user. So, if a cookie has a life of 30 days, only if the user follows the affiliate and makes a purchase within 30 days will it be trackable, and the publisher will get a commission.
Joining an affiliate program can significantly help promote your products and offers to a wider audience. Also, affiliate programs will help you track and optimize your conversions, allowing you to grow your business at a rapid rate.
Types of affiliate marketing programs
There are two ways of describing the variety of affiliate marketing programs out there: the types of offers and commissions. The most in-demand commission types are CPA and CPI, but pay-per-click (PPC) is also available through affiliate programs. And in today's affiliate marketing the most popular offer types are the following:
Affiliate Offer Types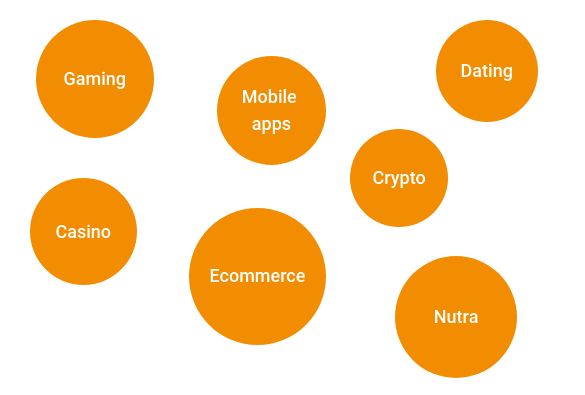 Affiliate marketing programs, most of which are free to join, can also either be very general (for example, Amazon Associates), or focused on highly specific areas, such as Health, Ecommerce, Crypto and Travel.
There are a number of brands that used to run affiliate and referral programs in the past. These include giants, such as Netflix and Fitbit, for example. On the other hand, companies, like Twitch and Shopify, opened up affiliate programs that demonstrated a great potential to both affiliates and brands.
There are also more types of affiliate programs you want to look into based on your specific target audience, and the platforms they spend most of their time on. It is helpful to outline your buyer personas to better identify their user behavior.
Does your buyer persona usually read blogs, scroll through social media channel feeds, or use search engines to browse products related to your field?
Top Affiliate Marketing Programs
You should also ask yourself if your typical customer does extensive research before making a purchase, or do they look for informational content they can consume quickly to make a decision?
These questions can help you understand which type of affiliate marketing program will align with your marketing objectives.
Search affiliates
With search affiliate programs, publishers will advertise your product and services on search results and online advertising platforms. This can be a successful way to attract more potential customers if the affiliate implements great SEO practices, and A/B tests and optimizes the ad results to maximize ROI for both parties.
Influencers
Influencers who are active in the same industry as your brand and engage with your target audience on a regular basis can be beneficial to your business. Partnering with them and asking them to feature and recommend your product to their followers can bring additional revenue for the influencer as well as for you.
Review sites
Review sites can be a great way to attract users that typically do a lot of research before purchasing a product. Partner with affiliates who publish reviews and ratings about related products, and ask them if they can give an affiliate link to your services through their content.
Coupon sites
Coupon sites can grab the attention of new users and potential first-time buyers to check out your website and services. While you don't want to invest too much in giving away your products at a discount, choosing coupon sites as your affiliate program can turn new users into loyal brand advocates.
Email marketing
Email marketing can be an effective affiliate program when done in moderation. The publisher can include a link to your site and products within the emails they send to their clients and customers that have similar buyer personas. This can spark an interest in them to leverage your services as well, benefitting the affiliate at the same time with additional income.
How much money do affiliate programs make?
Now that we know how affiliate programs typically work, and how to make money with affiliate marketing, you surely want to know how much an affiliate program makes. Because you want to earn a lot of income from your affiliate marketing strategy, you want to choose an affiliate program that is successful in promoting products within your niche.
But let's talk numbers now. In the US alone, the affiliate marketing industry is growing at a rapid speed, with spending expected to reach $8.2 billion by 2022, which is a major increase from $5.4 billion in 2017, and $1.6 billion in 2010. Moreover, up to 84% of publishers are taking advantage of the affiliate marketing concept, making this a thriving marketing format in today's industry.
Affiliate programs have grown in popularity ever since the drastic advancement of technology, so it is beneficial to get on the trend wagon and partner with some of the most successful and profitable affiliate programs to expand your target market even further.
Not yet fully convinced? Almost half of affiliate marketers make just under $20,000 a year, with 35% of affiliate marketers making more than $20,000 each year.
There is no magic formula that will allow you to start making money with affiliate marketing fast and easy. However, given the stats and numbers, affiliate programs are a good place to start and grow your business at a steady rate.
So, if you have developed a sufficient website and mobile app that showcases your products and services in the best way to your target audience, affiliate programs can easily link to your site to significantly drive traffic, clicks and conversions.
What are the best affiliate marketing programs?
In order to get the most success out of an affiliate marketing partnership, it is best to identify your niche and which type of affiliate program will suit your unique product and services. It is also important to have a highly optimized site and landing page to keep users engaged and willing to make a purchase on your site.
Make sure to find and choose the best affiliate marketing program that will also create just the content for potential customers to click on the affiliate link. If the affiliate program does not align with your business objectives, or does not use the suitable advertising formats that resonate with the nature of your business, you want to make sure to work with one that will not chase away users from looking into your product further.
We have put together a list of the best and top affiliate marketing programs out there that can add high value to your affiliate marketing campaign. If you are not a content creator by heart, or would like to target a wider range of potential customers in the market, partner with these affiliate programs to maximize results for your business.
These affiliate programs will help you generate extra revenue and income for your mobile app and web-based business, giving your brand a significant boost of recognition in the market.
List of the top affiliate marketing programs