Games affiliate networks connect publishers with affiliate programs that allow them to promote games and their related offers in return for revenue.
Top Gaming Affiliate Programs
This guide will cover everything from how being a gaming affiliate marketer works, how you benefit from getting involved, and how to choose the best gaming affiliate programs available.
It will also feature the ultimate gaming affiliate networks in the industry.
Games are a significant and profitable niche of affiliate marketing; it has several sub-niches that revolve around specific kinds of games–board, card, racing, retro, games for kids, as well as video game and mobile game services.
By definition, games will never go out of fashion, and neither will the affiliate programs that help promote them.
Games affiliate offers are both prolific and highly desirable. Platforms such as Microsoft and Amazon offer excellent programs, not to mention the enormous popularity of gaming in all modern forms; gaming affiliate offers are everywhere.
What is a gaming affiliate?
A gaming affiliate is a marketer who earns revenue from promoting products and services relating to the gaming niche on their site, YouTube channel or even social media.
These affiliates form a partnership with a typically well-known company in the space and then promote everything from hardware to software and accessories.
Top Gaming Affiliate Programs
CrakRevenue - The One-Stop-Shop In Affiliate Marketing
Performcb - #1 Performance Marketing Network Worldwide
ClickDealer - The only way to succeed in affiliate marketing is to partner with the best!
Below you'll find the main pros and cons of gaming affiliate marketing:
Pros
Gaming is now a multibillion industry, and there are no signs of it slowing down.

The demand for gaming peripherals has increased fast, and there are many offers available for you to promote.

As a gaming affiliate, you can earn in-game support to help you get further in your games.

The commissions are usually large, and free sign-up options are plentiful.

You can quickly check the clicks and sales you send to the network and the commission you're earning.
Gaming affiliate network example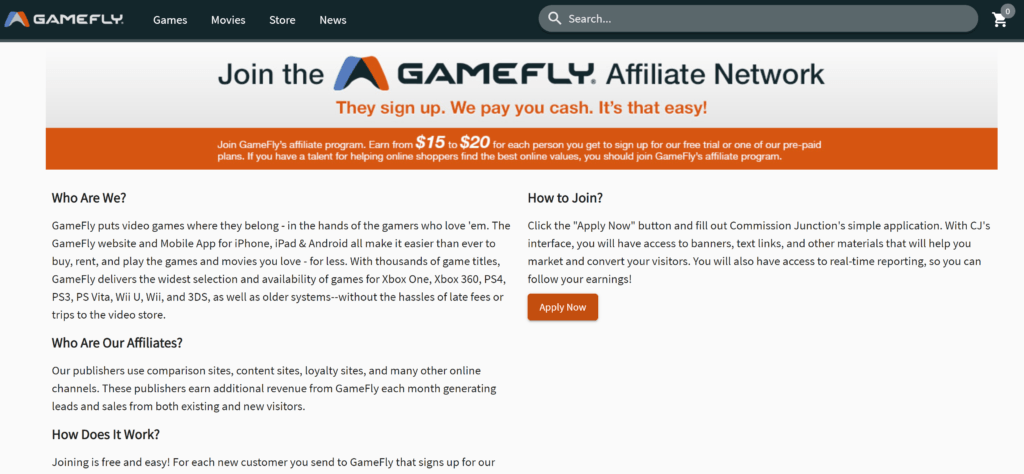 Source: GameFly
Cons
Your growth may be limited because you're forced to rely on one demographic alone.
Strict rules govern gaming affiliate content creation, so you'll need to follow guidelines frequently.

Anyone can sign up for gaming affiliate marketing programs, so the competition is unrelenting at times.

You don't get paid if no one buys anything, even if you're driving massive traffic to the network.
How does it work?
Gaming affiliate marketing requires an online presence that can market specific goods or services on behalf of an organization. You're becoming an independent sales consultant, in other words.
If your site creates a sale, you get a commission or some supplementary reward–if you don't generate a sale, you don't get paid, although this becomes less frequent over time.
For example, via Twitch, gaming affiliates earn revenue from selling games or special "in-game" items; this includes receiving subscriptions from their most loyal viewers.
Affiliates can get started by merely choosing a seller and signing up–registering for an affiliate program is generally straightforward, but this does, of course, vary.
Once an account gets created, you'll receive an affiliate link bespoke to you. Every affiliate link is different; the seller recognizes where the traffic is coming from and can then reward you with the commission in turn.
How can you benefit from gaming affiliate networks?
Gaming affiliates can benefit from using networks and programs for many reasons.
For a start, they don't need to create a product themselves and having the right marketing material isn't something they have to worry about–typically, you're supplied with everything you need and then market to your audience via your blog or video channel.
Gaming affiliate programs are also a great way to start making money from home without the need to pay anything upfront–you earn a commission from an established and trusted retailer, and there are rarely any sign-up fees.
While there are many different niches for affiliate marketing, gaming is one of the most lucrative of them all. For example, some gaming networks pay a commission rate of up to 60% for each sale alone.
That's not to mention that digital game sales made up 74 per cent of all game sales in the US in 2017.
Digital platforms, such as Steam and the App Store, make it easy for people to buy games because there are no physical overheads involved.
Gaming affiliate program example
On top of that, you can specialize in advertising a solid product niche instead of jumping from one to another, allowing you to perfect your craft.
You'll even be able to negotiate individual commission rates if you prove your worth and continually improve over time.
Extra incentives exist as well. For example, Razer is a lifestyle brand for gamers.
They are widely recognizable in the gaming community–you can promote their products across various content types, and there are special incentives for marketers, such as unique codes and promotions.
The income is almost always passive too, so if you're working elsewhere or promoting something else entirely, you can still earn.
How to choose the best gaming affiliate network?
How do you choose the right one for you with so many gaming affiliate programs available and the list developing? Worry not; we've listed some of the critical things to look out for overall.
Cookie duration
Cookies stockpile the information about your referrer ID because not all visitors purchase the product instantly after clicking a referred link.
Cookie duration, in other words, describes the time window when a purchase gets attributed to the referrer–clearly, the longer this is, the better it is for you.
Commission rate and types
These vary; they're typically either a fixed price or a simple percentage of the sale. Percentage commissions are often more significant for digital products, so keep that in mind.
A high conversion rate means commission rates themselves don't always have to be market-leading.
Payout flexibility
The companies that run affiliate programs aren't keen on completing many small payouts on a frequent basis (such as three payouts a week). They prefer a payout once or twice a month and only above a specific threshold.
Look for programs that offer respectable payout flexibility and a reachable threshold so you can keep the revenue consistent.
Games Affiliate Offers And Payouts
Gaming affiliate offers can be profitable. With names such as GameStop and Zavvi offering great affiliate programs, there's a lot of potential for affiliate marketers and brands.
Here are some of the biggest gaming affiliate offers along with their platform in the table below.
| | | |
| --- | --- | --- |
| Platform/Company | Affiliate Offer | Payout Data |
| GameFly | Dedicated affiliate program | 5% on the sale of new console games |
| GameStop | Advertise games on blog | 5.00% commission |
| Zavvi | Promote their game products | You earn commission once every month |
| G02Games | Advertise software | Monthly commission payments |
| Simply Games | Via Awin – Link to products on site | 4% commission |
| Amazon Associates | Referrals on games | 10% in referral fees – $100 payout |
| GearBest | Display products on web | 1-3% commission |
| 365 Games | Advertise products and services | Up to 3% commission |
| Microsoft | Feature Microsoft games from the Windows Store | Up to 10% in commission |
Here we've put together for you the best gaming affiliate programs and networks that cover offers for all major mobile operating systems.
Get started with the ultimate gaming affiliate networks
You must be proficient in all things gaming affiliate marketing by now. Put these tips and tricks to good use, stay focused, and set breakable targets when you're just getting started.
Gaming affiliate programs present the potential for considerable revenue and sometimes life-changing opportunities.
Just watch out for any collaborations where things aren't clear, and keep your eyes open for better offers as they appear.
Check out our list of the top gaming affiliate networks and make the dream of passive income a reality–we've put together for you the ultimate gaming affiliate networks that cover offers for all major mobile operating systems.
List of games affiliate programs
The One-Stop-Shop In Affiliate Marketing

| Founded | Employees | Revenues | Social | Traffic |
| --- | --- | --- | --- | --- |
| 2006 | 51-200 | $100m+ | 20k+ | 400,000+ |
CrakRevenue is a CPA-based advertising platform that connects advertisers and publishers. It provides affiliates with three plans (Active Affiliate, VIP Affiliate and Elite Club), all of which has Help Desk included, hundreds of offers and 5% lifetime referral program. On top of that for the second and third plans it offers a dedicated affiliate manager, exclusive offers and promotions, annual payout bumps and more.
Key features:
Mobile platforms: Android, OS
Campaign types: CPA, CPI, CPL, CPS
Offer Types: Dating, Cam, Health, Adult Gaming
Learn more about CrakRevenue