SMS Marketing platforms are helpful services that facilitate the planning and integrating of marketing campaigns that specifically target mobile devices via SMS (Short Message Service).
SMS advertising is more than just composing and sending a text message to your users.
Personalization and productive messages are key components to a successful marketing campaign for SMS, and will lead to long-lasting relationships with your users, with higher open and response rates. SMS marketing therefore requires thorough research and constant creativity for app owners to really be successful with their efforts.
Not everyone has the time and capacity to run SMS marketing campaigns themselves, especially when they have an entire business to take care of. This is where SMS marketing platforms come in, helping marketers target high-intent and prospective customers with engaging, promotional messages.
Top SMS marketing platforms and software are dedicated to go the extra mile in achieving the desired campaign results every marketer is seeking, instantly increasing the level of engagement and widening attention drawn to your mobile app.
What is SMS marketing?
Before we take a deep dive into the core features, integration methods and typical workflows of these top platforms and software, let us start right from the top with the definition of SMS Marketing, to better define what you need to look out for when choosing the best platform for your mobile advertising campaign.
Short message service, or as we know it, SMS marketing is a thriving advertising concept, despite the emergence of the app messaging giants, like WhatsApp and Facebook Messenger that seem to be taking over the market.
Similar to email marketing, SMS marketing entails sending promotional messages to customers in the form of, well you guessed it, text messages. And the key characteristic of the concept is, your customers need to opti-in or sign up for it.
Unlike email promotions, SMS marketing consists of shorter messages that need to be engaging enough to capture your customers' attention just with that one subject line. Not an easy one, especially when copywriting for SMS marketing is not really your strong suit.
Enter SMS marketing platforms.
What are SMS marketing platforms?
By targeting prospects and existing mobile app users, SMS marketing platforms create effective campaigns, using messages with strong CTAs, like subscription links, surveys and polls. These digital promotions allow mobile marketers to increase their number of subscribers sustainably.
In essence, text marketing platforms and solutions are helpful tools so that you don't have to manually compose each promotional message and send them to each one of your customers. SMS marketing software often includes automation, integrations, contact management, personalization options and two-way messaging features to make life for app owners a whole lot easier.
SMS marketing platforms can help you generate the following types of promotional text messages:
Types of promotional text messages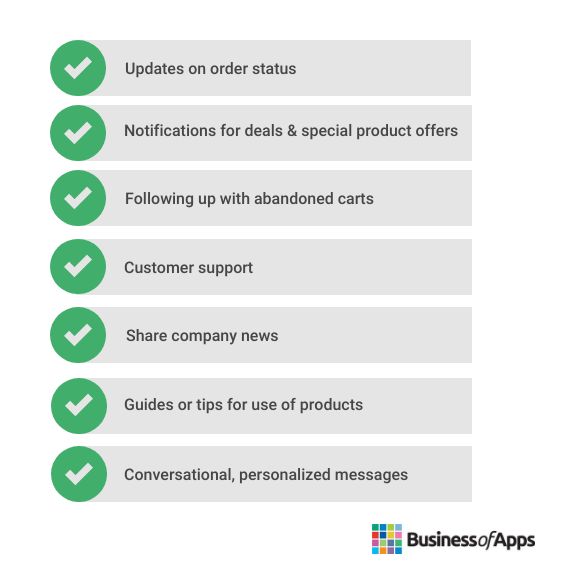 Why is software for SMS marketing important?
At this point, you may be thinking that sending SMS messages as part of your app marketing strategy may be an outdated concept. You are not wrong for thinking so. However, SMS is indeed still thriving, despite the rise of email marketing as well as the messaging giants, WhatsApp and Facebook Messenger.
In fact, the average SMS open rate for promotional text messages is 98%, while the average open rate for email marketing across all industries is 21.33%. The reason for the huge difference lies within the connection between business and consumer that is formed through the nature of the marketing concepts: SMS marketing enables near real-time connection and engagement at a much higher level than email marketing.
Another benefit that software for SMS marketing offers is that your texts will be received by users faster through SMS advertising, and even faster than a social media post or email. The platforms create accurate messages with the right tone and character count, and design visuals and graphics for you that go well with your content.
Rest assured SMS marketing platforms will make these text messages quick and easy to create and send, guaranteeing an instant boost in engagement rates.
SMS marketing software also allows app owners to reach a sea of users and consumers, and target and engage them instantly with its highly interactive and intimate nature. And indeed, up to 75% of consumers prefer to receive promotional text messages. Yet, only 20% of businesses actually integrate SMS marketing into their campaigns.
SMS marketing is extremely overlooked in the advertising industry, mainly due to preconception of it being an outdated phenomenon but also a complex and confusing channel that requires time, effort, and a sense of creativity to ensure a successful and healthy delivery.
It doesn't need to be all too complicated to get only the best out of SMS marketing though.
How does SMS marketing work?
SMS marketing is not as much of a complicated process as one may think. And because social media marketing has become such a common concept, you may think social media marketing platforms offer a lot more simpler implementation. However, SMS marketing is actually a lot easier, as there is no design involved when creating your campaigns.
To understand what are the top SMS marketing platforms to partner with, you need to know the general implementation process of promotional text messages. This way you will know what to look for when choosing your software for SMS marketing.
Make a list of your users
Once users have either subscribed or given their permission to receive updates or advertising messages from you, you can add them to a contact list of those who have opted in.
Make sure to do this before creating your SMS advertising campaign so that your mobile app remains compliant with standard procedures. And don't forget to give customers a way to opt out at any time as well.
Automate your SMS marketing
You must have a lot on your to-do list when running a business, and manually sending text messages to every customer is the last thing you want to be doing. An SMS marketing software can help with this task.
All that you need to do is upload the list of customers with their contact information, and you can leave the rest up to the automation software. And you can always manage the data as well as track your campaign with these platforms.
Create your promotional message
Now, this part requires some creativity, but at the same time, the messages do not need to be as long or inventive as an email newsletter. The character limit for text messages is 160 characters, but overall it's good to keep them even shorter.
Remember, mobile users are usually on the go and generally skim through texts, so it is good for your messages to match this pace too.
Make sure to create intriguing messages too and know what kinds of messages your users want to receive to increase CTR rates. For example, 77% of consumers opted in to a brand's text messages to specifically receive discounts and deals. Moreover, 68% of users responded to reminders of important appointments.
Discount deals text messages example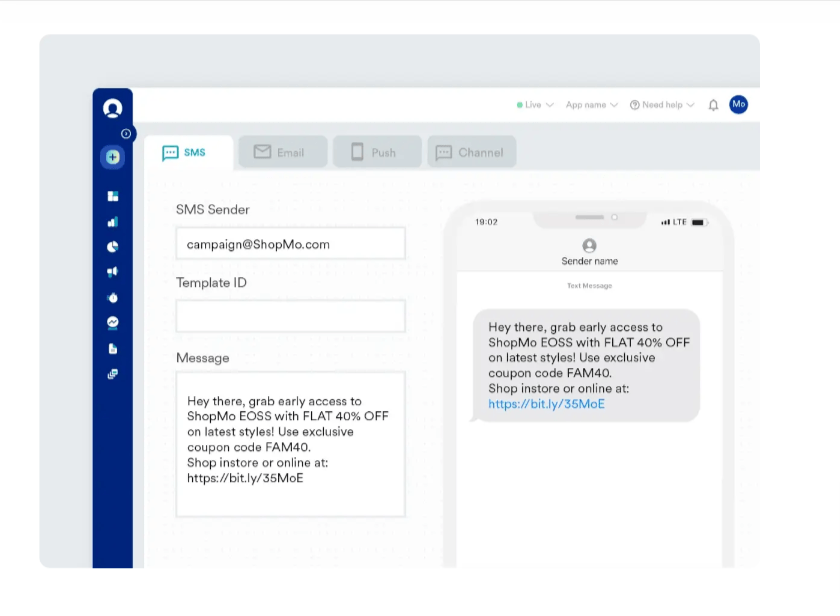 Source: Moengage
And don't forget to insert a clear call to action, or even a link to the product page in question.
Schedule your text messages
Segmenting the list of customers to send text messages to can be extremely helpful to know when to send them and to which users. This can significantly increase the chances of them responding or clicking through to your services. Each customer can have different time schedules, and you can find this out by seeing when they usually make their purchases within your app, or which marketing campaign they most interacted with.
SMS marketing platforms also cover this tedious task for you, by using point-of-sale (POS) data to automatically categorize your users for you.
Monitor performance & analyze results
Like with all of your advertising campaigns, you want to track this one too. This includes seeing how many people clicked on the CTA link/button, or, if you provided a discount code, tracking who made a purchase with it.
Make sure to compile relevant data that is insightful and that allows you to improve your SMS marketing efforts productively and to make data-driven choices.
Having determined the usual process of how SMS marketing works, it is helpful to know common strategies as well as its best practices so that you will know exactly what SMS marketing platform will suit the needs of your mobile app most.
What are the best SMS marketing strategies?
SMS marketing is a lot more than simply sending several promotional texts to your customers, which is often referred to as 'bulk messaging'. Instead, it is about retargeting and capturing the attention of your customers again, so that they stay engaged with your mobile app and continue to enjoy its awesome features and services.
So, what are some great SMS marketing strategies to integrate that can fully maximize your SMS campaign efforts? Let's take a look.
Personalize messages
Similar to email copy or social media posts, you want to personalize your promotional text messages too so that your users feel seen by the mobile app they are using.
For example, you can try sending a welcome text after a customer signs up for a loyalty program. You can even offer a special discount code for new members, which will make them want to purchase your products and services again.
Personalized text message example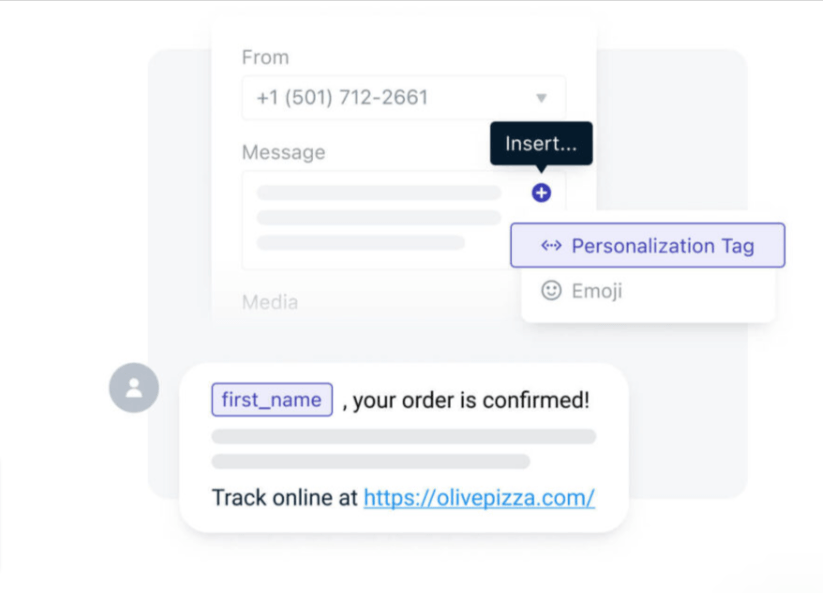 Source: OneSignal
Two-way conversation
Another great way to give an enhanced user experience is to enable a two-way conversation with your customers. This feature includes sending and receiving messages to and from your customer in your inbox, personalizing the relationship between you and users a lot more.
Clear opt-out button
Subscribers should always have the option to opt-out or unsubscribe to your SMS lists without difficulty. So, make sure the opt-out button is clearly visible for customers with links or hyperlinked keywords.
Use MMS
Taking advantage of multimedia messaging services (MMS) as part of your SMS marketing campaign can be an effective way to draw more attention to your mobile app and retarget customers.
Multimedia is growing to be a lot more engaging than just text on its own. So, it is a useful method to leverage in order to stand out from the rest of the messages in your customers' inbox.
Integrations
In order to enable efficient SMS marketing automation, it is good to link your email marketing campaign, for example, with your SMS messaging platform. Using an application programming interface (API) will help you synchronize your platform with other apps more easily.
This way your email list will be integrated with your SMS contacts list, and you will not need to send text and email messages separately. So, your SMS marketing platform can directly use an SMS API to send text messages to customers on your email list, for example.
Don't forget keyword messages
Make use of the keyword feature, which is usually a one-word text that users can send to a phone number to opt-in, or communicate any other business related matters, such as appointment confirmations or cancelations.
This will highly increase interaction and engagement rates, as users will find it easy and quick to respond to your messages.
What are the top SMS marketing platforms?
The SMS marketing concept is regaining more weight and recognition in the advertising industry, with text messages taking the lead as one of the most effective marketing strategies.
Yes, writing catchy punchlines and creating intriguing promotional texts sounds like a task for the creative genius. But it doesn't have to be all too complicated if you decide to work with SMS marketing platforms and software.
They will help app owners grow their brand reach as well as retarget existing customers by sending personalized messages to them. These platforms also implement effective SMS advertising strategies, allowing business to grow on a wider scale, quickly and sustainably.
We have compiled a list of the top SMS marketing platforms and software for you to choose from that offer services and features that will align with your unique business goals.
List of top SMS marketing platforms and software