One of the oldest forms of mobile marketing is SMS marketing. Sending SMS, or as it is more familiar to the North American audience, texting is one of the basic functions on both featured and smartphones. Limited to text only, it's still a powerful mobile marketing technique precisely for the same reason – it allows delivering ad messages to audiences who still use a featured phone and text is the only medium in mobile marketers' disposal.
Throughout the years, SMS marketing has been used to boost app marketing efforts for brands and mobile apps from multiple categories such as Gaming, Travel, Health, and more. To give you a comprehensive picture of this marketing channel's potential, we're going to review six SMS marketing case studies below.
Case Study #1 Expedia
Expedia is one of the leading travel planning websites and mobile apps for the travel industry. The company has been operational since 1996, and as of 2022, its team grew to 25,000 employees. As of today, the company provides booking services for flights, hotels, car rentals, cruises, vacation packages, and more. In 2022 the global revenue of the Expedia Group. Inc. was estimated to be $11.66 billion.
Expedia iOS app interface
Source: Expedia
SMS Marketing campaign objective
Over the years the company ran multiple SMS marketing campaigns to grow the number of its users and increase engagement. One of the most successful was the campaign it ran in partnership with VisitBritain, the UK national tourism agency. The company's goal was to promote British tourism and invite people to visit the United Kingdom.
Solution
Expedia's marketing team used SMS messages to send personalized offers and recommendations to travelers who had searched for flights and hotels in the UK on Expedia's website or the app. Each message contained a special URL to get more details about each deal or recommendation. On top of that, Expedia used SMS messages to stay in touch with travelers during their trip, sending them tips for what sights to visit and various activities to do in the UK. The SMS messages were customized to the traveler's location, preferences, and interests.
Results
As a result of this SMS Marketing campaign,  17,000 clicks were generated with the URL included in SMS messages sent to Expedia users, and the Conversion Rate reached 28%.
Featured SMS Marketing Platforms
Switching from one of the leading travel platforms to an apparel brand that set a new standard to inspire its consumers through a unique combination of product, creativity, and cultural understanding.
Case Study #2 Urban Outfitters
With more than 200 stores across the United States, Canada, and Europe, Urban Outfitters has been one of the leading retail brands for young generation buyers. The feature that sets the brand apart is offering a collection of handpicked vintage clothing. The company's revenue for 2022 was $4.74 billion.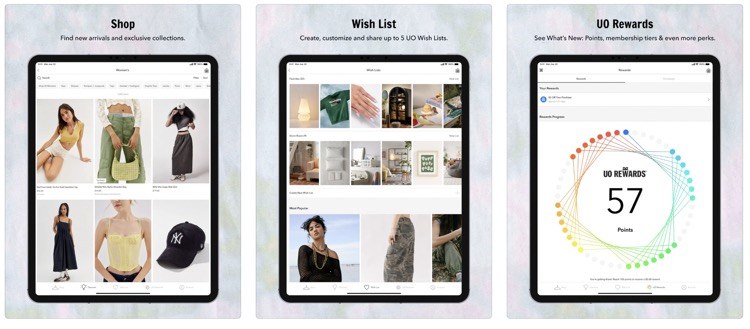 Source: App Store
SMS Marketing campaign objective
To tap SMS marketing potential, the company hired Attentive, an SMS marketing platform that helped Urban Outfitters to build clients' phone numbers database. The database grew really fast to the point where it required optimization to retain initial sms marketing campaigns efficiency.
Solution
It was decided to split the database into two parts – subscribers who were active on other Urban Outfitters marketing channels and subscribers who weren't active. The database was further divided into Test and Control groups to identify what marketing text messages were driving results.
Results
The overall SMS program ROI was 27x+, the program resulted in a 230% year-over-year increase in purchase volume and a 32% YoY increase in onsite conversions.
Switching the gears, from a young-generation beloved apparel brand to a world-famous Pizza brand that is famous for its speed delivery without compromising the quality.
Case Study #3 Pizza Hut
Founded in 1958 in Wichita, Kanzas by Dan and Frank Carney, Pizza Hut is an American multinational restaurant chain with more than 18,000 restaurants worldwide. Each day, Pizza Hut serves more than a million pizzas around the world.
Pizza Hut mobile app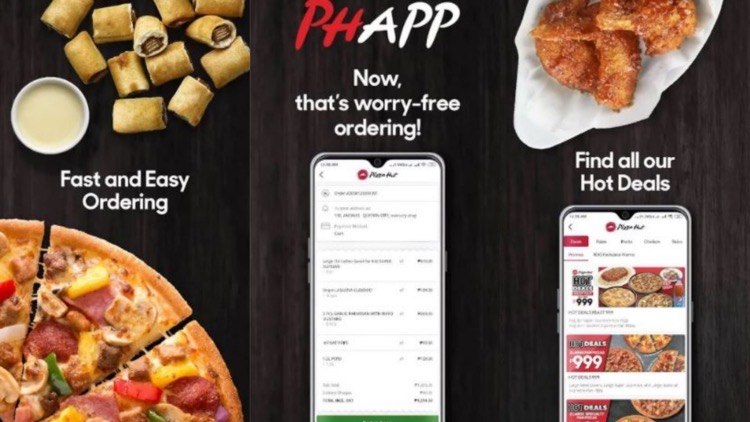 Source: Pizza Hut
SMS Marketing campaign objective
The objective of this particular SMS campaign run by Pizza Hut in the UK was to increase sales among existing customers.
Solution
It was decided to use SMS geofencing to send Pizza Hut customers messages when they were within half a mile of the closest restaurant.
Results
During the 15 months the company ran the SMS geofencing ad campaign, it was found that this marketing technique was 142% more efficient in increasing incremental sales, 4.4 more effective than TV ads, and even 2.6 times more effective than online ads.
Featured SMS Marketing Platforms
Moving away from the world of pizzas to LSKD (Loose Kid) – an Australian-owned and operated brand that produces high-quality, functional sportswear with a street aesthetic.
Case Study #4 LSKD
One of the leading Australian clothing brands that sell functional sportswear and street aesthetic since 2007, the company's annual revenue estimate is around $5 million.
LSKD marketing SMS message example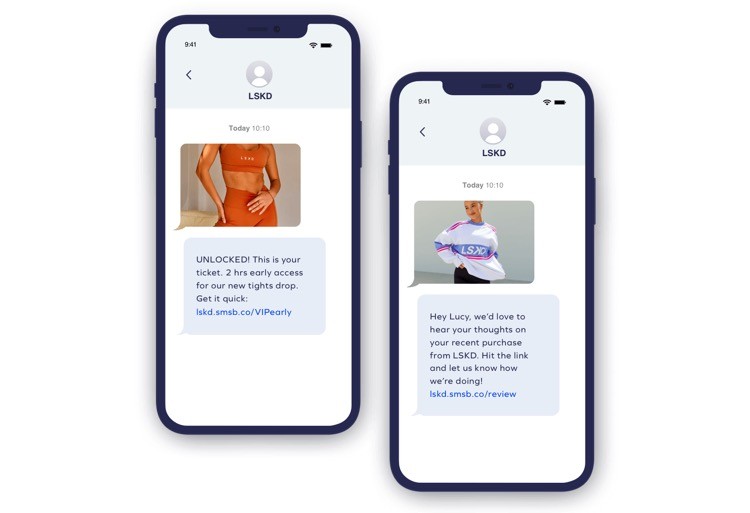 Source: LSKD
SMS Marketing campaign objective
Objectives for this marketing campaign were to help the brand to build a community of users, which wasn't an easy task, given how saturated the eCommerce market was, as well building a user base for the brand to launch a points system to reward loyal customers for submitting product reviews.
Solution
To tackle this challenging objective, LKSD turned to the Yopto eCommerce retention marketing platform to use the number of marketing products they offer, including SMS marketing solutions.
Results
Using the SMS Marketing platform in conjunction with loyalty campaigns, the company managed to build a vibrant community of loyal customers. 39% of product reviews were generated via SMS, the ROI on the SMS marketing campaign was 147x, and the company enjoyed a 173% increase in subscribers.
Featured SMS Marketing Platforms
OneSignal - Maximize Engagement. Minimize Churn.
Here comes another pizza brand on our list of brands that used SMS marketing to achieve various marketing objectives – Domino's Pizza.
Case Study #5 Domino's Pizza
Founded in 1960, Domino's Pizza has grown into a multinational pizza restaurant chain with branches in 90 countries.
Domino's Pizza mobile app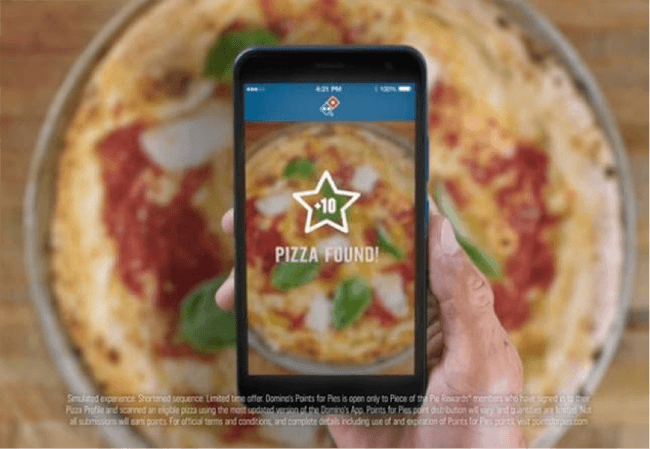 Source: Domino's Pizza
SMS Marketing campaign objective
In this particular case study, SMS marketing was brought up to help Dominos's Pizza restaurant increase the ROI of existing TV and Facebook video ads. The 30 and 60-second ads underperformed and required help from another marketing channel to increase the number of views.
Solution
It was decided to turn to SMS marketing with the assumption that SMS solutions would garner solid, measurable results with an original video ad.
Results
With only $25 of investment into this ad campaign, the brand saw an increase of 125 orders from a single SMS message. With every additional message, an opt-in list grew by 100-200 subscribers. Over the course of the entire SMS marketing campaign, Domino's Pizza could acquire 850 text message marketing subscribers and CPA equal to 15 cents per subscriber.
Now let's turn to a mobile app to mobile app for parents to have meaningful conversations with their children.
Case Study #6 Game of Thrones
Premiered in 2011, Game of Thrones is one of the best HBO shows ever aired, after eight seasons the number of its fans is in the tens of millions. The show won 59 Emmy Awards, and spent $15 million per episode for the final season.
Game of Thrones promo SMS marketing message
Source: HBO
SMS Marketing campaign objective
After the fifth season of Games of Thrones was over, the company was looking for the right tool to keep the fan base anticipating the next season, and the choice was made to use SMS because of its massive reach.
Solution
The SMS marketing channel was used to deliver a series of messages with reminders about the show and links with an invitation to subscribe to the service with content featuring the upcoming season.
Results
After two months, the SMS ad campaign resulted in 70,000 subscribers. The link to a sneak peek video content, contained in the SMS messages, was temporary but fans captured the video content and shared it via their own social media profiles, it resulted in 1.5 million videos for the sneak peek video on YouTube.
From one of the best fantasy TV shows to the healthcare system that was designed to increase the accessibility of preventive medicine for millions.
Final Thoughts
Despite the wide use of such popular digital marketing channels as social media paid platforms, in-app advertising, email marketing, and others, to this day SMS marketing remains a viable channel for brands to market their products or services.
In fact, SMS marketing has the widest reach, given the technical simplicity of supporting SMS on a wide spectrum of mobile phones – from expensive and super advanced iPhone and Android phones to cheap feature phones.
We hope these six case studies are capable to demonstrate the viability of the SMS marketing channel for a broad spectrum of businesses.