This guide will cover everything from being a health affiliate, how you stand to benefit from getting involved, and how to choose the best health affiliate networks.
Health affiliate networks connect publishers with affiliate programs that allow them to promote health-related offers.
Health offers can be a profitable niche in mobile affiliate marketing–the global health industry is currently worth an estimated US$4.5 trillion.
These types of offers can provide mobile publishers with high payouts and they are often supported by large, respectable brands which build a sense of trust for the customer.
In our directory, we have a collection of the top health affiliate programs for your mobile marketing strategy.
What is a health affiliate?
A health affiliate is someone who advertises a health brand's products in exchange for a commission.
Most affiliates earn a commission when a customer clicks a specific link and buys a product.
It's a particularly good vertical to get involved with, thanks to the high payouts and long cookie durations. For example, some health affiliates earn $50 per click in the CBD industry alone.
Top Health Affiliate Programs
Below you'll find the main pros and cons of health affiliate marketing:
Pros
Many household brands offer compelling health affiliate programs for marketers.

Lifetime cookies are more common than in other verticals, allowing affiliates to earn more easily.

Allows affiliates to make an income from helping others live healthy lives.
Custom content and graphics are typically provided via the health programs.

Weekly payments are possible, and the thresholds for these are generally low.

EPC rates of $1,500 are achievable, and the best affiliates can make their promotional efforts a full-time job.
Health affiliate network example


Source: Just Thrive
Cons
You need to have a keen interest in the health vertical as customers require a higher level of trust.
No easy win button: it takes years of sacrifices, persistence, and hard work to succeed for new affiliates.
The best commissions aren't readily available if you're just starting out.
Customers can change their minds quickly if the product doesn't provide health benefits in a relatively short period.
That said, health affiliate offers can be more than worth your time.
With names such as Just Thrive and Life Line Screening offering great affiliate programs, there's a lot of potential for affiliate marketers and brands that want to get involved.
How does health affiliate marketing work?
Marketing affiliates, typically with a health-related blog (or another channel) already up and running, essentially promote offers to their audience.
This is usually via advertising specific links and products they think will interest their audience.
The health and wellness industry itself is booming, and there are no signs of it slowing down, so all affiliates need to do is find a reliable stream of offers to promote.
There's not much needed in terms of upfront investment, and the payouts can be very high, although having a good deal of patience and effort is vital to see things through.
Affiliates simply need to sign up for the health program in question and start promoting offers.
It's especially worth signing up for a health affiliate program if you already have a suitable audience.
Some affiliate programs pay you a percentage of each sale, while others use pay-per-click models instead.
It's not uncommon for affiliates to be invited to events in which to market new health products as they arrive.
If you're new to affiliate marketing, the health vertical can be a solid place to start as the offers are plentiful, and consumer demand is reliably strong.
Health affiliate program example

Source: AromaTech
Here's what the affiliate marketing process looks like in the health vertical, explained in six easy steps below:
1. You show an ad or a link for a health product on your website, blog, or social network.
2. A customer clicks the unique link.
3. The customer makes a purchase in the store.
4. The affiliate network stores the transaction.
5. The purchase is confirmed by the store.
6. You get paid a commission.
The process is fast, and all affiliates need to wait for is the confirmation and then subsequent payment of their commission.
Just keep in mind that all health affiliate programs vary in the precise requirements and payment models. Still, health programs are more than worth considering to take things to the next level.
How can you benefit from health affiliate programs?
For a start, you can advertise affiliate links on almost any online platform available to you.
So if you're a social media influencer, popular YouTuber, or blogger, most programs will allow you to share the links or promote specific products across those platforms.
In fact, here are all the places that most health programs allow you to advertise their products:
YouTube
Health blogs
Facebook
Twitter
Podcasts
Email newsletters
Online Courses
Resource page on a site you own
Another benefit, of course, is the generous commissions available. These go up to 20% commission per sale and sometimes even higher.
The conversion rate in the health vertical is more than reliable enough to earn passive income each month.
Perhaps one of the most unknown benefits is the lifespan of cookies or what's known as the "cookie return" period.
On average, a user has up to 30-60 days to complete a purchase after visiting a site through the link you promote.
Having long cookie lifespans means there's more chance to earn commissions, whereas you can lose out in other verticals.
You also get to increase your chance of success by promoting products or services related to a natural area of expertise.
Most affiliate marketers enjoy the ability to earn a passive income above all else.
Health affiliate program example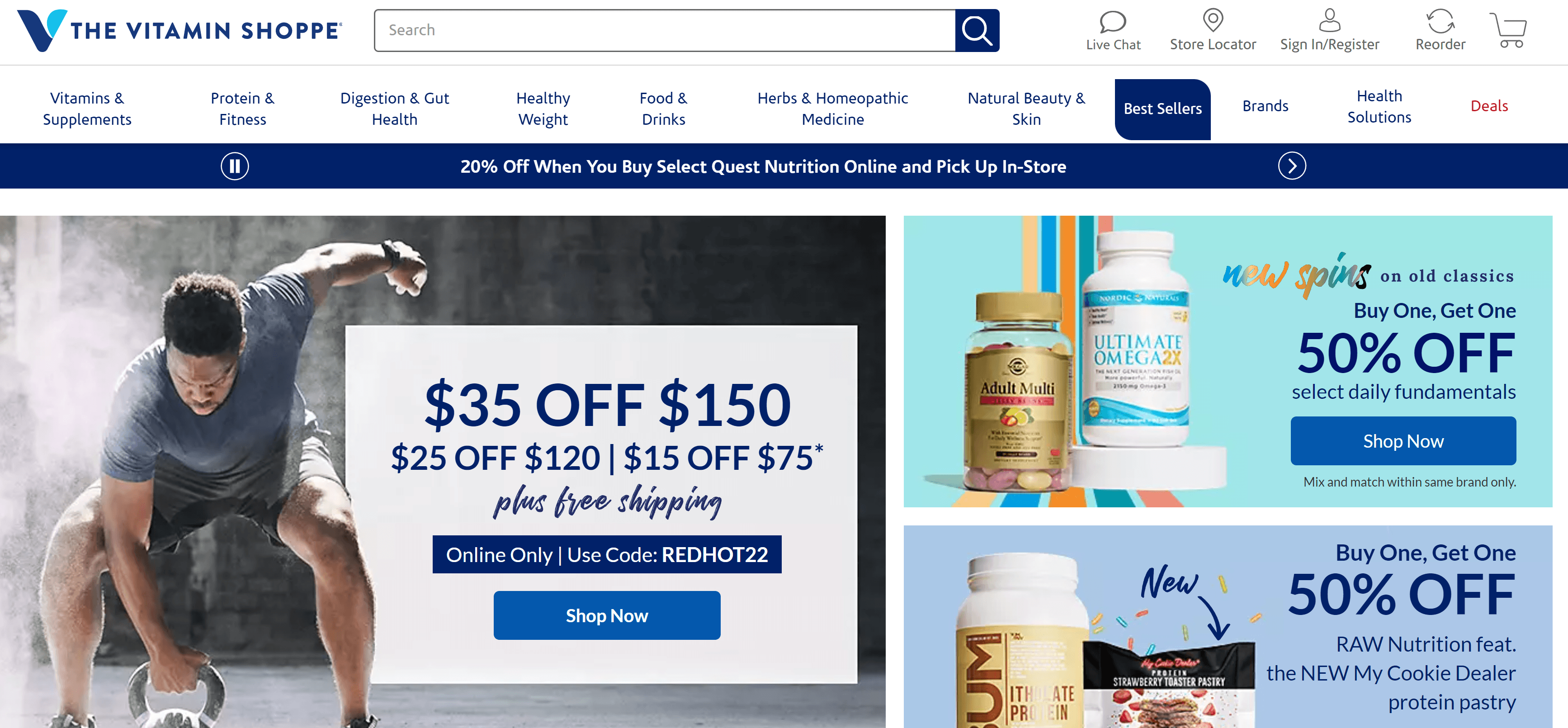 Source: The Vitamin Shoppe
Users only have to make two clicks to convert, so the process itself isn't particularly long or complicated once you know what you're doing.
It's important for affiliates to believe in the products or services they promote, and health affiliate programs tend to advertise useful product offers that do improve lives.
That's not to mention that most health affiliate programs provide human support from a dedicated team of specialists.
Some networks even offer exclusive live training sessions with industry experts.
Add to that real-time reporting and helpful features like SMS sales notifications, and there's little reason not to sign up for a program.
With multiple payment options and low thresholds, affiliates can receive their earnings in no time.
Affiliate marketing itself is also an established strategy for healthcare professionals to generate revenue, and the opportunities are growing every day.
Large payouts and exclusive bonuses, as well as support and analytics, all add up to make it worth your time.
In short, there are many great health affiliate programs available and a considerable number of benefits for affiliates that use them.
What to look for in health affiliate programs?
How do you choose the best health affiliate program? We've listed some key areas to look at overall before you sign up.
Product selection
The best health affiliate programs will have a selection of health-related products to choose from.
This enables you to advertise products that are actually relevant to your audience, meaning a variety of content as well as a better conversion rate.
Cookie duration
Even though the health niche has inherently strong cookie durations, every affiliate program will still have different cookie durations when all is said and done.
Cookie durations can range from as little as 24 hours and go up to a year and beyond; sometimes, there's no time limit at all–a rarity in any niche.
The longer the cookie duration, the more chance you have to earn.
Payment model
The commission structure or payment model is how much you get paid for every sale you make.
The sales are usually calculated as a percentage, but it's important to determine each program's specifics. Look for high EPCs where possible, too, as these indicate the average earnings per 100 clicks.
What are the biggest health affiliate offers and their platform?
Here are some of the biggest health affiliate offers along with their platform in the table below.
| | | |
| --- | --- | --- |
| Platform/Company | Affiliate Offer | Payout Data |
| Just Thrive | 5% commission | Payments made every month |
| KOS | 15% commission rate | Monthly payments |
| Life Line Screening | $20 upon each sale | Monthly payout |
| Plus CBD | 15% commission rate | Monthly payments |
| Neuro Hacker | 15% commission rate | Monthly payments |
| Tyent Water Ionizers | Up to 5% commission rate | Monthly payments |
Here we've put together for you the best health affiliate programs and networks that cover offers for all major mobile operating systems.
Get started with the best health affiliate programs
Health affiliate programs enable you to earn money passively and maintain a flexible lifestyle while promoting health-related offers.
If you have a channel or other platform you can use to advertise these offers, they're more than worth getting involved with overall.
Check out our top health affiliate programs list and start supercharging your income. We've put together the best health affiliate programs below.
List of health and wellness affiliate programs