This guide will cover everything from being an app install affiliate marketer, how you stand to profit from getting involved, and how to choose the best app install affiliate programs available.
App install affiliate networks connect mobile publishers with affiliate programs that drive mobile app installs for PPC advertisers.
App developers are in constant pursuit of finding new users for their mobile apps; such networks are a valuable asset for their user growth ongoing efforts.
An extra benefit that advertisers get from such affiliate networks is that they help them to increase their ranking on app stores by delivering lots of app installs quickly.
For publishers, app install affiliate networks can offer high payouts for the app downloads they bring.
What is an app affiliate?
A mobile apps affiliate is someone who promotes specific apps and gets rewarded in turn for doing so.
They typically drive users to a mobile app via their own channels.
App affiliates earn a commission each time a new user starts using the app–there is often a simple verification process to determine a new user.
Sometimes other mobile products, such as Swiftic's App Maker, need promoting too. Here affiliates can earn up to $150 per new customer.
Below you'll find the main pros and cons of app affiliate marketing:
Pros
A good amount of varying incentives, from regular cash payouts to new entertainment products.
The best programs provide tools to track your referrals and traffic, helping you improve your game.
Long-term partnerships are more than possible, with some affiliates making lasting relationships for years.
A large number of programs are available, and more get created frequently.
You can work from anywhere and whenever you want, as long as you have a decent internet connection.

The payouts are typically high and offer better rewards than other affiliate niches

.
Mobile apps affiliate marketing process
Source: Post Affiliate Pro
Cons
It takes a lot of hard work to see results you can live off, and there can be a significant time commitment.

The programs and rewards can change relatively quickly, with little or no notice

.

A dodgy affiliate referral can destroy credibility–always choose quality businesses to avoid this

.

Affiliate hijacking can occur, so you're not given credit for your referrals, although URL masking can help here

.
App affiliate offers are high-paying and ubiquitous offers.
With names such as Microsoft and Google Apps offering great programs, affiliate marketers and brands have a lot of potential.
Other mobile app affiliate program benefits include:
They offer the ability to generate significant revenues with the right traffic.
High eCPMs with a good insight into the overall market.
Smart affiliates or media buyers can make a margin by buying traffic and optimizing it to generate arbitrage between its cost and the value generated through the CPA offers.
Affiliate networks tend to pay quickly–within 30 days or so.

Networks work with advertisers that affiliates wouldn't usually have access to at the start

.
How does app affiliate marketing work?
App affiliate marketing is where affiliates drive traffic to an app, product, or service.
Advertisers hire dedicated affiliates to promote their apps and products and reward them for each new user that signs up and uses the app.
App affiliate marketing allows app developers to drive installs for relatively low costs without needing entire advertising teams.
Essentially the app developers boost their installs, and affiliates get rewarded with high commissions and other rewards.
The rewards vary depending on the program and can change quickly, although commissions are relatively stable.
App affiliate network example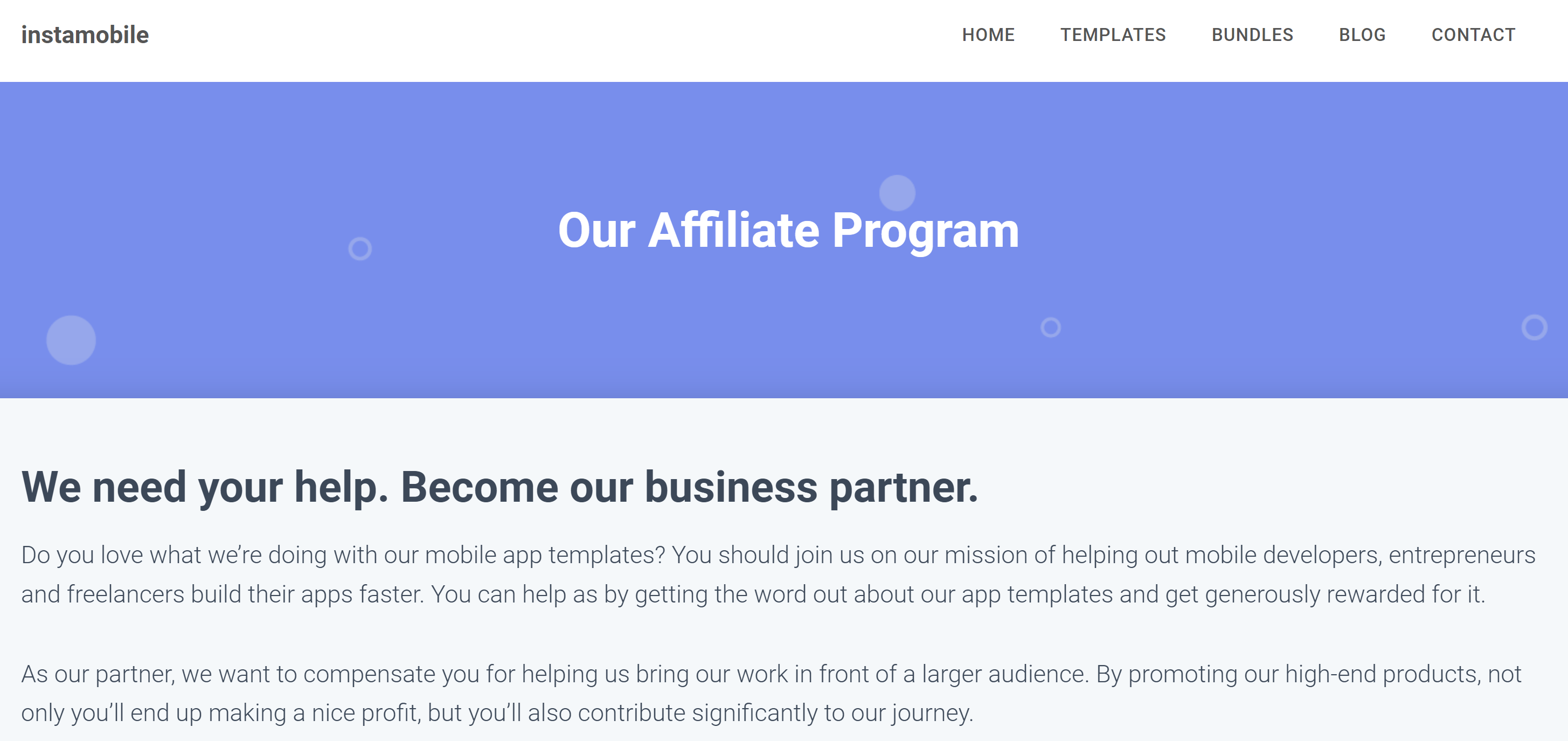 Source: Instamobile
App affiliate marketing networks often pay monthly, although weekly is sometimes an option as well.
The process goes something like this:
1. You advertise the app or product across your channels
2. A customer clicks and follows the link
3. The customer purchases the app or product
4. The app network records the transaction
5. After a few days, the network confirms the purchase
6. You get paid a commission
There are variations to this process, but ultimately, app affiliates act as marketers and get rewarded for doing so.
The most successful app affiliates tend to grow their channels before getting involved.
An app owner's objective is to grow their app traffic, downloads, and installations and turn it into profits and conversions.
How can you benefit from app affiliate networks?
For a start, it's straightforward to start an affiliate marketing business.
You should have an affiliate site to market the products or drive users towards apps already set up, but from there, signing up to programs is fast.
You don't need particular marketing expertise to join these affiliate programs, although those specializing in the mobile space will have the most to gain.
The key benefit is that you don't have to leave your day job–you can do both at once.
It requires some good time management skills, but once you have a schedule, you can generate a passive income that may become a full-time job.
The payouts in the app affiliate niche are often high, and affiliates only have to follow the rules and regulations of the program in question–for those that like independence, it's a natural home.
App affiliate program example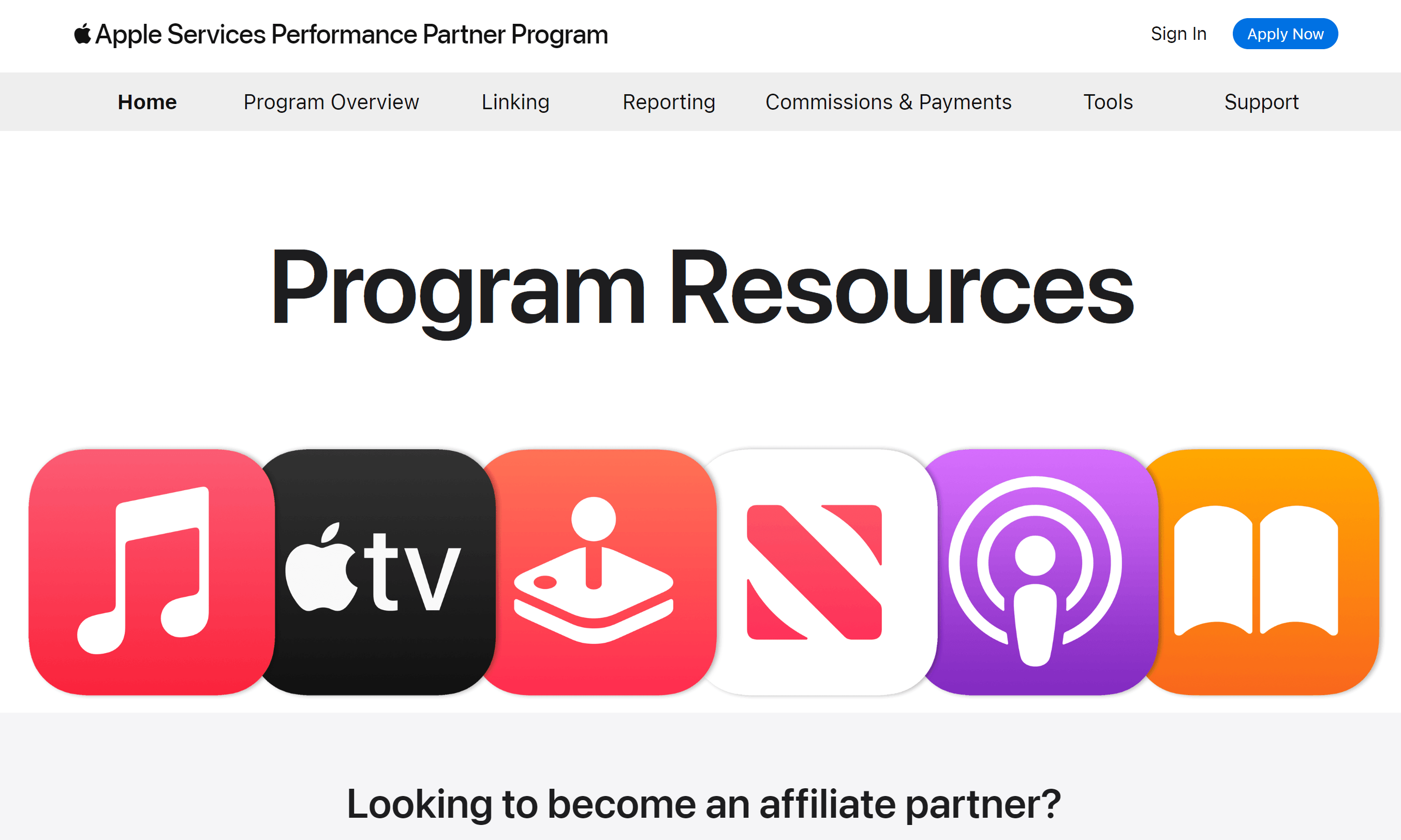 Source: Apple Performance Partner Program
Perhaps best of all, a great deal of flexibility is on offer. You'll be able to run various campaigns and don't have to stick to one program (unless the rules state otherwise).
If a program doesn't work, you can always move on to the next one, so the chance of high growth and profitability is consistently on the cards.
Those that want to become app developers but don't know how to develop a mobile app can gain experience from the templates.
For example, Instamobile focuses on helping its customers to develop apps and provides app templates, starter kits, themes, and more.
The focus on mobile templates could be perfect for app developers who want to start but don't know the steps to take.
The commission rate for Instamobile is 30%, so it's an excellent place to start.
Finally, if you're great at marketing campaigns in general, it gives you the chance to earn sufficiently based on your performance.
Those that work hard, stay persistent, and keep practising can go far.
What to look for in app affiliate programs?
How do you choose the best app affiliate platform with so many out there? We've listed some critical areas to focus your attention on.
Commission rates
The first area is self-explanatory. You want to look for app affiliate networks that provide high commission rates or other rewards worth your time.
While you may not get the best commission rates at first, the more you grow your channels, the more networks will allow you into their programs.
Time window
Affiliate app installs and sign-ups get counted in specific windows of time–when this time expires, you won't get compensation for your marketing efforts.
It's best to look for at least 30-day time windows to give yourself the greatest chance of earning enough each month.
Network support
Network support varies across the board. Most networks offer basic support, such as email and (sometimes) live chat options.
The best networks offer full support and will even provide a great deal of the marketing material used during promotions, so look for them.
What are the biggest affiliate app offers and their platform?
Here are some of the biggest affiliate app offers along with their platform in the table below.
| | | |
| --- | --- | --- |
| Platform/Company | Affiliate Offer | Payout Data |
| Microsoft | Advertise hardware and software program | Up to 10% commissions |
| Google Apps | Every new user that signs-up | $15 for every user, up to $1,500 per business that signs up |
| Apple iTunes | Promote Apple products | Up to 10% commission |
| AppThemes | Earn up to $59.70 per sale | Two-tiered affiliate program at 30% and 10% |
| SiteWrap | $198.80 per sale of the main webinar offer | Earn 40% |
| Envato Studio | For each new customer you refer | 30% commission on first purchase |
Here we've put together the leading app installs affiliate networks that cover offers for all major mobile operating systems.
Top Apps Affiliate Networks
Get started with the best app affiliate networks
App affiliate programs are a good option for passive income and flexibility, so they're more than worth trying out for both beginners and experts.
Be sure to keep your eyes open for new offers–better programs appear consistently and higher payouts are just around the corner.
Check out our top app affiliate networks list and start boosting your income. We've put together for you the ultimate app affiliate networks.
List of apps affiliate programs and offers
NEXT LEVEL AFFILIATE MARKETING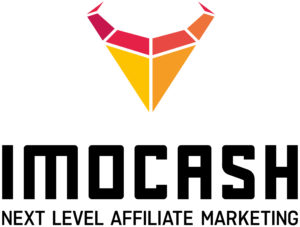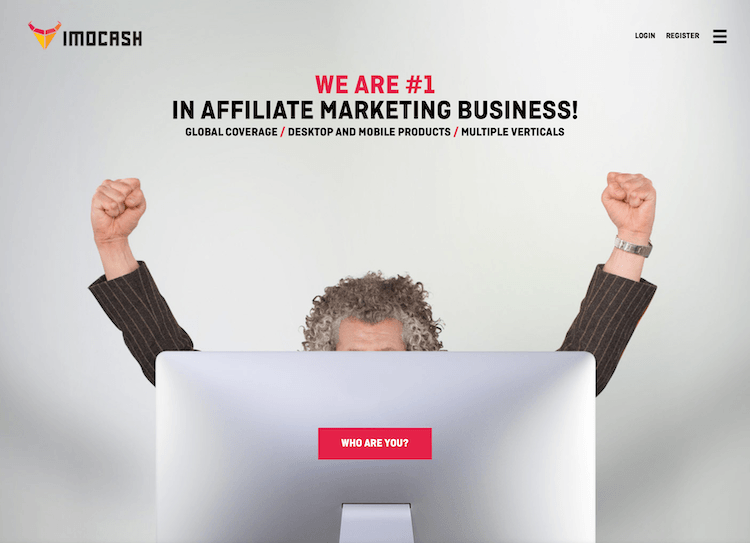 IMOCASH is a fully vertical Affiliate Network, operating globally with a focus on the entertainment industry. Our very strong markets are TIER 1, but we also have good inventory in selected other countries. As one of the fastest growing networks in the industry, we can monetize mobile and desktop traffic.
Key features:
Our team consists of experienced managers who have been working in the industry for 15 years and more and our experience is YOUR key to success.
It's not just giving you the best offers with the best payout. It's about optimizing your campaigns, giving you valuable information and getting the maximum out of your traffic.
Newbie in Affiliate Marketing? – Work with the best in the industry, right from the start!
Longtime affiliate? – Let us be your eyes and ears! Get a new feeling for Affiliate Marketing.
Searching for the right offer can be very time consuming. Therefore, you can filter our huge amount of offers ( e.g. by vertical / media types / country / payout)
Being part of IMOCASH means more free time for you. As I said, we will be your eyes and ears – our Affiliate Manager will inform you on important news!
Learn more about IMOCASH