This guide will cover the top celebrity marketing agencies, what they do, the benefits, and why they're essential for your app strategy.
Celebrity marketing agencies specialize in promoting brand products (and services) by partnering with famous personalities and public figures. The agencies use the popularity and influence of celebrities to create brand awareness, increase mobile app downloads, and enhance your overall brand perception.
They can help you identify the celebrity endorsement that best aligns with your brand's identity, negotiate contracts, and create engaging marketing campaigns that resonate with your target audience.
Finding the best celebrity influencer marketing agencies can be tough, however; that's why we've listed the best of them for you below.
What is celebrity influencer marketing?
Celebrity influencer marketing is a form of marketing that involves collaborating with well-known personalities who can promote brand products and services to new target audiences.
By using the power of celebrity marketing, businesses can connect with their audience in a more authentic and meaningful way.
Celebrity marketing agency example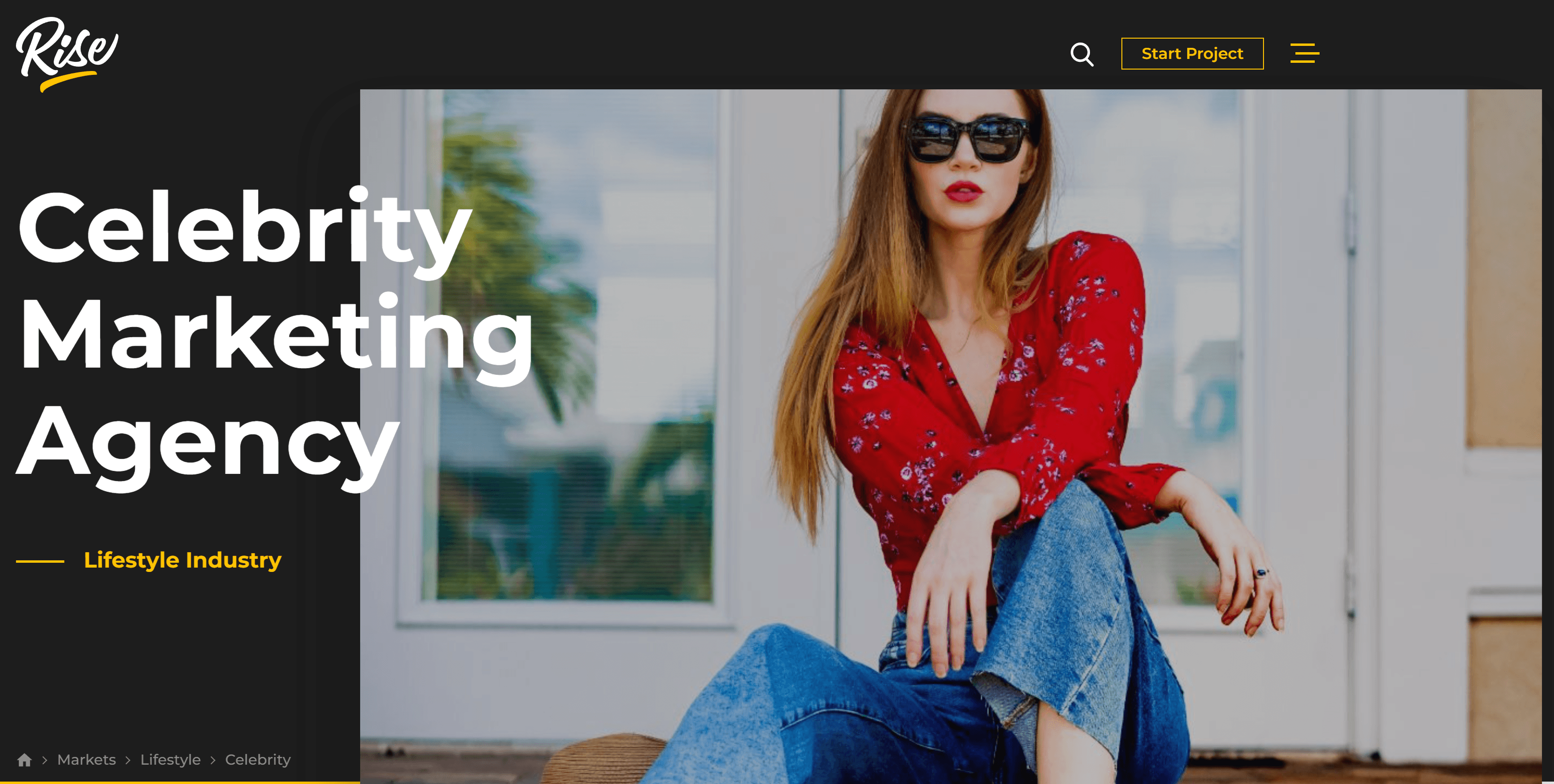 Source: Rise
Celebrity influencer marketing is becoming increasingly common as more people turn to social media (and other online channels) for motivation and advice on the latest products, and using celebrities is a good way of separating yourself from the pack.
That said, careful planning (and consideration) are required to ensure the partnership is valuable for both parties.
What do celebrity influencers do?
Celebrity influencers use their popularity and influence to promote new products and services. This tactic can help businesses to increase their sales, create brand awareness, and enhance their brand perception by connecting with audiences in new and exciting ways.
Most celebrity influencers will have over 1 million followers across their social channels and typically use Instagram and Twitter.
Their duties include the following:
Promoting products or services through social media posts
Attending new and upcoming events
Participating in advertising campaigns
Mega fashion influencers and celebrities will have huge audiences but typically lower engagement rates and require a healthy marketing budget.
Why is celebrity influencer marketing important?
Celebrity influencer marketing is important because it helps businesses increase their sales and app installs, creates awareness, and enhances perception by connecting with your target audience more meaningfully.
Through the popularity and influence of celebrity influencers, brands can reach a wider audience and establish credibility and trust with customers.
Celebrity marketing agency example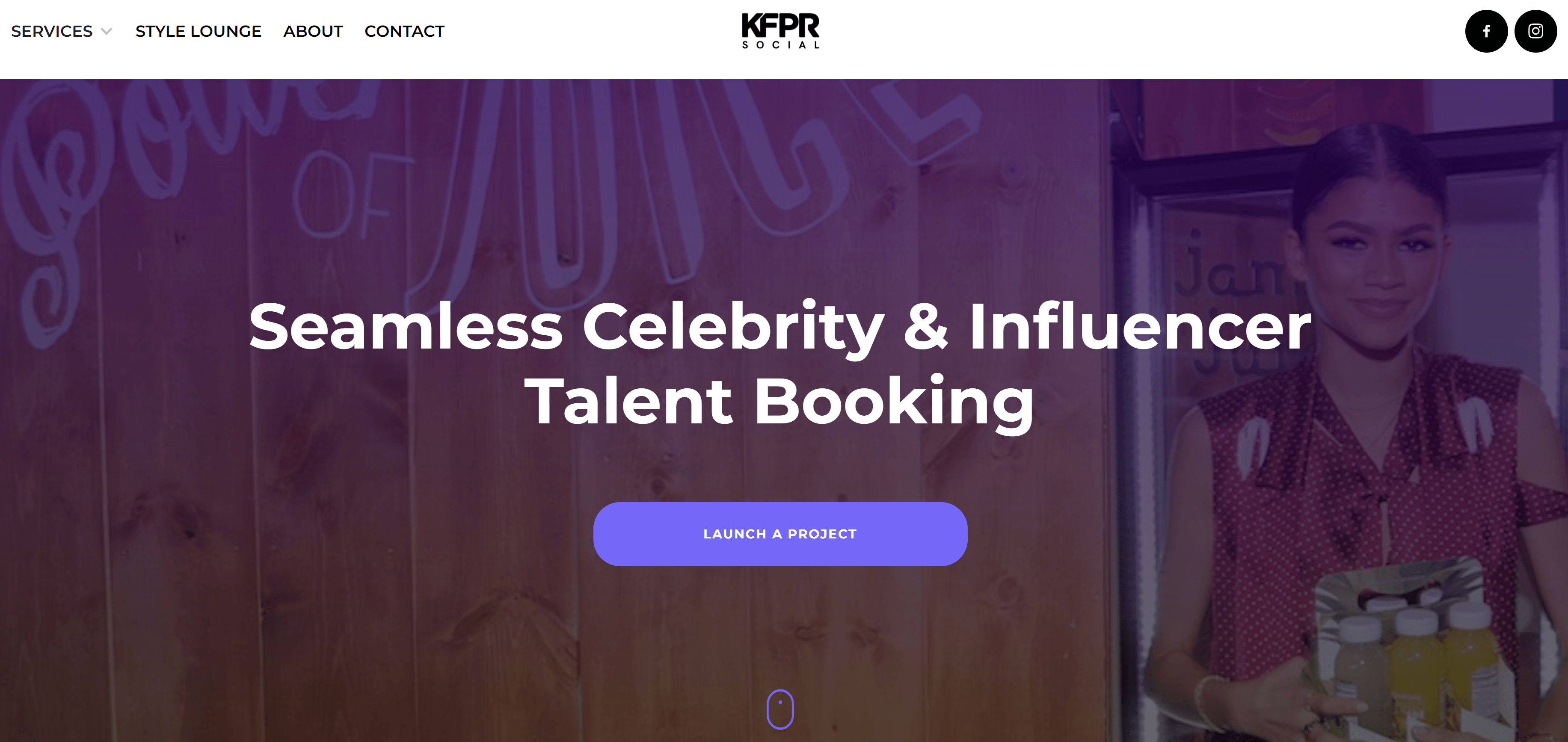 Source: KFPR
By using a celebrity's influence, companies can create new and effective marketing campaigns that help to drive conversions and app installs.
Employing a celebrity influencer can significantly benefit your brand, so it's quickly becoming an essential part of your overall strategy.
How do celebrity influencer marketing agencies help your mobile app?
Celebrity influencers allow you to reach a specific audience and increase your app's visibility. You'll be able to establish credibility for your app, increase your user loyalty, app downloads, sales, and brand awareness.
In a nutshell: celebrity influencers support you in promoting new products (and services), and marketing agencies make the magic happen.
Celebrity marketing agency example

Source: Planet Zeus
Celebrity influencer marketing ensures the long-term success of an app's user acquisition strategy. That said, marketing campaigns must be unique enough to resonate with audiences. When done successfully, you'll bring in thousands of new users and increase app installation rates.
We'll take a look at some of the key benefits of celebrity marketing agencies in the next section.
What are the benefits of celebrity influencer marketing companies?
Celebrity influencer marketing agencies provide multiple benefits, enabling you to promote your products and services to an expanded (and passionate) audience in fresh ways.
By working with marketing agencies, brands can identify and collaborate with the best celebrity influencers. Below, we've detailed the other key benefits.
Reach new audiences
Working with celebrity marketing agencies is a smart move if you want to reach new users. Celebrity agencies have relationships with a variety of different influencers that help you connect with target audiences as well as lend some crucial expertise to proceedings.
Using influencer agencies enables you to create content that drives users to take action.
Celebrity influencer agency example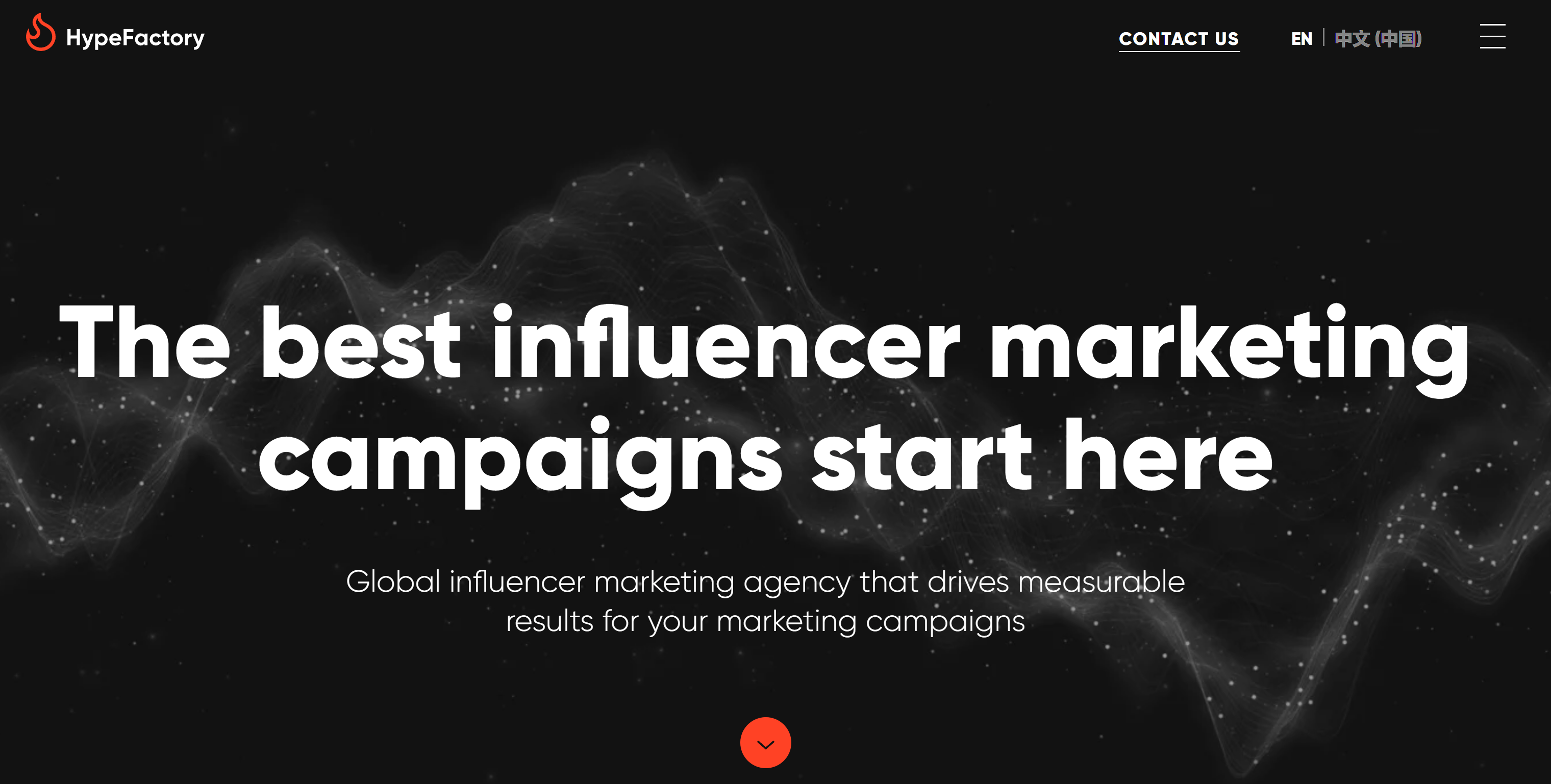 Source: HypeFactory
Renew interest in your company
Celebrity marketing often renews the interest and boosts the appeal of brands–it helps to put you back on the map, especially if you've been losing out to flashier companies.
For example, you can use celebrity endorsements during rebrands to bring in new and excited users.
Build trust with users
Celebrity influencers have established relationships with their fans. They forge these relationships over many years, and audiences remain loyal and eager for new content from their favorite influencer.
In other words: by partnering with a well-respected celebrity influencer, you'll automatically gain attention as they put your message and values in front of a new audience.
Top Influencer Marketing Platforms and Agencies
Examples of a top celebrity influencer marketing agency
The top celebrity marketing agencies have a proven record of creating partnerships and helping you to develop a bespoke strategy that aligns with your brand's goals. Whether you're looking to drive app downloads or increase brand awareness, working with a marketing agency can be a smart investment.
Celebrity marketing agency example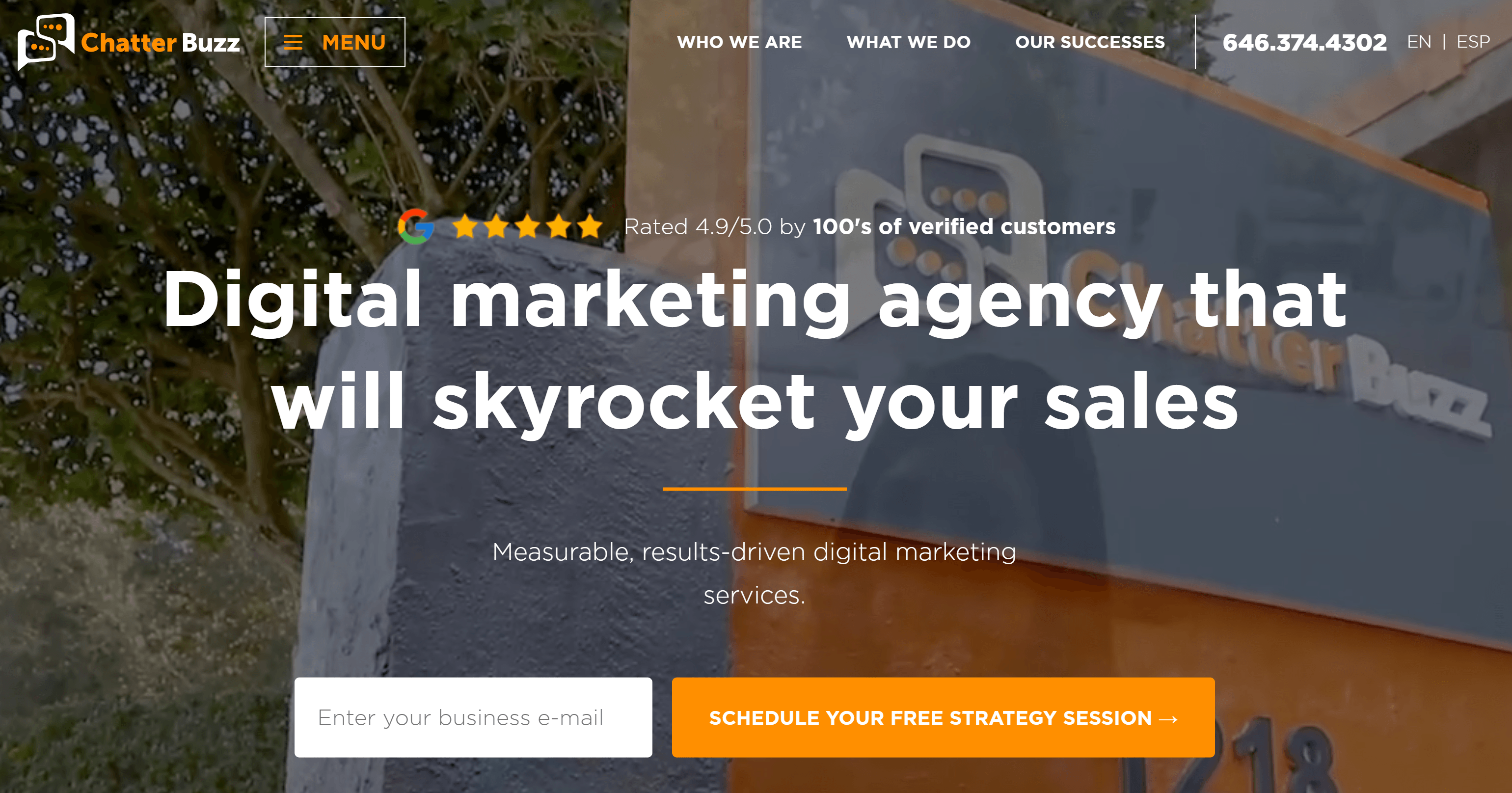 Source: Chatter Buzz
Core features and services include the following:
Social media management

–Agencies will estimate a brand's target demographic, create a follower growth strategy, and then collaborate across social media networks

.

Funnel activation–Influencer marketing agencies help to structure campaigns for cross-channel, full-funnel activation so you can reach new and highly passionate audiences.
New content strategies–You can build up your content with

 more 

interesting and

conversion-driven

content

 

development

and

 

optimization

 

strategies that will upgrade your app campaigns.

Fraud detection–Celebrity agencies can flag and weed out what's known as celebrity "influencers"; influencers that it's best for brands to avoid.
Influencer networks–Agencies have access to entire influencer networks and can take care of campaign management and show you how to get celebrity endorsements.

Branding

–Celebrity marketing agencies are able to connect with a brand's target audience, set up a branding model as well as influencer connections, and provide relevant materials.
What are the best celebrity influencer marketing agencies?
Celebrity marketing agencies help to facilitate communications with mega influencers, increase your brand awareness, and build trust with users.
These marketing agencies help you to create great content that aligns with your brand values and can renew interest in your company, delivering your values to new and loyal audiences.
Celebrity influencer marketing supercharges your campaigns and helps to skyrocket your apps. Below you'll find our curated list of the top celebrity marketing agencies.
List of celebrity influencer marketing agencies