Influencer marketing is a branch of digital marketing, its campaigns are essentially endorsements by social media influencers of certain products or services and their introductions to various audiences. In this day and age, the demand for this kind of marketing exists in so many branches of the economy. It gives a level of trust that other kinds of marketing can not match.
In this article, we want to review a number of case studies to demonstrate what marketing objectives can be achieved with influencer marketing, and its potential for app marketers.

Featured Influencer Marketing Companies
Influencer marketing is deeply personal, it's about a human touch, a connection between an influencer and people who trust her or his opinion. Influencers need to be creative, artistic, and authentic for an influencer marketing campaign to succeed.
Case Study #1 EA Sports
EA Sports is a division of Electronic Arts that develops and publishes sports video games. Being one of the oldest and the most well-known on the planet, the Electonic Arts video game company was launched in May 1982. Over the years, the company launched a number of labels such as EA Worldwide Studios, EA All Play, EA Sports, and others. In this case study we're focusing on how influencer marketing was applied to the promotion of its EA Sports label.
Brent Rivera promo video for the Apex Legends game from EA Sports label
Source: Brent Rivera TikTok video
Influencer Marketing campaign objective
EA Sports marketing team was looking for new channels to reach gamers and boost their new title Apex Legends popularity.
Solution
At that moment, the prime channels to reach gamers were Twitch and YouTube but, after considering TikTok as a new channel to try, the decision was made to run an influencer marketing campaign with influencers who are popular with gamers' culture on TikTok. Such games-related TikTok hashtags view number as 29.5 billion for the #fortnite hashtag spoke clearly – there was a potential to tap a young, tech-savvy audience that will enjoy a new title from the world-famous EA Sports.
Results
The influencer marketing campaign was run with several influencers, including Brent Rivera (see the TikTok video screenshot above), his hilarious video generated 900k likes.
Switching from the world of mobile games to educational apps to learn English, next up is the Cake app.
Case Study #2 Cake app
With the free Cake app, non-English or non-Korean speakers have great English or Korean learning experiences worldwide. The app offers to learn a new language via daily free content to introduce new expressions, wrapped in daily situations to show them in context.
Cake app influencer marketing campaign on YouTube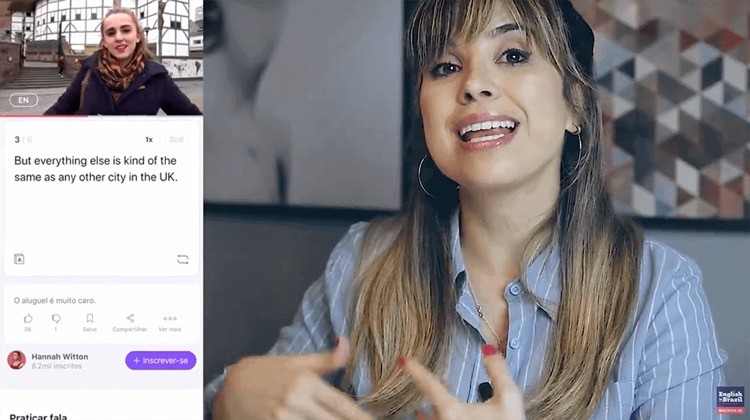 Source: Carina Fragozo video
Influencer Marketing campaign objective
By the moment the Cake app team approached an influencer marketing agency, they had been using YouTube as a platform to introduce the app via a series of short videos explaining the app features. The team was looking for help to reach out to people in South America who were looking for apps to learn English.
Solution
An influencer marketing agency that was hired by the Cake app team got in touch with five influencers in Latin America to run a 2-week ad campaign to raise awareness of the app and demonstrate the app's both educational and fun elements. The influencers promoted the app on their YouTube channels, being creative in demonstrating the app's features and benefits.
Results
The key element of this campaign's success was that all influencers introduced the app from an educational angle, showing people how they will be able to use the app to learn English efficiently. The total reach for the app was 1.2 million viewers.
Featured Influencer Marketing Companies
Moving on, jumping from learning languages to short-form video apps launched on the wave of TikTok's popularity.
Case Study #3 Huddles app
Huddles app, formerly known as Clash app, is a short-form video app that was launched in 2020 on the rise of the short-form format popularity sparked by TikTok. The app was developed by a team of Don Hofmann, the author of the famous Vine app that for a brief period of time got its moment of a glory after being acquired by Twitter in 2012, but later shut down in 2017 because it never managed to click with a big audience of users. Essentially the Clash app it's Don's second attempt to create a short-form video hosting service.
Rapper Elijah Daniel's endorsement of the Clash app
Source: Getty Images
Influencer Marketing campaign objective
In this case, an influencer marketing campaign aim was to support the app's launch in 2020. It was the moment when the TikTok app was facing a ban in the US and many TikTok users were considering switching to another app and so the core idea of the ad campaign was to leverage that uncertainty as much as possible.
Solution
An influencer marketing agency team that was hired for this task reached 50+ influencers to run an influencer marketing campaign on Twitter and Instagram.
Results
The campaign resulted in more than 20 million impressions on Twitter and Instagram combined, 250k downloads of the app, app's ranking of #17 on the App Store.
From video-sharing to creating unique visual stories to post on social media apps.
Case Study #4 Instories app
Instories is a mobile app to create reels and visual stories right on a smartphone, using an extensive library of templates, and publish them later on Instagram or TikTok. The app is available on both Android and iOS platforms and supports all TikTok and Instagram video formats.
Influencer promo video for the Instories app
Source: Bold Creators Club
Influencer Marketing campaign objective
The Instories team hired an influencer marketing agency to run a promotion to increase the app market share in Brazil and introduce the latest update for the app.
Solution
The influencer marketing agency that took the task hired 15 influencers who launched ad campaigns on Instagram with reels.
Results
The campaign achieved a high level of engagement, reaching 9.1% on average, which allowed the app to skyrocket to the top positions on the App Store, and secured the app's high visibility in the target market. Plus to the significant jump in the app's downloads in Brazil, the influencer marketing agency managed to create awareness among beauty, fashion, and lifestyle bloggers.
Switching the gears, from video-sharing apps to a casual gaming social platform from Prague, Czech Republic.
Case Study #5 Gamee app
The Gamee app is a casual gaming social platform, with lots of game titles, that connects gamers with brands and Web3 projects through play. The platform was launched in 2020 and was later acquired by Animoca Brands.
Gamee casual gaming social platform influencer marketing campaign on Instagram

Source: Starngage
Influencer Marketing campaign objective
The goal of the influencer marketing campaign was to raise awareness of the game, and significantly increase its user base, casual gamers of age 18-30,  across multiple geographies within a short period of time.
Solution
The Gamee marketing team reached out to YouTube and Instagram influencers, and a big part of the campaign's success was the platform's ability for gamers to challenge the influencers in the games and hence engage with them directly.
Results
As a result, at the beginning of 2017, the game acquired 500k to 1 million additional installs.
Switching from a casual gaming platform to a multi-player strategy game from the world-famous IGG.
Case Study #6 Lords Mobile: War Kingdom game app
Lords Mobile: War Kingdom is an award-winning multiplayer strategy mobile game that was published by IGG Studio in 2016. The game was praised right from the get-go, it was nominated by the Google Play store's editors for "Best Competitive Game" and in 2017 it was nominated for the "Best Multiplayer Game" award.
Lords Mobile: War Kingdom App Store listing screenshot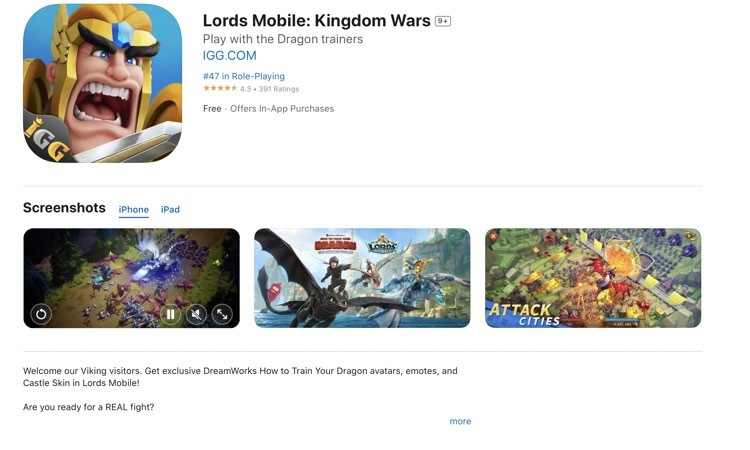 Source: App Store
Influencer Marketing campaign objective
The objective of this campaign was to reach out to 18-35-year-old UK-based males on both iOS and Android.
Solution
The influencer marketing agency's team reached out to 5 Instagram and YouTube influencers to generate and promote a series of Instagram Stories and YouTube videos and entice people to install the game.
Results
As a result, the game was exposed to 1.5 million viewers, it generated 86k engagements, and brought 12k game installs with an average CPI of 4.08 pounds / install.
Moving from the world of mobile games to saving money on mobile roaming abroad.
Case Study #7 Airalo app
The Airalo app helps smartphone users to avoid high roaming bills, using its world's first eSIM store.  Using the app, users can purchase temporary mobile data plans to use in a particular country during the trip, the app covers 190+ countries and regions.
The Airalo: eSIM Phone Internet listing screenshot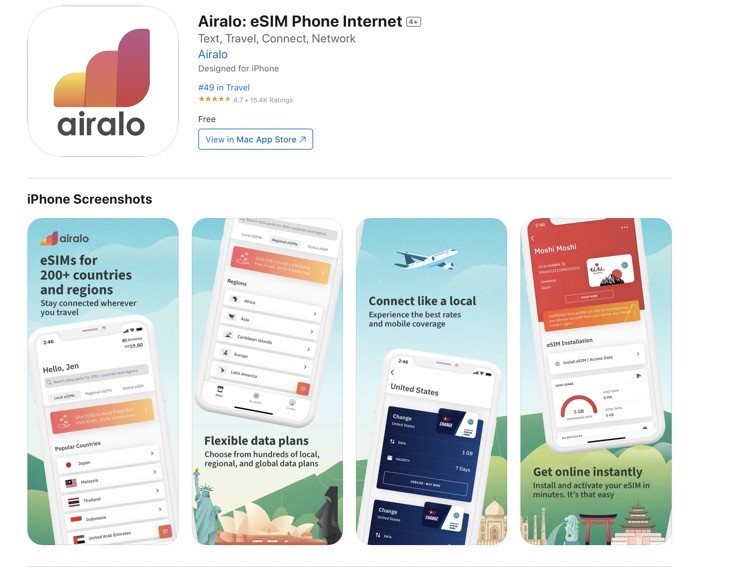 Source: App Store
Influencer Marketing campaign objective
The campaign objective was to reach out travel community on TikTok and raise awareness about the app. The other, more specific one, was to drive high-quality app installs from 18-35 US-based users.
Solution
One of the major trends on TikTok is sharing travel tips and hacks to save money during trips, the team of micro-influencers educated audiences on the app's benefits, sharing with them relatable international traveling scenarios. It led to a surge of app installs from the right audiences at the right moment.
Results
The campaign resulted in 2.1 million video views, a 12,3% engagement rate, and $.0,23 / install rates.
Final Thoughts
Today influencer marketing is one of the most kinetic digital marketing tools for app marketers to use and achieve a high level of engagement with audiences around the globe. In these 7 case studies, we demonstrated the high potential of this channel across several app categories. All case studies should be considered within the time frames indicated for each and keeping in mind that still – to this day –  influencer marketing performance tracking in many cases isn't precise and begs for more accuracy.