Offerwall ads are a form of incentivized advertising that can boost in-app purchasing and promote higher user retention. By giving users a set of options to exchange their actions in return for in-app currency, offerwall advertising promotes user-friendly experiences and longer-term app use.
Top Offerwall Monetization Companies
Offerwall ads also give developers the chance to monetize their apps. And when users consent to opt-in, they get an improved user experience and stay engaged for longer.
So what other benefits do they bring? And how can you use them to support your own user acquisition? We've created a simple guide to explain more.
What is an offerwall?
An offerwall is a dedicated area inside a mobile app that displays a range of incentivized advertising offers. Offerwall ads appear as a 'mini-store' and give users a reward or benefit in exchange for completing an action. This action may be to encourage app installs or in-app purchases, but instead of disrupting user experience by popping up during app use, users activate ads themselves.
They're usually promoted by traffic drivers and give users a chance to gain something in return for an action. Often, these can be in-app or in-game credits or currency that will help users to progress through an app. Some examples of offerwall ads include:
Offerwall ads benefit mobile publishers by giving them a convenient way to advertise digital products or mobile apps in a single place. But since app developers can struggle to generate revenue from only selling apps, they also support developers to increase app monetization using their app inventories.
Top Offerwall Monetization Companies
As a user-initiated ad format, they're popular with gamers and those who prefer a 'freemium' service over in-app purchases. And almost 80% of gamers say they prefer to get rewarded with an incentive that helps them progress in-game or provides them with virtual currency, rather than paying out for an app.
Offerwall Statistics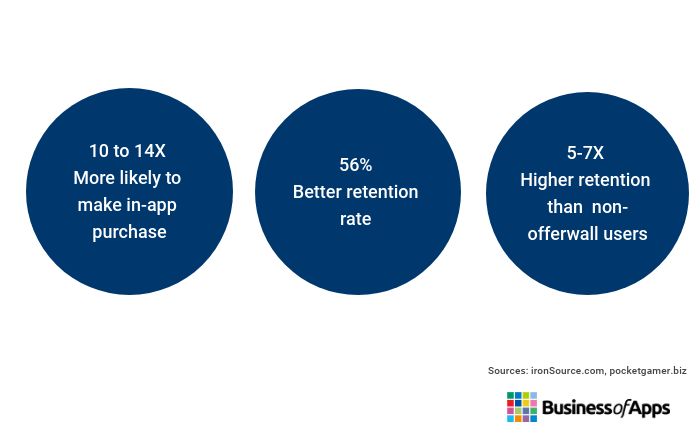 What are the benefits of offerwall ads?
Running a freemium, in-app subscription model gives users free entry to your app before they've been asked to pay anything. Plus, they'll be more likely to use premium features if they know they're lying behind a subscription wall.
Offerwall advertising can lead to significant gains. For example, mobile gaming manufacturer Lilith Games increased app installs by 250% and gained a 50% better retention rate. And these sorts of results can bring a raft of benefits for mobile gamers and app developers alike.
Boosts advertising revenue
Offerwalls ads offer app developers high eCPMs (effective cost per mile). And this is likely because advertisers are more willing to pay higher amounts for higher-quality users.
Encourages more in-app purchases
Offerwall advertising encourages users to buy by giving them an idea of other app features they haven't yet discovered. By showcasing a set of new features in exchange for actions, users invariably end up paying for in-app purchases upfront.
Improves user experience
Users must opt into and initiate ads. And by selecting the offers that interest them most, users will increase their in-app experience. This also avoids disruptions to gameplay, boosting app flow and increasing access to freemium content.
Enhances FTUE (First Time User Experience) for acquisitions
Users must choose to engage with ads before selecting any offers. And, when faced with a series of multiple rewards, users get an enhanced First-Time User Experience (FTUE).
Promotes higher retention and LTV
High engagement leads to increased value from better-retained users. By promoting in-wall offers during gameplay, offerwalls can drive re-engagement and help users continue to engage or play on an app.
Encourages scalable User Acquisition
This is a powerful way to drive high-quality user acquisition. And it offers a sensible way to drive Return on Advertising Spend.
No-fee earnings
Since revenue doesn't incur platform fees, developers should receive the full amount.
How do you monetize offerwall advertising?
Users initiate offers they like without being imposed upon like interstitial ads. This offers developers a monetization solution, since users are more willing to complete an offer through these ads of their own volition.
Offerwall ads offer an alternative to monetizing users who don't complete IAP (in-app purchases). But also, an offerwall is a chance for users to give their time on an app over just their money. And when users get an in-app currency or virtual token for completed exchanges or offers, this equates to a regular IAP.
Using this method lets publishers' revenue increase in the same way as an IAP, which boosts average revenue per daily active user (ARPDAU).
Offerwall ads rates
This format can work on a CPA basis, where advertisers run different types of campaigns. These include signing up for a subscription, answering a quiz, paying for an item or unlocking a new character. And this way, advertisers only pay for the result.
But offerwall ads usually run best on eCPMs (Effective Cost Per Mile or Cost Per thousand impressions).
Offerwall Ads eCPMs
| Platform/Network | Country | eCPMs/Revenues |
| --- | --- | --- |
| Ironsrc (Android) | US | Between $30 to $80 |
| Ironsrc (iOS) | US | Between $50 to $120 |
| Chartboost | US | Averages at: $40 |
| Tapjoy | US | Averages at: $60 |
| Enhance | US | Averages at: $50 |
Source: ironSource, Enhance
Offerwall ads best practices
So what are the best approaches to running successful offerwall ads? Here are a few pointers to consider:
Run the right offers: Knowing what your target audience wants is the key to driving successful offerwall advertising. And nothing entices users more than hard currency.
Understand placements: Publishers need to strike a good balance between event experience and player engagement. But they can do this by analyzing retention curves.
Optimize your traffic drivers: Setting a CTA on your home screen, store or breaks in gameplay as traffic drivers can help them be easier for users to find.
Promote special offers: Time-limited, multi-credit promotions help to increase app engagement, retention and total revenue.
Consider UX/UI: To boost UX, offerwall ads should be revealed at a natural point in a game or app experience. And they should meet a customer need which is different from other incentivized offers.
Create live opportunities: Time-limited events can lead to increased ad revenues. And using pop-up notifications during live events can help encourage users to complete an action.
What are the challenges of working with offerwall ads?
Some areas to think about when running offerwall advertising includes the following:
Risks losing users by sending them to other apps
One challenge is that users get the chance to leave an app to go elsewhere. But the right strategy can mitigate this by focusing on re-engagement tactics via the same app and not a different one.
Poor user experience (UX)
Some sceptics suggest users get a worse app experience, putting them off using the app by disrupting their experience and devaluing credibility. Again, creating the right strategy that allows enhanced game playability or user experience can overcome these barriers.
How can you run successful offerwall ads?
Working with offerwall monetization companies and networks can mean higher retention rates and monetized offers that equate to the value of IAPs. Offerwall ads are non-intrusive but also allow users to judge the value of the offers you promote.
So what are some of the best ways to run successful offerwall advertising?
Offer value
Make sure you're clear on the rewards you're offering. Your currency may be points, credits or cash. But you can also tie this to the user experience, for instance, by giving users more time to use apps or not choosing a month free of any advertising.
Determine your currency and make sure the exchange rate makes sense. You may want to do some A/B testing to ensure the offers are working as incentives.
Segment your users
Different users respond to different incentives. So how do you determine the types of incentives you want to run?
Dividing users into subcategories can help to arrange the most appropriate offers. Once marketers know their users' interests, it's easier to consider which offers could incentivize them. So, consider a segmentation model that might work for you.
Customer Segmentation models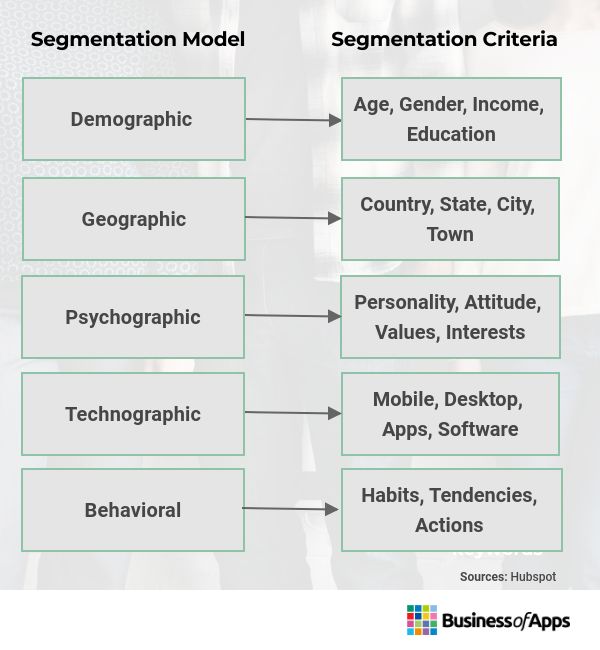 Create a seamless experience
According to a report by Salesforce, over 75% of customers expect seamless, consistent customer experiences but only 50% of them achieve this.
Offerwall advertising provides a non-intrusive form of consented advertising that allows businesses to showcase a quality value exchange. But they must be relevant to the in-app or gaming experience and give users the ability to improve their experience and remain on the app for longer.
So, it's important to make customers feel that your offerwall ads are enhancing their experience and not putting them off.
Again, A/B testing can help to determine how disruptive your ads may be.
Run multiple credit offerwall campaigns
Running time-limited special offers or multiple credit offerwall campaigns in return for an action or task can improve returns by up to 10X.
By refreshing your offers and campaigns, users will stay on an app for longer. And if they progress on an app, they're more likely to make IAPs.
Special offers run at least once or twice per month around holiday seasons can keep users hooked and offer relevant incentives they're likely to take advantage of.
Measure the impact
No activity is worthwhile unless you measure how well it's performing.
During an event or seasonal holiday promotion, you should notice a spike in revenue. But it won't end there, since many of your promotions will be time-specific. And this means you'll need to account for any run-on period where you'll need to continue to track performance.
For example, in-game credits might allow gamers to progress through levels that may take users a few weeks to complete and therefore redeem. So, make sure to evaluate the longer-term success of your offerwall ads to check how they're working. Then, use this intelligence to decide what the best course of action should be to improve them.
Why should you partner with an offerwall advertising company?
So, now you know more about offerwall ads and how monetizing them increases revenue. But the key to success lies in finding the right partners to work with.
Offerwall advertising networks often run pricing models based on CPI, CPA, CPC and CPM using social, desktop, mobile display and mobile video channels. So some of the advantages of working with an established offerwall advertising company include:
Audience segmentation strategies and data analysis.
Tailor-made ads designed to suit mobile offerwalls formats.
Offerwall integrations to support your campaigns.
Playable offerwall ads that work to engage your audiences.
Maximized advertising revenues from considered value exchanges.
To find out more about how they could help, why not browse through our selection of hand-picked offerwall monetization companies?
List of offerwall monetization companies & networks