This guide will cover everything from being an esports affiliate, how you stand to benefit from getting involved and how to choose the best esports affiliate programs.
Top Esports Affiliate Networks
Esports affiliate networks connect publishers with affiliate programs that allow them to promote esports-related offers.
Esports is becoming more profitable–the industry's global market revenue was forecast to grow as much as 1.87 billion US dollars in 2025 and will reach 532 million people worldwide.
With the increasing attention on esports then, affiliates can find new offers and networks relatively easily.
In our directory, we've gathered several top esports affiliate networks for your mobile marketing strategy.
What is an esports affiliate?
An esports affiliate is someone who advertises esports-related products and services.
It's a profitable niche, with the internet successfully enabling gamers to compete against each other online.
Esports affiliates earn revenue by promoting new esports offers across– most typically–their YouTube and Twitch channels.
The commissions can be high, and there's a plentiful amount of offers, making it a top vertical all around.
Top Esports Affiliate Programs
Below you'll find the main pros and cons of esports affiliate marketing:
Pros
Commission rates can be high, and those with established YouTube and Twitch channels can do very well.

Ready-made custom creatives are available for channels and blogs

.
Video games will always be in fashion, and demand is not only strong but increasing.

Real-time statistics so esports affiliates can see what's working and what needs improvement

.
The best networks offer quick payments with easy-to-achieve payout thresholds.

A vast number of quality products and services that appeal to gamers of many different ages

.
Esports affiliate program example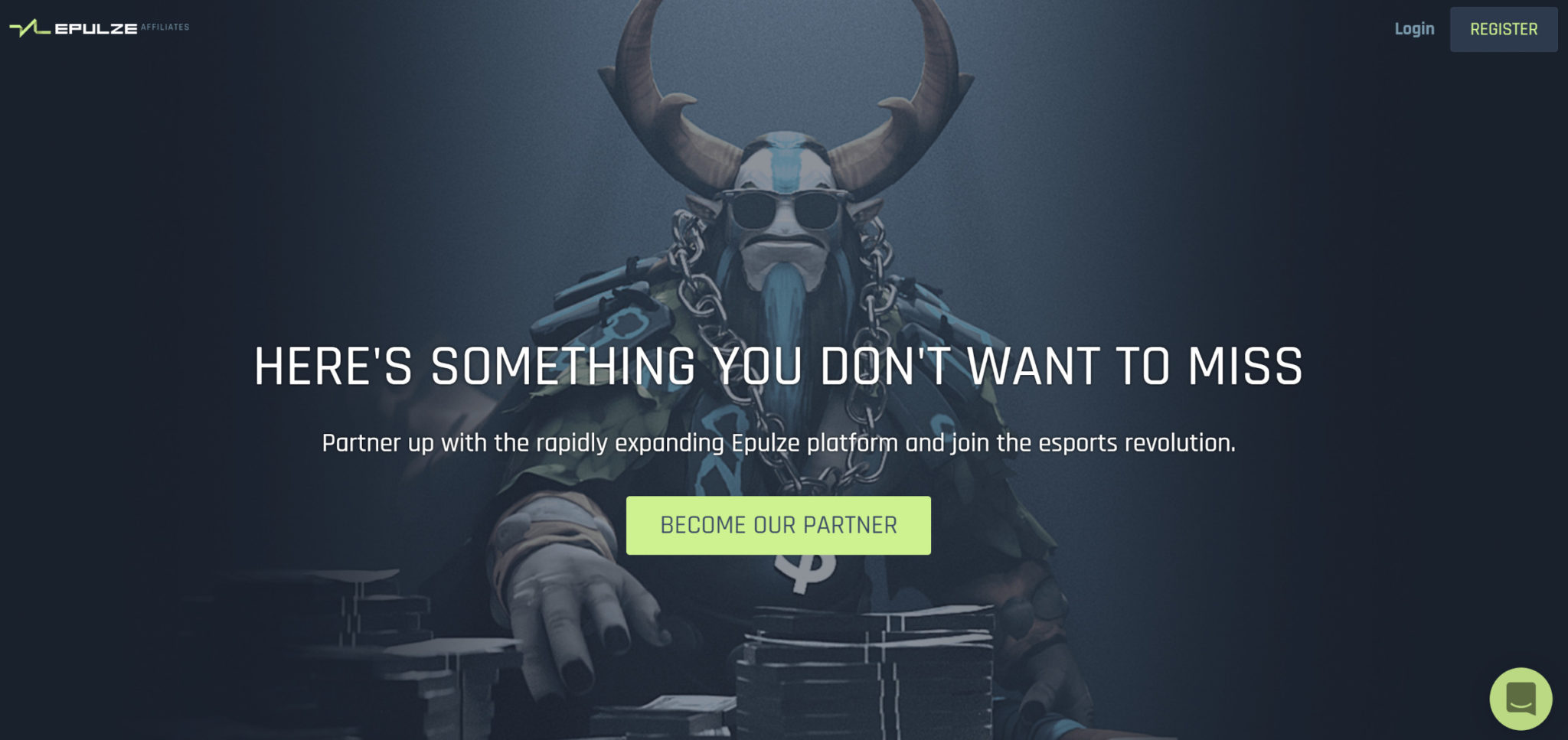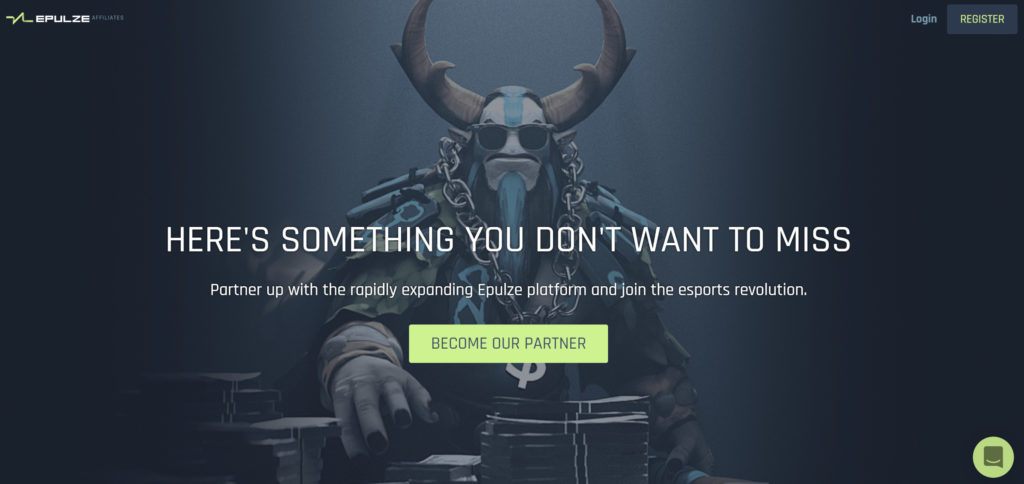 Source: Epulze
Cons
It's a competitive niche, so affiliates will need to possess a lot of drive to succeed.

Cookie durations do vary, with some being much shorter than others (and more so than other niches)

.
You need expert knowledge on the topic–most top YouTubers have a blog running in addition to their video channels.
Some affiliates will need to use multiple platforms at once–while commissions are somewhat high, not all programs offer the top rates.
Esports affiliate offers are profitable, popular offers.
With names such as Razer and Humble Bundle offering effective programs with quality products, there's an incredible amount of potential for affiliate marketers and brands.
How does esports affiliate marketing work?
Esports affiliates promote gaming products and services across their YouTube and Twitch channels and then earn money once a sale gets confirmed.
An esports affiliate program is an agreement between the product seller and the affiliate marketer.
The gaming goods and services seller partners with an external affiliate marketer to help promote their gaming products and boost sales.
In other words, an esports affiliate acts as an intermediary between the seller and the gaming customer.
The best scenario is that everyone can benefit from this agreement. The esports affiliate gets rewarded for promoting the product, the gamer finds a new quality product, and the affiliate network earns money.
There's a great lineup of esports affiliate networks available, although it can be confusing to know where to start.
The most trustworthy networks include the following:
Green Man Gaming
Amazon Associates
Razer
NVIDIA
Twitch (itself)
Humble Bundle
If you're new to affiliate marketing in general, the esports vertical offers some valuable opportunities and makes for a smart starting place overall.
Esports affiliate network example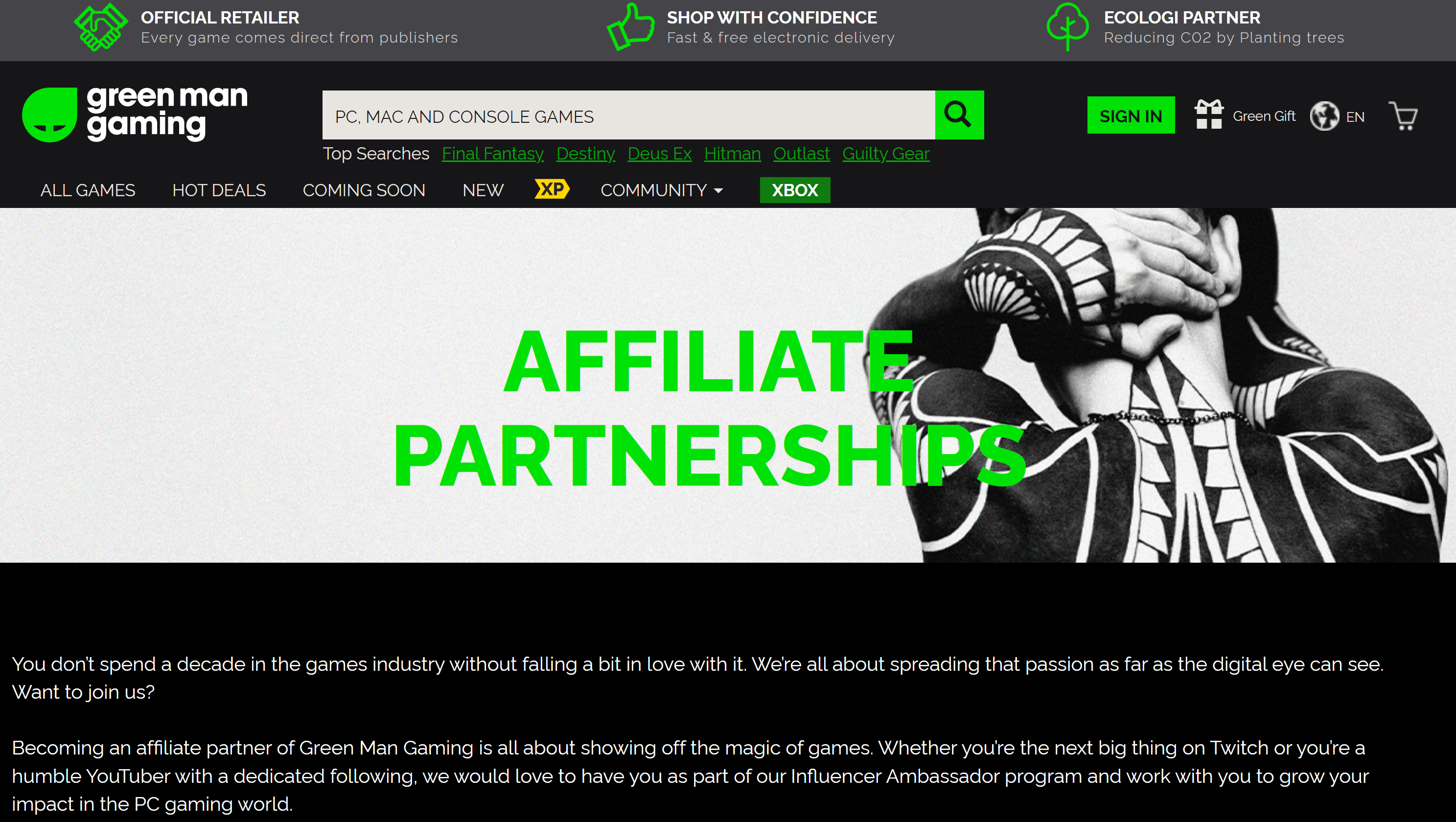 Source: Green Man Gaming
Here's what the esports affiliate referral process looks like most of the time:
1. The affiliate promotes specific links on their YouTube or Twitch channel–sometimes, this is on their blog with a solid, built-in audience.
2. The user clicks the link the affiliate advertised.
3. The user makes a purchase at the end, such as buying a new gaming headset.
4. The esports network checks the purchase before the affiliate gets paid.
5. The network then pays the affiliate weekly or monthly.
While plenty of good networks are available, the esports niche has its fair share of low-paying programs.
Esports affiliates tend to work with networks for the long term, so they need to have confidence in the one they pick–sometimes multiple networks are a better option in the gaming niche.
Essentially, esports affiliate marketing is a good choice if you have a YouTube or Twitch channel up and running with an enthusiastic gaming audience.
Gaming audiences expect top-quality products, so affiliates must ensure they're worth promoting in the first place.
How can you benefit from esports affiliate networks?
In multiple ways, from custom creatives to fast payments and in-depth analytics.
The best esports affiliate networks supply affiliates with new offers they can promote on their YouTube or Twitch channels.
Affiliates should use blogs, if they have them, to advertise offers as well, in addition to their videos.
Esports affiliate networks allow affiliates to focus on promotion and, in the best scenarios, all but guarantee monthly earnings.
It's particularly important for affiliates to have a steady supply of offers, and using multiple networks can help achieve this and keep earnings strong.
The best esports affiliate networks can empower affiliates (sometimes known as publishers) with top-notch tools to help them stand out amongst the competition.
Custom creatives, for instance, are helpful for affiliates when posting new content to their blogs but can also be used inside videos.
Some esports networks offer webinars, case studies, and even courses to show you how to improve your game over time.
Other affiliate features include:
Custom discount codes for customers
Customizable dashboards

High offer approval rates

Long cookie duration of 30 days or more
With timely payments, earning income passively while doing what you love is one of the key benefits for most esports affiliates–the best esports networks can make this possible.
Esports affiliate network example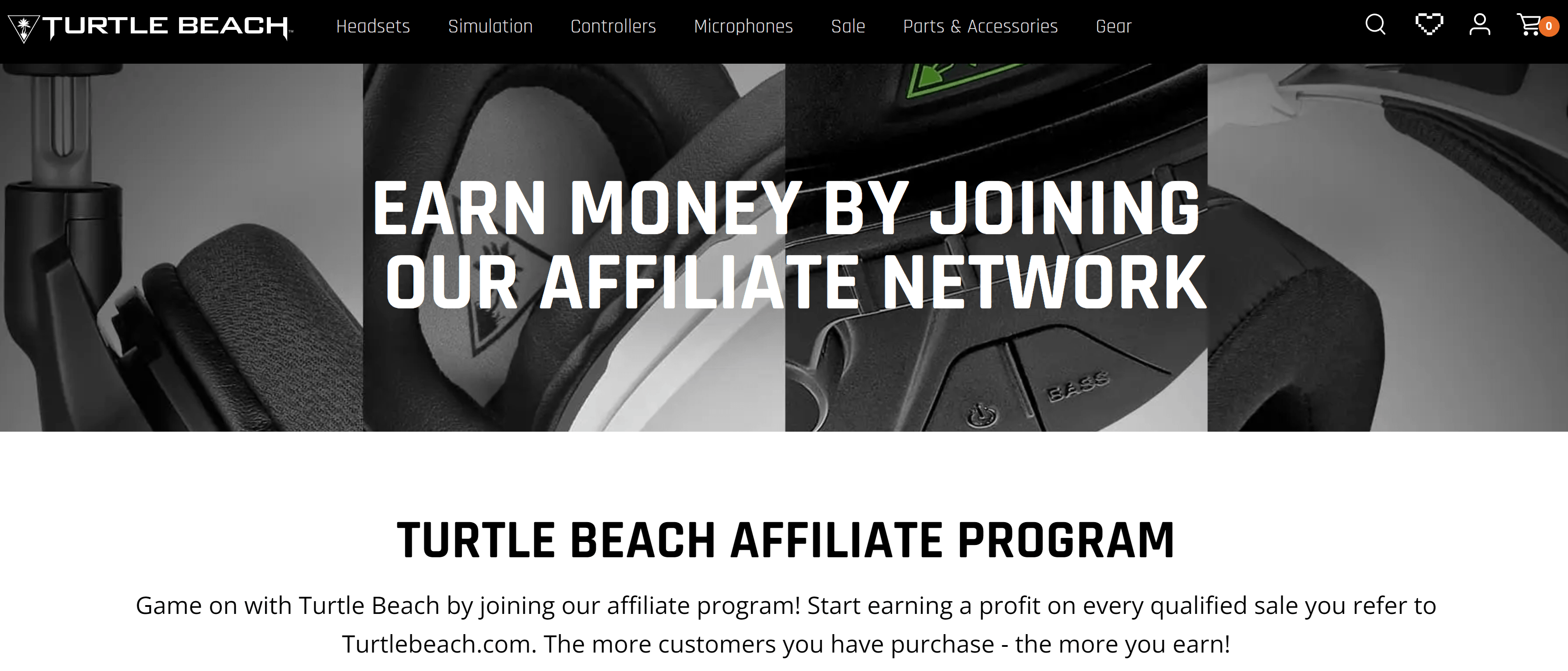 Source: Turtle Beach
Esports affiliate networks can deliver new offers to gamers, content creators, and streamers in the following niches:
Accessories

New hardware

Furniture

Esports gaming conferences

Gaming apparel

Training software
YouTube itself doesn't have an official affiliate program, but affiliates can still earn money through the platform by promoting the products in question.
The payouts in the vertical are middling and occasionally high, with some esports networks offering up to 35% base commission, including bonuses on top of that.
Epulze, an affiliate program that allows you to earn money through your Twitch stream or YouTube channel, provides affiliates with a 25-35% base commission (plus bonuses).
The bonus share gets calculated via the number of additional NDCs (new depositing customers) you bring in that month.
Bonuses for both increased revenue, not to mention the number of new players referred each month, make it relatively easy to reach 50% commission on the network.
For affiliates that can reach gamers interested in competitive esports, it's a good option. Becoming an affiliate is also completely free on Epulze (and many other esports networks).
What to look for in esports affiliate networks?
How do you choose the best esports affiliate program? We've listed some key areas to look at before getting started.
Commission rate
Affiliates shouldn't just sign up straight away with an esports program without first checking the commission rate and the payment model.
Look for networks that offer standard rates of at least 4-10% commission per sale, and try to avoid networks that lock their rates behind very high payout thresholds. If it seems too good to be true, it's best to avoid and stick with trusted networks.
Products
Esports affiliates must think carefully about the gaming product or service they want to promote. For example, some audiences might prefer hardware peripherals, while others will be keen to see the latest gaming furniture.
Esports affiliate network example
Source: Chairs4Gaming
Chairs4Gaming, for example, focuses on gaming furniture, and for some affiliates, this will be the right choice for their promotional efforts. In other words: always check a network's products and services before signing up to ensure your audience responds well.
Payment methods
Affiliates need to consider the payment methods that esports networks use. For instance, does the network offer wire transfer or other payment methods such as WebMoney, PayPal, eCheck, and ACH?
You also need to think about how long it takes to get paid. Some networks only authorise payments 90 days after the sale–for most, this will be too slow.
What are the biggest esports affiliate offers and their platform?
Here are some of the biggest esports affiliate offers, along with their platform, in the table below.
| | | |
| --- | --- | --- |
| Platform/Company | Affiliate Offer | Payout Data |
| Epulze | 25-35% base commission (plus bonuses) | Payments made monthly |
| Humble Bundle | Up to $10 per new subscriber | Monthly payments |
| Go2Games | Up to 5% commission | Choice of payments |
| Razer | 20% commission rate | Monthly payments |
| Microsoft | Up to 10% commission | Monthly payments |
| NVIDIA | Up to 15% commission | Monthly payments |
Here we've put together the best esports affiliate networks that cover offers for all major mobile operating systems.
Get started with the best esports affiliate networks
Esports affiliate networks allow you to earn passive income and support a flexible lifestyle while promoting new products and services that gamers will love.
If you have a YouTube or Twitch channel, or another platform you can use to promote these offers, they're more than worth signing up for overall.
Check out our top esports affiliate programs list and start boosting your income. We've put together the best esports affiliate programs below.
List of esports affiliate networks and programs