AI marketing is becoming more accessible to app owners and marketers, with practical implementation tactics that help businesses increase their ROI with more creative solutions. Top AI marketing companies make this process even more simpler, improving marketing strategies and campaigns more efficiently.
Technology has rapidly transformed across industries, and the digital landscape has seen great advancement and achievements in how it serves modern society. A huge part of this evolution is due to the advent of artificial intelligence (AI).
By revolutionizing the marketing ecosystem through generative AI, app marketers can leave the tedious traditional marketing practices behind. Instead, look forward to a new realm of automated solutions, from predictive analysis to personalizing user journeys through top AI marketing services.
Let us dive into this exciting, new era of artificial intelligence, and how they can help improve the quality of your advertising efforts as well as the overall success of your mobile app.
What is AI marketing?
Artificial intelligence has been around for quite some time. Virtual assistants like Siri or Alexa, Google search algorithms, and even the concept of online banking, all are the result of AI at work. AI just was not in the foreground, and these technologies were just part of our daily activities.
When ChatGPT was introduced in November 2022, the marketing industry became curious of this new piece of creation, turning the AI phenomenon into this innovative, digital marvel. Now that machine learning is capable of significantly boosting marketing efforts, industry experts are trying to get ahead of the game to adapt their business to these new standards.
Coupling the two, AI and marketing, describes the use of artificial intelligence technologies to generate marketing data, and to automate data collection and analysis to improve marketing efforts, faster.
Enhancing campaigns through automation, using AI marketing typically include the following practices:
AI marketing practices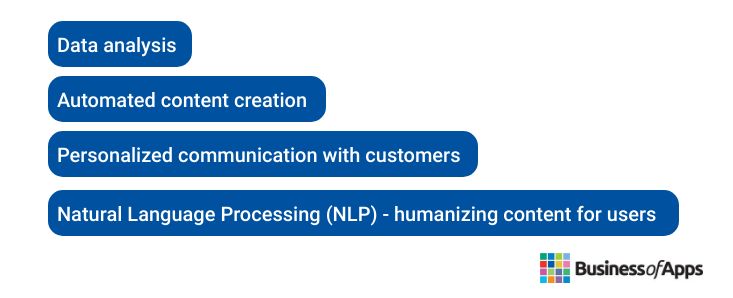 AI in mobile marketing
AI services help app owners engage with their target audience more effectively, and encourages marketers to drive more traffic and boost conversions by adapting to today's evolving technology.
When it comes to AI in the mobile marketing industry, however, common practices are a bit more niche, and are subject to the type of mobile app you have. Typical AI-powered tools automate complex tasks through predictive features and intelligent generated results.
To get a better idea of how AI particularly operates, and in what forms AI is being integrating into mobile marketing, here are its different types:
AI in mobile marketing
AI in App Store Optimization
App Store Optimization (ASO) as we know it, helps app marketers and owners to make their mobile app stand out from the crowd in app stores. Optimization strategies are implemented with the goal to enhance visibility and app presence on the market.
With AI in the picture, marketers are able to create highly targeted campaigns, attracting users on a much wider scale, and maximizing profit significantly.
And how do AI marketing services do this? With automation, precision and personalization.
The main elements that belong to App Store Optimization are the following:
AI in App Store Optimization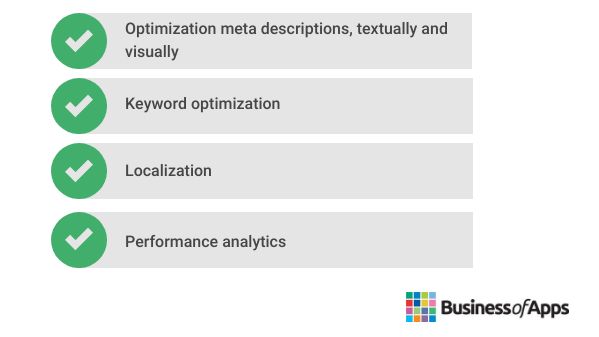 Titles, descriptions, captions, CTAs, and not to mention, mobile app icons and graphics, are all elements of your app store profile that need to be optimized for target users. And artificial intelligence can be a useful tool to help generate visual and textual content faster and accurately.
We are not suggesting you copy and paste catchy descriptions of your app from ChatGPT, but you can use AI marketing tools to generate references, and use these results for inspiration. You can then tweak and adapt them according to your app's guidelines and conditions of exclusivity.
Taking advantage of AI services for the ideation stage of your ASO campaign will not only save you a lot of time and energy, but will also give you samples of the current technology. Your app store profile will therefore be up to date with the ever-evolving digital landscape.
AI in customer acquisition
Attracting and retaining users with high-intent is key to a successful mobile app. And by exploring the realm of artificial intelligence, and implementing AI-driven practices can really help your customer acquisition efforts reach a new level of success.
Through AI marketing tools, marketers can steer away from the common barriers, like having very limited insight into and access to user information and performance data. Instead, they can deliver targeted content that will acquire more users, and convert them into as well as keep them as loyal customers.
In essence, UA specialists can leverage AI-powered services for the following crucial components of customer acquisition:
AI in customer acquisition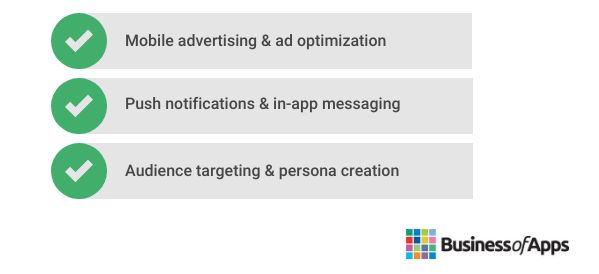 From AI-powered ad automation tools to machine learning algorithms to create personalized messages as well as user personas, it is time to embrace what was once considered "boring AI".
The ultimate goal with launching a mobile app is providing services to users who will need them and who can take advantage of them. So, using AI to help generate prototypes for banner ads, or copy examples for push notifications to deliver hyper-targeted results will certainly boost user acquisition efforts.
Why should companies use AI marketing companies?
Creativity does not come easy, and when you are wrapped in all of the other aspects of your mobile app business, it makes it all the more difficult. And creativity plays a huge role in order to build a successful marketing campaign.
Thankfully, we can put this job in the hands of AI, which will combine algorithms and creativity to deliver engaging content that will keep conversions up. So, the real question is, why should you not use AI marketing companies for your mobile app?
If you would like a little more convincing, let us dive into the main benefits of working with a top AI marketing company that will effortlessly merge art and computer science to effectively connect with your target audiences.
Cost efficiency
By now we understand that implementing AI marketing services can save a lot of time when it comes to generating the creative elements of your campaign. Within minutes, if not seconds, marketers can use automated services to deliver personalized experiences.
You can also easily achieve cost efficiency with AI too. Perhaps hiring an AI marketing company seems costly at first. However, you will have access to a range of AI tools that will help you to overcome obstacles that may create even higher costs to repair in the future.
These AI services will allow you to minimize room for error, and optimize budget allocation with marketing efforts that will most likely succeed, through the power of machine learning algorithms.
Featured AI Marketing Companies
oolo AI - The alerts you need, The control you deserve
Pecan AI - The #1 Predictive Analytics software for Data Analysts
Consistent optimization
Optimization should never be a one-time thing, especially not in mobile marketing. And thanks to AI marketing companies, you will not need to worry about constantly upgrading and manually optimizing your strategies that adapt to contemporary market trends.
Automation and continuous A/B testing are part of the AI entity. It will take care of re-analyzing and redesigning strategies to keep in-app messages engaging and the timing of push notifications accurate as well as keep track of the preferences of target users.
The efficient, automated process of constant optimization will lead to consistent improvements, and, therefore, higher ROIs.
List of AI marketing companies & services
The alerts you need, The control you deserve
| Founded | Employees | | | |
| --- | --- | --- | --- | --- |
| 2020 | 10-50 | | | |
oolo is an AI-powered solution that proactively monitoring ad performance, oolo automatically detects and translates data anomalies into actionable, easy-to-understand business imperatives. Combining machine learning, industry-specific data relationship mapping, and codified operational know-how, oolo helps marketing and monetization teams get the most out of their time, data, campaigns, and inventory.
Learn more about oolo AI