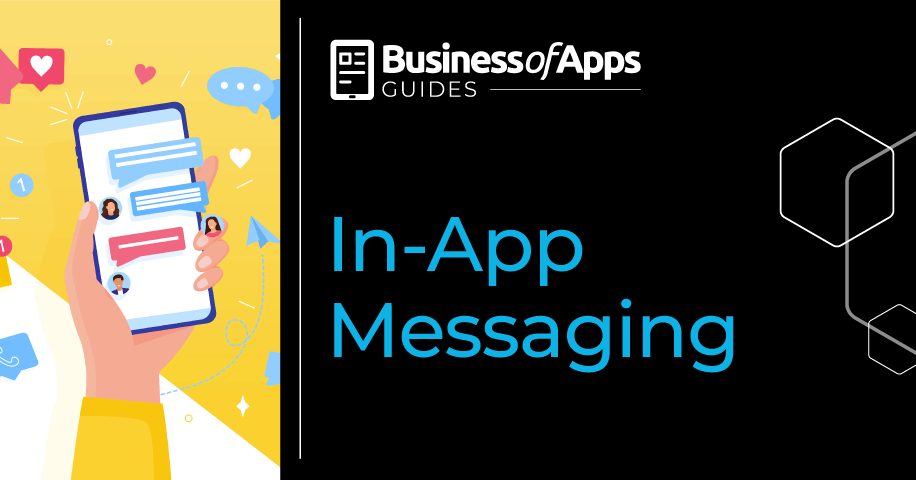 In-app messaging is a very effective way to communicate with app users and a critical marketing channel that mobile marketers can't afford to ignore. In-app messages are a great way for brands to inform, engage, and sell to users on a regular basis. They are also the perfect channel to increase engagement, build brand loyalty, and improve the overall user experience. In short, if you have an app, in-app messages are simply a must-have.
So, let's talk about in-app messaging. In this guide, we will cover everything you need to know about in-app messages, from the basics all the way to our top best practices for mastering in-app messaging. As always, there are many interactive graphs and plenty of fascinating data for you to discover, so strap in and let's get started.
What is in-app messaging?
Let's start by defining what in-app messages actually are. In-app messages are contextual, targeted notifications that appear inside an app while the user is using it. They can be either automated or triggered by user behavior and can be set up to appear at key points of interactivity.
In-app messages are an essential tool for app developers to improve the user experience. They are a valuable way to provide users with critical information, especially when your messages are personalized for different user segments. In-app messages are a powerful communication tool that can help guide users throughout the user journey and engage them with just-in-time support, allowing mobile apps to increase their response rate and retain users at higher levels.
The goal of in-app messaging is to provide users with an intuitive and simple user experience, prompt users to take specific actions, and drive them toward meaningful conversions, such as helping users have their "wow!" moment, decreasing time-to-value, or converting free-trial users into paying ones.
Although in-app messaging is a crucial component of any mobile marketing communication strategy, it should be used in conjunction with other messaging tools, such as push notifications and email marketing, to ensure the best results possible.
In-app messaging statistics
According to Braze, users who receive in-app messages have engagement rates that are 131% higher than those who receive no messages.
A Braze analysis of 29 billion messages sent in 2019 also found that in-app messages are the most effective channel for user engagement with an interaction rate of 39.88%.
According to a Reckless study, in-app messaging has a startling 75% impression rate, which is 45 times higher than email and nearly three times higher than push notifications.
In-app messaging impression rate (%)
In-app messaging click-through rate (%)
By enhancing the app user experience with helpful pointers and key information pertinent to real-time interactions and serving as a friendly guide to help users discover an app's value and navigate through it, in-app messages can increase subsequent app launches by 27%.
Effects of in-app messages on monthly app launches (%)
App user retention
Source: Localytics
In-app messages triggered from an in-app event increase conversions by 4x by providing users with the information they need in a timely manner, giving them a sense of security that will make them more likely to convert on a more regular basis.
In-app message performance
Source: Localytics
Strengths and weaknesses of in-app messaging
Strengths
In-app messages can help you reach your users when they are likely to engage, i.e. when they are using your app.
Because they only reach active users, in-ap messages let you speak directly with people who are most likely to take action.
Unlike push notifications and emails, in-app messages don't have to take users away from what they are doing. When used properly, they work to deepen interactions with your brand by building on something they are already doing.
In-app messages are built to support personalized and customized experiences that feel tailor-made and mirror the look and feel of your mobile app. That means that marketers can easily send in-app messages that feel like an organic part of the app experience. It also means you have more ways to personalize your targeted messaging to appeal to different segments of your audience and optimize results.
Unlike email and SMS, there is no marginal cost associated with sending additional in-app messages.
In-app messages are easy to combine with multiple other communication channels (e.g. push, email, SMS), allowing for a cross-channel approach that reaches more of your target audience more effectively.
Unlike push notifications, in-app messages don't require users to opt in. Let's consider push notifications for a second. 57% of app users opt in for push notifications from social media apps, but this percentage is much lower for other verticals, e.g. 19% for mobile games and only 10% for travel apps. Fortunately, in-app messages don't suffer from this issue, which allows mobile marketers to reach every user that opens their app.
Weaknesses
In-app messages won't be seen by the portion of your users who aren't actively using your app at any given moment. If you use in-app messages alone, a lot of users will miss out. They are only one key component of a killer communication strategy with channels like push notifications and email completing the equation and adding up to unmissable outreach.
If you're looking to lure back users, this isn't the channel for you as you will need a channel that can reach beyond your app, e.g. push notifications, email, web push, etc.
In-app messages don't stick around and are built for messages that can be acted upon in the moment, which means they are not great for sharing important information like receipts or confirmation numbers. If your users are going to need to refer to this information later, in-app messages are probably not the way to go.
Using in-app messages too often or sending them at the wrong time can lead to messaging fatigue and/or can disrupt users when they are in the middle of something. When misused, this powerful channel can turn into a powerful irritant.
In-app messaging vs push notifications
It might seem obvious, but in-app messages and push notifications aren't the same thing, so let's quickly have a look at the key differences between these two communication channels.
Probably the most important thing to note is that in-app messaging is used to communicate with users internally, while push notifications are sent externally to a user's device. Push notifications will appear on a user's notification menu and home screen, while in-app messaging is restricted to in-app communication. In turn, the two channels are used to target different audiences. While in-app messages are used to target active users, push notifications can also be used to reach potentially disengaged users.
Generally, in-app messages cannot be disabled by users as long as they keep using the app. Push notifications, on the other hand, can easily be disabled by users, and most apps now ask their users if they want to opt in when they first start using the app.
For a quick rundown of the major difference between in-app messages and push notifications, check the table below.
The one thing to remember is that you should use both in-app messaging and push notifications to craft a complete communication strategy that provides users with everything they need for the ultimate user experience and maximum engagement.
In-app messaging vs push notifications
Now that we know why push notifications are not in-app messages, let's have a look at the different types of in-app messages that are out there.
Types of in-app messages
Let's have a look at the most common types of in-app messaging you can use to educate, activate, and engage your users while they are actively using your app.
Product tours
Product tours, walkthroughs, and in-app guides are created for user onboarding to help them find their way around your app and familiarize themselves with the app's features. Product tours are a great way to highlight your app's USPs and show how the UI works to make your users' experience as smooth and as rich as possible.
Pro tip: Remember that using this feature too much, i.e. launching multiple product tours at once will overwhelm the users. Instead, create several tours. Keep them clear and concise to offer just the right amount of information at the right moment.
Checklist "widgets"
Checklists "widgets" allow you to create in-app checklists for your users to use as a roadmap to guide them through certain flows or tasks. Essentially, they are another type of in-app messaging that you can use for user onboarding, but checklists have plenty of other uses too. As with product tours, checklists should also be highly relevant and concise.
Tooltips
Tooltips are brief, informative messages related to specific UI elements that provide additional explanations and guide users towards taking specific actions. They can be an effective way to onboard new users and answer frequently asked questions. Tooltips can also help highlight new or underutilized app features. By helping users get the right information exactly when and where they need it, you pave the way for your app's success by helping users discover your app's value and quickly reach their "wow!" moment.
In-app surveys
Another type of in-app message is an in-app survey. They are an excellent way to gather rich and contextual feedback, collect relevant data, and keep track of crucial user health metrics over time.
Chatbots
Chatbots or live chat tools help build a direct connection with your users by adding a human touch to your app. Chatbots improve user satisfaction by offering in-app assistance as users are able to directly resolve their issues and find answers to their questions. For users who prefer to speak to an actual person or who need help with a more complex question that chatbots can't handle, live chat tools help connect them with a customer support representative who can help resolve their issue.
Modals
Modal in-app messages are a type of pop-up notification that generally appear in the center of a device's screen with a screen overlay that helps it stand out from your app in the background. These are perfect for nudging users to take part in a sale or giveaway, for example.
Pro tip: Consider adding a picture, an animated GIF, or a clickable button and watch the conversions roll in. But be careful not to overwhelm users with too many modals. Make sure to always add real value to your modals and align content with context. Promotional messages shouldn't feel like marketing, they should feel like a service.
Full-screens
Full-screen in-app messages take up the whole screen of a user's device and are great when you really need your users' attention, e.g. to announce app updates or new features.
Slide-ups
Slide-ups are another type of pop-up notification that typically appear at the top or bottom of the app screen. These are great for alerting users about cookies, new terms of service, or giving them other snippets of information. They are non-obtrusive and allow your users to continue to interact with the app while the message displays.
When, where, and how to use in-app messages
Now that you know the most relevant in-app messaging types, let's discuss the most common use cases.
Onboarding
You can use in-app messaging to optimize your onboarding to give users everything they need to know about your app, help them quickly discover your app's value, and set them up for success. The onboarding process sets the tone for the relationship between a new user and your app. A well-thought-out and executed onboarding process can get your users to their "aha!" moment faster.
New feature announcements
When you update your app, you surely want to notify your users of what has been changed. If you launch a new feature but don't notify users about it, chances are that only a small portion of your users will find it on their own. You can use in-app messages to keep your existing users up to date with your app's latest features and redesigns.
Promotional highlights
In-app messages can be used to share benefits and incentives with your users, e.g. to give them a coupon, discount, or freebie. You can also use in-app messaging to upsell certain parts of your app by conducting highly personalized promotions that target the right audience with bespoke triggers.
Customer service updates
In-app messaging can also help you provide the best possible customer service. For example, you can use in-app messages to confirm a purchase, registration, or any other action and provide essential updates relevant to in-app transactions.
User feedback, idea validation, and prototype testing
Another compelling use case of in-app messages is that you can seamlessly collect user feedback (e.g. via in-app surveys), validate your ideas for future updates, and test prototypes. Capturing user satisfaction and sentiment throughout the app lifecycle will provide you with invaluable information and data that can help you improve your app and the overall user experience.
Pro tip: Consider showing users that their feedback has been acted upon. Sending a follow-up message can show that you have taken feedback onboard, building greater loyalty with your target audience.
User retention
Apps that send hyper-targeted and personalized messaging see a user retention rate of 61% to 74% in the first 28 days. For instance, you can use in-app messages to send reminders about abandoned carts/processes, guide customers with better, more intuitive UX flows, or gather feedback from users about their app experience (see above). By collecting immediate feedback within the app, you can offer better customer support, retain users for longer, and help prevent them from churning.
If you want to learn more about user retention, check out our guide on mobile app retention.
Converting freemium users
You can also leverage in-app messaging to convert freemium users into paying customers by offering them trial extensions and/or showing them the limitations of their current plan.
Best practices for in-app messaging
Now, onto the fun part – our top tips for mastering in-app messages. Strap in, folks!
Develop a unified messaging strategy
In-app messages are an extension of your brand and are sent directly to users as part of the overall app experience. For best results, it is crucial that you develop your messaging copy to match your brand. Maintain consistent messaging that uses your brand's color schemes and design guidelines.
Write clear, concise, and direct copy
As a rule of thumb, your messaging copy must be short, direct, and as straightforward as possible since you don't have a lot of space. Use simple points to outline the key information and use simple CTAs to tell users what steps to take. To stay as consistent and concise as possible, try adding a headline and a subheading.
Use rich media
In-app messages need to quickly grab your audience's attention and get them to act fast, so remember to use rich media such as images and video to beautify your messages and make them more engaging. . Images, GIFs, emojis, and videos can help your message stand out and can significantly boost the performance of your campaign.
Segment and target your audience with personalized messages
Remember to use product data to create customer segments based on demographics, common behavior, device type, location, age, job role, etc. Once you have segmented your audience, you can create tailored messages for each segment of users. A few simple examples include greeting users by their names, bringing attention to a popular feature used by those with the same job title as them, or calling out certain activities such as the last time they have used a feature or updated a field.
Test your in-app messaging
To create the best user flows, it is essential to constantly A/B test your messages before sending them to your users. You can create different campaign versions for your segmented users to test specific factors, such as copy, images, timing, format, or tone of voice. This will help you learn what works and what doesn't with your target audience and ensures that you won't be sending unwanted messages to your user base.
You can even A/B test in-app messages against other mediums such as email, SMS, or push notifications to see which one gets the most customer engagement.
Timing is key
Timing is everything, and it is essential to identify when to contact your users. Your analytics will reveal the best timing for your in-app messages over time. For example, use your analytics to learn where in the user journey your customers are and then send them targeted in-app messages to prompt them to take certain actions. You can also use in-app messaging to get immediate feedback from users after they have performed a critical task, such as completing a tutorial.
Pro tip: As a rule of thumb, the best time to show in-app messages is when a user launches the app or is about to leave since you don't want to interrupt their experience while they are using your app.
Make the CTA stand out
The message is important, but ultimately you want customers to take action, so make sure to find the best CTA (call-to-action) for your desired action. HubSpot's 39 Call-to-Action Examples You Can't Help But Click is a useful starting point that has detailed examples of how different brands found the right CTA for their campaign.
Use in-app messages in conjunction with other channels
In-app messages are a powerful tool with many benefits, but you shouldn't rely on just this one communication channel. After all, in-app messaging has its limitations as outlined above. For best results, you should use in-app messages in conjunction with other channels, such as push notifications and email marketing. By using all three channels, you can create a cohesive communication plan that can reach users in several ways.
Key takeaways
In-app messages are contextual, targeted notifications that appear inside an app.
In-app messages can help guide users throughout the user journey and engage them with just-in-time support.
The goal of in-app messaging is to provide users with an intuitive and simple user experience, prompt users to take specific actions, and drive them toward meaningful conversions.
In-app messages are an essential tool for app developers to improve the user experience, increase their app's response rate, and retain users at higher levels, especially when the messages are personalized for different user segments.
In-app messages should always be used in conjunction with other messaging tools, such as push notifications and email marketing, to ensure the best results possible.