Mobile native ads drive high engagement rates. And with investment in this area growing every year, more and more marketers are reaching out to native ad networks and using native ads platforms.
Because of high engagement and CTRs, native advertising platforms offer marketers the creative and strategic approaches they need to succeed in this area. And successful native ads must blend in with third-party sites and avoid interrupting the user experience. But they also need to gain attention and drive engagement.
So how can you find the right native ads platforms to balance these challenges and gain traction in this exciting area? We'll share more about networks in this guide. But first, let's get down to some basics on what native ads are.
What is native advertising?
Native advertising is a paid advertising format that appears as content on third-party provider sites, feeds, and searches. Content will include articles, editorial, and video. But it must blend in with its surroundings, be non-intrusive and avoid appearing as an ad.
In practice, mobile native ads are pay-to-play, meaning companies pay third-party providers to feature ads on their pages or feeds. This way, marketers gain access to new third-party audiences and use it to support direct-response goals.
Top Native Ad Networks
As a form of programmatic advertising, mobile native ads usually contain a headline and a CTA or description that encourages users to click on an ad. Three key components make up native ads: Information-Based, In-Stream, and Paid Ads.
Key Components of Native Ads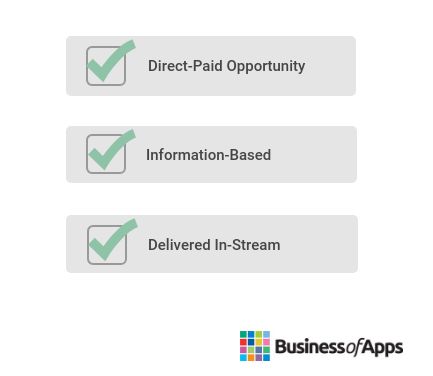 Source: Content Marketing Institute
What is an example of a mobile native ad?
Native ads come in many forms:
In Feed Ads (Social Media, Content, Commerce): Viewers who interact with ads are 150% more likely to purchase a product or service. So, it's no surprise that TikTok has built on this demand by adding interactive add-ons to their in-feed ads.
In-App and In-Game Promotions: Attracting a vast proportion of Netflix's 209M subscribers, the Stranger Things playlist attracted almost 1M followers on Spotify.
Content Features: Contributor-led newspaper Forbes allowed Fidelity Investments to share an article on their site entitled 'Should You Accept Your Employer's Pension Buyout Offer?', informing readers and encouraging them to click on their services.
Search and Promoted Listings: Native ads are often used to promote a direct response on SERPS. Examples include promoted search results or sponsored social media posts.
What's the difference between content marketing and native ads?
While there are similarities between the two, mobile native ads and content marketing have different aims and objectives. Content marketing is a strategic channel launched by a company to gain higher SERP rankings and lift brand awareness. But native advertising targets users more actively. And these differences are highlighted in the table below:
Differences between content marketing and native advertising
| Factors | Content Marketing | Native Advertising |
| --- | --- | --- |
| GOALS | Search Engine Rankings, Brand Awareness | Social Engagement, Brand Awareness |
| KPIs | No. of Leads, Total Social Shares | Social Engagement, Campaign Views |
| CHANNELS | Average of 27 Publisher Stories | 1 Publishing Partner |
| BENEFITS | Increase Organic Rankings, Brand Awareness | Brand Engagement, Brand Awareness |
| CHALLENGES | Requires Long Term Investment | "Sponsored" Tag Perceived As Ad |
Source: Native Advertising, Challenges and Perspectives: Adapted from Dr4Ward
Why are mobile native ads important?
Because of their seamless integration with third-party content formats, mobile native ads are the preferred ads for consumers. According to Outbrain, consumers are looking at native ads twice as much as display ads. And these preferences are leading to increased year-on-year spending in this area.
A report from eMarketer also suggests mobile native ad spending will reach almost $100bn in 2023. And this ongoing spending means marketers need to stay ahead of the curve in this area of advertising.
Native video ad spending 2019 – 2023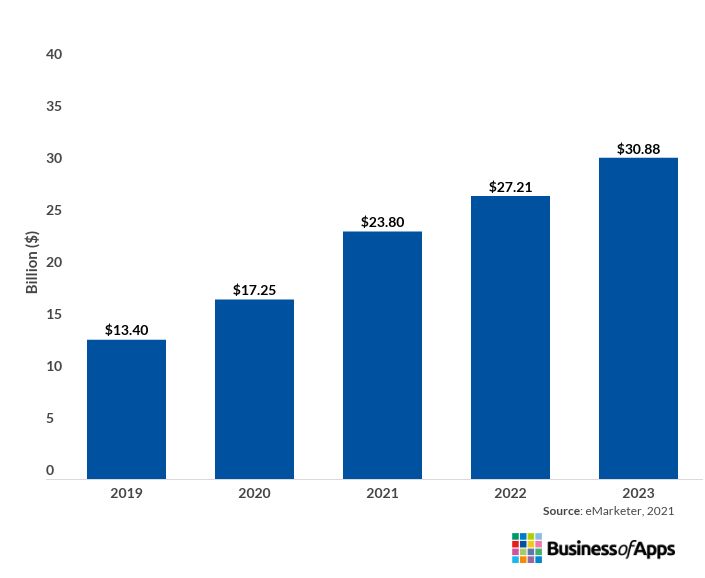 Some of the key benefits of running mobile native ads include:
Native ads rates
With such high engagement and CTRs on offer, mobile native ads have a great impact as an advertising method. But this then comes at a cost. CPMs for mobile native ads are around 200% higher than banner ads. 
Here's a selection of eCPMs as a guide:
Native ads eCPMs
| Platform/Network | Country | eCPMs/Revenue |
| --- | --- | --- |
| LinkedIn | US | $38 |
| Facebook | US | $12 |
| Google Display | US | $3 |
| Quora | US | $3 |
| Twitter | US | $6 |
| Amazon | US | $2,50 |
| Taboola | US | $5 |
| RevContent | US | $1 |
Sources: Blognife, kevel
What makes a good mobile native ad?
Mapping out goals and creating an effective plan is the best way to succeed when working with native advertising platforms. But you also need to add plenty of creative thinking.
To help, here are the key aspects to keep in mind when creating mobile native ads.
Snackable content
Byte-sized, snackable content is how TikTok generates revenue of around $5bn every year. And great native ads take this on board by showing short reels or keeping content short-form.
Lifts the User Experience
User expectations are high. And so mobile native ads that use simple designs or load quickly. They should also fit the tone, content, and structure of the third-party platform. Plus, horizontal and vertical image scrolling via carousel is usually effective.
Careful construction
Native ads appear as useful content within a feed on SERP. So important to construct them in a way that doesn't lead users to assume it's not advertising something. And this requires a careful balance of creativity and detail.
Includes powerful CTAs
When designing mobile native ads, it's worth considering that high CTRs often come from good CTAs. A/B testing can help to ensure you're getting impact with the right Call-To-Action.
What are the challenges of running mobile native ads?
All forms of advertising come with some challenges. But the upsides tend to outweigh the downsides.
In any case, here are a couple of points to keep in mind when it comes to managing native mobile advertising.
Measuring Performance
ROI, impact, and performance are much harder to measure when it comes to mobile native ads. But this is a key area where native ads platforms can assist marketers.
Avoiding accusations of deception
Since native ads are discrete and appear like content that's intended to be informative, advertisers need to be transparent. Often that means including the word 'Sponsored ad' to meet FTC guidelines on planning native ads.
What are native ads platforms?
So now you're up to speed on what native ads are, let's look closer at the platforms that can give you the help you need to launch your own.
Native ads platforms are one-stop shops that support marketers to create and distribute paid content that blends with the third-party media they're published on. And this can include websites, social media and news feeds. Native ads networks do the leg work to run mobile native ads for both marketers and publishers through programmatic advertising. So, in practice, native ads networks manage DSPs (Demand-Side Platforms), SSPs (Supply-Side Platforms), and the Ad Exchange to get the best results all around.
There's a wide range of native ad networks and platforms that can help to develop a seamless integration into third-party sites. Some of the different types on offer include:
Self-service platforms
Self-service platforms can automate mobile native ads for you. For example, ad-engine-as-a service tools are no-code platforms that can automate advertising. Simply set them up with your preferences to get desired results.
Server-side APIs
A server-side web API is a programmatic tool that will help you to manage data.
Client-based managed services
You can cain access to PPC specialists and full audit tools using a range of client-based managed services.
Location-based marketing
Running mobile native ads in targeted locations can increase your impact and enable you to run geotargeting or geofencing activities.
Why work with a native ads network?
Native ads networks help marketers in many ways. And some of the key benefits include:
Advanced audience customization, segmenting and targeting
Access to in-house creatives
API's to build customized ad servers
Faster launch times
Content review in line with regulations
A range of pricing models (e.g. CPC, CPM)
Expertise and resource
Real-time optmization
Easier set up
Finding the right native ads platforms to partner with is much easier when all of the best providers are stored in a helpful directory. So, it's just as well that we've done all that work for you and compiled them below.
To find out more about how they could help, take a look through our hand-picked list of mobile native ads platforms.
List of the best native ad networks for publishers and advertisers