This guide will cover everything from being a CBD affiliate marketer, how you stand to benefit from getting involved, and how to choose the best CBD affiliate programs available.
CBD affiliate programs are one of the recent additions to the lineup of profitable affiliate programs that have been on the market for a while.
CBD affiliate programs are well-positioned to become an extra income source for many affiliate marketers.
To date, in several states in the US, CBD has become legal, as well as in several countries around the globe.
According to some estimates, the CBD products market will reach $22 million in three years, and there seems to be little to stop its growth.
We've researched and put together for you the best CBD affiliate networks.
What is a CBD affiliate?
A CBD affiliate is someone who actively promotes CBD products and related services.
Affiliate marketers earn commission after a CBD product gets purchased via custom links across their channel(s). CBD brands make a sale through this content and reward affiliates for their advertising.
Digital marketing strategies like affiliate programs are crucial for brands to stay ahead of the competition and enable those with an audience to make passive income. When all goes well, it's a win-win.
Top CBD Affiliate Programs
Affiliate marketing is a way for CBD brands, customers, and marketers to benefit, and there's plenty of opportunity for the right affiliates.
Below you'll find the main pros and cons of CBD affiliate marketing:
Pros
Memorable branding and artwork make products stand out and easier to market.
Affiliates sometimes have the option to link directly to products they love, rather than just a standard ad.

Typically there's a wide range of products to promote and a reasonable amount of time to promote them

.

High commission rates with a long-term interest in the area, making it possible to make promising passive income

.

Most companies work directly with affiliates to ensure they have suitable promotional materials

.
CBD affiliate program example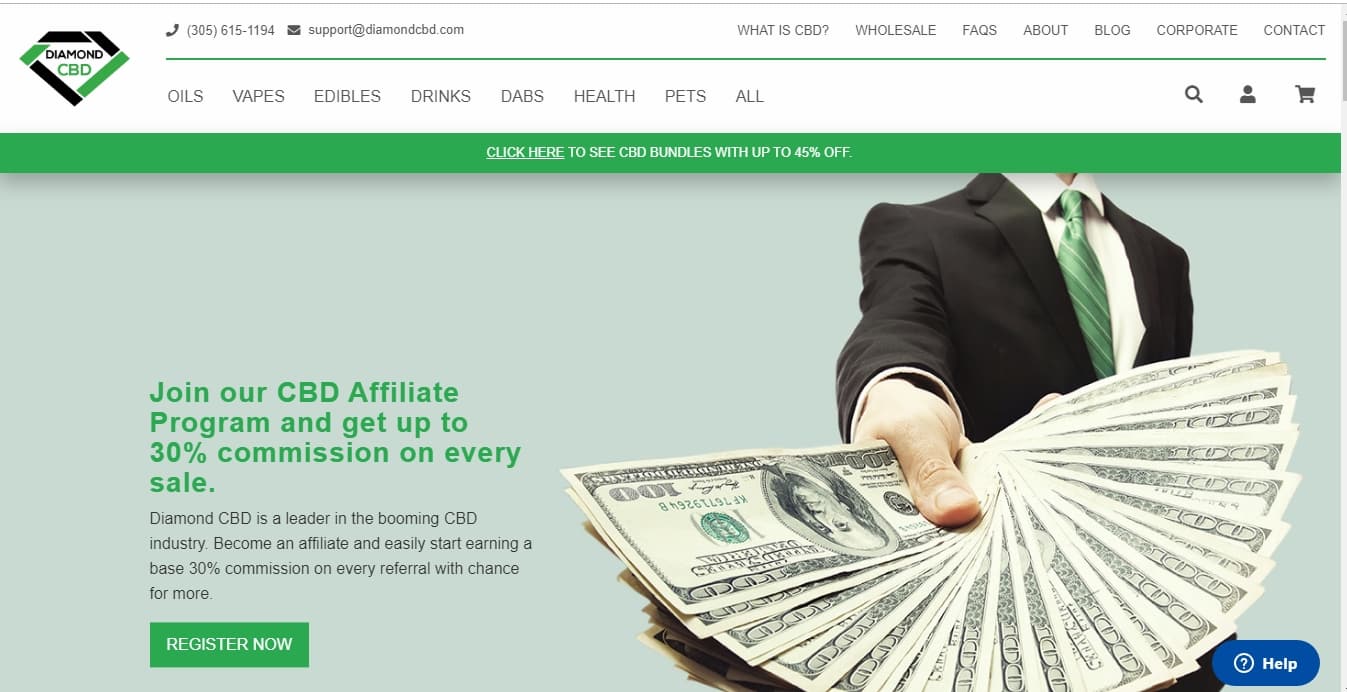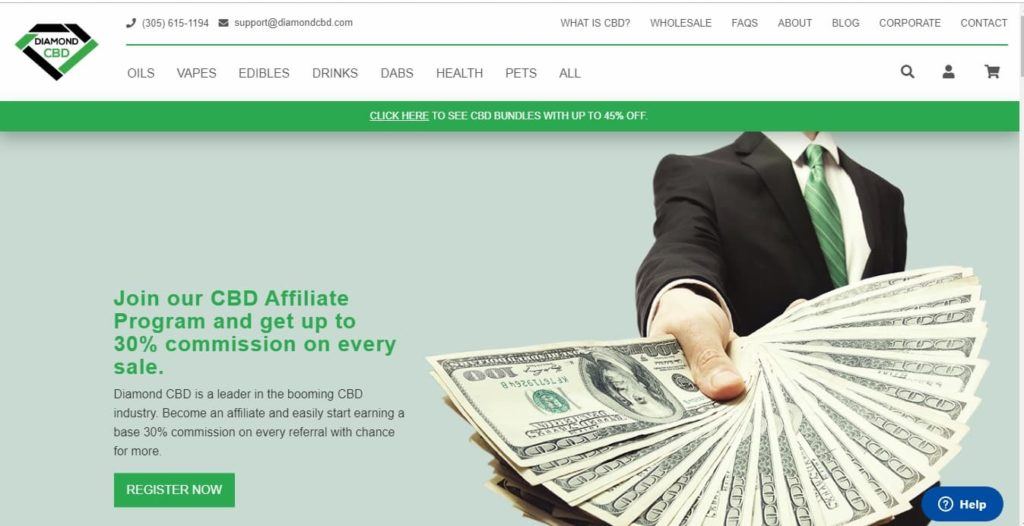 Source: Diamond CBD
Cons
Affiliates need to comprehensively read the terms and conditions of each program as they can be specific

.

The laws on cannabis and CBD change rapidly–some customers get confused about what's legal and illegal, which stops them from getting involved

.
You will not be able to advertise products on certain platforms; for example, Facebook and Google both ban CBD ads.

It's a niche that takes long-term strategic thinking to succeed if you're a beginner

.

Some networks can close without much warning, so you'll need to be resilient.
CBD affiliate offers are often high-paying and popular offers; there's a lot of potential for affiliate marketers and brands that want to get involved in this vertical.
How does CBD affiliate marketing work?
Much in the same way most affiliate marketing works, with some minor differences concerning the rules.
The CBD affiliate marketing process involves four different relationships:
The merchant

–the brand that creates the product at the start and needs help promoting it.

The network

–helps brands and publishers find partners; the middle man of the relationship.

The publisher

–may be a single person or a marketing business that can effectively advertise the product.

The customer

–the people that purchase CBD products via the publisher's links

.
Every party contributes here and gets rewarded in turn, usually via a share of the revenue.
When customers click on a referral link, they get sent to the CBD site where they can purchase the product.
If those individuals go on to buy the product, the affiliate marketer earns a commission, and of course, so does the merchant and network.
The affiliate's job is to convince potential customers of the quality of the product via their content.
CBD affiliate network example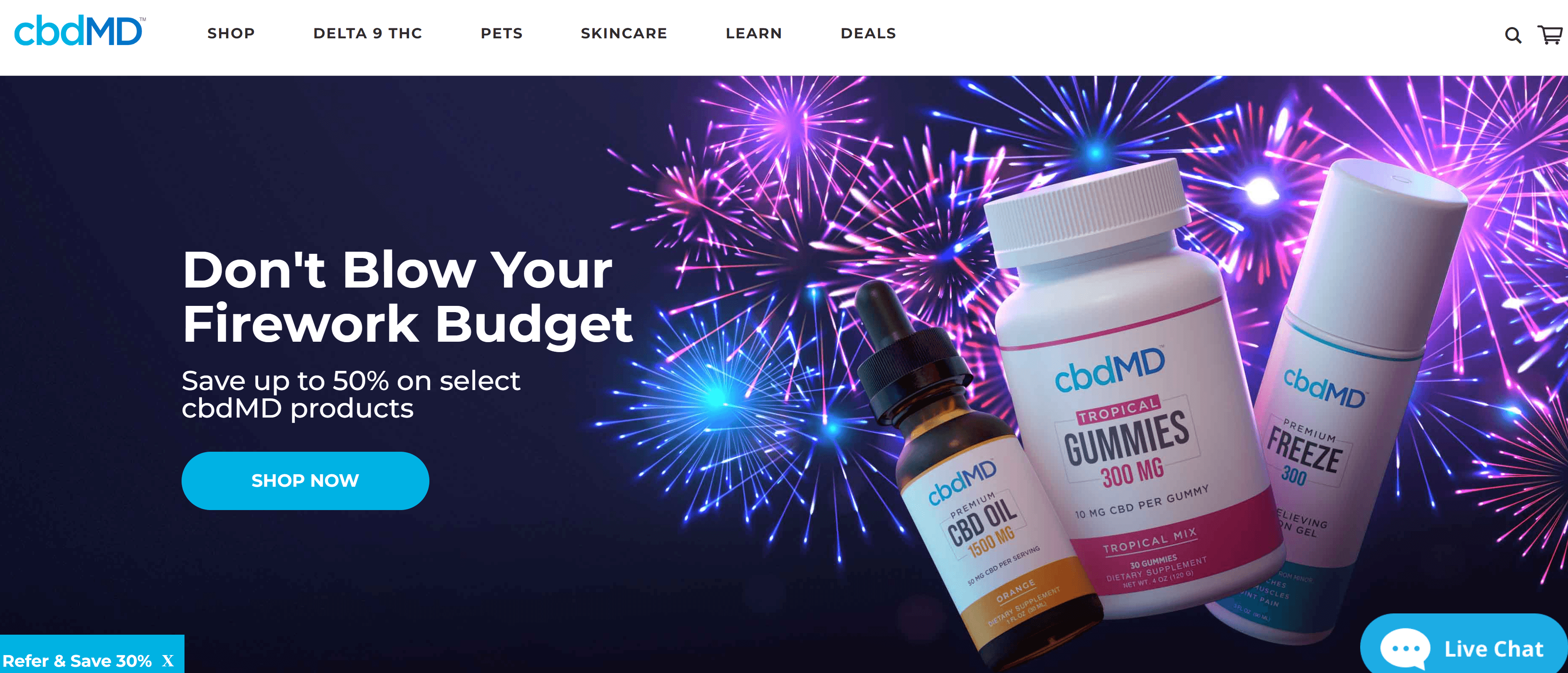 Source: cbdMD
Many CBD affiliates run websites and feature products on their blogs–sometimes, they review the product and then link to it. Other ways the affiliate may reach the customer are the following:
Social media channels
Podcasts
Digital ads–this is more challenging but can still work
Podcasts
PPC advertisements on their sites
Email marketing lists
An app they created
The standard practice is that the revenue gets shared, although this sometimes varies based on the network and program.
Affiliates can be upfront with their readers about how they make money, but this depends on the network and what they stipulate.
There are also entry requirements to sign up to some CBD affiliate networks; these requirements include proof of your audience engagement and a check to see what niche your channel is in (and if it's suitable).
Once an account is approved, you'll get given custom links and additional marketing material. From there, you can start earning money.
How can you benefit from CBD affiliate networks?
If your online channel or platform is substantial and you want to make additional revenue, CBD affiliate networks are more than worth it.
For instance, if you have a blog already up and running or perhaps a YouTube channel with a healthy audience, there's a fair chance you'll be able to start earning money straight away.
The critical factor to consider here is if your audience would naturally be interested in CBD products in the first place.
If you think they would, then there's very little stopping you from earning passive income and, in some cases, creating a future full-time job.
Those that benefit the most are the affiliates that pick the best network for them and do thorough research to ensure they're legitimate and trusted.
The result is flexible work and passive income continuously coming in each month.
CBD affiliate network example
Source: Direct CBD Online
That's not to mention that personalised coupon codes are typically available to give to your audience, making the offers you're advertising highly appealing.
For those who fear they may get stuck, full support is available with the best networks, including everything from product training and how to market items in general.
These training programs are a great way of increasing your skills which you can use elsewhere, and they get included as part of the network package without additional costs.
As the CBD market expands, projected to reach $4.79 billion by 2028, there will likely be no shortage of products to market and a lot to gain.
In other words: if you have a channel that would suit the promotion of CBD products, there's little to lose from getting started.
As long you're committed to learning and persistent, CBD affiliate marketing is more than worth it.
What to look for in CBD affiliate programs?
How do you choose the best CBD affiliate program with so many available? We've listed some key areas to look at while you do your research.
Commission rates
CBD commission rates are an obvious yet essential area to consider; after all, this dictates what share of the revenue you'll get for each successful referral.
Networks vary dramatically here, with some offering commission rates of just 5% while others go up to 50% and sometimes even higher. Be sure to check the exact terms for each referral.
Cookie duration
The cookie duration is the second most important consideration. In a nutshell, this is how long you have to receive a commission for a referral.
For example, some CBD networks offer you a cookie duration of 120 days, while others only manage 15 days.
The longer the cookie duration, the better, as it gives you more chance to earn a commission and not get cut out.
Reputation and support
There are two parts to this: the first is the reputation of the CBD network in question. Be sure to take the time to research the best networks and ensure they're reliable and trustworthy.
Second, and closely related, is the level of support they provide.
The best networks offer full support for affiliates with marketing materials and a dedicated customer success team.
What are the biggest affiliate CBD offers and their platform?
Here are some of the biggest CBD affiliate offers along with their platform in the table below.
| | | |
| --- | --- | --- |
| Platform/Company | Affiliate Offer | Payout Data |
| No High CBD | 30% revshare | Payments made by the 14th each month |
| Pure Hemp CBD | 40% commission for each sale made | Monthly, several payment methods are available |
| Leef Organics | 20% (base commission) | Monthly payment |
| Plant of Life | 25% on each sale | Monthly payment |
| CBDPure | 40% commission rate | Commission threshold (monthly payments) |
| Wellmart | 20% on commissions | Monthly payment |
Here we've put together for you the leading CBD affiliate networks that cover offers for all major mobile operating systems.
Get started with the best CBD affiliate networks
CBD affiliate programs are a great option and allow you to earn passive income and far more if everything goes well.
The market is booming, and those who get in early will reap the greatest benefits. Just be sure to read the terms and conditions of CBD affiliate programs carefully and switch programs when necessary.
Check out our top CBD affiliate programs list and start boosting your income. We've put together the best CBD affiliate networks.
List of CBD affiliate programs