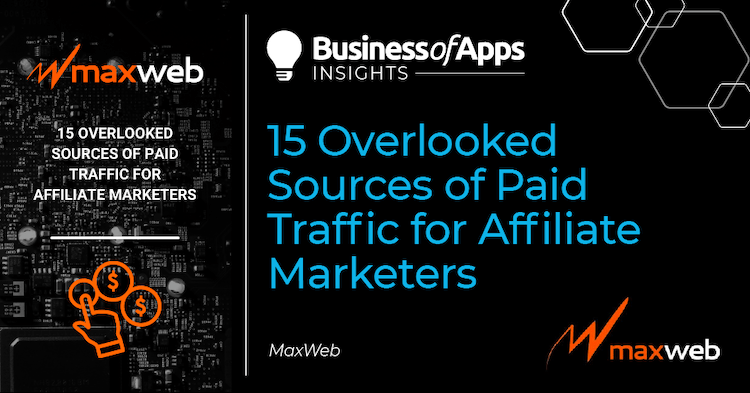 How are you generating traffic towards your affiliate offers? If you're like most affiliate marketers, you've tried running some paid ads on Facebook, buying space on Google Ads, and hitting up some Facebook groups or Instagram hashtags to get some of that sweet social media interest.
This article was first published on MaxWeb's blog.
But did you know there are hundreds of major sources of traffic for affiliate marketers?
Broadly speaking, there are three primary types of traffic:
Direct — these visitors already know your site URL
Referral — visitors from links on other sites, social media, etc.
Search — everyone who found you through a search engine
Direct traffic often depends on high name recognition, or at least a strong personal pitch including your affiliate URL.
Aside from networking event connections, affiliate marketers rarely see significant direct traffic volume. Brand recognition can even work against affiliate marketers' goals. It can drive leads to your affiliated company's main website instead of your affiliate link.
Some affiliate marketers do brisk business with search traffic. Strategies centered on organic search take time, consistency, and capital. It's not easy to rank for most of the valuable terms for any affiliate niche. If you can't get onto the first page of Google's results, you might as well be invisible to most searchers.
Affiliate marketing tends to rely on referral traffic. Referrals include all types of paid ads (Google Ads and paid placements on search engines). They also include links from blogs, social posts, and reference sites.
We'll focus on lesser-known sources of paid referral traffic in this article, starting with the social media networks you might be neglecting…
Stand out on social media
Social media is more than Facebook, Twitter, and Instagram.
There's also LinkedIn!
… and a few dozen others. Here are a few ideas outside the Big Three:
YouTube
Most affiliates and small businesses are clueless about video advertising. Luckily, there are always paid ads on YouTube — they can set you apart from most of your competition.
You don't even need a video to advertise on YouTube. You can also buy ad space as banners or text-based CTA overlays. A slick video ad can be a huge attention-getter if you can afford to conceive and/or produce it.
You'll need a Google Ads account to run ads on YouTube. Just keep in mind you might have to deal with restrictions on certain offers. The platform has a reputation for barring people. If you're trying to drive traffic to restricted offers, stay tuned — we've got tips for them, too.
Pinterest
Got an offer for women? Pinterest's user base is 85% female. It's a great platform for female-focused affiliate marketers.
Like Instagram, you can create and build a profile to promote your offers or pay to run targeted ads. Consumer products tend to be the ideal affiliate offers for Pinterest traffic.
Snapchat and/or TikTok
How do you do, fellow kids?
I'll admit up front that I've never understood Snapchat or TikTok. Yet, millions of millennials and zoomers (Gen Z kids) love these two mobile-first social media platforms. So, it's worth at least considering them as part of your traffic strategies.
Don't try to be cool for the sake of "fitting in," and don't promote offers that won't appeal to the 18-30 crowd. Use Snapchat and TikTok if you feel comfortable working with their ad formats and user bases. Most affiliate marketers don't use these platforms. You'll have less competition for consumer offers than you would on Facebook or Instagram.
Display ads for the rest of us
You know about Facebook and Google ads, but there are dozens of other pay-per-click or view digital advertising networks. In fact, many use data from Facebook and Google to improve their targeting accuracy and conversion rates.
BuySellAds
This network helps content creators monetize their sites. It gives you opportunities to promote your offer in relevant places at affordable rates.
Over 1,200 publishers use BuySellAds on their sites, and you can start with an initial budget of $25. BuySellAds also provides placements in podcasts, banner display ads, and email promotions.
Infolinks
Infolinks offers affiliate marketers access to a massive display ad network. We're talking over 100,000 participating sites generating over 1.5 billion ad views per month. Like BuySellAds, this platform promotes itself as a way for content creators to monetize their efforts.
AdMedia
AdMedia is another multi-format paid ad network with a big reach. Its display ad network gets over 100 million impressions per day.
AdMedia can also run search, native, email, and mobile ads. Its remarketing service — that's the stuff that follows you all over the internet after you show a tiny bit of interest in it — can put you in front of 98% of the internet. It should cover your bases no matter where you hail from.
Advertising like a native
Ads often work well when they don't feel like ads. This quirk of human psychology has turned "native" advertising into a multibillion-dollar industry. Still, most affiliates have little to no experience with the native ad format.
Native ads run on publications or heavily trafficked blog sites. They resemble normal content. You'll often see a pack of native ads after the end of articles or blog posts. They look like other articles, complete with "One Weird Trick" style headlines and brief introductions. Of course, some native ads are blog posts. They're written or sponsored by the native ad network for paid placement on popular sites.
You'll have plenty of variables to play with when creating a native ad. Make sure you consider where it'll show up, why the audience will see it, and what sort of push that audience might need to click your ad and buy your offer.
Here are some of the largest native ad networks, and their key stats:
Outbrain
One of the first major native ad networks, and still one of the best-known.
Impressions: 290 billion per month
Availability: 55+ countries
U.S. reach: 88% of all online users
European reach: between 77% (U.K.) and 95% (Spain)
Taboola
It's native advertising's Facebook to Outbrain's Google (or is that the other way around?). Most native ads you see come from one of these two platforms.
Unique users: 1.5 billion per month
Publishers in the network: 10,000+
Reach: 45% of the global connected population
Verizon Media
You might have known them as Yahoo!, AOL, or Oath. Today, Verizon's advertising and publishing brands have centralized under the Verizon Media umbrella. This platform provides the best way to get native placements on Verizon-owned properties like TechCrunch and HuffPost. The platform also extends to other formats, like physical media displays (billboards), video, and mobile.
Unique users: 900 million per month
Impressions: over 60 billion per month
Total ad placement opportunities: over 1 trillion
Unrestricted ads for restricted offers
You can make big money with affiliate sales in "restricted" categories. Think adult sites, gambling, alcohol, cannabis, and products or services rarely discussed in a mixed company.
But to make money, you need to get eyeballs on your offers. That's why many affiliates for adult offers choose to advertise through less restrictive platforms, such as…
TrafficJunky — 3.9 billion impressions per day
Exoclick — 200 billion impressions per month
Traffichunt — Over 1 billion impressions per month
EroAdvertising — 30 billion ad views per month
Zeropark — 3.5 billion ads served per day
There are other ways to get your affiliate offer in front of an audience, but these 15 platforms should give you more than enough options to get started. More than enough eyeballs to make a few sales.
If you're looking for an affiliate network that helps you make more predictable revenue more often, you might want to consider MaxWeb. We're currently the #1 fastest-growing affiliate network, and we specialize in maximizing results for both affiliates and advertisers. No exaggeration. We focus on carrying only the best offers and provide maximum commissions—you'll get payouts up to 3 times a week. Click here to learn more and see if MaxWeb might be a good fit for you.