This guide will cover everything from being a travel affiliate, how you stand to benefit from getting involved and how to choose the best travel affiliate programs.
Travel affiliate networks connect publishers with affiliate programs that allow them to promote travel-related offers.
Travel offers can be a profitable niche in affiliate marketing as the subject area is always going to be desirable and popular, certainly for mobile consumers who want to explore the world.
These offers can be anything from cashback on hotel bookings to money off a weekend break.
In our directory, we've gathered a number of top travel affiliate networks for your mobile marketing strategy.
What is a travel affiliate?
A travel affiliate is someone who promotes travel-related offers. The best way to do this is through travel affiliate programs, as we'll see later on.
Travel is a popular and profitable niche that can generate large amounts of revenue using multiple monetization methods.
Travel affiliates can earn revenue simply by advertising travel offers on their blog, website, or app.
The commissions in this niche are towards the higher end of the scale, with consistent offers during the key seasons.
Top Travel Affiliate Programs
Performcb - #1 Performance Marketing Network Worldwide
ClickDealer - The only way to succeed in affiliate marketing is to partner with the best!
Below you'll find the main pros and cons of travel affiliate marketing:
Pros
Easy-to-share referral links–users can receive credit just for following them and taking action

.
Payouts can include direct bank transfers, and the thresholds are more than achievable.

Free and easy sign-up process that allows you to get started in minutes

.

Programs support everything from flights to hotel bookings and even rental cars

.
The best travel programs offer deep linking to over 500,000 cities and hotels.
Helpful tech support is available 24/7 that can improve your marketing game.
Travel affiliate program example
Source: Skyscanner
Cons
It's a saturated vertical, so you need to pick a solid niche and go from there.

Your content must be relevant and kept up to date across your channels throughout the year.

Not all programs allow you to track users and see where money gets made

.
Different payment models mean some programs are best suited for specific affiliate channels.
That said, travel affiliate offers are profitable and niche offers.
With names such as Booking.com and TripAdvisor offering compelling programs, there's a great amount of potential for affiliate marketers and brands.
How does travel affiliate marketing work?
Travel affiliates advertise travel offers on their site or blog and earn money once a sale gets confirmed by the travel network.
Essentially, a travel affiliate program is an agreement between the seller and the marketer.
The travel goods and services seller partners with an external travel affiliate marketer to help promote products and increase sales.
A travel affiliate is considered an intermediary between the seller and the customer.
In the best scenarios, the travel affiliate gets financially rewarded for promoting a service, the user finds a great deal, and the travel affiliate network earns money.
Some of the most dependable networks in this vertical include the following:
Booking.com
AirWander
G Adventures
Viator
Travelpayouts
If you're new to affiliate marketing, the travel vertical offers good potential; just be aware that the competition in this vertical is fierce and will take time to crack.
Travel affiliate network example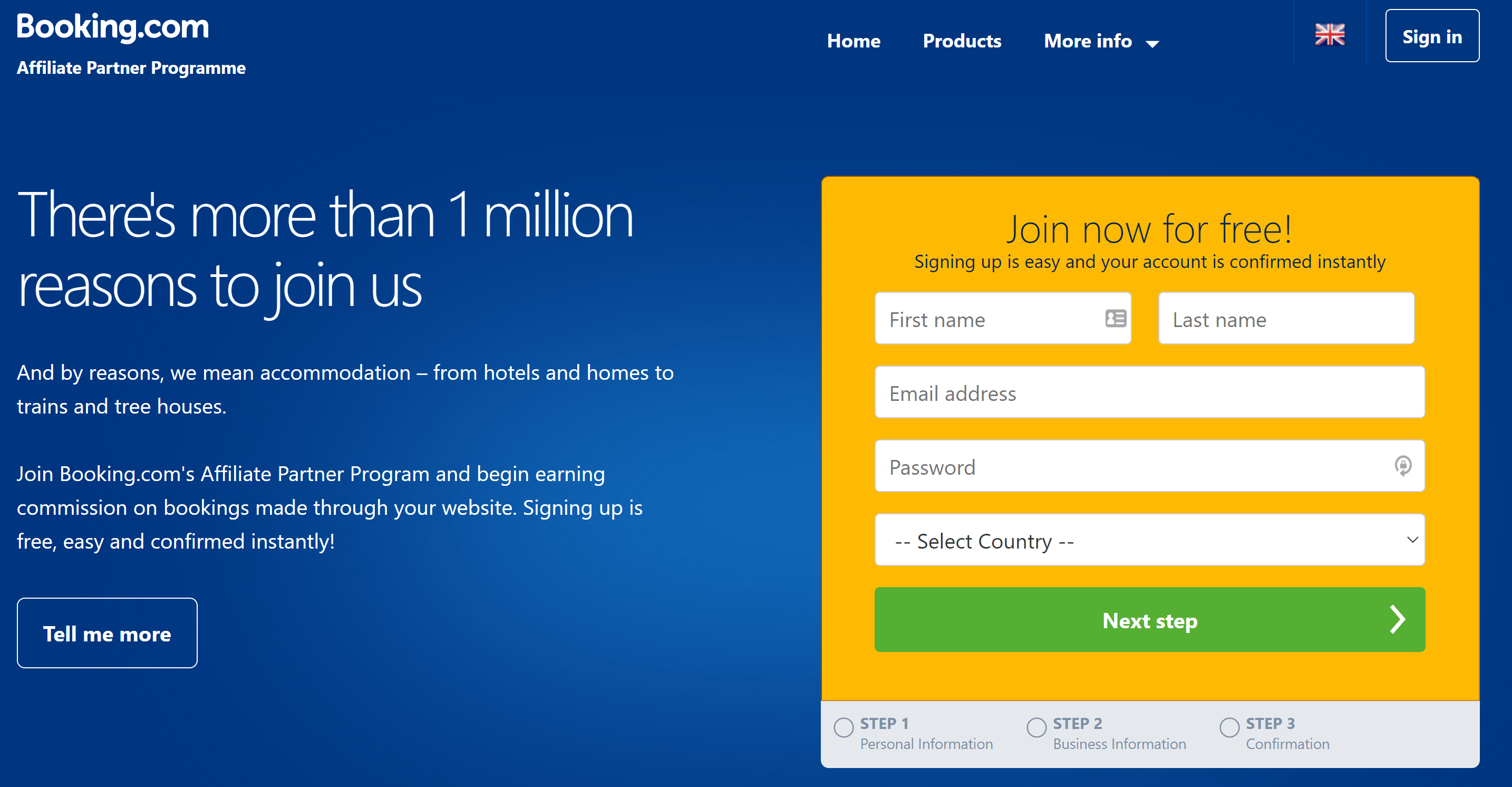 Source: Booking.com
Here's what the travel affiliate referral process looks like in four quick steps:
1. The travel publisher or affiliate advertises specific links on their prefered channel–usually a dedicated travel blog.
2. The user clicks the link the affiliate advertised on their travel blog.
3. The user goes through their journey and makes a purchase at the end, such as booking a hotel.
4. The travel program checks the purchase before the affiliate gets paid.
The best travel programs have an amicable relationship with affiliates, which is essential for maintaining a successful program over time.
For example, hotel affiliates frequently come up against high cancellation rates–sometimes as high as 30-40%–so they need to work with travel programs as best they can to prevent this.
Success in this niche can mean very high commissions for travel affiliates, particularly if they're writing content that captures people before they book their trip.
How can you benefit from travel affiliate programs?
Travel affiliate programs can provide publishers with a consistent supply of travel-related offers they can promote across their channels.
Travel programs allow marketing affiliates to focus on the promotional side of things to generate revenue without distraction.
For example, some of the best travel affiliate programs provide advanced promotional tools, from widgets to built-in URL shorteners and mobile SDKs.
Additional tools these travel programs offer include APIs, WordPress plugins for blogs and custom creatives.
These tools save considerable time for affiliates, especially in contrast to those that choose to go it alone without a program.
Transparent statistics are also available that provide you with summaries on your account dashboard to see your performance.
Even better, some travel programs offer ongoing educational webinars and free travel affiliate case studies to help you up your game.
The best travel affiliate networks offer on-time payments and multiple options to receive earnings each month.
Earning passive income is one of the main benefits for travel affiliates, and these programs allow you to achieve that realistically.
Travel affiliate network example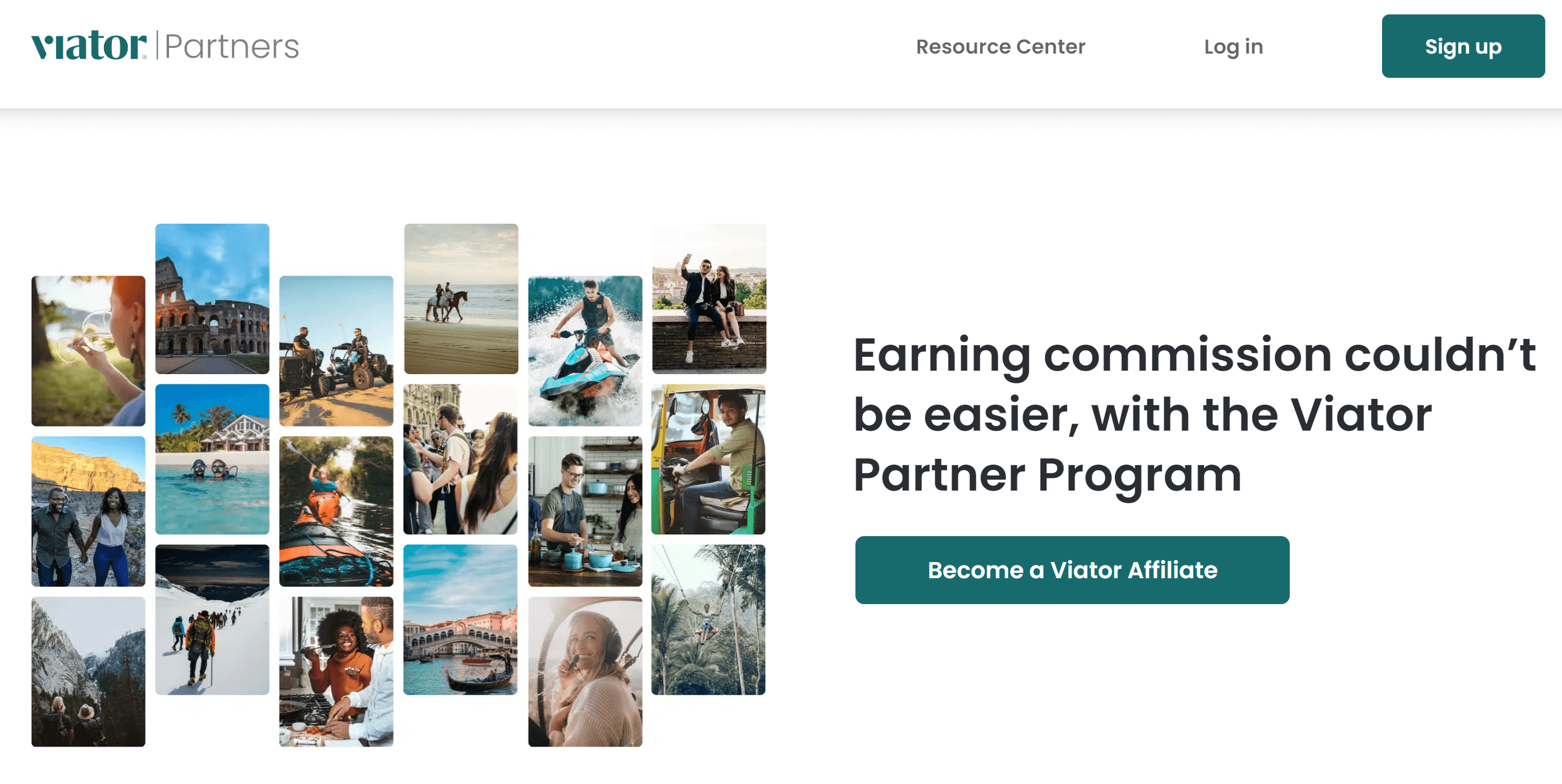 Source: Viator
Travel affiliate programs commonly provide new offers throughout the seasons, including in the following niche areas:
Family travels
Solo travelling
Cruise and Trailers
Hotels, hostels, and motels
Life on the road
Disney Tours
Travel programs can provide affiliates with new offers over long periods, from six months to six years.
The payouts are high (sometimes market-leading) in the travel vertical, with some programs providing up to 80% commission per sale.
For instance, Viator offers an easy sign-up process that gives affiliates instant access to start immediately.
Viator offers easy-to-use affiliate tools, 30-day cookie windows, weekly payouts and a healthy commission on all experiences.
No qualifications are needed to join Viator's Partner Program, unlike some programs that need to see affiliate channels and their traffic beforehand.
In a nutshell, taking advantage of these travel programs is about as close to a win-win as you can get–affiliates shouldn't hesitate to use them.
What to look for in travel affiliate programs?
How do you choose the best travel affiliate program? We've listed some key areas to focus on before signing up.
Payment methods
The best travel affiliate programs will offer publishers a variety of payment methods to ensure they aren't left waiting.
The most common payment methods include PayPal and direct bank transfer, although ideally, these should be the first of many. Look for other popular payment methods such as Payoneer and Wise as well.
Affiliate tools
The best travel programs provide affiliates with handy tools that speed up the conversion process and allow you to earn much faster.
Travel affiliate tools example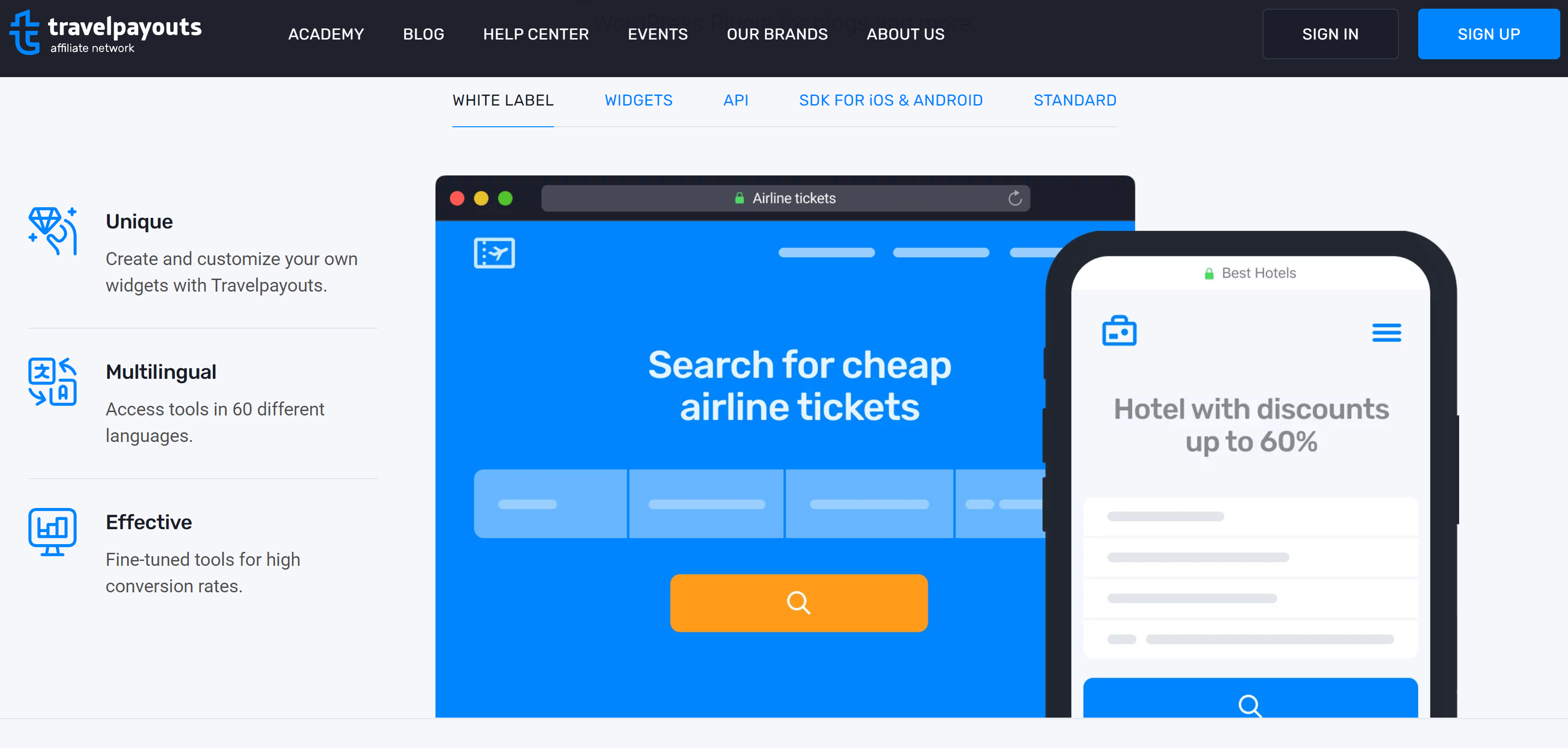 Source:  Travelpayouts
Look for travel programs that offer dashboards with detailed reports, customizable widgets, multilingual tool access and mobile SDKs for iOS and Android.
Commission and payouts
Commission rates across travel programs vary, but the best networks should offer at least a starting commission of 6% per sale.
As for payout thresholds, these should start in the region of $30 and be no more than $200, allowing affiliates to access their revenue easily.
What are the biggest travel affiliate offers and their platform?
Here are some of the biggest affiliate travel offers along with their platform in the table below.
| | | |
| --- | --- | --- |
| Platform/Company | Affiliate Offer | Payout Data |
| TripAdvisor | 50-80% per sale | Low payout threshold |
| Expedia | 2-6% per sale | $2.50-25 per sale |
| Booking.com | $14 per sale | Fast payouts |
| Flight Network | Commission: 7% | $5-10 per sale |
| Travelpayouts | Up to 80% per sale | Cookie Length: 30 days |
| Travelocity | 2-4% commission | $2-30 per sale |
| Skyscanner | Up to 50% commission | Click-outs valid from any country around the world |
| Uber | Driver Referrals | $60 per referral |
| Hotwire | 2% per sale | Cookie length: 7 days |
| Jetradar | 1.25% per sale | Cookie Length: 30 days |
| AirWander | $0.40 per unique user referred | $0.45 at 3k leads |
Here we've put together for you the best travel affiliate networks that cover offers for all major mobile operating systems.
Get started with the best travel affiliate programs
Travel affiliate programs allow you to earn passive income and maintain a flexible lifestyle while promoting exciting offers.
If you have a channel or other platform you can use to advertise these offers, they're more than worth getting involved with overall.
Check out our top travel affiliate programs list and start upgrading your income. We've put together the best travel affiliate programs below.
List of travel affiliate programs and offers
The only way to succeed in affiliate marketing is to partner with the best!

| Founded | Employees | | Social | Traffic |
| --- | --- | --- | --- | --- |
| 2012 | 51-200 | | 10k+ | 500k+ |
ClickDealer, a GDM Group company, provides performance marketing solutions for publishers, advertisers, and agencies worldwide. The company offers a comprehensive range of advertising services to fit any specific set of KPIs for its clients.
The company has been in the performance marketing business since 2012, amassing partnerships with over 2000 advertisers across 12 main verticals which include lucrative directions like Dating, E-commerce & Retail, Health & Beauty, Mobile Utilities and more.
Key features:
Mobile platforms: Android, OS
Campaign types: CPA, CPC, CPL, CPS
Offer Types: Dating, Ecommerce, Games, Software, Sweepstakes, Travel
Learn more about ClickDealer