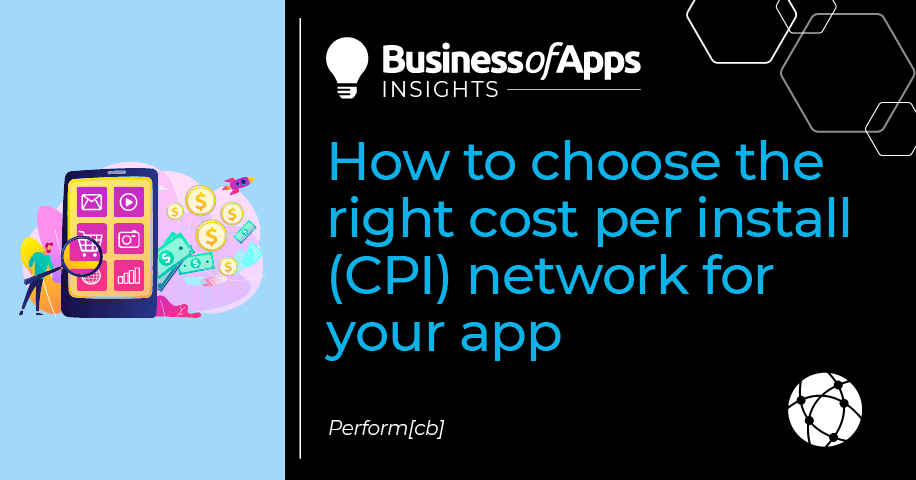 Over the years, cost per install (CPI) marketing strategies have become increasingly complex. With today's app marketer more driven by KPIs and ROI than ever before, finding new ways to deliver more qualified user installs remains top of mind. Testing and running CPI campaigns can create valuable insights into your user base, what they value, and what they engage with most. While CPI campaigns can be fairly easy to set up, their nuances along with the ever changing mobile landscape can be difficult to navigate for some marketers.
This is where an experienced CPI network comes in – to help you scale your app and increase ROI, all while managing your CPI campaigns and finding new areas of optimization. A CPI network connects mobile marketers to various publishers in order to drive users to install an app and scale their active user acquisition. Whether you're new to running CPI campaigns or looking to shift your business to a new network, let's discuss the top questions you should be asking.
Can they provide high-quality traffic?
Today's mobile environment is growing with new users everyday – over 5 billion of them globally to be exact. While there are many users out there, not everyone is a perfect fit for your app – and that's ok. High engagement with mobile advertisements is great, but not if this engagement is by under-qualified users installing your app just to receive a promotion. Marketers should make sure that the CPI network they consider partnering with will be driving qualified, interested users to their app.
High-quality traffic means connecting ads with users who are actually going to install and use your app long-term, and this is exactly what an experienced CPI network should deliver. . It's no surprise that running CPI campaigns on a performance model is so popular among app marketers – you only pay for real user installs, not clicks or impressions. Interested in learning more about running CPI on a performance model? Download Perform[cb]'s CPI Manager to get started optimizing your user acquisition strategy today.
Another important aspect to consider when seeking out a CPI network is whether or not they have the targeting capabilities and optimization tools to reach the right user base for your app. Many mobile marketers tend to narrow down their ideal target market based on users who previously installed apps in similar verticals or niches, or based on the locations where apps in the same category are popular. CPI varies based on location, so make sure your CPI network takes this into account when optimizing your desired CPI to your targeted geographic location. Download Perform[cb]'s CPI Manager to learn where your campaigns rank compared to CPIs across the globe.
Are they closely monitoring for fraud?
With 1.3% of iOS and 26.9% of Android app installs being fraudulent, it's imperative that app marketers have a game plan in place for how to deal with mobile fraudsters. Mobile ad fraud can seem daunting, especially if you're just starting to dip your toes into CPI marketing. Don't operate blindly – a trusted CPI network should understand the importance of handling campaigns and ad spend with extreme caution.
The first step in combating mobile ad fraud is to implement detailed tracking that is monitored closely for any inconsistencies. With the right tracking and compliance monitoring in place, a CPI network will catch fraudulent activity before it even has a chance to harm your campaigns – while also having the ability to track the fraud back to the source and squash it for good. To proactively avoid ad fraud, you'll want a team of experts with 24/7 compliance and campaign monitoring in place. Not sure where to start when it comes to staying protected from mobile ad fraud? Learn more about how you can keep your app protected.
Can they help you optimize post-install actions?
Installing an app isn't the end of the road for mobile marketers – in fact, it's just the beginning. With 90% of apps in the major app stores being free, marketers need users to engage and interact post-install in order to see profitable results. When working with a CPI network, there are many ways marketers can engage users and increase ROI post-install – for example, marketers should look to CPI networks with media buying expertise to drive push notifications to users with exclusive in-app promotions, video advertisements, and messaging features.
One of the most lucrative post-install activities on many app marketer's minds are in-app purchases. If an app is free to install, marketers have the opportunity to increase their profit by offering various add-on features and subscriptions to scale user engagement post-install. But, many marketers should also remember to avoid pumping your app full of frivolous or irrelevant in-app purchase options.
Find something that your users see additional value in, and continue to strategize with your CPI network in order to ensure retention. For example, gaming apps could offer users the chance to buy more lives, subscription-based apps can offer premium membership options, or exclusive discounted items for ecommerce apps. Users are spending $380 billion worldwide on in-app purchases, and mobile marketers should be taking advantage of this monetization potential within their own apps. Learn more about mobile re-engagement and retainment strategies, and how you can keep driving demand and scale to your app.

Closing
If you're looking to scale your app on a CPI pricing model, partnering with an experienced CPI network won't just help you increase your profits – it'll save you from future headaches like worrying about traffic quality, potential ad fraud, and whether or not your app is profitable in the long run. Want to get a head start on managing your optimal CPI? Download Perform[cb]'s CPI Manager to achieve your ideal CPI today.
If you're ready to scale your app by partnering with a trusted CPI network, reach out to our team of user acquisition experts.