Looking for the top New York app developers? We've got you covered. App developers in New York are able to create user-friendly, high-quality mobile apps that showcase your products and services in the best possible way.
This guide will share tips and tricks on finding the most suitable mobile app developers in New York from our carefully selected list.
New York is home to top teams of app developers, designers, and strategists that focus on native iOS and Android app development and even web design. These mobile app development companies employ agile development to ensure you're getting optimal ROI.
Developing a mobile app is a difficult task, though, and choosing the right app developer is crucial to maximize results and make your business stand out.
Let's explore the benefits of working with a top New York app developer and find out the best players in the industry.
The app developer market in New York
The average American spends 85% of their time on smartphones using apps–the opportunity speaks for itself. But finding a good app developer can be tough, to say the least. The good news is that New York is one of the central hubs for mobile app development in the US and serves as a great location to get started.
In fact, New York is considered to be the second biggest US city for app development, typically followed by Chicago and Boston. There are several hundred experienced and professional mobile app development companies located in the city alone.
New York app developer example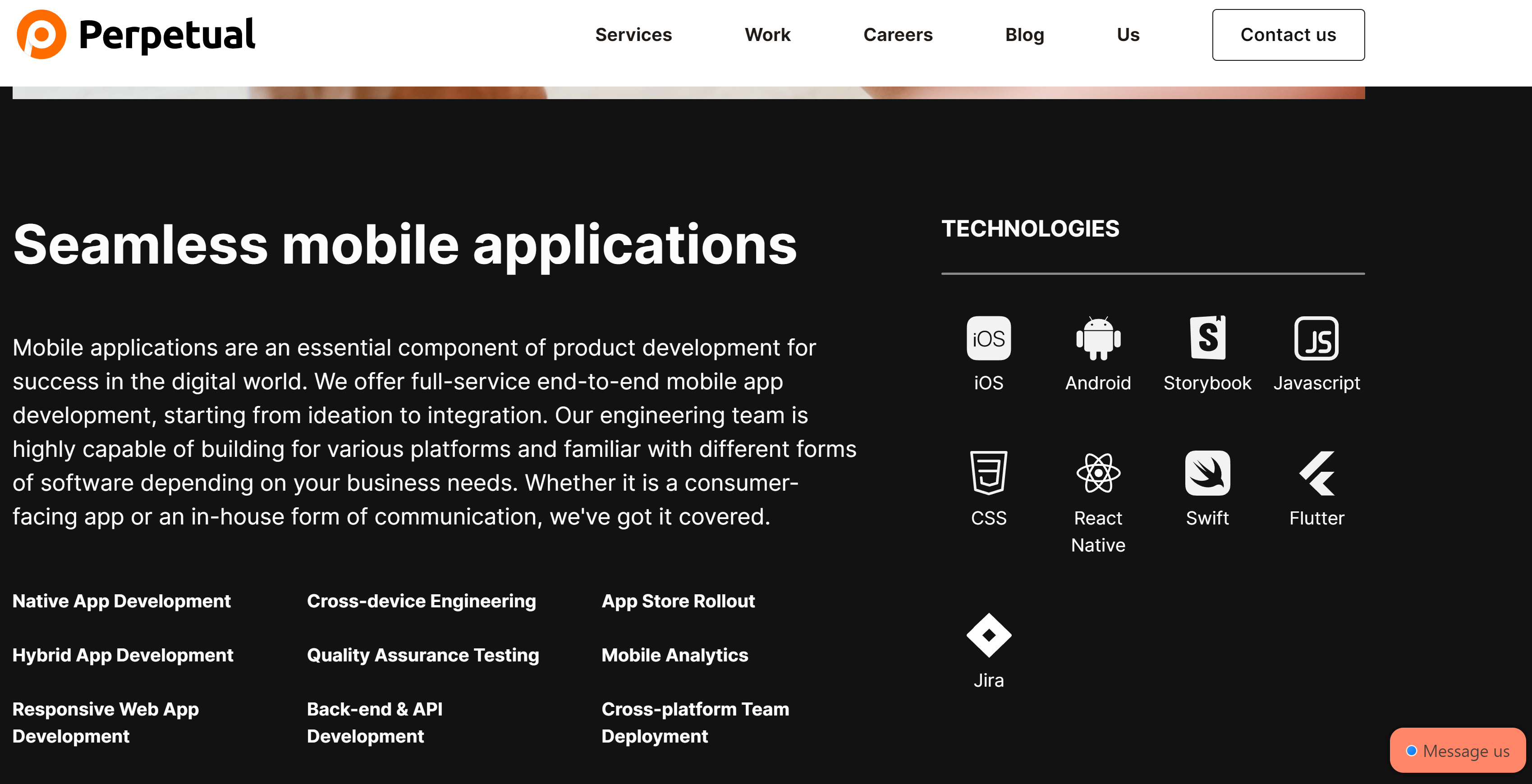 Source: Perpetual
Mobile app development companies in New York have massively contributed to the city's economy, and it's home to some of the largest names in the app marketplace, such as Appinventiv, Fueled, Blue Label Labs, and more. In a nutshell: a hugely diverse industry and a giant pool of talent to back it up.
The city of dreams has countless app developers looking to stand out as the best mobile app development company, and there's a great selection of top developers to choose from overall.
It's fair to say that some of the mobile app development companies available in New York are also the best app development companies in the US, having transformed themselves into global brands.
Why work with an app developer based in New York?
The US is a top location for app development in general, but New York app development companies follow a unique process that combines creativity, critical thinking, robust design, and careful planning that helps to set them apart from the rest, enabling them to design marketing-leading mobile apps.
New York itself is located at the centre of app development on the East Coast and is the most populous city in the US.
Mobile app development companies in New York specialize in developing apps for both Android and iOS and build product-driven apps with full-scale mobile development teams to meet any requirement you request. These app developers focus on the following:
Planning and strategy: 

After identifying the necessities for an app, they create a product roadmap and prioritize your requirements

.
Design and branding: They cover elements such as mock-ups, use-case scenarios and sample models for your app project.

Coding and development:

They make continuous changes and concentrate on using the latest tech during the mobile application development process.

QA and launch:

They use a mobile app quality assurance process that ensures that apps are thoroughly tested and market-ready

.
Support and maintenance: The best mobile app development agencies in New York provide constant support and maintenance after the app is launched.
New York app developer example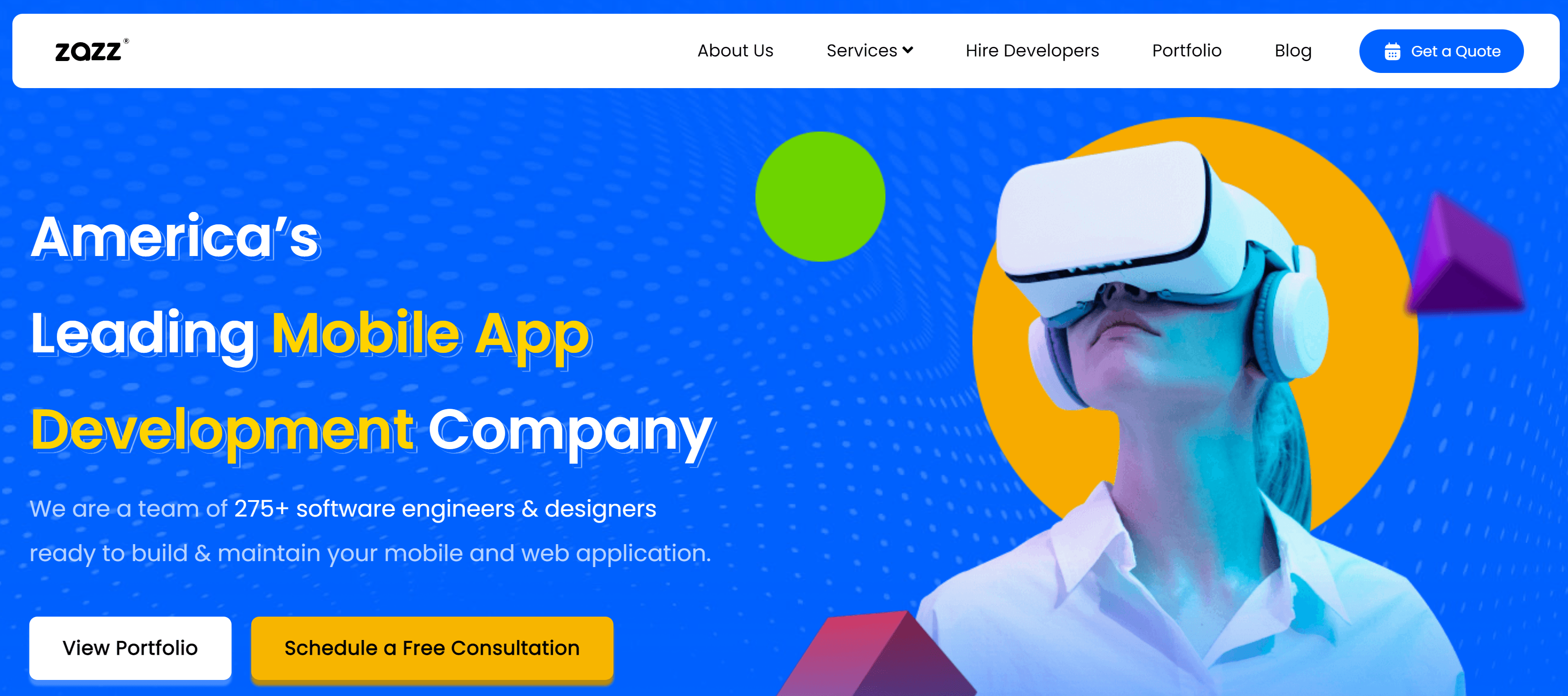 Source: Zazz
Hiring an app developer in New York allows you to work with experts with various skill sets and know-how.
New York, for example, is a multicultural metropolis–there are as many as 800 languages spoken in the city–so there's an abundance of expertise from across the world that will help you develop top-tier mobile apps.
New York app teams can even deliver localized app development projects that are structured and work effectively for location-specific audiences–a key advantage of having that multicultural expertise.
App development companies in New York typically support all major platforms, too, including Android, iOS, Unity, VR and AR, with expertise in creating marketing strategies and helping startups get ahead.
For top-notch scalability, security, and robustness for all startups and enterprise businesses, there are few places better for app development.
How much does hiring New York app developers cost?
The average hourly rate for mobile app development in New York is around $90-$160 per hour. However, this cost will definitely vary based on the following:
Developer experience (in years)
Project size
Customization
UI (and UX) design
Mobile app features
More simply put, the bigger the project, the higher the cost, so think carefully about the scope of your mobile app.
The average base salary in New York for an iOS app developer is around $147,200. For an Android developer, it comes to slightly less at around $131,375.
iOS developer salary ranges

Data source: BuiltInNYC
How does this compare to averages in the US? The average base salary in the US for an iOS developer is $118,465. For Android, it comes in at $109,927. In other words, hiring an app developer in New York costs a fair bit more due to the added expertise the teams provide.
For iOS, a breakdown per experience averages the following:
An entry-level junior iOS developer's salary is $40,000 per year
A mid-level iOS developer's salary is $114,000 per year
The most experienced iOS developers earn up to $172,000 per year
For Android, a breakdown per experience averages the following:
An Android developer with less than two years of experience makes approximately $51,600 per year
An Android developer with between two and five years of experience makes approximately $73,200 per year
An Android developer with an experience level between five and ten years makes approximately $96,200 per year
New York app developer example
Source: Agicent
A large number of people get employed by app development companies in New York, such as designers, developers, and testers, so they have access to an expert team to assist you at every stage of your app's development.
It's worth mentioning that freelance mobile app developers in New York generally work alone, which means they may lack certain resources that app development companies offer. That said, they can also provide specific expertise not available elsewhere.
Getting a custom quote from an app development company before you embark on your development journey is wise. But how do you go about choosing the right one anyway?
How to choose the top New York app developers
To choose the best app developer in New York, you first need to research the mobile app developers available. From there, you'll need to set up interviews with them and find out about their skills and expertise while they equally learn about your business and mobile app objectives.
During your research phase, it's best to think about the following areas below.
Sector experience
If they've worked in your chosen industry–banking, for instance–it means they've probably faced some of the same problems you intend to solve with your app in the first place.
Their experience can help you to save development time and facilitate a better overall quality for your finished app.
Portfolio
Take a look at the mobile apps that New York developers have recently built for their customers and ask them to show you some examples of their best work, particularly those similar to what you have planned for your chosen sector.
It's best to keep an eye out for previously developed apps with an intuitive user interface, as your users will need to be able to interact and use the app flawlessly.
New York app developer example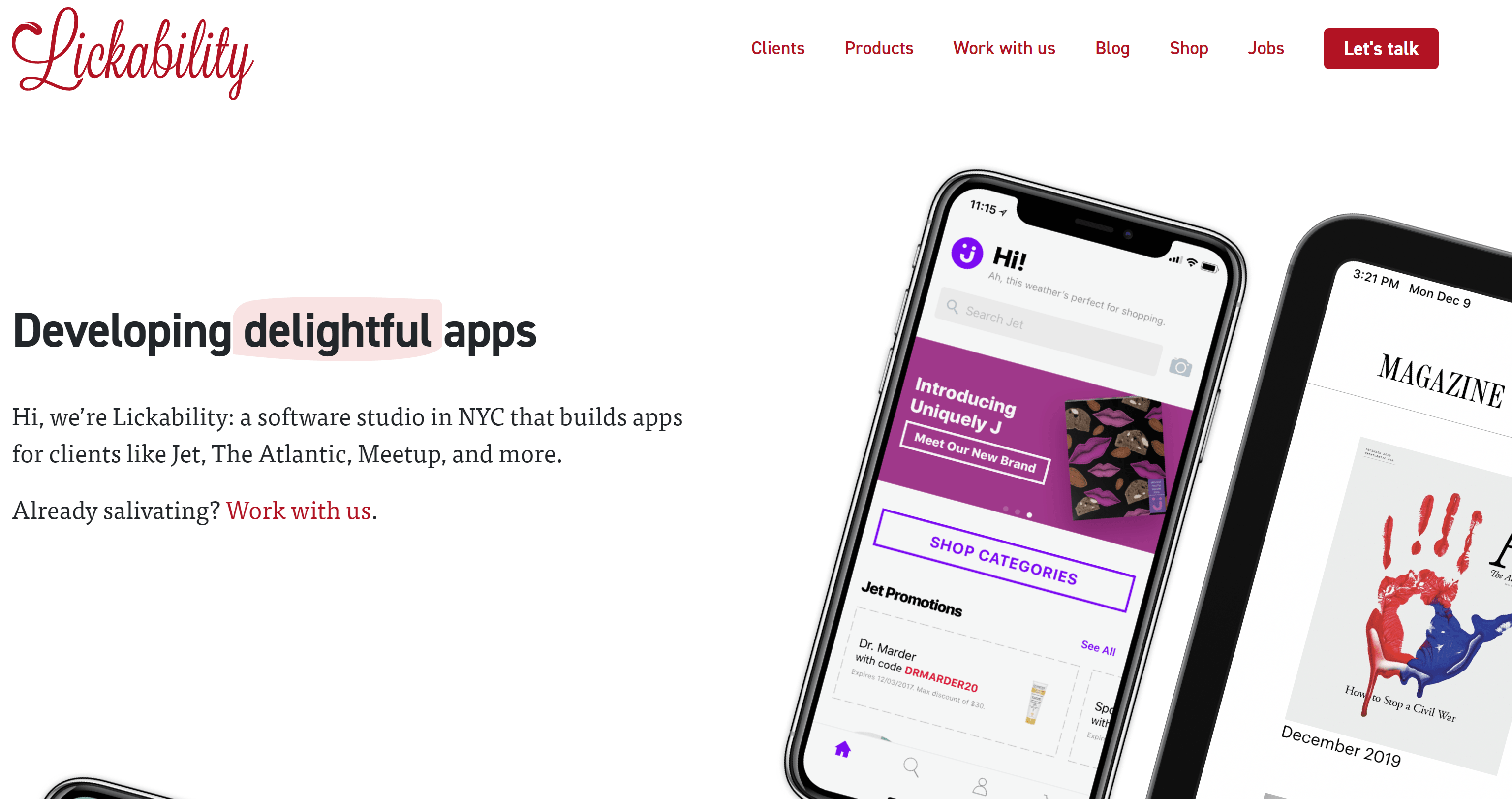 Source: Lickability
Client reference
Look for New York mobile app developers that provide customer contact information to get feedback about their company; this helps you learn more about the brands they have served and what they have overcome to get there.
If there's a high level of customer satisfaction from previous brands that used them, there's a substantial chance there'll be the right pick for you.
App delivery time
Your chosen app development company must have the capability to develop great apps at a rapid pace but with the ability to maintain quality as well–a tricky balance to get right.
The mobile app needs to impact the market quickly to ensure a higher ROI. To achieve this, the app development company you opt for should be aware of the latest delivery methods.
Transparency
Check the company's transparency policy and see if an agile methodology is adopted when they develop mobile apps–this helps to ensure transparent communication gets maintained during an app's development.
Ideally, there should be a transparent communication system incorporated into their site or on social messaging platforms such as Facebook Messenger to keep the conversation flowing.
New York app developer example
Source: Postlight
Cost
Of course, the app development cost is a significant factor for most. You need to search for a company that fits within your budget, but if your project has many features, you'll also need to ensure a flexible budget.
Time can affect the budget, as can the level of technical expertise on offer; extensive experience will cost more but will probably be worth it in the long run. You can get a custom quote from most app development companies in New York without committing to anything.
Top US App Development Companies:
Top mobile app development companies in New York
Now that you've seen the opportunity and sheer expertise available in New York, you may want to hire an app developer. Working with a New York app developer will allow your mobile app to reach a broader user base with the help of highly proficient individuals in the industry, those that will make it truly shine.
Other benefits of hiring a New York app developer include the following:
Access to the latest technology and awareness of trends
Powerful in-house teams of app developers, designers, and strategists
Creative and highly detailed development processes
Rigorous compliance with development standards and practices for Android and iOS
Localized app development projects for specific audiences
We've put together the top app development companies and app developers in New York. We compiled a list that combines a mixture of budgets, skills, and expertise that will suit your mobile app and secure the long-term sustainability of your business.
List of mobile app development companies in New York