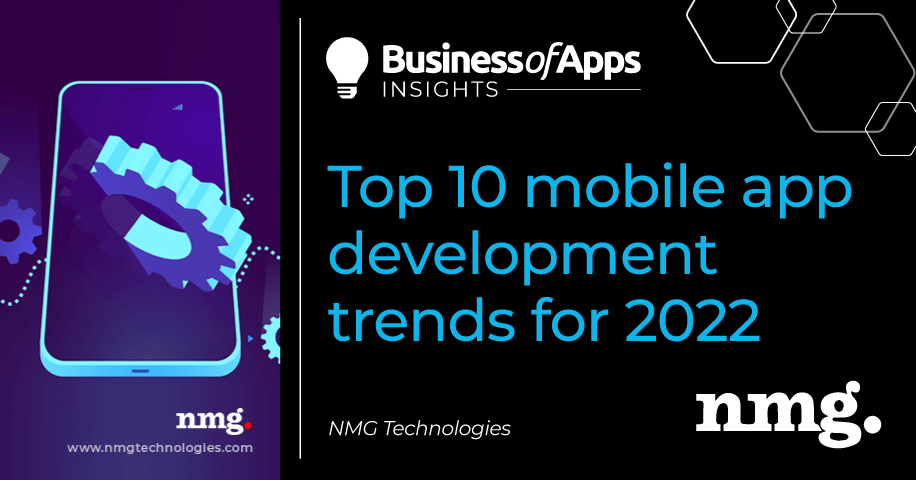 What is mobile app development?
In the current digital era, one needs no special reason to believe that mobile apps are vital in reducing stress related to your day-to-day chores and needs. Whether you need veggies, floor-cleaners, medicines, or shampoo, you have almost everything available. A real-time tracking system offers easy access to any of your favorite delivery apps. So yes, mobile apps have become integral to the modern lifestyle. What if you want to build an app for your business, too? The journey isn't a cakewalk. Suppose you are a small, medium, or large-scale business. It doesn't matter for a high-end mobile app development process. The only thing you want to focus on right now is, making a choice for your app- Choosing a Technology.
There are various specifics to determine while opting for a mobile app solution that works best for you and your customers. You will get to explain your idea thoroughly and adversely to make everything clear to your app developers. What is mobile app development? This question is simple, wholesome, and urgent. An app that solves your business problems connects you to your end-users and swiftly provides a service or product; keeping your vision alive is a service or product that comes from a mobile app development process. All you need to get to is a modern and competitive mobile app agency that can build a stable, attractive, and robust mobile app for addressing the issues you think are important to you.
What are the top 10 mobile app development trends of 2022?
Mobile app development is not just about making an impact by utilizing extensive technological infrastructure but striving to build a practical digital solution that acts as a helping hand to your potential customers. Mobile apps have become one-stop destinations for the end customers for over half a decade. However, technologies evolve at electric speed every year, and as a result, innovative and more challenging mobile application trends emerge.
5G
5G technology is this year's leading mobile app trend, a wireless network in great demand from all industries. 5G is the emergence of excellent connectivity standards and giving your mobile apps their desired features and purpose without affecting their overall performance. Moreover, properly implementing this technology empowers your app's development process.
Blockchain
Blockchain technology is one of the advanced mobile app development trends of 2022. It improves the security of your mobile app as well as data exploitation. Blockchain is the favorite among most app users as it solves almost every such concern.
Augmented reality and virtual reality integration
Tech giants such as Microsoft, Google, and Apple – but also everything from children's books to 3D modeling for gaming – are experimenting with AR. The abundance of free content creation apps democratizes AR, which means anyone (not just developers) can create their own Augmented Reality experiences.
Artificial intelligence and machine learning
Artificial Intelligence has been helping brands and businesses communicate with their end customers virtually, in real-time. For example, a 24*7 support assistant that you may have seen on any pharmacy app or food delivery app results from a unique implementation of AI and Machine Learning technologies integrated to meet your customer needs, making your business available at their fingertips.
Wearables
Wearable technology takes the 5th slot on our chart. However, it has been in usage for a while now. Fitness brands, trackers, and smartwatches have been present for years. App developers are expected to build an app specifically visualizing the future of such devices.
Wearables app
Source: NMG Technologies
Internet of things (IoT)
The Internet of things is changing the way businesses operate and compete. New business models are emerging and bringing changes in work processes, productivity improvement, cost-reduction, and enhanced customer experience.
Apps for foldable devices
In the last few years, mobile phone brands brought innovation to the next level with touchscreen and no-button screens. Finally, we are hearing about Foldable Devices, which may enhance the existing sensation.
Beacon technology
Beacon technology works well with small devices. You can use beacon technology to track your customers' in-store buying behaviors if you are a retailer. For example, you can check the time and attention a particular aisle is getting from customers. You can advance your game with the smart implementation of beacon technology.
Mobile commerce
M-commerce has been a rapidly growing trend in the last few years, and it is continuing to be so in 2022. With the onset of COVID, most mobile users adopted m-commerce as their go-to place for shopping. Therefore, it is a great measure to increase your user engagement.
Food and grocery delivery apps
People started relying heavily on food and grocery delivery apps as they stayed home following the lockdown in 2020 and 2021. As a result, these two were the fastest-growing apps during that period. Food delivery apps are not going anywhere soon, nor is the food ordering. So grocery apps will still be a top choice for smartphone users even as we go back to normality in 2022.
Food and grocery delivery apps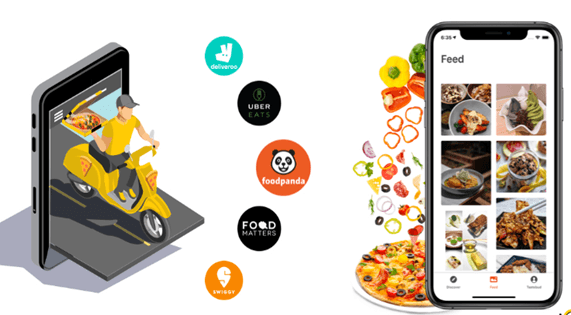 Source: NMG Technologies
Mobile app development solutions at NMG
NMG provides a modern approach to your app development journey and walks the path with you this whole time. We help businesses understand their goals by transforming the process into a high-quality product every time. One of the primary services NMG offers is mobile and web development.
You can explore digital mobility for your business with a best-in-class technical and skilled team of experts working in your preferred time zone. We use powerful technologies to put them to the best of your use. So whether you need a FinTech app, retail eCommerce app, enterprise mobility app, or an app to make and receive payments, we can build it without making the process appear clumsy.
Artificial intelligence
Artificial intelligence enables businesses to work smarter and faster, doing more with less. As technology and businesses continue advancing, more clients seek powerful, sophisticated solutions to improve and streamline operations.
Retail E-commerce
Content aggregation
Movie and music recommender
Augmented reality
Businesses worldwide use Augmented Reality technology to bring new exposure to users by introducing gamification into their processes. AR makes complex business challenges seem easy, from increasing user engagement to behavioral tracking.
Retail E-commerce
Health and fitness apps
Learning and training apps
Amazon's augmented reality view for Android users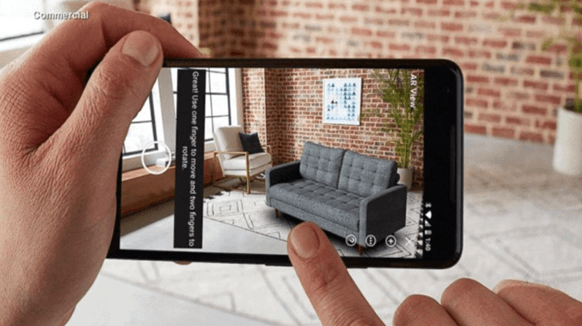 Source: NMG Technologies
Blockchain
Millions of businesses use wallet systems to manage their payments and transaction. On the other hand, Blockchain empowers businesses like yours with more control, efficiency, security, and ease of use and fundamentally changes how you do business.
Payments and money transfers
Gift cards and loyalty programs
Buy/rent/sell using smart contracts
IoT (Internet of rhings)
IoT technology is not as new as we think it is. NMG can help design modules to build your products. This data intelligence is created before the product design is finalized, so IT is part of the product rather than added.
IoT for retail
IoT for SAAS apps
IoT with blockchain for payments
Cloud apps
You can create a competitive advantage by scaling to the cloud. NMG has rich experience in delivering cross-platform cloud apps, helping clients and businesses like you transform how you used to work. It also upgrades your customer reach, helps you engage with employees, and facilitates operations by offering a centralized interface. Here are some of NMG's Cloud offerings to focus on this year:
Enterprise mobility apps
Marketplaces and E-commerce apps
Upgrade to cloud
Fintech
Our custom FinTech solutions are built to connect your business to the target customers in an effective manner with simple and impressive UX designs, intuitive workflow, and building effortlessly easy-to-use and commercially befitting financial apps. Some of NMG's FinTech
Payments processing apps
Equity and personal loans
Mobile app development
Fintech app
Source: NMG Technologies
Conclusion
Undoubtedly, mobile apps have successfully reshaped our modern worldview of how the service industry works. However, regardless of its nature, anything is a service the end-user pays. Albeit, mobile apps are built for businesses to connect with their customers. Therefore, if you want to offer a certain service or product or are willing to solve certain everyday problems with innovative solutions, NMG is the best place to start.
In this blog, we went over some of the top trends in mobile app development to focus on 2022 you should focus. The point to be noted is that mobile app trends advance faster than ever and that mobile app development technologies will exponentially impact the industry and keep doing so in the coming years. So be on the lookout for future resources like this, stay aware, and if you think you need more help building your app, ask for a free consultation. Our team is 24*7, ready to help. Professionals will take care of everything from there.