This guide will cover everything from how cryptocurrency works to why companies use affiliate marketing networks and how to choose the best crypto affiliate networks from the ever-growing list.
Crypto affiliate offers are usually high-paying and popular offers; there's a lot of potential for affiliate marketers and brands that want to get started in this niche as it grows — particularly mobile-based affiliates.
Crypto affiliate networks and apps are continually growing in popularity and are a hot topic. The cryptocurrency market itself is worth an estimated US$350 billion, despite experiencing a crash earlier on in 2018.
Mass digitization has made this possible, with investors now moving a significant part of their focus to the crypto space and including key cryptocurrencies in their portfolios.
Digital currencies such as Bitcoin and Ethereum have rapidly grown to prominence and are particularly profitable choices for many investors.
Other popular options are the cryptocurrencies known as Tether, XRP, Cardano, Avalanche and Polkadot. There are more than 10,000 cryptocurrencies available, and it's only increasing.
Crypto affiliate programs themselves are useful because they offer an alternative way to advertise products. Many businesses use the networks to boost their sales and trading volumes and grow their customer base.
The networks usually use social channels, for example, affiliate marketing on Twitter and Facebook, to help achieve this.
What is cryptocurrency?
Cryptocurrency, also known more simply as "crypto", is a type of digital currency first and foremost, and it has many virtual uses–it counts as a digital asset.
Once a problem, security fears today are largely allayed because cryptocurrency transactions get protected using cryptography, securing them via codes.
Top Crypto Affiliate Networks
Essentially encryption algorithms convert the original message into ciphertext to prevent their interpretation. Transactions get recorded in a blockchain database, and users cannot spend the same coin twice.
The big difference between crypto and standard currency, ultimately, is that the former doesn't have a regulating authority; the system is decentralized and records transactions as well as issues units as required.
A traditional middleman such as a bank or payment processor does not need to be part of the equation, enabling global transfer 24/7, often with low fees.
How does it work?
Using a peer-to-peer network–a network that allows two or more computer systems to connect and transfer resources.
All transactions get recorded on a public ledger that uses blockchain technology.
The transactions are public, but that doesn't mean the details of the people trading are; instead, all users stay anonymous at all times–a crucial part of why they're so popular in the first place.
Bitcoin website screenshot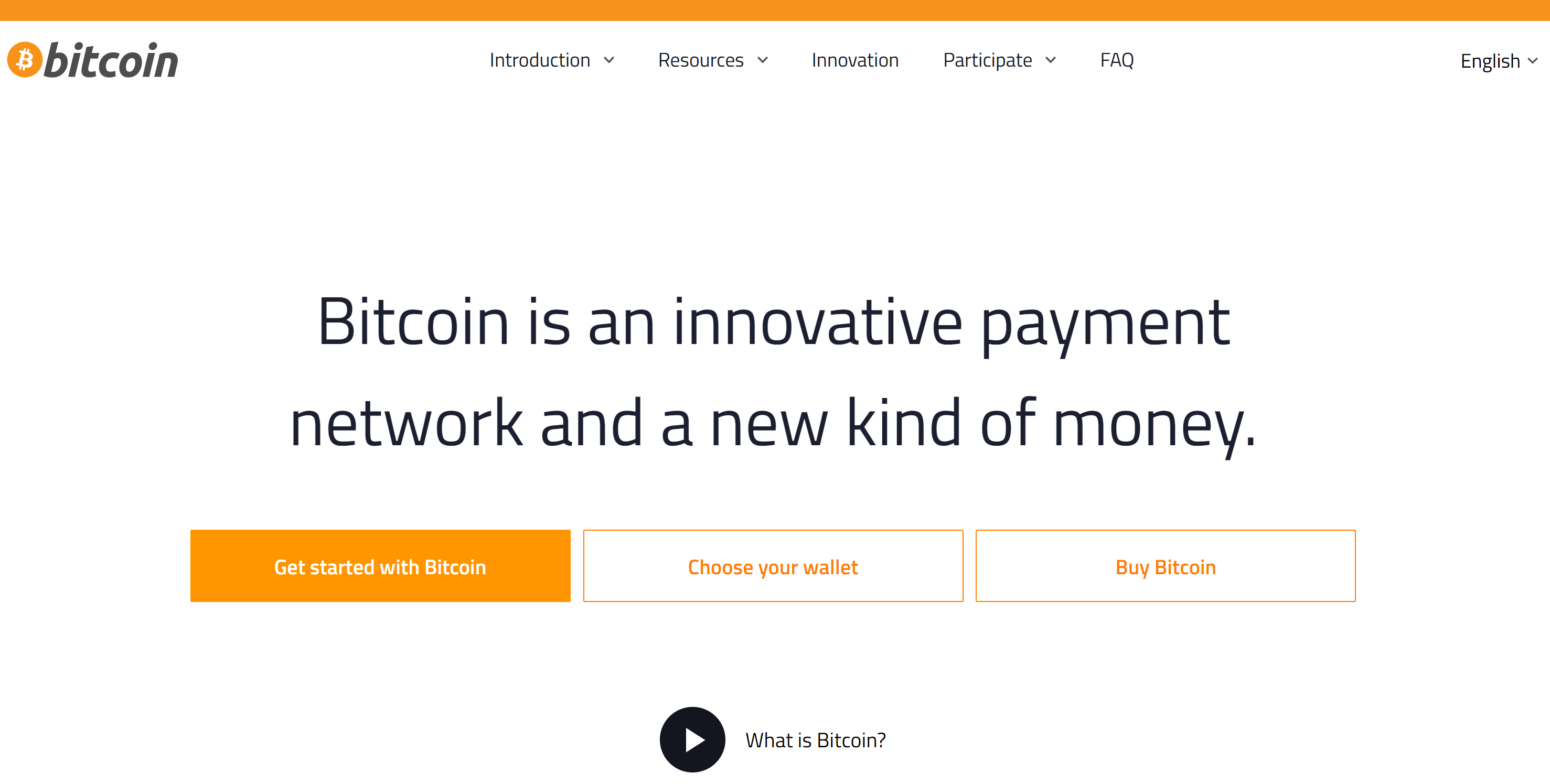 Source: Bitcoin
Bitcoin is a good and open-source example of a cryptocurrency and facilitates fast peer-to-peer transactions, worldwide payments, and low processing fees.
Seven decimal places subdivide Bitcoins–a thousandth of a bitcoin is a "milli", and a hundred millionth of a bitcoin is known as a "satoshi".
It's important to mention that Bitcoin may be exchanged for cash as any other asset through dedicated cryptocurrency exchanges–transactions may also occur in person or on other communication platforms.
Using Bitcoin affiliate networks is easier than ever before, and Bitcoin affiliates themselves make good use of a wide variety of payment options.
Cryptocurrency Statistics
There are more than 10,000 cryptocurrencies available, and it's only increasing. The largest cryptocurrencies by market cap–at the time of writing–are the following:
Bitcoin (BTC) – Price: $44,011 – Market cap: $808 billion
Ethereum (ETH) – Price: $3,112 – Market cap: $360 billion
Tether (USDT) – Price: $1.00 – Market cap: $81 billion
Binance Coin (BNB) – Price: $405.66 – Market cap: $67 billion
USD Coin (USDC) – Price: $1.00 – Market cap: $53 billion
There are 300 million crypto users worldwide and over 18,000 businesses use cryptocurrency payments.
Why crypto companies use affiliate marketing networks?
If you're wondering why companies use cryptocurrency affiliate programs, the answer is because they offer distinct benefits.
These crypto networks typically offer high commission fees for new referred customers. For instance, Binance features a 20-40% lifetime rate for every customer–these programs have created several millionaires.
Then there's the ease of access, so anyone with a reliable connection to the internet can use them.
There are startups today primarily funded by cryptocurrency, creating new opportunities for investors wherever they're based, and encouraging those who may not typically be interested to get involved.
As no one owns the transaction record, the transaction fees are often small, or there are none at all–this can vary to some degree–with a reduced processing time and faster, safer transactions.
Keep in mind that payments made by cryptocurrencies can't be reversed or cancelled for fraudulent purposes, which protects both publishers and crypto affiliates.
Payments made by credit or debit cards require users to enter sensitive information; crypto is sent directly to the recipient with no additional data available to be stolen–helpful in increasing trust.
How to choose the best crypto affiliate program?
With so many crypto networks out there and the list growing every day, how do you choose the right one for your company?
The answer is to focus on a few key areas and go from there–doing so will help you arrive at the best affiliate network for you.
Commission rates
It's an obvious one, but an area that still requires some thought before committing. Not all networks offer the same commission rates, and they differ significantly.
For instance, some Bitcoin affiliate marketing programs pay only 5% commission while others offer up to a maximum of 50%.
Ideally, you need to find a network with a high commission rate and a top reputation to back it up, which brings us to our next point.
Reputation and support
As with most things, some brands are more reliable than others, and generally, the best affiliate programs have built up their quality over time and can quickly prove it.
You also need to look out for the support they provide; for instance, some networks might offer something like a program-specific WordPress plugin that can help make it easier for you and your blog posts to get published.
Payment methods
Another area sometimes overlooked is the list of payment methods. Your ideal network will offer as many as possible and pay via cryptocurrency quickly and securely.
They may even support specialist crypto payment gateways, such as Coinbase and Spectrocoin, as these tend to make transactions smoother overall. Be sure to check that the network offers robust security measures that can also ward off hackers.
Remember that the central difference between a regular affiliate program and a crypto one is in the form of payments.
A crypto affiliate program will take payments in cryptocurrency and the payouts will often follow this. In our directory, we have a compilation of the top crypto affiliate networks for your mobile marketing strategy.
Bitcoin affiliate network example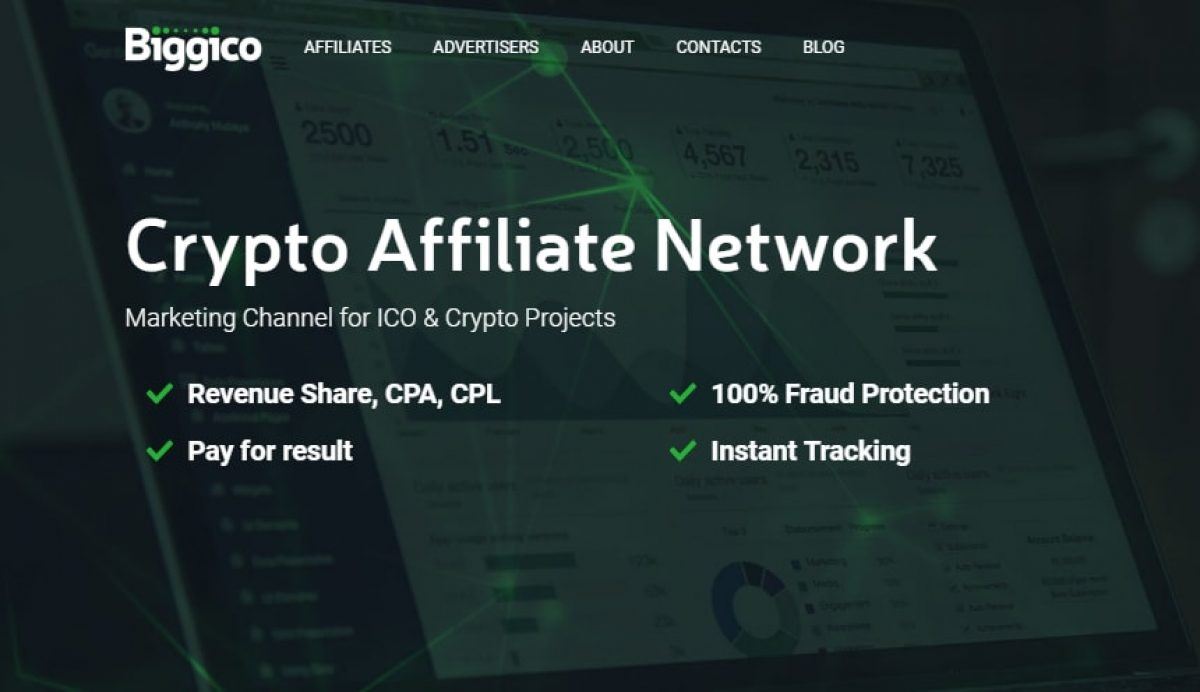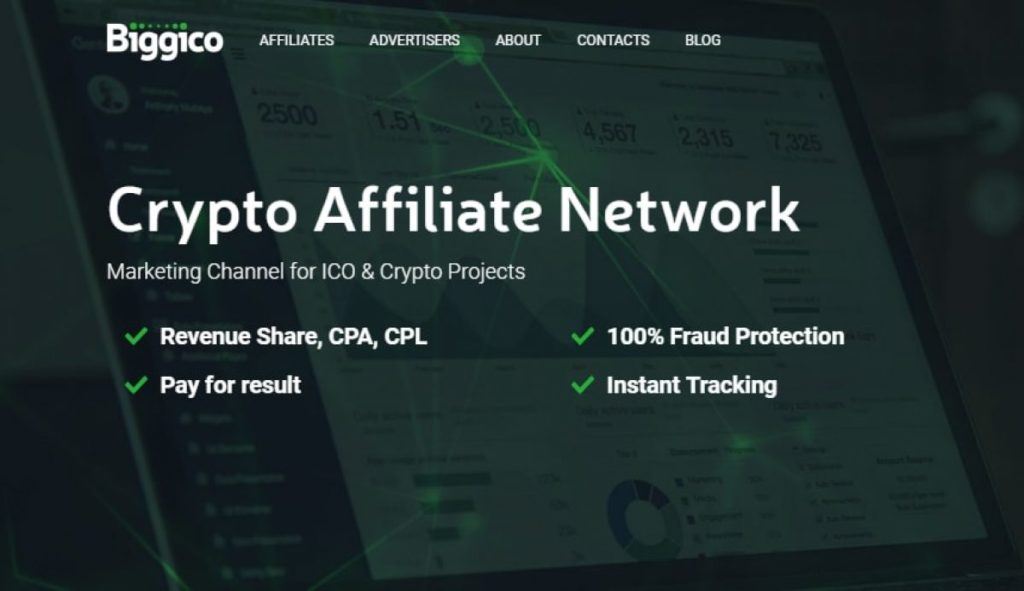 Source: Biggico
Crypto affiliate offers are usually high-paying and popular offers; there's a lot of potential for affiliate marketers and brands that want to get started in this niche as it grows — particularly mobile-based affiliates.
Crypto affiliate program benefits include:
The programs can bring in a steady and recurring revenue stream
There are more opportunities in the niche as it's still growing
High commission rates are available
As a referrer, you may earn a significant amount from a friend's transactions
Crypto Affiliate Offers And Payouts
Here are some of the biggest crypto affiliate offers along with their platform in the table below.
| | | |
| --- | --- | --- |
| Platform/Company | Affiliate Offer | Payout Data |
| Binance | 20% commission | Payments made monthly |
| PrimeXBT | 70% commission | Weekly payments |
| BitMEX | Commissions between 10% to 20% | Monthly payments |
| Bitpanda | Up to 20% revenue share model | Monthly payments |
| Bybit | 30% on trading fees | 30-day payments |
| Trezor | 12% to 15% on each sale | Monthly payments |
Here we've put together for you the leading Bitcoin affiliate networks that cover offers for all major mobile operating systems.
List of crypto affiliate networks