This guide will cover everything from being a poker affiliate, how you stand to benefit from getting involved and how to choose the best poker affiliate programs.
Top Poker Affiliate Networks
Poker affiliate networks connect publishers with affiliate programs that allow them to promote poker-related offers.
Poker is a very profitable vertical, with global online revenues expected to double by the end of 2024.
As a competitive niche, affiliates with the right marketing message can expect high payouts and revenue share models.
In our directory, we have gathered a number of top poker affiliate networks out there for your mobile marketing strategy.
What is a poker affiliate?
A poker affiliate is someone who advertises poker-related offers. The poker niche is profitable, but it's tough to progress in compared to other gambling verticals such as sports betting and casino affiliate marketing.
Poker affiliates can earn revenue by advertising new poker offers across their channels, although blogs are the most effective way in this niche.
The commissions can be high, but the limited supply of offers means the competition is fierce.
Top Poker Affiliate Programs
Below you'll find the main pros and cons of poker affiliate marketing:
Pros
Poker affiliate program example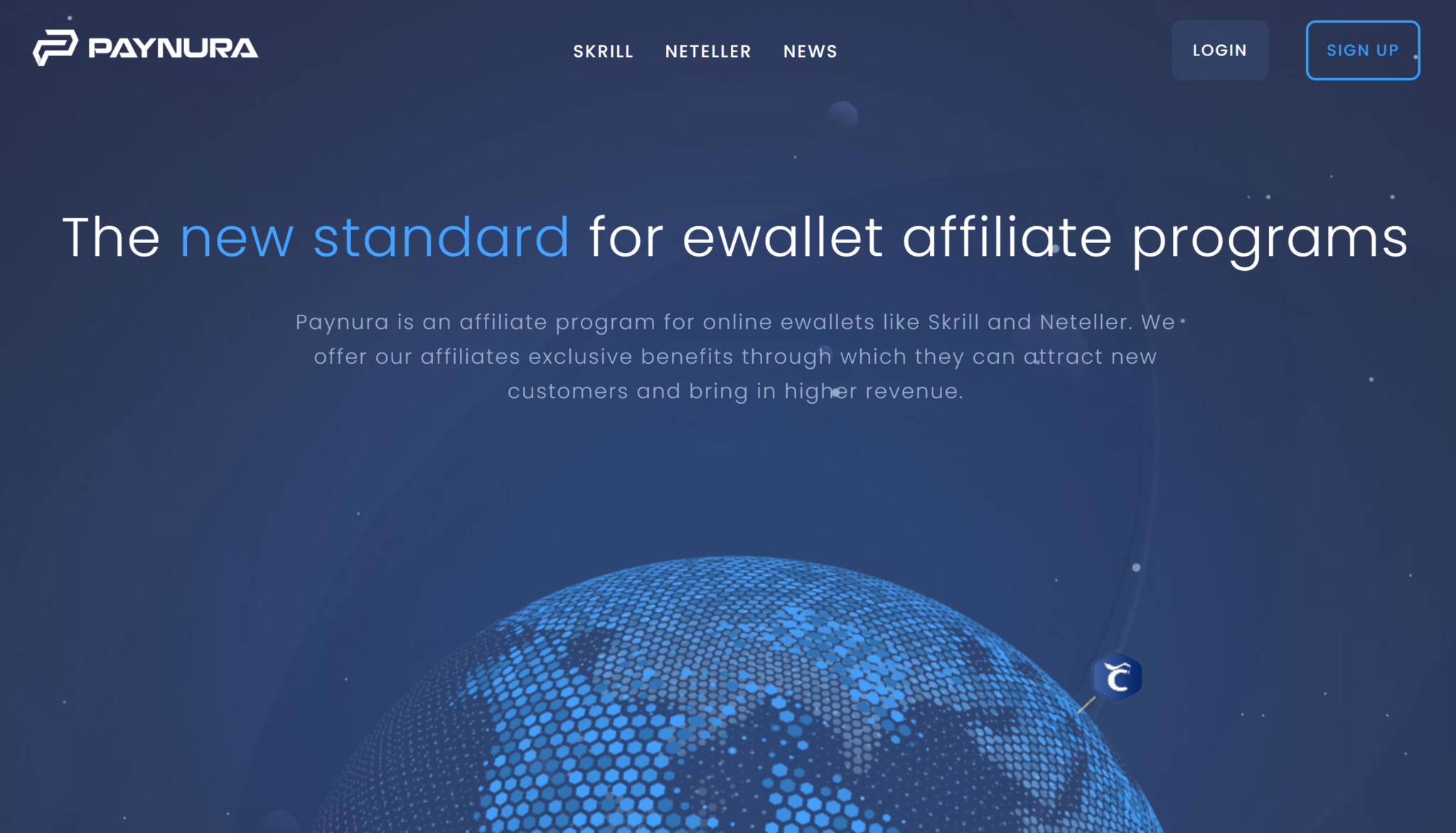 Source: Paynura
Cons
That said, poker affiliate offers can be profitable and popular offers.
With names such as Party Poker and Natural8 offering exciting programs, there's an incredible amount of potential for affiliate marketers and brands with a plan.
How does poker affiliate marketing work?
Poker affiliates essentially advertise poker offers across their channels and then earn money once a sale gets confirmed by a network–this usually takes anywhere from a few days to a week or so.
Simply put, a poker affiliate program is an agreement between the seller and the affiliate marketer.
The goods and services seller partners with an external poker affiliate marketer to help promote their products and boost sales.
In a nutshell, a poker affiliate acts as an intermediary between the seller and the customer.
When all goes well, everyone can benefit from the arrangement. The poker affiliate gets rewarded for promoting the product, the user finds a new deal, and the poker affiliate network earns money.
Finding decent poker affiliate networks can be especially tough, however, with many networks wasting affiliates' time and worse.
The most dependable poker networks include the following:
If you're new to affiliate marketing in general, the poker vertical offers some good opportunities, but it's worth being aware of the hill you'll need to overcome.
Poker affiliate network example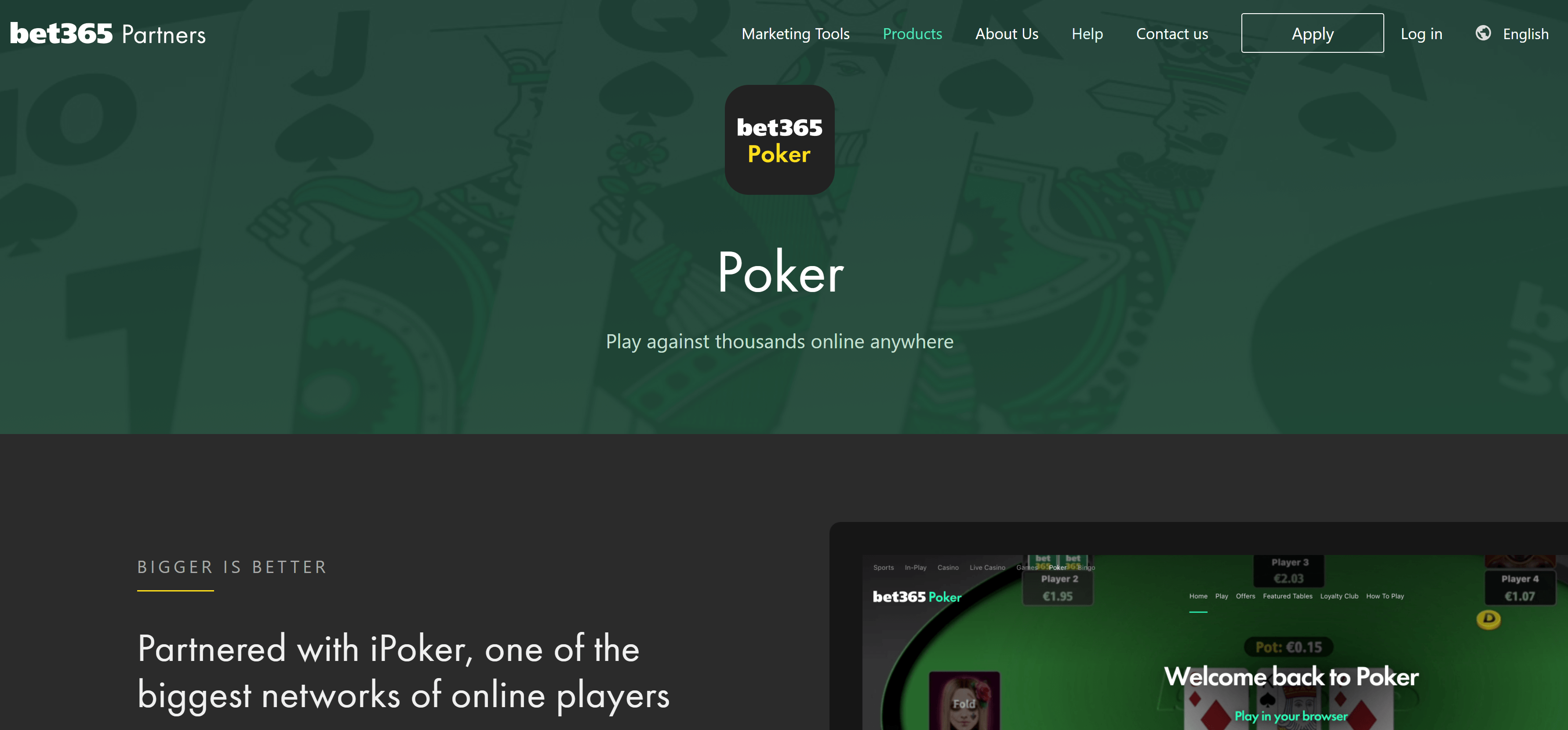 Source: Bet365
Here's what the poker affiliate referral process looks like in most cases:
1. The poker publisher promotes specific links on their best channels–usually a poker-focused blog with a solid audience.
2. The user clicks the link the affiliate advertised across their blog.
3. The user makes a purchase at the end, such as depositing their first funds to play games.
4. The poker network checks the purchase before the affiliate gets paid.
5. The network then pays the affiliate on a weekly or monthly setup.
It's vital for affiliates in this vertical to take the time to pick the best poker network for them.
Poker affiliates need to work with the networks at least for the short term and often longer, so they need to have confidence in the network they pick.
Poker affiliate marketing is a smart choice if you have a channel already up and running with a committed audience.
How can you benefit from poker affiliate networks?
The best poker affiliate networks supply publishers with new offers they can advertise across their blogs.
These affiliate networks allow affiliates to focus on promotion without worrying about their earnings each month.
It's particularly important for affiliates in the poker vertical to have a continuous supply of offers, as there aren't as many available, and competition is higher than in other parallel niches.
The good news is that the best poker affiliate networks can empower affiliates with promotional tools to help them stand out.
Custom creatives are one such example and tend to be the most useful for affiliates when posting new content to their blogs.
A few poker networks offer webinars and case studies to show you how to improve over time.
The best poker affiliate networks also provide timely payments and reduce waiting times, enabling publishers to stay focused where it counts.
Earning income passively while doing what you love is one of the key benefits for poker affiliates–networks allow you to make this a reality.
Poker affiliate network example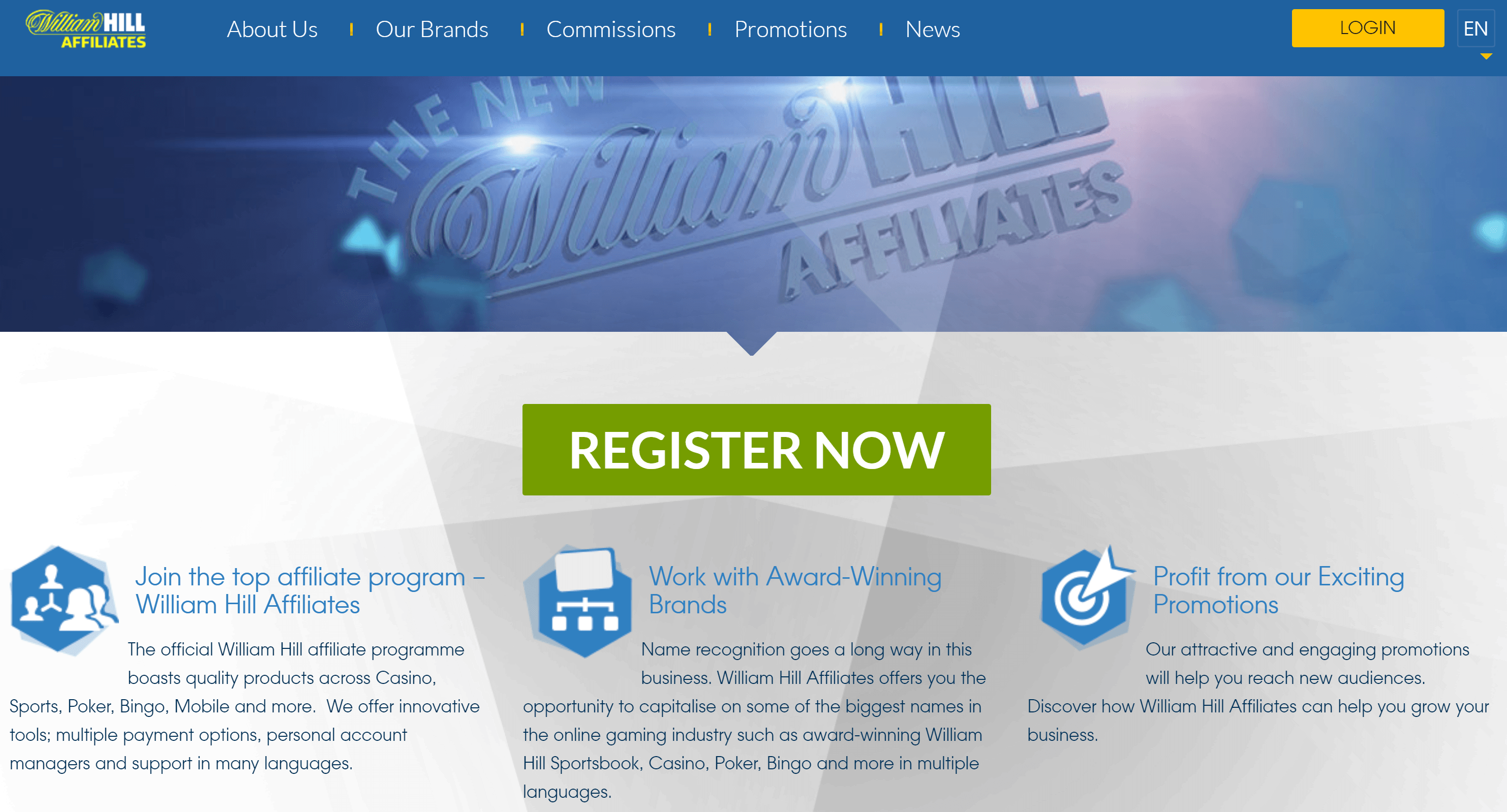 Source: William Hill
Poker affiliate networks can additionally provide new offers in the following niches:
Keep in mind that poker networks close down, and it's crucial to find a reputable one that can facilitate a long-term relationship where possible.
The payouts in the vertical are middling to high, with some poker networks offering up to 40% revenue share, so once affiliates find great offers, they can do well.
PartyPoker, for example, provides publishers with a team of affiliate managers that help them to find the top commissions–they can be relied on to give you tailor-made deals that significantly boost your earnings.
Poker networks are a key part of staying afloat, so affiliates shouldn't hesitate to get involved once they've done their research.
What to look for in poker affiliate networks?
How do you choose the best poker affiliate program? Don't fret; we've listed some key areas to look at before you sign up.
Reputation
Affiliates mustn't just sign up to the newest poker affiliate network available–there are plenty of rogue operators who can do serious harm to a channel and its reputation.
Instead, stick to established and respectable networks and those with a proven track record in the industry. Take a good amount of time to do your research here.
Affiliate managers
Exemplary poker affiliate managers are highly responsive and will try to fix problems and answer your emails promptly–they are vital for your relationship in the long term.
Poker affiliate network example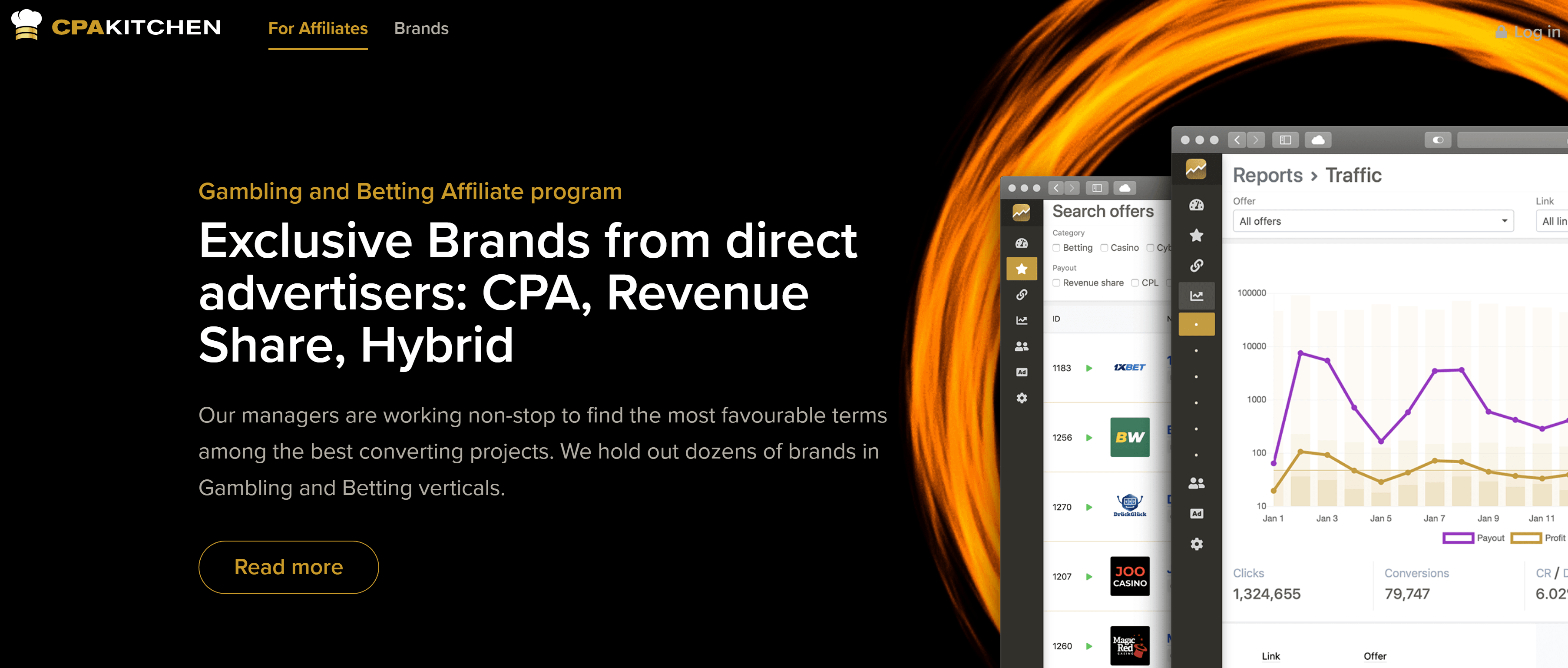 Source: CPA Kitchen
It's always worth testing the agents working in the affiliate department to see how fast they respond to a question and how much they know about the industry.
If the signs are good, stick with them wherever possible.
Payments
Payments and how they work are a key section that poker networks need to get right, wherever you are in the world (especially if you're working within the US market).
You need to check whether players can facilitate payments to and from the site quickly and exactly how the affiliate program pays out to its affiliates.
Be sure to verify what payment methods are available, too–there should be a variety, including the most popular platforms.
What are the biggest poker affiliate offers and their platform?
Here are some of the biggest poker affiliate offers along with their platform in the table below.
| | | |
| --- | --- | --- |
| Platform/Company | Affiliate Offer | Payout Data |
| Party Poker | 25% commission | Payments made monthly |
| Winner Poker | 40% revenue share | Monthly payments |
| 888poker | $150 per CPA | Choice of payments |
| Natural8 | 45% revenue share | Monthly payments |
| Ignition poker | 20% revenue share | Monthly payments |
| William Hill | 30% revenue share | Monthly payments |
Here we've put together for you the best poker affiliate networks that cover offers for all major mobile operating systems.
Get started with the best poker affiliate networks
Poker affiliate networks allow you to accumulate passive income and support a flexible lifestyle while advertising compelling new offers.
If you have a channel or other platform you can use to promote these offers, they're more than worth a look–some would even say they're necessary to succeed in this challenging niche.
Check out our top poker affiliate programs list and start supercharging your income. We've put together the best poker affiliate programs below.
List of poker affiliate programs and offers