Are you looking for the best mobile app development teams in London, UK? You're in the right place. The city has a vibrant software development community that has extensive expertise in meeting the needs of both consumer and enterprise-oriented clients.
This guide will share tips and tricks on finding the most suitable mobile app developers in London from our curated list.
London app developers are experts in multiple mobile software development areas. They can fully meet enterprise customers' diverse and complex requirements when scale and reliability are paramount.
For each company on our list, we provide information about the year company was founded, the number of employees, estimated annual revenues, social presence (both Twitter and LinkedIn) and the company website monthly traffic.
Let's explore the benefits of working with a top London app developer and find out who the best of the best are overall.
The app developer market in London
A wide variety of app development agencies in London create award-winning Android and iPhone apps for both enterprise and startup businesses.
These app developers help aspiring entrepreneurs strategize, code, and launch their apps in the Apple Store and Google Play.
In fact, you can find some of the most trusted app development companies in London, from Chimpare to App Boxer, Softblues and Fueled.
These London app developers are entrepreneurs, industry strategists, and top product engineers who combine business strategy and automation to build customer and employee experiences that rival the best in the market.
London app developer example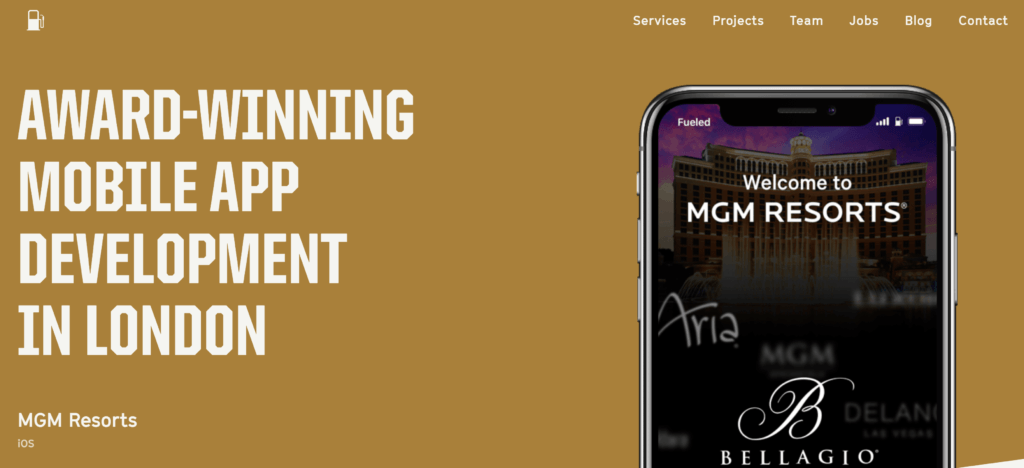 Source: Fueled
Mobile app development companies in London are generally platform-atheist. They prefer to guide optimum solutions that focus on exemplary results–their experience with the latest tech and trends, as you might expect, is leading.
London app developers can make content management strategies that integrate with existing systems and provide scalable hosting packages so your app can grow without problems.
With QA specialists and top UI designers, London app developers can bring complicated mobile app ideas to life with diverse options to suit most requirements upon request.
Why work with an app developer based in London?
App developers in London offer expertise and years of shared knowledge in product, software, and design, with major brands such as Chanel and Canon trusting developers with their mobile app design projects.
App development in London commonly features rich methodology, expertise, and experience across not just one but many verticals–the mobile user is frequently at the centre of the design, which is crucial to success.
London is home to an eclectic pool of founders, leaders, and ideators that offer distinctive insights and a forward-thinking mindset, allowing them to use new technologies that have considerably improved the capabilities of mobile apps.
Mobile app development companies in London specialize in developing apps for both Android and iOS. These app developers focus on the following:
Smart coding

: They make continuous changes and focus on using the latest tech during the mobile app development process.

UI design:

They believe good products get built by the people who use them and know user-centred and intentional design when they see it

.

UX research:

They work closely with your team to determine goals and success metrics

.

Software development: 

They offer years of experience with various tech stacks and frameworks

.

Post-app launch support: 

They provide continual QA and market testing and invest in returning top-notch user experiences

.
London app developer example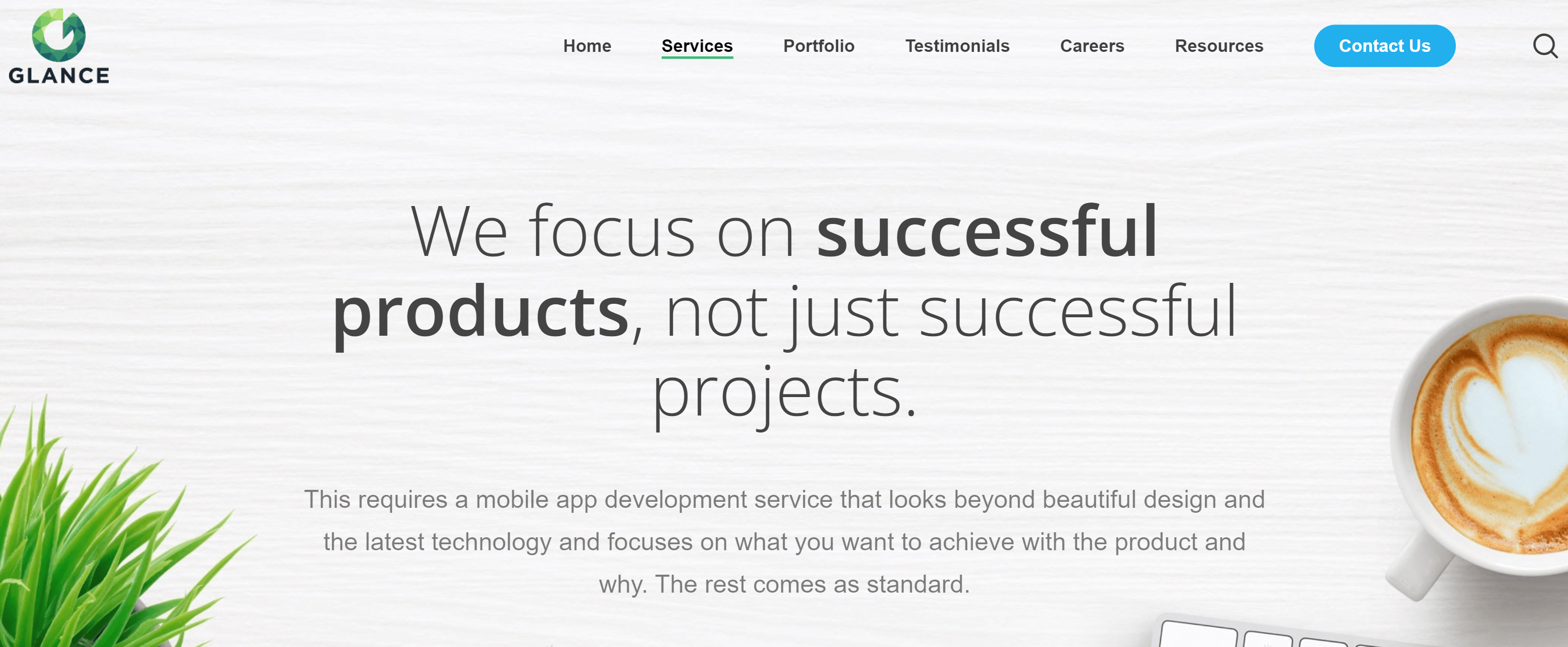 Source: Glance
You'll have access to varied and skilled teams of app developers in London, the best of which will provide goal-oriented solutions that keep you ahead of the competition.
There's a lot on offer with intuitive UI elements, advanced features such as IoT components, and the capability to integrate with your existing back-end architecture.
That's not to mention the advanced tech stacks, dedicated test runs, and clean code with a user-centric approach. London app development teams deliver localized app development projects that are structured and work effectively for location-specific audiences.
App development companies in London also support key platforms, including Android, iOS, Unity, VR and AR, with expertise in developing marketing strategies and helping startups.
How much does hiring London app developers cost?
The average salary of a mobile developer in London is the following:
Android developer – £58,030 per year

iOS developer – £59,780 per year
That said, the total cost will vary based on the following additional factors:
Developer experience (in years)
Mobile app features (and their complexity)
Customization
Project size
UI/UX design
The average cost of hiring an Android developer in London is around £30 per hour. The rate for iOS is slightly lower at £29 per hour, although this does vary.
In a nutshell: the larger the project, the higher the cost–think about the scope of your mobile app and how many of its features are necessary.
London mobile app developer salary ranges

Data source: Glassdoor
The average base salary in the UK for an app developer is £60,577. Hiring an app developer in London can sometimes cost more, but again, this depends on the extent of your mobile app project.
Salaries for mobile app developers can also vary a lot in different UK cities–typically, London ranks higher than most, although not always.
London app developer example
Source: Incepteo
Many people, such as designers, developers, and QA testers, are employed by mobile app development companies in forward-thinking London. They have access to a professional team to assist you no matter the stage you're at with your mobile app overall.
Going with a freelancer in London and asking them to build you an app will mean there's no fixed rate that you'll pay. The skills they have and the software they're familiar with will greatly affect the costs of hiring an app developer in the area.
iOS developers familiar with Foundation, UIKit, and Cocoa will expect higher prices. Equally, Android developers who can use Ionic, Corona, and Material Foundation will set higher rates–the more tools they can use, the higher the cost.
Obtaining a custom quote from a London app development company before you set off on your development journey is a wise move. But, yes, how do you go about choosing the right one?
How to choose the top London app developers
To choose the best app developer in London, you first need to investigate the mobile app developers available. From there, you'll need to set up interviews with them and find out about their skills and experience while they learn about your business and mobile app objectives.
During the investigation phase, it's best to consider the following critical areas below.
Check the portfolio
Check the apps developers have built for their customers and ask them to show you examples of their best work. Focus on apps they have created in the same area you want your chosen app to be in.
Look out for smart user interfaces; this will indicate how much the developer concentrates on the all-important user experience.
Review client references
Ask for references from earlier clients and look for app developers who provide customer contact information so you can get feedback.
Consider the following factors when doing this:
The past brands they have served

The challenges they have overcome

The tech they have used 

How well they worked in the past

The level of client satisfaction
London app developer example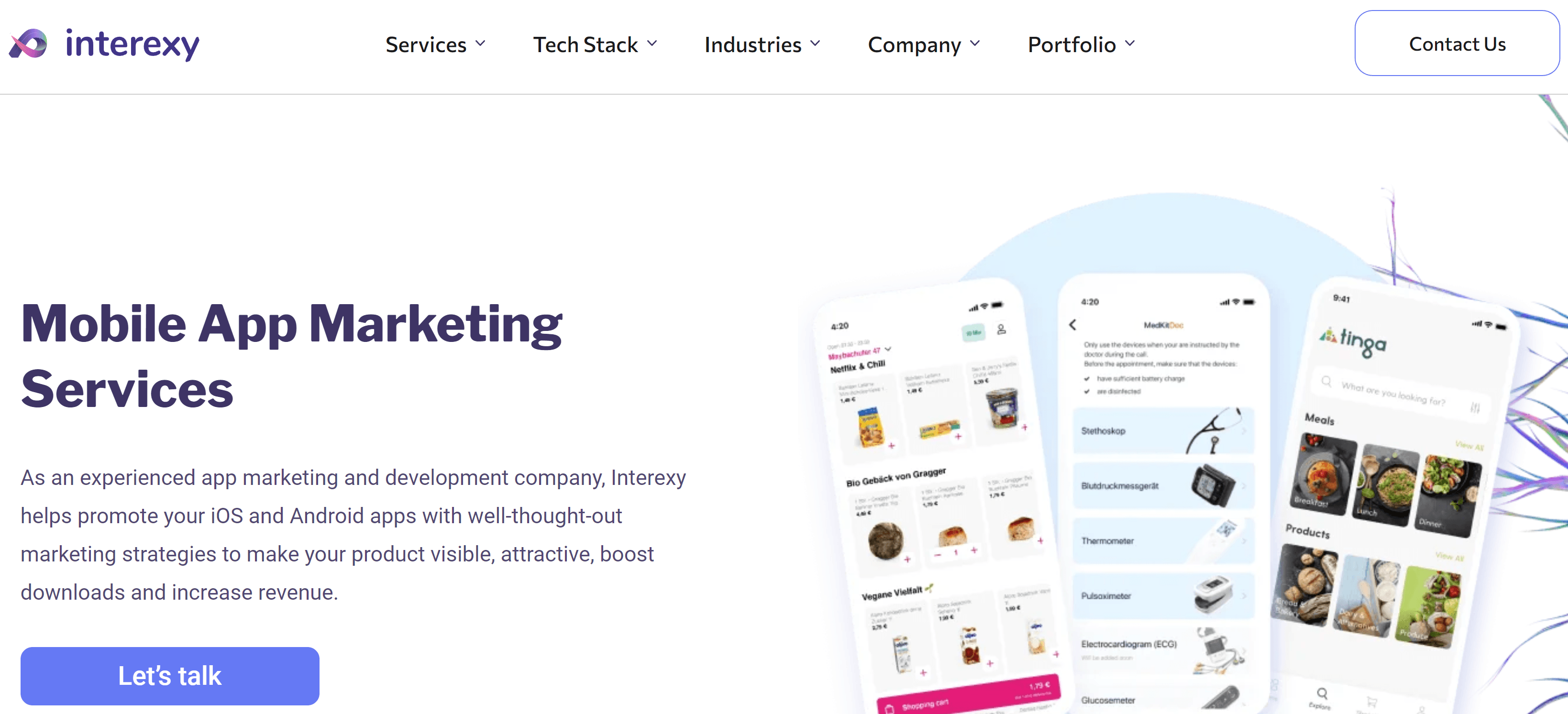 Source: Interexy
Previous client priorities
London app development companies will have expertise with particular types of customers. Some, for example, may only work with startups, while others might prefer larger organizations (or favour enterprise businesses altogether).
Check an app developer's site to see what types of organizations they generally work with overall–ask these questions directly to determine how well they will work with your company in the future.
Future app support
Work with a developer that can ensure the proper support when you need to update or alter your app; long-term support for a mobile app is paramount, and you will need it.
You need to verify if your favoured London app developer will help you after launching the app. Also, consider their policy on post-release bug fixing and any formal agreements they may have.
Cost
Remember that cost and quality are always in a conflict of interest; you still need high-quality apps to get delivered at affordable rates (depending on your budget).
If a company is well-recognized and has achieved broad acceptance, then the cost of its services will be relatively high. Consider that mobile apps are a key driver of growth for the future, and balance that out with what you would reasonably expect to pay.
London app developer example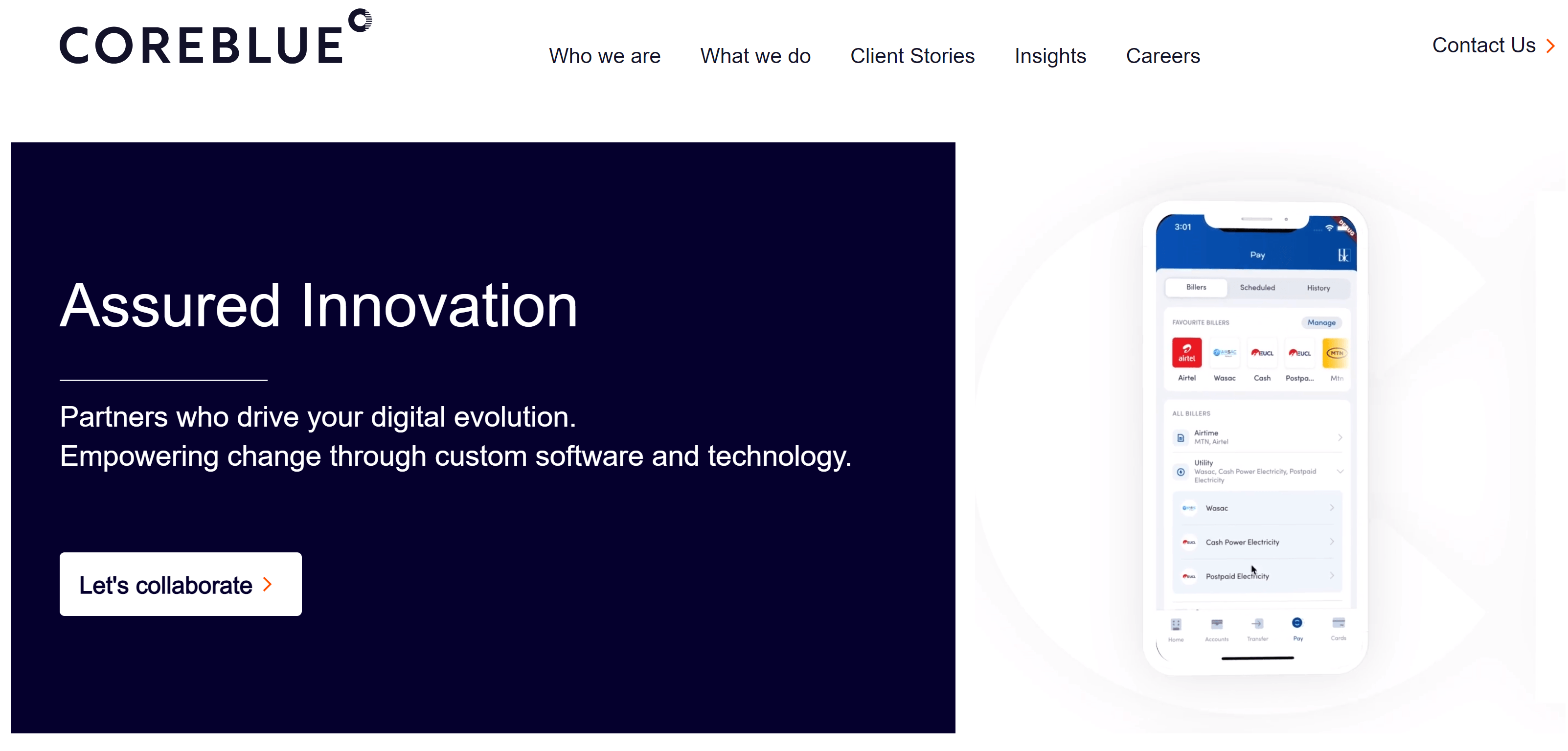 Source: CoreBlue
App delivery time
Your chosen app development company must be able to develop quality apps at a fast pace or with a reasonable turnaround time. The app needs to impact the market quickly, as this boosts your ROI.
It's best to find out the timeframes before committing–this can save you from a nasty shock if an app developer comes back to you with a lengthy development period.
Top UK App Development Companies:
Top mobile app development companies in London
You've seen the opportunity and expertise available in London, and now you may want to hire an app developer.
Working with a London app developer will help your mobile app to reach a more extensive user base with the help of highly qualified individuals in the industry.
Other advantages of hiring a London app developer include the following:
Along with developing apps for tablets and smartphones, they build products for wearable devices, Android TVs, and more
Mobile strategy services, in addition to iOS and Android app development
Custom mobile app marketing campaigns with the ability to increase downloads and user acquisition
App developers in London have the resources and experience you need for the best results
Leading promotion and optimization strategies
Web and mobile applications with artificial intelligence solutions
The success-driven approach results in apps winning major awards
Here we've put together a list of the best London app developers so you can improve your strategy. We collected a list that combines a variety of budgets, skills, and experience that will suit your mobile app and secure the long-term sustainability of your business.
List of London mobile app development companies
A decade of creating next-gen mobile apps 🚀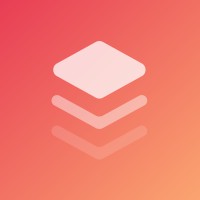 | Founded | Employees | Revenues | Social | Traffic |
| --- | --- | --- | --- | --- |
| 2016 | 10-50 | £1m+ | 2,000+ | 2,000 |
Stakk is the award-winning UK-based mobile-first application development agency specialising in designing and developing scalable mobile applications using modern mobile technologies. We choose to work in a unique way, enabling you to scale your designated team according to your exact needs, whether it be on a single task or the entire project.
Learn more about Stakk
CUSTOM SOFTWARE & WEB DEVELOPMENT TO FUEL YOUR GROWTH

| Founded | Employees | | | |
| --- | --- | --- | --- | --- |
| 2010 | 51-100 | | | |
Imaginary Cloud offers custom Web and Software development that follows fast, reliable, and technical debt-free processes to ensure companies can scale without technology getting in the way. That is what we call seamless technology.
Learn more about Imaginary Cloud