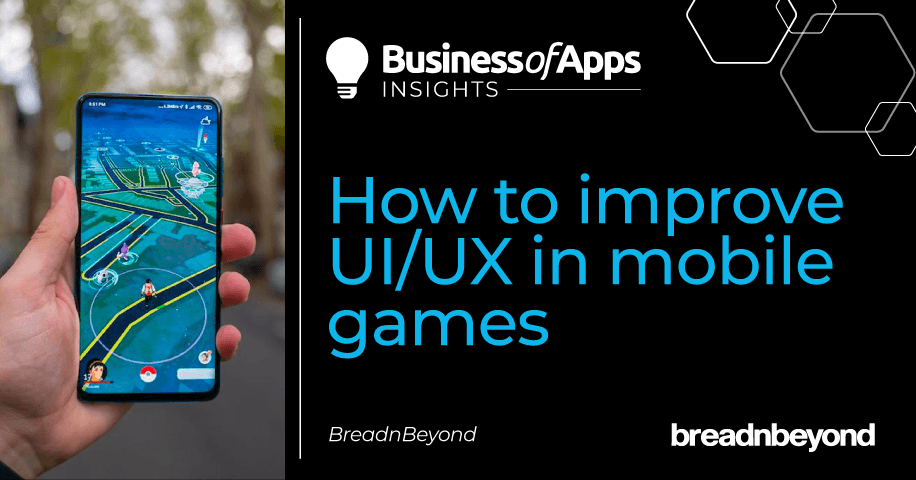 The mobile game industry has been rapidly growing as we see many gaming apps sprouting over the years. Blockchain games are among the latest inventions and some are even available on mobile devices.
As of 2022, gaming apps have generated the most growth in mobile app downloads and usage as they accounted for 45% of the global video gaming revenue. Thanks to the pandemic, games have become one of the most in demand mobile apps as more people install them to overcome boredom. A survey also estimates that mobile games will surpass the 100 billion dollar mark by 2023.
On the other hand, mobile game publishers face a more challenging reality to thrive in the industry. Having iconic gameplay and delightful UI/UX is key to winning game addicts. UI (user interface) and UX (user experience) are necessary to give an engaging and delightful experience to users.
However, building excellent UI/UX in gaming apps has never been easy. In addition, UI and UX are more familiar to website developers than to game designers. So, we've compiled the essentials to help you learn and improve UI/UX in mobile games. But first, let's get to know some basics and find out why the two are essential. Keep scrolling!
Why UI and UX are important in mobile games
It may be confusing for some to draw a clear line between UI and UX. As mentioned above, the terms are more familiar to website and mobile app designers than game designers and developers. In the industry, UI and UX have different roles. Below is a brief explanation of UI and UX in mobile games.
UI (User Interface) is vital in all mobile apps. In the gaming landscape, UI focuses on developing screens, game levels, pages, and visual elements. It also includes icons and buttons players use to play and interact with mobile games.
UX (User Experience) deals with players' experience while interacting with the game. The goal is to make an intuitive and seamless journey for players. A great UX is hoped to drive players to pick up the game and overcome challenges themselves.
Simply put, UX centers on users' journeys to follow the game and solve problems. On the other hand, UI focuses on a game's surface looks, features, and functions. Both are important and must go hand-in-hand. It also became a natural need to develop engaging mobile apps. Here are some reasons why UI and UX are essential for mobile games:
Keep players engaged throughout the play
Avoid discontinuity by players
Provide a seamless and delightful experience
Spot issues
Build a brand's credibility
Moreover, game developers can generate positive revenue when many players love playing their gaming apps. After all, having fantastic UI/UX elements help game publishers achieve their business goals.

How to improve UI/UX in mobile games
Improving the user interface and user experience for smartphone games is never simple. Years of experience and skills are not enough, game designers must be strategic and have a great sense of understanding of their target market.
We've compiled some points to consider for improving UI/UX in mobile games. Let's look closely into the discussions below.
Identify your players
Before anything else, it's always best to identify your target players to know the type of smartphone games and ambiance they want. Trying to satisfy all game addicts is such a waste of time. You won't ever fulfill your goals. Therefore, one of the best solutions to overcome the problem is by narrowing or specifying your target players.
You must have specific characteristics for your target users. Consider looking at their age, gender, game taste, and skills. Focus on developing a game that will please your target audience and make it as compelling as possible to attract them. You can always develop other games with different target audiences' characteristics.
Also, consider defining player personas with analytics to be more objective. Leverage and explore your social media account to collect data. You'll find interesting metrics to help spot issues and improve your game. It's the most effective way to reveal your players' progress and behavior during a match. So, you can fix problems immediately. See the example below.
Tracking progression events
Source: GameAnalytics
One of the most helpful metrics is the progression events. You can see how your players progress, including how many times they win, die, and fail. It allows you to spot hurdles where many players fail. If players fail many times in certain obstacles, then you should evaluate them. You can give options where players can overcome them easier, so they won't leave your mobile app. Also, avoid repetitiveness as it can be boring for players.
Build a suitable ambience
Once you define your target audience, you can decide the most suitable ambiance for your target players. The ambiance is, in other words, the audiovisual of your game. That's why the overall visuals must match your target players' preferences. Furthermore, building the perfect ambiance depends heavily on the genre of your game.
You must have a good knowledge of design language, which is one of the UX principles to establish an atmosphere. Design languages include basically all UI elements, such as animations, colors, behaviors, fonts, textures, shapes, sizes, feedback, and more. Moreover, think of tones and symbols to add trademarks and identity to your game.
Game identity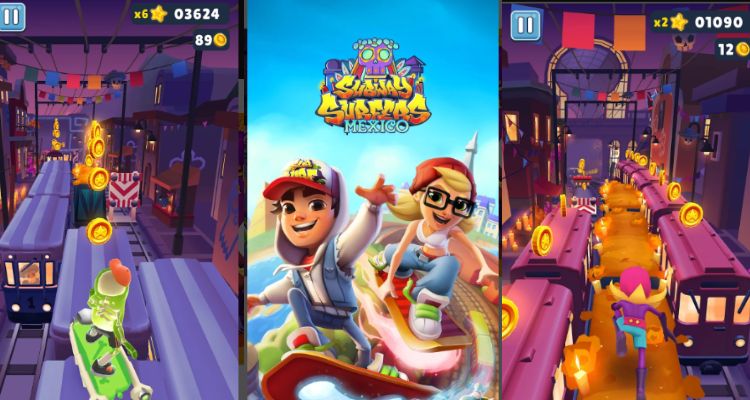 Source: SYBO Games
For example, games with dark and cold colors typically have a lonely, sad, or thrilling ambiance. Bright and warm colors tend to have a cheerful, or non-trilling ambiance. Subway Surf is an example of a game that carries bright and high-contrasting colors with a seamless user interface to engage audiences. The game is suitable for younger and intermediate level players as it has a shallow learning curve.
Focus on a seamless and intuitive environment
Enjoyable gameplay is the dream of every player. Focus on establishing a delightful user experience to avoid discontinuity. Many players leave a game because of the unpleasant journey. You must develop an engaging experience by creating a compelling and progressing storyline. The beginning of your game must be powerful and impressive to make players sink into it.
Moreover, you need to build a responsive user interface on your mobile app so players can get feedback immediately. Make your user interface top-notch, so icons bulge quickly or players can swipe seamlessly in no time. A flawless user interface and experience will satisfy players, making them keep returning for more matches.
Improve sensibility
Another significant factor of the UI/UX is sensibility. Mobile games with excellent sensibility are vital to keeping users informed about their play. Sensibility relates closely to players' intuitiveness. It's simple to judge whether a game has sensible UI/UX or not. If players are heavily confused and easily overwhelmed to follow the game, you need to evaluate the game's sensibility.
A mobile game with great sensibility enables players to learn and navigate the game naturally. It also prevents players from undergoing endless error sessions and seeking help from a third party. A game app without UI/UX with good sensibility will only make players leave the match.
Stay consistent with your style
Consistency is key to building your mobile app identity, including gaming apps. Stick to your style, color choices, and other visible interfaces. You may need to pen down some design conventions to use them again later for new features or levels. For example, your character styles, buttons, and interaction boxes must have similar visuals to help players familiarize themselves with the game.
Moreover, pay attention to the vibrance, tone colors, ambiance, and other user interface elements of your game. Your players will easily follow the story and find their way around the game with consistent visual presence. It also helps you provide a comfortable and convenient user interface for players.
Conclusion
Improving UI/UX in mobile games can be challenging as the job requires more than experience and technical skills. It's crucial for you to identify and understand your players and be able to take a perspective from their point of view. Mobile games with excellent UI/UX can maintain engagement and relationships with players, leading to more profits for you.
As one of the most downloaded mobile apps, many smartphone users will keep searching for the best games to play on their smartphones. The above discussions on how to improve UI/UX in mobile games may come in handy for game designers, developers, and those who want to become one. Moreover, the mobile game industry will keep evolving, so understanding and adjusting to the newest trend will keep your company up in fame.