This guide will cover everything from how being a software affiliate marketer works, how you stand to profit from getting involved, and how to choose the best software affiliate programs available.
Software affiliate networks connect publishers with affiliate programs that focus on the software vertical.
This is a popular and prevalent vertical, so many offers and programs are available, and commission rates can be high.
Examples of the software include business-to-consumer (B2C), business-to-business (B2B) software and software-as-a-service (SaaS).
We've listed some of the best software affiliate networks in this directory.
What is a software affiliate?
A software affiliate promotes software via their established channels and earns a commission for doing so.
Software affiliates earn a commission for any product they sell, and brands only pay when sales are verified.
Affiliate marketing programs typically offer monetization tools for bloggers and influencers, making it easy for them to sign up and get started.
As a result, both brands and affiliates grow their web traffic, boost social sharing, and increase sales.
Top Software Affiliate Programs
Below you'll find the main pros and cons of software affiliate marketing:
Pros
You'll often enjoy high conversion rates and gain access to text links and banners.
Affiliate marketing campaigns can help you find high-quality clients and often create long-term relationships.
Real-time tracking and performance dashboards show clicks, conversions, and other detailed information when you need them.
A choice of models: you can typically choose a performance-based or a hybrid commission model for recurring payments.

The programs often feature incentives and pricing tiers; for example, if you get five sales, you receive an extra $100.
Software affiliate platform example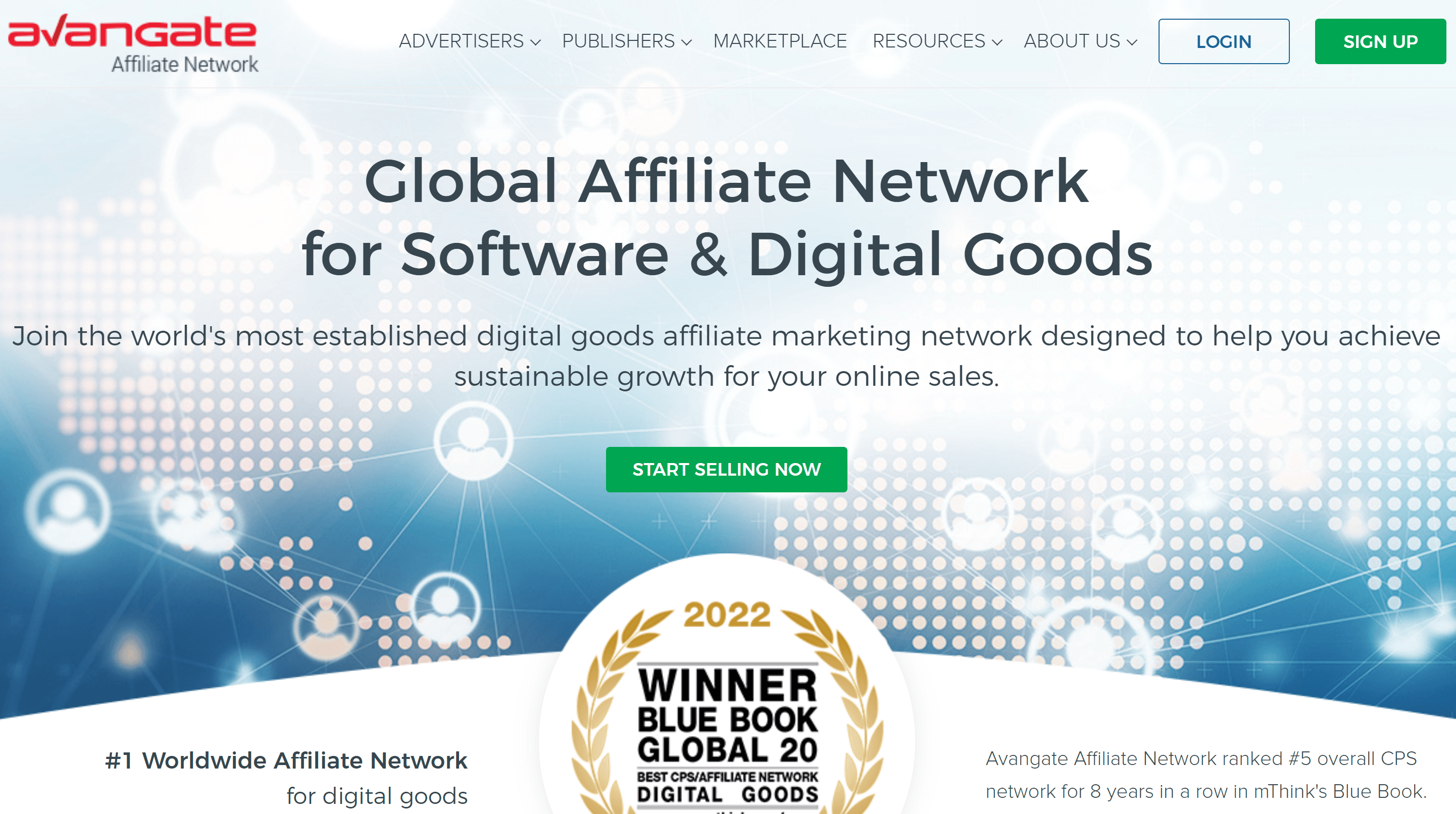 Source: Avangate
Cons
You're building someone else's brand: you don't own the software affiliate marketing programs and have to use existing ones.
You may spend a lot of time, money, and effort promoting the products and services for others–although this usually pays off.

You're reliant on the affiliate program company; if a company goes out of business, you will need to find another program

.

The affiliate platform will earn a good chunk of revenue for your effort whenever you make a sale

.
Still, software affiliate networks can be more than worth your time.
With names such as Aweber and Adobe offering great offers, there's a lot of potential for affiliate marketers and brands that want to get involved.
How does software affiliate marketing work?
Software affiliate marketing is where you drive traffic to a product or service in the software niche.
It's where brands hire dedicated affiliates to promote their software products and reward them with a commission for every sale.
Most of the time, software affiliate marketing is a low-cost way for brands to drive sales and brand awareness without hiring an in-house advertising team.
The best relationships are mutual: the brands boost their sales and awareness, and the affiliate gets rewarded with high-quality marketing materials and commissions.
Be aware that the network commission rates vary depending on the program and offer.
Software affiliate marketing programs usually provide a flat rate per sale instead of a percentage, and there's no weekly paycheck as a software affiliate marketer.
Here's how it (typically) works:
1. You show an ad or a link for the software product or service on your blog
2. A customer clicks the unique referral link
3. The customer purchases the product or signs up for the service
4. The software affiliate platform records the transaction
5. The platform confirms the purchase
6. You get paid a commission for your promotional services
Software affiliate networks work on commission, whether you get paid by click, sales, or another model.
How can you benefit from software affiliate networks?
Software affiliate marketing allows affiliates and businesses to improve their advertising resources by promoting other products and services.
It is a great way for content creators to monetize their content quickly and efficiently.
When things run smoothly, they get to work on the topics they enjoy and get paid for it.
There's a vast audience out there too, so there's little to lose by signing up and getting started.
For example, you'll care a lot about the statistics as a content creator. You want to get as many views as possible while maximizing your profits.
When you're promoting products and services, you'll have access to various dashboards.
You'll be able to see which type of products and services perform the best, including your advertising costs as well as complete audience data.
You'll also get to understand what type of products or services are of the most interest to your audience and can use that in the future.
Software affiliate program example
Source: QuickBooks
One of the most significant benefits is that software affiliate marketing offers excellent flexibility.
Content creators can choose to work full-time, part-time or as a freelancer.
They can pick a schedule that fits their life and start earning money from home in a legitimate fashion.
All they need is a computer and access to the internet.
How much time and effort you need to put in will vary depending on the type of products you wish to promote.
As little as a few hours a week and going all the way up to a full-time job, the critical part is: the choice is yours.
What to look for in software affiliate programs?
How do you choose the best software affiliate platform with a growing list of them? We've listed some key things to look out for overall.
Platform support
Excellent customer support should always be available across affiliate platforms for affiliates and businesses.
It's best to consider customer support reviews as well as the uptime.
The best software affiliate platforms will have a ticket system which gets used when the system is offline, so look for these.
User-friendly interface
You need to look for a dashboard that gives you a complete overview of your campaigns, from earnings to what your traffic is doing.
Some platforms take things further and allow you to customize the dashboard for a more friendly user interface.
Reports and tracking
The best software affiliate platforms allow you to track clicks and sales in real-time, so you can see which campaigns are doing well and where you need to improve.
Detailed overview reports help you plan future campaigns efficiently, so look out for them as part of the package.
What are the biggest affiliate software offers and their platform?
Here are some of the biggest software affiliate offers along with their platform in the table below.
| | | |
| --- | --- | --- |
| Platform/Company | Affiliate Offer | Payout Data |
| Autodesk | 9% on commissions | Payments made monthly |
| Adobe | Up to 85% commission | Monthly payments |
| Aweber | 30% on commissions | Monthly payments |
| QuickBooks | Up to $50 per sale | Monthly payments |
| TechSmith | 15% on commissions | Monthly payments |
| NordVPN | 40% on commissions | Monthly payments |
Here we've put together for you the best software affiliate networks that cover offers for all major mobile operating systems.
Get started with the best software affiliate networks
Software affiliate programs generate substantial passive income when everything clicks into place, so they're more than worth trying out.
Watch out for collaborations where things aren't clear, and keep your eyes open for better offers over time–the market is snowballing.
Check out our top software affiliate networks list and start boosting your income. We've put together for you the ultimate software affiliate networks.
List of software affiliate programs and offers