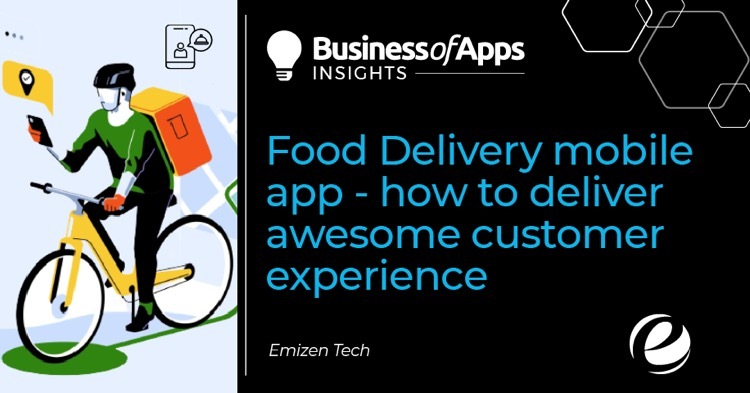 Food delivery apps have become synonymous with convenience. Whether you need to order food for yourself or want to treat your guests, food delivery apps allow you to get the most appetizing cuisines right at your doorstep. And in the trying times of the Covid-19 pandemic, when social distancing norms bind people, these apps have emerged as a savior. 
Although food delivery mobile apps are gaining popularity worldwide, not all apps excel in the segment. Many applications have failed to perform well because of their awful customer experience. Thus, a UI/UX app design must be given adequate attention to ensure that your app fares well.
Importance of user experience for a successful food delivery app

We all love food. So the experience of ordering food must be quick, fun, and hassle-free. And to ensure all of this, you need to have a good UX for your app. 
Whether designing an aggregator app or a franchise-based app, an impeccable UX design is a key to bringing in customers and ensuring they stick to the platform. 
Here, we will look at some reasons why having a good UX for a delivery app is so important:
It helps to attract users: Users are certainly attracted to eye-catching and easily navigable apps.
To get loyal customers: Offering a great user experience is the most effective way to ensure customer loyalty.

 

To make a great impression: Good UX goes a long way in making a lasting impression on the users. And with millions of apps swarming the app stores, users are hard to please.

 
Now that we understand the importance of user experience in offering a successful product let us look at some features that you must include in your food delivery app. The presence of these features will make sure your app lives up to the expectations of its users. 
Features for fantastic user experience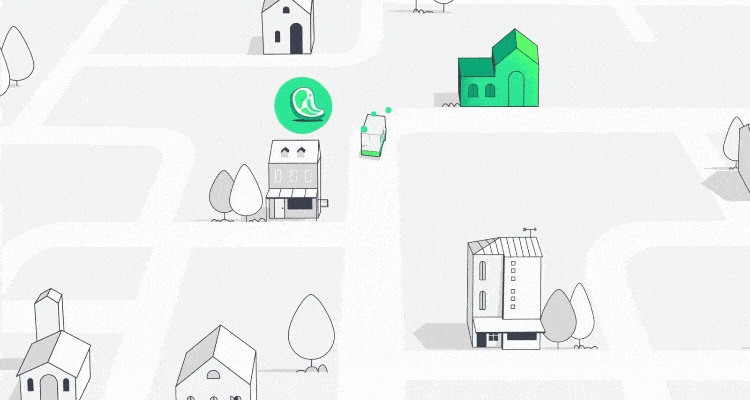 Easy and fast on-boarding
Offering a quick, easy, and straightforward onboarding process is a must for a great user experience. From creating a user profile to getting acquainted with the app, everything should happen quickly. If a food delivery app takes too long to order food, the users will simply shut the app or move on to another one. 
Therefore, there must be options that enable a new user to create a profile using existing social media accounts or log in as a guest. Also, he must easily view the restaurants, browse their menus, and order quickly. On the checkout page, he must have good options for payment. 
When it comes to a food delivery app, having complete ease of searching restaurants and menus is necessary. And while most of the apps do an excellent job at this, two incredibly great platforms, i.e., Zomato and Swiggy, ensure a seamless user experience. The two provide clean images of their menus and dishes from different restaurants, making food ordering very easy. 
A good food delivery app must have a search bar, allowing the users to search for particular restaurants or food items. Also, providing different categories, such as 'last ordered,' 'frequently ordered,' 'best-selling,' etc., also makes the search experience better. 

This feature enables the users to contribute pictures and reviews of the dishes they have ordered on social media. This is a great way to increase the reach of your app organically. 
With easy social sharing options, the users can post pictures of their food on social media accounts such as Instagram, Facebook, etc., and share them with their peers. You can leverage this user-generated content to attract more customers and increase sales. 
Enabling customers to track the location of the delivery agent is considered a requisite for a good user experience. There should be a live GPS map within the app that indicates the real-time location of the agent. 
With this feature, users can have all information about their order status at different stages, including order acceptance, order preparation, order dispatch, and the live location of the driver. This will keep the users engaged as they can easily monitor the whereabouts of the delivery agent. 
With this option, the customers can add food to their cart and schedule their orders for later. For instance, the customers can just order the food as they leave their office, and by the time they get home, they will get their food at the perfect time. Thus, they can schedule their order and location as per their availability. 
This is an excellent feature that offers a superior customer experience and boosts brand loyalty. 
Apart from options for quick menu browsing, a food delivery app must also notify delivery times and costs. For instance, the delivery times must be listed next to the restaurants and should vary based on how long it would take for the restaurant to deliver the order. This is a great feature that can enable users to select a restaurant that matches their schedule. 
Apps such as DoorDash, Zomato, UberEats, and Swiggy do a great job in clearly mentioning the food price and the delivery time. 
This innovative feature lets customers send food to their family members, friends, or coworkers and share details to make it easier to track the orders. 
UberEats launched this feature during the pandemic to offer an improved user experience. The app also lets the person receiving the order track the food delivery on their smartphone. 
Reorder from order history

 
Order history is an important feature that enables customers to view their previous orders. This is especially beneficial for those who place similar orders. With this feature, they can quickly place the same order again without going through the hassle of searching the restaurant and picking the same dishes again. 
With the food recommendation feature, your food delivery app can offer customized recommendations to the users based on their order history. This presents a great way to engage the app users and boost the sales of your app. 
Tempting referral program

 
Having some kind of loyalty program is the best way to engage your audience and retain customers for a long time. You can run an attractive referral program to increase your reach and attain new customers. 
You can offer your existing customers special deals or discount vouchers if they refer the app to new people. This is a sure-fire way to broaden your customer base and increase sales. At the same time, it will improve the customer experience as they get their hands on tempting discounts. 
In-app chat support helps to streamline communication between the customers and delivery personnel. It provides a common touchpoint that facilitates quick order delivery. 
Also, the features let users initiate a chat with the restaurant in case of any problems regarding food delivery, food customization, etc. And this ensures a seamless user experience. 
In addition to in-app chat, an in-app calling feature can also come in handy. It lets the customers make free calls to the restaurant or the delivery agent from within the app. 
This is a great feature that helps to build trust among the customers. Phone masking ensures communication between the delivery agent and the customers without giving out the phone numbers. Thus, it helps to protect sensitive customer information and boosts the security aspect. 
Visual instruction to delivery boy

 
This feature allows the customer to send visual instructions to the delivery agent and help him locate the address with ease. For instance, the customer can send a photograph or video of a famous landmark next to their home. Additionally, they can record voice messages for the delivery agent, helping him get to the exact location without any hassle. 
After smartphones, smartwatches are the second most loved gadgets. Therefore, to stand apart from the competition and provide a genuinely impeccable customer experience, you must also customize your app for the smartwatch. 
Dominos is among the first food companies to release its Android smartwatch app, a simplified version of its mobile and web app. The 'Easy Order' feature allows customers to order their favorite pizza from their wrists in just a few taps. 
A good food delivery app also comes with canceling the order and getting refunds for the same. Most of the food delivery apps don't provide this feature, and however, it directly corresponds to the customer behavior on the platform, and thus, must be provided. 
Easy cancellation and refund policy also instills faith in the customers and encourages them to order from the app. 
Efficient customer support

 
An efficient customer support panel is important for any app, not just food delivery platforms. Every business must listen to their customers, pinpoint the pain points, and address their queries earliest. 
A food delivery app can provide an option for Live Chat. Also, custom bots can be used for the marketplace to engage with the customers and maintain consistency. 
Membership plans (Free Delivery, Offers, Discounts, etc.)

 
This feature is essential for your food delivery app and can play a crucial role in increasing customer retention and brand loyalty. When customers get attractive deals and discounts on their food, they are delighted to order. Deliveroo is one app that offers regular deals and codes, especially to new users. 
Additionally, your app should provide different membership plans to the users. By opting for a membership plan, the users can regularly avail of free delivery on all orders along with attractive deals and offers. This will help to improve the customer experience immensely. 
The review and feedback section is a must-have for a food delivery app. 
With this, the customers can easily rate and review the different eating joints and their food quality with this. It is a well-tested way that also helps other users know how good each restaurant is and if they should order from there or not.
In the food delivery industry, packaging serves a primary function. It helps preserve food quality and prevents leaking or spilling, and it communicates the brand values and messaging to its customers. Thus, the importance of good and high-quality food packaging cannot be negated. 
Just like food packaging, the overall quality of your food delivery app must be outstanding. If you offer all premium app features, but your food lacks quality, your business may not repeat customers. So, prioritize food quality over everything else. All restaurants listed on your food delivery app must provide superior quality to deliver a seamless user experience. 
Group ordering is a great feature that immensely improves the customer experience. It enables users to order from multiple restaurants simultaneously without having to make different orders. The customers can easily add food from more than one location to their cart and order in a single go. There is no need to place orders more than once for over one place. 
As the name suggests, this feature helps split the food bill among several customers. With this feature, different users can use other payment modes to pay their share of the food bill. 
Wrapping Up
Whether you are a restaurant owner looking to boost sales and customer loyalty or an entrepreneur planning to invest in an exclusive food delivery service, you must pay attention to the features listed above. Based on your app development needs and budget, you can integrate these features to provide a great user experience. 
You can hire an excellent app development company like Emizentech to ensure you get your hands on a fully-functional and feature-packed app that meets the demands of your users. 
At Emizentech we are proficient at creating unique mobile apps. You can reach the company at the following mail.