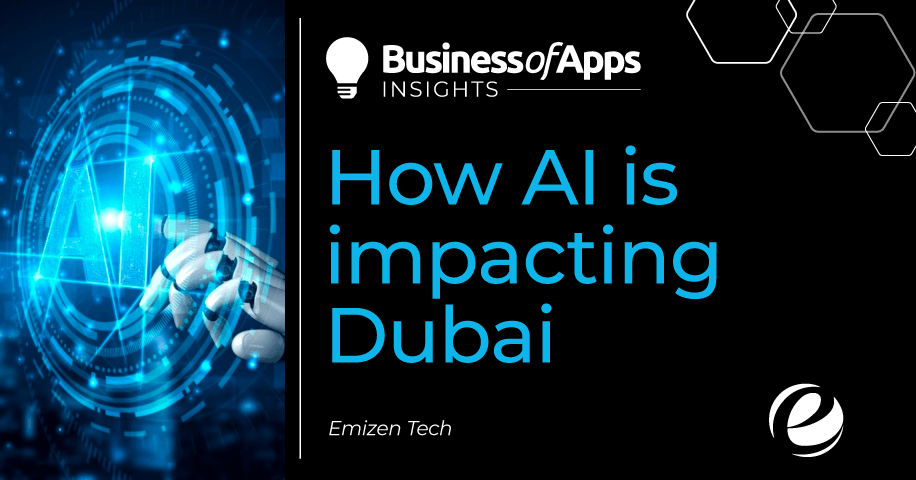 Regarding innovation, Dubai takes charge, staying at the forefront and aiming to lead the world in AI by 2031. The latest report says that by 2030, AI will likely impact the Middle East economically and reach about $320 billion. Moreover, AI's contribution to the annual growth of UAE and Saudi Arabia is anticipated to be 20-34% per year.
The financial industry is the biggest AI opportunity in the Middle East and Africa region. There are other industries, like education, healthcare, banking and finance, transport and logistics, and more.
Let's highlight the impact of AI on varied industry verticals in Dubai and how it's influencing the city.
AI in UAE
Since the beginning, the UAE has always been ahead to match the steps of the latest technology and innovation. Back in 2017, the UAE declared the appointment of the globe's first Minister of Artificial Intelligence, which reveals the UAE's commitment to AI and its power to revolutionize society. From that time, the Emirates opted to invest heavily in AI research and development to lead the rest in the adoption, expansion, and application of AI technology.
Beyond 2030, the scope of AI impacts on both the economy and society will almost certainly increase, so it is important for the Middle East to be strategically placed in order to provide a springboard for the future.
In 2030 AI is predicted to contribute $135.2 billion to the economy, equal to 12.4% of GDP. UAE awaits to witness the largest impact, nearly 14% of 2030 GDP.
Besides, there exist some unattended opportunities that may elevate AI's impact on the region's economy.
AI impact in Dubai
AI has been making a notable impact on varied industries in the Emirates by developing AI-powered mobile and web apps and software. Below, we will discuss the same, with expected outcomes for better understanding.
AI in transportation
Latest data: In the transportation market, the global AI valuation is anticipated to reach nearly $23.11 billion by 2032.
In the Emirates, AI integration in the transportation sector is taking it to a level ahead. In Dubai, self-driving cars are being tested, and the Emirates is devising to roll out the globe's first autonomous flying taxi service. Such AI-infused vehicles are crafted to transport passengers all over the city with no need for any pilot.
A few years back, the UAE deployed automated airport robots to address suspected criminals.
Expected results: This technology is predicted to diminish traffic congestion and enhance transport efficiency in the region.
AI in healthcare
Latest data: In the forecast period of 2022-2030, the global AI market is expected to be valued at approx. $188 billion.
Incorporating AI in the healthcare industry has transformed it in the Emirate. AI-infused medical devices are improving diagnosis accuracy, reducing treatment time, and enhancing patient conditions. The UAE has also put forth investing in AI-powered medical devices and software development, like robotic surgeons, smart stethoscopes, smart patient monitoring systems, and more.
Lately, during the worldwide pandemic, AI-integrated healthcare apps have been the chief preference in healthcare. The Dubai Health Authority is all set with blueprints of plans to utilize robotics and AI to automate surgeries and varied procedures.
Expected results: The target here is to diminish chronic, the most dangerous diseases by data analysis to know genetic details that may make someone likely to catch a specific disease.
AI in education
Latest data: From 2022 to 2030, the global AI market size in the education industry will likely expand at a CAGR of 36%.
AI plays a significant role in transforming the education sector in the Emirates. The Mohammed Bin Rashid Initiative for Smart Learning, a program launched by the UAE, aims to offer AI-charged education to students in the country. Besides, it includes AI-infused adaptive learning systems that hold the caliber to personalize education for every student, enhancing the learning capabilities of the students.
Expected results: The chief target is to reduce costs and increase education aspirants amongst the population.
AI in hospitality
Latest data: A recent research predicts the travel and hospitality AI market will exceed $1.2 billion by 2026 at an expected CAGR of 9.7% and even more from 2021 to 2026.
Well, the hospitality sector in Dubai magnetizes millions of tourists annually, offering the facility of various resorts, hotels, and restaurants. With the power of AI, this industry personalized customer experiences by performing predictive analysis that improves customer experience.
AI-infused chatbots can help guests with their queries; however, data analytics can predict guest preferences to provide customized recommendations. While these advanced technologies can improve customer satisfaction, they may also avoid needing specific jobs, like waiters, receptionists, etc.
Expected results: AI adoption in any industry leads to the creation of new opportunities in varied areas, like data analysis, digital marketing, and cybersecurity.
AI in banking and finance
Latest data: In the banking market size, the global AI will be valued at $64.03 billion by 2030 at a CAGR of around 32.6%.
The banking and finance sector, which holds a major impact on Dubai's economy, has already tamed various areas by integrating AI in its major areas, from fraud detection to customer service.
For example, AI chatbots can help customers meet their banking needs, and robo-advisors can offer amazing support to offer personalized investment advice.
Besides improving efficiency and accuracy, it may diminish traditional banking roles, like customer service reps and tellers.
Expected results: AI will likely improve capacity to anticipate financial, economic, and risk events.
AI in retail
Latest data: In retail market size, the global AI is predicted to be valued at $7.14 by the end of 2023 and may reach $55.53 billion by 2030 at a CAGR of around 34.1% from 2023 to 2030.
Dubai's thriving retail industry makes the region attract the spotlight worldwide as it significantly contributes to its economy. AI-powered chatbots in the industry seamlessly handle maximum customer interactions that lead to reduced customer service roles, thereby cutting costs.
The increasing use of automated inventory management solutions and self-checkout systems are the outcomes of a shift to automation incorporating AI.
Expected results: AI implementation in the retail sector by developing AI-integrated eCommerce mobile apps and software may possibly boost productivity and improve customer experiences.
AI in energy and utility
Latest data: By 2028, AI in the energy market will reach $14.52 billion at a CAGR of approximately 24.6%.
In Dubai, the Energy sector with AI acts as a great help in executing better planning and facility management, diminishing environmental load, and leading to expected energy storage and distribution optimization.
AI-powered algorithms can process data to anticipate peak demand time and stress, identify equipment features, and optimize supply chains, production, and delivery systems.
Expected results: AI can elevate asset productivity while reducing maintenance costs. Besides, it can facilitate grid operators in measuring the availability of wind and solar resources.
AI in sports and gaming
Latest data: The global artificial intelligence in sports market is projected to reach around $19.2 billion by 2023 with a CAGR of 30.3% in the forecast period from 2021 to 2030.
The infusion of AI in the Dubai sports and gaming industry provides insights and predictions analyzing which teams can make the right game strategies, identify players' trends and patterns to increase their performance, and detect signs of overexertion, fatigue, or potential risks of injury. Besides, AI-driven personalization in this sector can boost fan engagement.
Expected results: Equipped with the required and better algorithms and sensors, AI makes more accurate predictions about competition results even before they happen. Above that, AI could impact sports companies, advertisers, coaches, franchise owners, and game strategists.
AI in media and entertainment
Latest data: Global AI is expected to grow at a CAGR of 26.9% in the media and entertainment sector from 2022 to 2030.
The media and entertainment industry in Dubai, when infused with AI, witnesses efficient processes and improved services, better budget assignment insights, boosted revenue, and real-time marketing intelligence for elevated marketing agility.
Expected results: AI-integrated media and entertainment software and solutions will transform it entirely to an extent we can only imagine. The content personalization will impact the most and will provide personalized recommendations to users.
AI in fashion and lifestyle
Latest data: In the fashion market, AI is likely to reach $4.391.7 million by 2027 with a CAGR of about 38.20%.
AI plays a crucial role in the fashion and lifestyle industry, where it assists designers and businesspeople in predicting future sales and making sound decisions about the stock that may lead to less waste with happier customers and boosted profits.
Expected results: AI can diminish the need for retailers to stock physical products in the fashion and lifestyle world and allow consumers to customize the items they would like to buy.
Future prospects
Dubai's new Digital Strategy, based on a vision of digital life in the city, establishes a robust and reliable digital system that helps improve the digital economy and strengthens a digitally driven society.
AI holds the potential to transform varied industries in Dubai that benefit the people of the region.
A switch to automation demands reskilling and upskilling to adopt new technology and assistance from an AI development company. By embracing AI, Dubai can confirm its position as a leader in innovation and technology, crafting a brighter future for its economy and people.