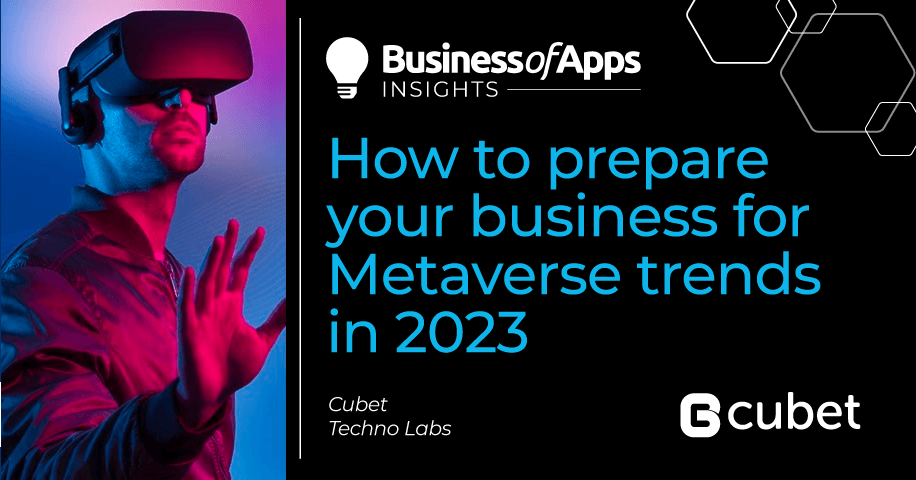 The Metaverse is being widely acclaimed as the next iteration of the internet: a horizon of the physical and digital worlds. We are approaching an era where instead of bidding goodbyes we are to say 'Meet Me Digitally!'
Did you know:
22% of the leading global companies that have already invested in the Metaverse claim that it has a bright future.
Whereas 21% find the Metaverse full of opportunities, and 16% believe that it is creating new avenues for businesses to evolve.
The Metaverse is immersed in the business world with high intensity. Well, have you considered preparing your business for the Metaverse?
Here are some FREE tips on how you can instantly start preparing your business for the Metaverse, along with futuristic planning strategies to reinforce its foundation. Let us prepare your business for the Metaverse without spending a single penny.
What is the Metaverse?
The Metaverse is an intersection of 3D virtual worlds, facilitating 3D immersive experiences through VR (Virtual Reality) and AR (Augmented Reality). By simulating social connections in the digital world, the Metaverse enables the creation and moving of identities or assets within shared environments in real time.
Why are top businesses opting for the Metaverse?
Some of the reasons why top businesses are opting for the Metaverse are:
To take transit from transactional conversations to highly interactive conversations
To enhance consumer experiences
To introduce or market virtual goods, products, or services
To offer virtual tours of digital products and facilities
To support payments and finance in the Metaverse
To offer hardware as well as software applications that support the Metaverse
To launch virtual events in the Metaverse
To collaborate and work from different places and different time zones
To train and upskill the workforce in the organization
For advertising, branding, and uniquely promoting a product/service
For targeting new revenue streams
What does your audience think of the Metaverse?
For this, we have some interesting statistics. A survey by Statista conducted in 2021 with 1,050 global respondents concludes:
39% find the Metaverse as a tool to overcome real-life obstacles: doing things in the virtual world that they could not do in the real world.
37% find the Metaverse to be a creativity and imagination booster.
Over 35% liked the Metaverse as they could travel the world without moving.
34% claim that the Metaverse enhances their technological skill and knowledge.
34% find it easy to socialize in the virtual world as compared to the real world.
Speaking of the Gen Z and Gen X audience:
60% of the Gen Z audience believes that retailers and brands should start selling their products on Metaverse platforms.
Over 40% of Gen Z believe that the Metaverse gives a convenient shopping experience; 45% stated that they would enjoy an online shopping mall.
So, we have made a point that you must consider implementing the Metaverse in your business. Now is the time. Web 2.0 will soon turn to Web 3.0. If you want to survive in this competitive world, you must adapt to technological advancements. To prepare for Web 3.0, you have to lay foundations in current Metaverse channels, and start preparing your business for future trends.
How can you prepare for the Metaverse?
When you consider preparing your business for the Metaverse, first ask yourself:
What kind of experience do you want to give your customers?
What will be the look and feel of your Metaverse channel?
How will you offer a seamless, worthwhile experience to your customers?
What will be the VALUE of your Metaverse channel?
Based on this value, what will be the value of the experience you want to offer to your customers?
What are the risk factors if you fail to meet this value?
How much are you prepared to pay for transiting your current channels into the Metaverse?
The Metaverse is an entirely new channel with the potential for brands to make high profits. It takes a lot of dedication to enter the Metaverse, and a clear strategy to make a profitable business.
Here are six amazing ways by which you can start preparing your business for the Metaverse.
Instantaneous actions
Metaverse concepts
Many companies lack institutional familiarity with regard to the Metaverse concepts that are evolving at supersonic speed. What you can do is assign a dedicated resource or a group of resources to properly study the concepts of the Metaverse in relevance to your business sector. Understanding cryptocurrencies, decentralized autonomous worlds, and other such Metaverse concepts can help you upscale your business. The Metaverse changes speedily, so your appointed team needs to follow the updates as they evolve.
Frame a clear strategy
Firstly, know where you stand by gauging your current channels if you want to transit into the Metaverse. This will help you identify all the gaps that you need to bridge to move ahead. Find long-term opportunities that you can build from Metaverse concepts and start working on the foundational measures. You can also think of hiring employees who already have experience with the Metaverse's key concepts. The ones ready to offer expert technical services, plan strategies, integrate advanced security systems with strict authorization and authentication, publish APIs (Application Programming Interface), and develop interconnective, interoperable, and extensible Metaverse channels.
Test the waters
Gauge the risk factor. Many Metaverse opportunities are of lower risk. Selling digital products, goods, and services, or offering virtual tours to products or facilities. These categories are trending and have a lower risk factor. Buying, leasing, advertising, or offering customer support for real estate can be non-reliable, and less trustworthy. This is an example of a category that has a high-risk factor. So, before entering the Metaverse world, test the waters. Identify lower-risk opportunities that are highly in trend, and select wisely.
Long-term planning
Building trust
The Metaverse is a decentralized digital platform with many challenges for regulatory compliance, privacy rights, cybersecurity, identity threats, reputation loss, and fraud. You should consider using security at the service level so that privacy is maintained even if assets are lost. Devise a strategy on how to identify and mitigate potential risks. This is very important for building trust amongst customers, regulators, shareholders, and stakeholders. To establish a trustworthy reputation in your business ecosystem, you can collaborate with experts who provide machine learning and artificial intelligence services and solutions and can help you become adept in leveraging the benefits of the Metaverse.
Rethink core competencies
With your current channels, it may be difficult to transit into the Metaverse. To enjoy the competitive advantage offered by the decentralized digital environment of the Metaverse, you may require a completely different set of skills & technologies than you currently have. For this, you can upskill or recruit new resources and try an entirely new business approach for surviving the cut-throat competition.
Aligning the physical and digital worlds
Drive for a consistent brand experience on both physical and digital fronts. When you go digital, users expect your presence on a website or mobile app to be consistent with your physical presence. Similarly, in the Metaverse, your physical presence must align with your digital presence. Real-world or virtual world, consistency is the key!
The future of the Metaverse
With Web 2.0. the digital transactions, identities, and assets exist simultaneously in the physical and virtual worlds. This digital environment can be operated and shared by billions of people across the globe, but separately.
Today, the components of the Metaverse are isolated, and it cannot offer an interoperable or interchangeable experience.
Tech innovators are working on Web 3.0 that will change the entire vision of the Metaverse with decentralized digital ecosystems.
The futuristic landscape shows Metaverse channels that will be interoperable and interchangeable with transferable identities and assets.
Metaverse evolutions in the near future
The Metaverse is soon to drop today's sci-fi mode switching to futuristic technologies for electrifying virtual interactions. Let us delve deeper to figure out the evolution of the Metaverse in the near future.
Web 3.0
The Metaverse gives access to the virtual world only through VR headsets and Mo-cap gloves. This limitation is soon to be overcome by technological advancements.
Voice typing is becoming as outdated in the virtual world as it is in the real world. Where 71% of consumers prefer voice search, voice assistants are gearing up for the digital game. Futuristic voice interactions in the Metaverse seem more natural, efficient, and virtually realistic.
Metaverse businesses are moving towards interactive conversational marketing and commerce. Rather than the cold transactions of Web 2.0, Web 3.0 is purpose-built for carrying out value interactive transactions.
Interoperability
Interoperability between Metaverse channels to connect different virtual worlds will bring new possibilities for business growth as a customer-oriented approach.
To illustrate: while using your Metaverse channel, if your user wants to order food, they need to first exit, order food, and enter again. To track orders till delivered, they need to exit and enter again and again.
Instead, if there are interoperable Metaverse channels, the user can easily switch from your channel, order food, and return, within seconds. They can easily track orders or get notifications from other channels, without exiting your channel. Now, how is that?
Persistence
The efficiency of the Metaverse can be measured by how it reflects and adapts to real-time changes.
To illustrate: different users are participating from different places at different times in a single Metaverse channel. The entry or exit of any participant does not make any difference. Other participants can continue their activity without interruption.
However, for a Metaverse channel to be persistent, it requires technologically advanced services and applications that are portable, extensible, and dynamically configurable.
Digital twins
In the world of the Metaverse, people, assets, or organizations can have digital identities, often known as digital twins. Anyone can create a digital twin that can be true, anonymous, or pseudonymous as compared to the real world.
In the near future, before entering the real world, businesses will build an organization twin having an environment just like their real business environment. They will also create digital twins of their assets and resources. It's just like having employees in the Metaverse, who can interact with the users as they would have done face-to-face. This can drastically reduce errors and reworks.
Privacy and security
Security is paramount when it comes to protecting user data in a decentralized digital world. Many entry points can expose your Metaverse channel to attacks or malicious activities. Strict enforcement mechanisms, data regulation and governance, as well as setting rules for how a Metaverse channel can change over time, can reduce the disinformation that plagues the Metaverse channel.
Spike your business growth with the Metaverse right away!
The global Metaverse market size was valued at USD 38.85 billion in 2021 and is projected to touch USD 50 billion by the end of 2022, before soaring to USD 678.8 billion in 2030.
Of the leading global sectors, currently, 17% in IT and Computer, 12% in Academics, 11% in Finance, 10% in Marketing and Media, and 9% in the Healthcare industry, have already invested in the Metaverse.
Metaverse is a multisensory experience. A world brimming with color and light. A real-time simulation that feels natural. and tangible. You cannot just limit Metaverse to logos, fonts, or graphics. Users are visiting your channel to have a different experience than they are currently having by using the web or mobiles.
The look & feel of your Metaverse channel is much more important. Your digital environment must look & feel real. Your digital employees must talk, listen, and entertain your user like real employees. You need to keep it real & interactive!
There are several web and mobile app development companies that help businesses prepare for the Metaverse right away. With a team of tech geeks who have advanced-level expert knowledge regarding the key concepts of Metaverse, they can provide an amazingly awesome Virtual Reality experience to your users and elevate your business to new heights.