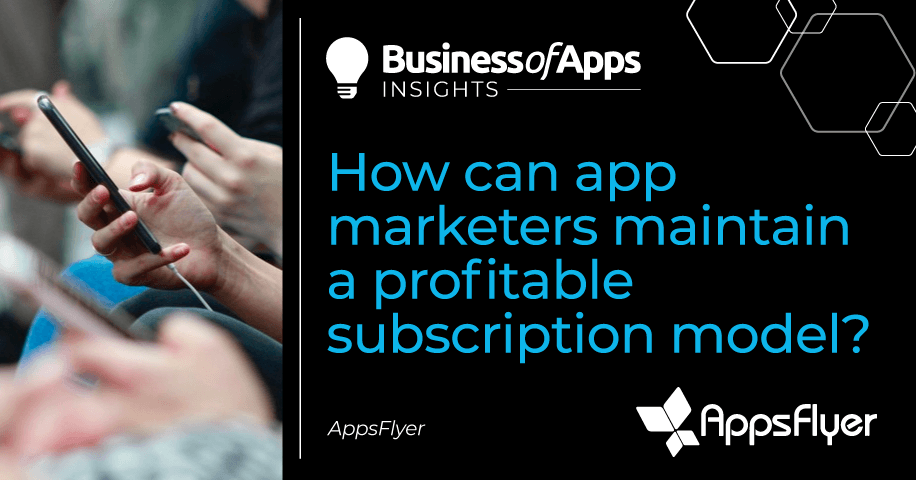 There's no denying the popularity of subscription-based apps, with installs hitting 6 billion worldwide between January 2021 and March 2022. The challenge for subscription app marketers is ensuring long-term usage and ongoing renewals. To do this, they need a robust strategy underpinned by deep measurement to understand their users, boost re-engagement levels, and deliver ongoing business results. So, what should app marketers know when building a profitable subscription model?
The value of offering subscription-based apps
Subscription-based brands occupy many verticals, including health and fitness, entertainment, dating, gaming, and education, to name but a few. One thing they all have in common is that they recognise how important mobile apps are to the user experience. Subscription models are especially suited to sectors where users consume regular content on mobile, for example, new podcasts and videos on entertainment apps, or new levels and upgrades on gaming apps.
This makes continuous content creation an absolute necessity for subscription models, otherwise, what are users paying for? More than four-fifths of revenue generated by subscription-based apps comes from subscription revenue, as opposed to one-off purchases, making it critical for app marketers to get the right content to the right users and drive those sign-ups and renewals.
Why event mapping unlocks crucial user insights
The ability to map in-app events allows marketers to optimise their strategies and hit their business objectives, such as attracting new subscribers and retaining existing ones. App marketers can draw insights from a number of in-app events including content searches, content views, and whether free trials have been started or completed, alongside the number of lapsed subscriptions and renewals.
While this isn't an exhaustive list, measuring specific in-app events gives marketers a view of how users interact with their mobile app all along their funnel. This unlocks deeper insights such as points of friction that need to be addressed. If users are completing the free trial but don't subscribe, for instance, it could mean that the sign-up process needs to be streamlined.
Additionally, event mapping uncovers trends that app marketers can use to build tailored remarketing campaigns. In the health and fitness vertical, an app marketer might see that subscribers who complete three workouts a week are more likely to renew their monthly subscription or make an in-app purchase. The app marketer can then focus the call-to-actions of their ads on driving subscribers to complete this number of workouts. The ability to continuously optimise campaigns and the user experience means app marketers can maximise their subscriber base and improve renewal rates.
Tailored content and personalisation boost re-engagement
Convenience and personalisation are essential for progressing users along the funnel, from boosting app installs to sustaining user loyalty. App marketers can use a number of tactics to deliver a smooth, tailored user experience such as:
Push notifications
These can generate awareness for new content among users, or remind them of in-app goals such as achieving a daily score and maintaining a "streak" of engagement. They also help users discover new forms of content, which can, in turn, increase time spent with apps and enable marketers to retain their user bases. What's more, app marketers can use push notifications to progress users who have started a free trial. By informing users of limited-time offers, push notifications can drive sign-ups and help app marketers grow their subscriber bases.
When leveraging this tool, app marketers must keep a vigilant eye on the frequency of their push notifications and ensure they are consistently delivering genuine value to users.
Paid remarketing
To execute a laser-focused remarketing campaign, app marketers should answer a number of key questions: is the objective to re-engage lapsed users or increase user retention? What level of engagement should the campaign deliver? Which audience segment is being targeted? There is no predefined template for remarketing campaigns, meaning app marketers must rigorously test their strategies to minimise wasted spend.
It could be that an app marketer needs to re-engage users that have exhibited high-value behaviours, such as visiting the subscription sign-up page more than once but have not converted. The app marketer could tap insights on what kind of content users have previously viewed, then feature similar content in the campaign to recapture their interest, driving conversions and increasing subscriber numbers.
Deep linking
This tool is beneficial for app marketers looking to create a frictionless and contextually relevant user experience across channels. For example, if the user of an education app views an ad for a new course and clicks on a call-to-action, a deep link contains information that takes the user directly to the in-app content featured in the ad.
Deep linking also supports app marketers in tackling user inactivity and boosting re-engagement. In this scenario, a high-value user who typically completes two lessons a week might not have completed the most recent one. An app marketer could implement a campaign to drive engagement with the latest lesson. Using deep links seamlessly brings the user to the relevant content and creates a highly convenient experience, which contributes to keeping users steadily engaged.
App marketers have many tools at their disposal to grow and retain subscriber bases. Underpinning these tactics is data gathered via deep measurement. App marketers that monitor user interaction at each point of their funnel can learn how to streamline and personalise the user experience, as well as successfully drive re-engagement. As a result, they can maximise conversions and renewals, maximising subscription revenue.