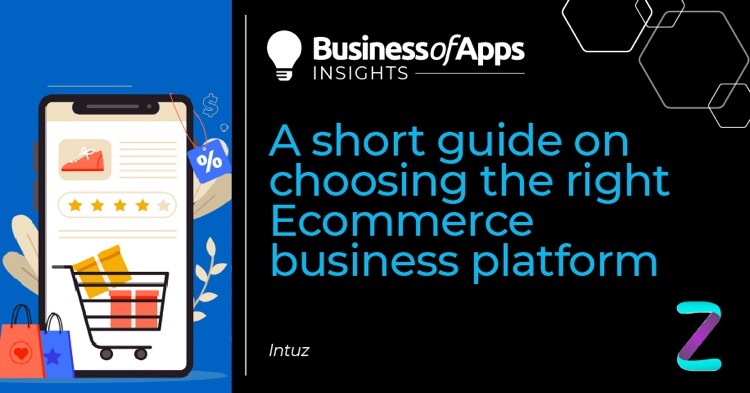 So you have decided to start your own eCommerce business. Congratulations! The said industry is set to be worth $6.4 trillion in 2024, so it is undoubtedly a profitable space to be in. The next question, of course, is the kind of platform you are going to house your business on.
This is a strategic decision, one that requires thought and attention as much as your physical product and your marketing plan do. It is natural to be daunted at first for upcoming eCommerce businesses across domains — whether you are looking at a B2C or a B2B eCommerce platform.
That is why we have put this handy guide together to help you out in choosing the most ideal digital commerce platform:
Why does an eCommerce business platform matter?
Essentially, an eCommerce platform is a software application that enables multiple frontend and backend functions such as order fulfillment, inventory management, mobile transactions, and customer relationships management (CRM).
Just like a physical production house or storefront, an eCommerce platform is a front face as well as the backbone of your online business.
You present your products to your target market, help them place orders securely, manage your warehouses from the backend, set shipping into motion, and ensure timely order fulfillment. 
Moreover, you have the advantage of automating several of these tasks that would have had to be done manually, thus ensuring that processes move faster and much more cheaply.
Your platform also serves as the face of your brand — the better the experience potential customers have on it, the more positive and favorable your reputation will be. An eCommerce platform forms the base of your business model.
What are the eCommerce platform options?
Traditionally, businesses venturing into eCommerce got their IT teams to develop an in-house platform from scratch. This, however, is a complex and unwieldy process that is frequently not scalable. It is also costly.
Thus came the 'traditional' crop of eCommerce platforms like IBM Digital Commerce, which also required the IT team to build features on top of a core platform for which a licensing fee was charged. This too can be costly and impractical, especially for smaller businesses.
Moreover, what if you do not have the expertise you need in your IT department? What do you do then? As eCommerce technologies continue to evolve, on-premise technology is fast becoming a thing of the past.
SaaS eCommerce platforms, like BigCommerce, Wix Stores, and Shopify, are leaping forward. In addition, as businesses demand more native UI/UX features product or backend optimizations, there has been a massive shift to headless commerce.
But here also, you have a choice to pick the most helpful solution for your eCommerce business. In fact, we recommend picking from any of the three following options depending on how much time you are ready to invest in set-up and the level of ownership you would like to have:
Open-source eCommerce and marketplace platforms
There are several specialist eCommerce solutions out there that are open-source, which means that you can have them customized to suit your needs and pay only for the upgrades and any data migrations.
Open-source online marketplaces come with the trust and brand name of the solution provider (such as Walmart or Amazon) while giving you enough flexibility to add your touch, making them a far more efficient option than building a platform from scratch.
Plus, unlike a 'traditional' platform, there are no hefty upfront licensing fees involved. Compare competitor pricing as well to get an idea about the market. This is a good option for you if your budget is limited and yet you want to avail all major benefits.
SaaS eCommerce platforms
These are built generally on a single codebase and involve a fixed set of eCommerce features that all businesses can access in return for a fixed monthly fee that covers the features as well as any maintenance or upgrading work.
You may 'unlock' more features as you upgrade your subscription. Particularly if you are doing eCommerce for the first time, this is ideal as a plug-and-play option with everything you need to get going. This is perfect if you do not have a huge IT branch to help you out.
Hosting environment (Cloud)
Cloud eCommerce platforms generally involve a blend of traditional and open-source platforms. They may even be legacy platforms shifted to the Cloud. This option requires you to undertake your own maintenance and upgrades, but you own the environment yourself in cloud solutions, unlike with a SaaS eCommerce platform. 
Factors to consider when choosing an eCommerce business platform
Many new businesses tend to focus on aesthetics and UX when they pick an eCommerce business platform, and that is certainly part of the deal.
However, the key factors involve lead generation, business process management, and customer relations, which are essential for generating ROI.
The best eCommerce business platform is the one that helps you achieve your business objectives profitably and in a timely fashion, and the choice might be different for different brands in various sectors.
The top platforms do, however, share certain features geared towards helping a business succeed. So here are particular features you need to keep an eye out for: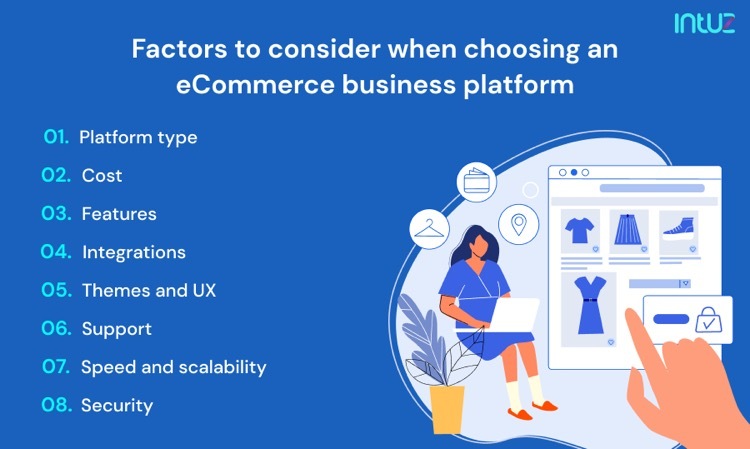 Platform type
The first choice, of course, relates to whether you will go for an open-source, SaaS, or cloud platform. This depends on our business objectives and priorities. We would recommend picking something that allows you as much customization as you need at an optimum cost.
Look at the digital products or services you sell. Do you have plans to expand across geographies? What does your budget look like? Have you looked into payment processing? Are you offering value-based pricing? Look inward regarding business and where you want to take in the next few years.
Cost
Depending on the type of platform you go for, there could be several costs involved related to maintenance and upgrades, some of which might not seem that obvious to you when you sign up. Communicate with the eCommerce development company about exactly how much you will need to shell out and how frequently you expect these costs.
In addition, ask them about any hidden charges, which can occur in the form of paid workshops, costly modifications, or pay-per-use models. What if you want to increase the number of employees accessing the platform? How much will that cost?
Come up with potential scenarios which can prove to be costly for you. Speak to your vendor wholeheartedly and get clarity on your costs.
Features
Apart from the basics of the storefront itself (robust product catalog, secure payment processing gateways, analytics, and so on), your eCommerce platform should have a comprehensive set of SEO strategy features to boost your search rankings.
Examples of such features include a customer review form and display tab, a domain name of your choice, and a blog. In addition, avoid platforms that have more features than you need, as you will end up paying more than you have to.
Instead, choose a platform with must-have features along with the capacity to add more as you grow. The sky is the limit here.
Integrations
Your eCommerce platform should be seamlessly integrable with your other business software, such as your CRM or inventory management platform. It should also support third-party plug-ins in the marketplace business model as necessary for various purposes such as making the site load faster, calculating dynamic pricing of shipping and the selling price plus, improving search engine marketing, and so on.
Themes and UX
Aesthetics undoubtedly play a role in the eCommerce experience. No one wants to have to navigate a website with a clunky design and awkward text. The eCommerce platform should offer a range of attractive themes and a suite of UX features that enable smooth, pleasant navigation no matter where the customer is logging in from.
Support
Always choose a vendor who is reachable through multiple channels and can provide prompt support for any difficulties you face, including both big and little hurdles.
And do not just believe what the vendors say either — ask other clients about how they have solved problems before. Before signing on anything, get a free demo, if possible, or deploy the software and run your business for a few weeks at a nominal cost.
Sure, you can always change your eCommerce marketplace development company. But that is a hassle. Avoid it as much as you can by doing the legwork early on.
Speed and scalability
Your eCommerce platform needs to be fast and responsive across all devices and browsing platforms. It also needs to be easily scalable as your business grows. Pick a platform with a good reputation for both. There is no such thing as a successful eCommerce store with great product ideas but one that loads slow. Experience is everything in this day and age!
Security
Your eCommerce platform needs to have essential security protocols, especially since you will enable financial transactions and handle your customers' personal data. Look for security certificate badges, such as Norton or McAfee, that you can display on your eCommerce website.
Over to you
We hope this guide is a good starting point in your search for the ideal eCommerce platform to launch your online business. At the end of the day, remember that if you have your business plans clearly in place and a growth plan charted out, you will be able to make the right decision no matter how many choices you are presented with.
Also, keep in mind that our team at Intuz is always here to help.
All the best!