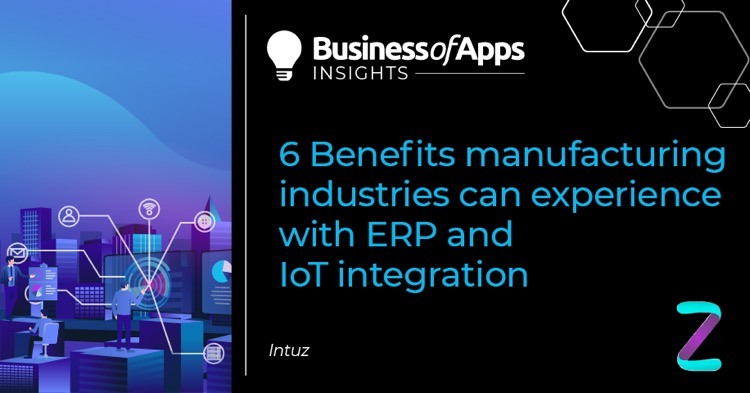 Enterprises and large organizations are always eyeing on operational efficiency, optimal productivity and consistent profits. With so many modules and processes to pay attention to and teams and divisions to manage, large-scale businesses have been facing several difficulties in achieving their operational goals. All this until the onset and implementation of ERP systems. 
Abbreviated as Enterprise Resource Planning, an ERP solution empowers organizations with the power to unify their operations and have a centralized unit to control, modify and optimize their workflows and tasks. 
However, as Industry 4.0 continues to evolve, organizations are facing new challenges in terms of productivity optimization and operations. While ERP systems are solid, a complementary technology or assistance of sorts is becoming inevitable to manage crises and prevent them. 
That's when the idea of integrating IoT with ERP came up. Ever since this integration happened, businesses have been experiencing several benefits, which we will be exploring extensively today. Besides, we will also find out how these two can work together and some implementational challenges as well. 
Let's get started.
The ERP solutions market by numbers
Driven by competition and the need to bring in digital transformation into workplaces and businesses, the ERP solutions market continues to soar even today. The market value of ERP systems in the USA alone is over $10bn. The total market size is also expected to reach around $49.5bn by the end of 2025. 
Besides, statistics revealed that close to 53% of the businesses out there are prioritizing on getting an ERP solution after CRM systems. Among those who have already deployed ERP systems in their organizations, 67% of them found the implementation to be successful. 
How will IoT integration impact ERP?
The core principle of ERP solutions is integrating different processes and teams for unified organization management. An airtight ERP system brings together different modules and operational aspects such as sales, marketing, human resources, industrial asset management, logistics and more and lets stakeholders take better and informed decisions based on data and visualizations. 
This is exactly where IoT comes in and lends its expertise and benefits as well. Data collection and processing lie at the heart of IoT ecosystems and when they are integrated with ERP solutions, they open up newer avenues for data generation and visualization. This will help stakeholders uncover aspects and loopholes they never knew existed before, ultimately allowing them to make business decisions out of numbers and data and not assumptions or gut instincts.
Not just identifying operational loopholes, the integration of IoT with ERP systems has a far more resonating impact, where it can be used to manage assets, optimize quality control, bring in extensive automation and more. 
Since this is a comprehensive subject, we have refined the benefits of IoT and ERP integration into several pointers for deeper comprehension. Let's look at what they are. 
Key benefits of IoT and ERP integration
Better management of assets
Asset management is one of the painstaking tasks managers and division heads have to take care of. Before the advent of sophisticated technologies we have today, the process of asset management was manual and involved scheduled maintenance and servicing, manual troubleshooting, surveying and more. 
Even the detection of problems in malfunctioning machines was time-consuming, leading to delayed manufacturing processes. However, with the systems and tech concepts we have today, asset management is seamless and simple. Stakeholders have to just access specific modules or dashboards to get comprehensive insights on their assets and equipment. 
With IoT and ERP integration, machines and devices can identify their own faults and errors and instantaneously call for maintenance by themselves. They also learn and implement operational best practices to keep wear and tear at minimal levels. Such integrations don't just guarantee that productivity is uninterrupted but ensure businesses don't incur losses due to equipment or asset downtime. 
Real-time analytics
Analytics is the 21st-century blessing for industries and companies. Several companies make profits with the insights they find through analytics modules. As far as larger organizations and premises are concerned, analytics becomes all the more crucial. From tackling attrition and gender-based pay gaps to assessing equipment health, payroll overall employee morale and spirit and more, analytics can help stakeholders detect insights on all and foster a safe, secured and inclusive workplace environment. 
IoT is all about establishing an ecosystem of devices that consistently generate and collect data from diverse touch points. These datasets could be transmitted to ERP solutions, where embedded visualization and analytics modules could process and reveal crucial operational insights. 
With real-time analytics, managers can detect operations that require process optimization, find ways to boost employee productivity, detect attendance or attrition patterns, study market trends and conditions, set up ideal job profiles for the right candidates and do more.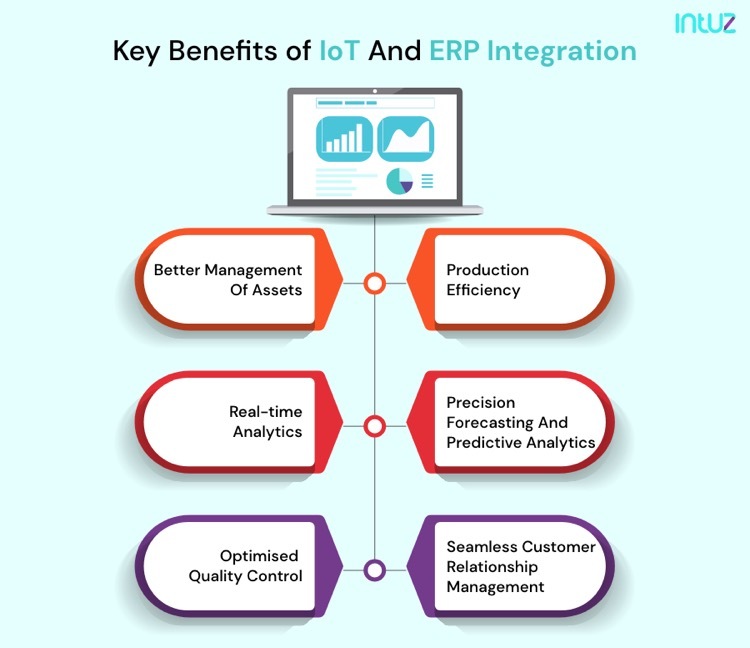 Optimized quality control
Now, quality is an inevitable factor for both small and large companies. It doesn't matter if a business is involved in manufacturing products or delivering services, quality lies at the fulcrum of business operations and even existence. 
Conventional quality control measures involve rapid checks and audits after products get manufactured. This forces companies to incur losses as any error or fault they find on products lead to them ditching the entire batch and restarting the manufacturing process from scratch. 
However, this is not the case with IoT and ERP integration as together, they pave the way for a smart factory environment. Quality control can happen while the manufacturing process is happening through advanced machine learning algorithms and IoT systems. This will allow companies to have a quality check at all stages of the production princess and not just in the end when outcomes are irreversible. 
Production efficiency
IoT and ERP working in tandem with each other in industrial environments can completely eliminate the need for manual intervention across processes and workflows. This is in the sense that the workforce will no longer be needed to execute tasks and processes but rather supervise them and optimize them for improved outcomes. 
With manual intervention removed or rather – with processes equipped with machine-driven precision – companies can ensure they set benchmarks for production and operational efficiency. From the smallest of tasks to the most complicated ones, IoT and ERP can take care of them seamlessly. 
Precision forecasting and predictive analytics
Forecasting and predictive analytics involves the requirement of massive volumes of data – both new and historical. Artificial intelligence modules have to be trained at refined levels to deliver impeccable results and outcomes. The need for such consistent volumes of data can be eliminated by IoT as the devices in a network can keep generating new volumes of relevant data for modules to predict outcomes and instances. 
With this, businesses can seamlessly predict when a machine would malfunction, an employee would quit, the demand for a particular product vertical would go up, a vendor would start charging higher fees and more such unique outcomes. Since IoT covers a vast array of data generation touch points, predictive analytics could be deployed to forecast anything that adds value to your organization's wellbeing.  
Seamless customer relationship management
The ultimate goal of business and manufacturing units is to know how their products are being utilized by end consumers, how they perceive their brands and how satisfied they are using their products. For a long time, businesses hardly had any access to such information in real-time as they had to wait for customer feedback, complaints or reviews to understand their product performance. 
With IoT and ERP, however, companies could know about such insights seamlessly and take corrective measures to modify the performance of their products accordingly. This streamlining of customer communication and interaction allows businesses to actually listen to what people want and then optimize their products to meet their demands and needs. 
Challenges In integrating IoT with ERP solutions
While the benefits offered by the two technologies are flashy and geared towards organizational growth and profits, practically implementing them across a manufacturing unit is not just tedious but complex as well. 
ERP and IoT implementation is intricate and layered. So, careful assessment of organizational and divisional goals have to be developed to ensure implementational goals and intended outcomes are aligned together. 
Once this is done, the next big challenge is the implementation process itself. A standard implementation of IoT and ERP solutions can take anywhere from 3 to 6 months or more based on specific requirements. Refining this further, there are challenges on finalizing SaaS solutions, tech stack, hardware limitations, installation and configuration time and more. 
Lastly, the most important challenge lies in ensuring the safety and security of crucial data generated by IoT systems in the process. Data security is inevitable and the wider your implementation, the more loopholes there are likely to exist. 
So, you need to ensure such loopholes and vulnerabilities that could let intruders get access to confidential data are patched or fixed. Only then can you reap the benefits of the two technologies we discussed today. 
Wrapping up
At this point, we would also like to share that these challenges had to be pointed out so you are in a better position to calculate your risks and benefits and then decide on how you want to go about implementing integrated IoT and ERP solutions. 
While the challenges are real, a guided implementation process by certified professionals and consultants could help you navigate through these initial hiccups and have a solid operational environment in your organization.