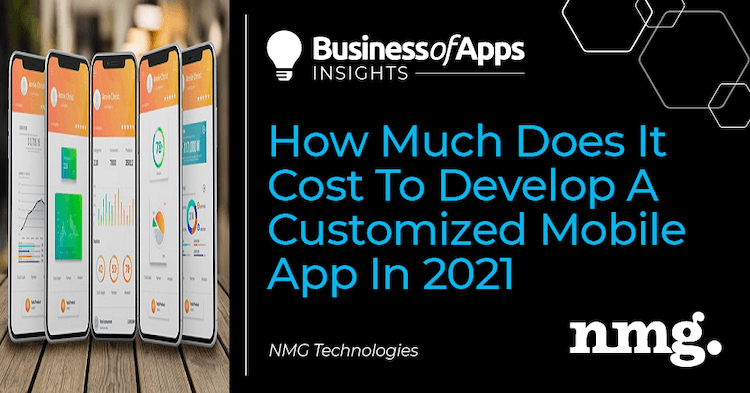 The fact can't be denied that you get what you pay for! It can be anything and also be considered when it comes to app development. 
Many businesses are surprised by the typical price range for high-quality app development.
Many substantial apps require a significant amount of time and expertise to get developed. You need to keep your expectations realistic and get to know the pay scale that professional app developers usually work on. 
How much will my app cost?
The most frequently asked and the most expected question for any product development company is "How much will it cost to build my product?".
Well, it's not that simple, isn't it!
A lot goes behind creating an app, and I'm going to take you on a tour of what goes behind creating an app and answer the most frequently asked question.
Apps are a part of all kinds of industries now, from big corporate firms to vendors near offering a wide range of products at competitive prices.
If you are looking for a boost in your business, no idea is better than investing in creating an app for yourself. It grabs all the attention globally.
Every app is based on a strong conceptual foundation that includes a great idea, planning, and a robust ecosystem. The process is incomplete without including the top-notch talent in both the design and engineering phases.
Going wrong with any of these phases can risk the value and returns of your mobile app.
As always said, doing your homework is important before investing in something; this saves a lot of effort in terms of time and money spent.
So how do you plan your mobile app development? Starting with your homework, which consists of coming up with your concept – a need
In this app ocean, many try to solve the same problem you wish to build a solution for. Look out for them and understand the similar features but don't try to copy them. 
There is nothing wrong with adapting a concept but make sure you have something unique, create a few core cases, taking into account the target audience and how your app will perform and meet users' needs in the short and long term.
The cost of building an app varies based on the app's type, complexity, and features.
Let me take you through the following points below 
App Development Process
Feature-wise costs
Types of mobile app development companies and how they charge for development.

 
How to manage your app development

 
App development process
Following the proven app development process can help you achieve the desired results. Let's see what you need to do to get everything done with quality and efficiency. 
Image source: Invonto
Defining the app development strategy is the first and most crucial phase for calculating a mobile app's cost. Every app s different, but the process should be specific. You should plan your app strategy by identifying the app users, establishing the app's goal, searching the market for competition, and most importantly, selecting the suitable platform for your upcoming app.
In this step, you can shape your app development and turn it into an actual project. This phase specifically belongs to defining the use cases and documenting all the app's functional requirements. Here, you can follow the MVP (Minumum Viable Product) strategy to get the task done with utmost proficiency and quality. 
Your app is not worth enough until it gets an effortless and seamless user experience. It is the most vital part of app development that makes an app complete and worth exploring. 
It is one of the essential phases that is pillared on three major elements: 1) defining technical app architecture, 2) picking the technology stack, and 3) finally specifying the app development milestones. 
Performing app testing is one of the most crucial phases in mobile app development. It makes the app usable, stable, and secure. To make your app error-free, you need to make test-cases that should address all app testing aspects. 
This phase is related to deploying the app on different app stores—for example, Google Play Store for Android mobile apps and Apple App Store for iOS mobile apps. Remember, you can't get this done until you have a developer account with the particular app store. Only a few steps and your app will be deployed to the app server. 
Feature wise costs
An app is incomplete without features integration. These are the mediums that help users navigate and explore the app without hassle. You can start developing your app with essential features and further update the with more advanced ones. This helps your app roll out fast in the market that users can use and provide feedback for improvements. 
However, every feature is different and incurs a different cost to develop and integrate. Here's a list of basic features that an app needed at the initial phase of development. Check it out to know the most required features along with their average development cost. 
Mobile App Features

 

Cost of Development

 

Streaming

 

$63,000 – $180,000 (for both Android and iOS)
Augmented Reality

 

$5,000 – $10,000
Geolocation

 

$10,000 – $35,000
Internet of Things

 

$5,000-$50,000

 

Cloud Connectivity / Servers

 

$12,000 /year

 

Apps for Wearables

 

$35 – $60 /hour

 

Interaction and Engagement

 

$10,000 – $50,000
How to manage your app development
A successful mobile app development team should include the following elements:
A designer; who creates all the visual content to be integrated into the project
An account manager; who acts as a liaison for clients and works with product managers and producers to coordinate different tasks
A product manager; who executes the functions of a director by overseeing the app
Diligent developers; who are experienced in optimizing the products for the requirements of iOS and Android devices
Types of development companies and how it affects the overall development cost
There are three types of developer/development companies you get your apps built from.  Mentioned are the philosophies of each type so you can choose which one fits your need:
The freelancers
This is one of the most preferred options out there and the most popular too. Not only it is highly affordable, high – quality freelancers can achieve the same level of quality for your ideal apps as an app development company can.
But the downsides of hiring a freelancer are equally strong as its advantages.
Hiring freelancers from traditional platforms can be risky and sometimes also feel like a gamble.
When you hire them, the freelancer's technical abilities can be seen largely unfiltered, including their ability to communicate and coordinate with clients and their teams. 
Finding a genuine and quality freelancer is challenging if the platform you utilize does not have reliable pre-selection procedures that filter out the low-quality and high-quality developers.
Traditional freelancing platforms do not offer a particular project management software such as Basecamp, Trello, and others. Many clients know what they want, but they don't know how to manage it. This happens by not utilizing the useful project management and tracking tools. Using these tools can help result in a better and most efficient app management and development. 
This is in every industry; whether you are applying for a job or buying something online, you end up with a middleman's profile. What is the middleman phenomenon?
For example, if you posted a project on any of the freelancing platforms at the price of $100, some middleman freelancers may bid for the project and then repost it at a significantly lower price. If the platforms are charging freelancers 15%, you would essentially be paying $100 for $70 or less worth of work.
Irresponsible platforms indirectly created a hole for these middle-mans to exist. Problems with freelancers are common, but they are not unavoidable.
Design agency with a small team / large production team

It is the most common option and also the ideal one because of the solutions provided by them. This is why many startups choose app development agencies because they come in a restricted package, and they deliver within the quoted price.
When you hire a mobile app development agency, you get access to a team of professional designers, developers, and project managers. Furthermore, many app agencies have a significant amount of expertise to develop mature development procedures to help their clients out.
Many reasons explain why companies want to hire app development agencies. However, choosing this route can be an expensive option. But, if you want quality app development, this route will give you fantastic results.  The development agencies can charge you around $100 – $300/hour, depending upon the company's size and popularity. On top of that, if you decide to take an agency-developed app in house, you may experience more difficulties following their development logic. Here's a graph which shows the cost range of free developers around the globe, this list has only the ones which are great at this.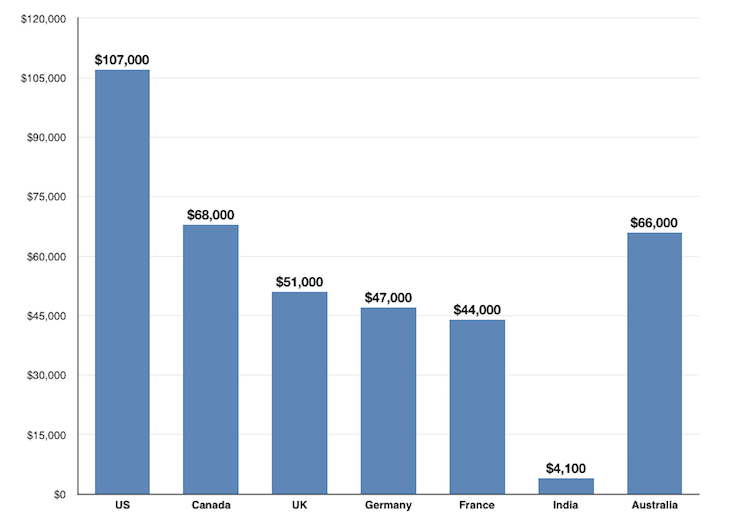 Image source: Business Of Apps
Source: Indeed
The final decision you need to make is which platform you would be choosing.
Android or Apple or Both?
Once you've made up your mind on what your app needs to do and who it needs to reach, you will need to decide on a platform for its creation.
You can build an app accessible on a huge number of platforms, which are
Android
iOS (iPhone and iPad)
Both
The price depends on the platform you will be selecting. The price difference might be big; we will learn more about it.
We are not considering Windows because people using the Windows platform are scarce or nonexistent since the last Windows phone was launched a year ago.
As far as we've learned, iOS apps are faster and cheaper to build. On average, Android apps require 2-3 times longer to develop than the same app in iOS.
Apple also tends to have a more engaged, free-spending user base, which is why many companies launch their apps on iOS or launch on iOS initially and then the extent to Android later when the initial version is successful. 
But Android has more users making it the ideal platform to choose when it comes to reaching out to more people, and some developers fee there is a significant difference between the two platforms.
Your decision to select the platform makes the most significant impact on the marketing of your mobile apps. So, choose wisely and also by keeping all the critical facets in mind. 
Conclusion
Different factors affect an app's cost. The factors may include planning, features integration, thorough homework, and research of your local developer or app developing company, which you consider to approach will help you in major cost-cutting.
Take a note that getting in touch with the best and reliable app development company can help you accomplish your app development with higher quality, flawlessness, and competitive price. 
Not sure which platform to choose for your app development? Get in touch with our experts to reduce your conflicts and build a high-quality solution for your business.