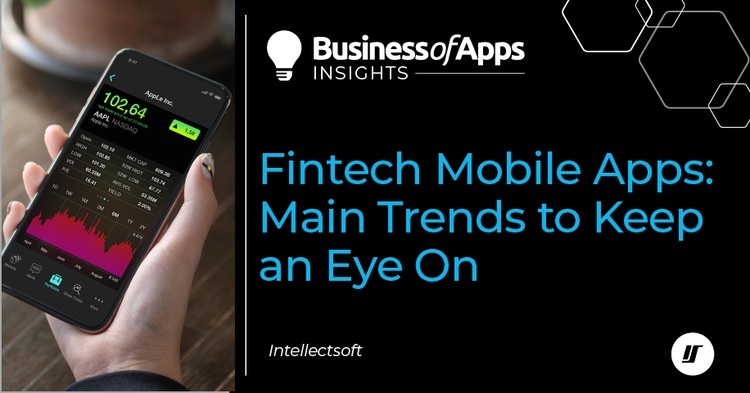 The financial sector is evolving rapidly while adopting more and more digital solutions to improve and automate financial services.
Investments in fintech are growing exponentially as it's considered to have immense potential for recovering after the pandemic. It's worth noting that investments in this field have increased from $12.7 billion in 2020 to $23.4 billion in 2021 and this figure is expected to raise even more.
Proactive industry leaders embrace the importance of digital transformation of the finance domain and implement the latest fintech mobile app solutions to offer their clients innovative and unique experiences that will help them drive bigger revenue in the future and reinforce the overall company's performance.
Fintech mobile app development trends that will prevail in 2021-2022
Taking into account that mobile application adoption is integral for organizations, let's take a look at the main fintech mobile app development trends that keep getting traction.
Artificial Intelligence
AI is actively applied across industries as it helps make smart business decisions, handle unstructured data, get access to advanced analytics, and more. Speaking of the finance sector, AI has the potential to accurately predict the product propensity of their customers based on their real-time behavioral data. Another application of intelligent algorithms includes NLP (Natural Language Processing) which is commonly applied for chatbots, for instance. In addition, AI can be applied for creating a face recognition feature that enables finance companies to streamline the document identification process.
Gamification
Another trend that is gaining momentum is a gamification solution which implies incorporating gaming elements into your fintech application. It enables to boost customer engagement and improve the overall experience. These gaming features might include quizzes, cashback, reward personalized programs, etc.
Chatbots
Based on Natural Language Processing, chatbots are staying on top of the main fintech trends as this is a cost-effective solution that connects companies with their customers with
no human intervention while ensuring effective 24/7 communication. It's a great way to increase customer loyalty by providing them with the information and assistance needed at any time with no waiting. Respectively, a company will result in a better user experience and enhanced organizational performance.
Voice Recognition
This is another hot trend in the finance industry as it can be beneficial for customers as well as for internal company use. More companies start using voice-enabled technologies like Siri, Google Assistant, or Alexa, so the customers use them to make transactions and other financial operations. Speaking of corporate use, voice commands can minimize phone calls, so it saves time while making operational processes more effective.
Integral Fintech app features to include
If you want to develop a new or scale an existing finance mobile application, here are the integral app features to include. They are aimed at providing high-quality customer services, securing their personal data, informing them about the latest company news, and so on.
Main finance mobile app features:

Security. Financial applications contain plenty of sensitive data that requires an exceptionally secure environment. In this case, biometric data recognition might be a reliable solution.
Notifications. It's pivotal to keep your customers informed and updated about their transactions as well as about the hot deals, offers, platform news, loyalty programs, etc.
AI-powered Chatbot. Constant customer support will significantly boost their satisfaction level and, respectively, loyalty too.
API Integration. Connect your solution with other applications so users can fully benefit from a wide range of additional features and services.
Ways Fintech solutions are applied in mobile app development across industries
Even if you are not interested in creating a finance or banking app specifically, you still can take advantage of fintech solutions and features. Take a look at the main ways fintech improves mobile app development for different industries.
Fintech Features for Non-Financial Apps
Many mobile apps have features that require financial transactions and fintech solutions become vital in this case. Offering clients in-app purchases along with convenient payment options is required for a high-level user experience. The fintech sector influences mobile app development while offering solutions that can facilitate complex financial exchanges, and enable users and corporate clients to effectively manage transactions. Applying the best fintech practices can improve the user experience and enhance security.
Freemium App for Monetizing Through In-App Transactions
Freemium business model has become very popular. In this model, users get access to your app and can download it for free. However, there are additional in-app purchases to upgrade an account to a more advanced set of features, get additional content, or other digital services. It is one of the most effective ways to monetize an app. In this case, fintech solutions can be also applied to ensure the highest level of security so users can have safe transactions and make small payments for extra features with no need to worry about their data privacy.
Summing it up
Finance mobile app development is gaining momentum and it's your turn to start benefiting from the latest technological solutions. Building a user-friendly mobile app that includes the most advanced features can be possible with the assistance of a reliable software development outsourcing partner.
14 years in operation, Intellectsoft has extensive experience in building mobile app solutions for companies across various industries. The company is recognized by a number of prestigious platforms such as Clutch, Inc. 5000, ITfirms, Digital.com, TheManifest, and many others. Our accomplished tech experts have the experience needed to tackle even the most complex projects and help client's businesses grow and thrive.
Our team is considered as a reputable partner with a wide range of technical expertise that collaborates with companies and large enterprises on long-term projects. Don't hesitate to reach out to us and discuss your mobile app development needs so we can offer you the best of our industry experience.