AppLovin is a leading mobile app technology platform that enables developers to grow their businesses. Developers rely on AppLovin to solve their mission-critical functions with a powerful, full-stack solution with focuses on user acquisition, monetization, and measurement.
AppLovin, at its core, is built to propel the mobile app ecosystem forward with the industry's most advanced technology to deliver the highest quality results for developers. Because we're building and innovating for performance-driven technology alongside a fierce focus on execution, we've helped our app developers drive over 12+ billion installs.
Learn more about our growth platform.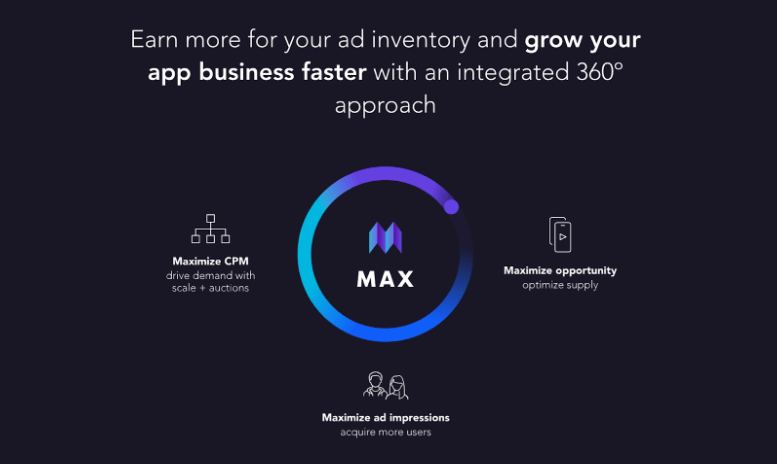 Solutions and Key Features
MAX
MAX is a full-stack monetization solution for businesses looking to earn revenue through in-app advertisements. MAX is trusted by more than 100,000 apps to grow their mobile businesses efficiently.
Key Features:
Scale: With 20+ in-app bidders, 100+ demand-side partners, and 25+ SDK networks, MAX provides the most competitive and diverse set of programmatic auctions for in-app real estate.
Technology: Unified, equal-access auctions drive up competition and cost per impression while reducing the time and resources required to maintain a traditional waterfall.
Experiment with ad formats:  With all major ad formats supported including banner, native, interstitial, and rewarded video— you will find more ways to drive in-app ad revenue by trying and testing.
360° growth solution: MAX makes it easy to reinvest revenues and use insights for impactful UA with AppDiscovery, creating a virtuous cycle of growth.
AppDiscovery
AppDiscovery helps mobile developers find high-quality new users at massive scale. This is achieved with AppDiscovery's proprietary machine learning technology that optimizes ROAS & other down-funnel events, with optimal costs and less risk over time.
Key Features:
Scale and reach: AppLovin's leading supply of in-app inventory includes 140,000+ mobile apps on 2B mobile devices to unleash even more growth potential for apps.
Advanced optimizations: With a defined budget and campaign objectives (Ad ROAS, Total ROAS, IAP ROAS, CPP or Event Optimized), AppLovin's fully automated machine learning solution allows devs to optimize marketing efforts for their most important KPIs.
Expert growth support: As a fully-managed service, developers will tap into growth experts and business development managers to achieve their goals and grow their entire business.
Creative optimization experts: SparkLabs is AppLovin's in-house team that uses creative strategies and data to produce high-quality, high-performing ads that drive down CPAs and jumpstart UA.
ALX
The AppLovin Exchange (ALX) is the leading mobile in-app RTB exchange, programmatically connecting buyers to its massive inventory, spanning 140,000+ mobile apps on 2 billion+ mobile devices globally. As a 100%-SDK direct source, ALX provides the most efficient means for purchasing this premium inventory to achieve better returns.
Marketers, agencies, and ATDs can access this massive supply through the 100+ DSPs that work with ALX. Inventory is bought on a per-impression basis in an auction environment.
Key Features:
Direct access: Immediate access to supply transacted in the most competitive and diverse set of auctions with in-app SDK integration.
Better quality: Massive, top-quality inventory and protection from invalid traffic (IVT) through industry best practices and leading verification partner, HUMAN.
Brand safety: Superior brand protection, including enforcement of app-ads.txt adoption, support for sellers.json, and integration with the IAB's Open Measurement SDK.
Spark Labs
SparkLabs is AppLovin's in-house team of designers, animators, and developers that use strategic insights, and hands-on experience to deliver a best-in-class ad experience. The team uses creative strategies and data to produce high-quality, high-performing ads that drive industry-exceeding results. SparkLabs stays ahead of the curve in delivering ads that showcase an app's brand in creative and engaging ways.
AppLovin Jobs
Jobs and Careers
Interested in joining AppLovin's global team? Find out more about current opportunities across all offices at Jobs.
You can also learn more about the employee experience by checking out our company reviews on Glassdoor.
Our Culture
The AppLovin team and underlying culture is built to tackle and overcome challenges. Our nimble and talented people are focused on building transformative technology without the fear of failure, and they all have an unrelenting determination on growing our business by testing, improving, and innovating. We are highly focused and motivated,  and over the last ten years, we have built the most sophisticated marketing platform in the industry.
AppLovin was named one of the Best Workplaces in Advertising & Marketing 2022 by Fortune, one of the Hottest Adtech Companies of 2021 by Business Insider, and a Certified Great Place to Work in 2021 and 2022.
Team
Adam Foroughi
Adam Foroughi is the CEO & Co-Founder of AppLovin Corporation, a platform that provides marketing automation and analytics for mobile and Apple TV apps.
Office Locations
HEADQUARTERS
Silicon Valley Office
849 High St.
Palo Alto CA 94301
USA
Posco P&S Tower
17 F Yeoksam-dong, Gangnam-gu
Seoul
South Korea
5-29-9-701 Jinguumae
Shibuya-ku
Tokyo-to 150-0001
Japan
Suite 201 16 Fitzwilliam Place
Dublin 2
Ireland
Brunnenstr. 11a
10119 Berlin
Germany
Galaxy Soho B
Dongcheng Qu
Beijing 100020
China
Sorry, we don't have these details yet. If you are a AppLovin representative, please get in touch to add additional information and contact options to your profile.