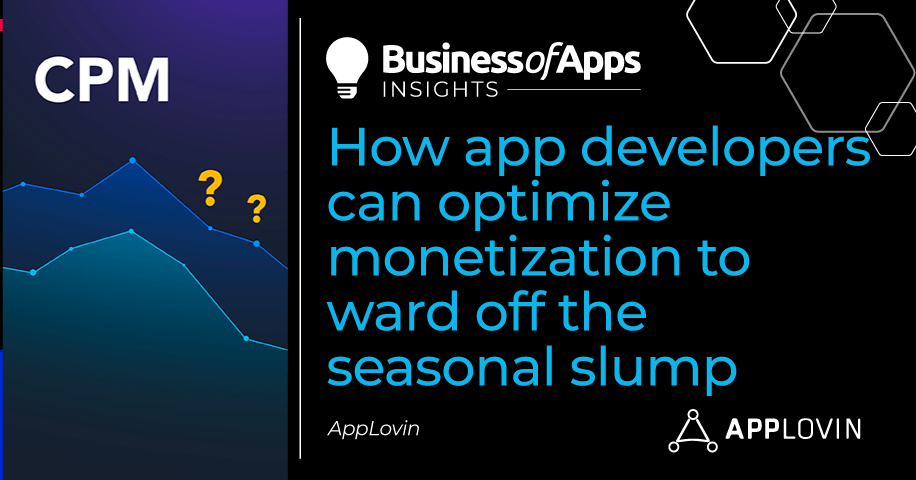 Across the advertising industry, the post-holiday season and the start of the new year are notorious for lower CPMs (the price publishers are paid for every 1,000 impressions an ad receives.) Arriving just after big brands finish their blowout holiday campaigns at the close of Q4, Q1 opens with a quiet period, cheekily referred to as Q5 by some, when advertisers can secure favorable deals at low prices.
While this presents a potential shopping spree for marketers, the seasonal slump demands adjustments from app developers looking to shore up ad revenue.
To weather the slow start to the year, developers must attune themselves to proactive price adjustments, actively grow their pool of network partners, and always A/B test waterfall changes before rolling them out to validate if their optimizations drive real value.
This post was first published on applovin.com.
Combat revenue decreases with proactive pricing adjustments
The stark drop in CPMs from the frenzied holiday season to the slow start of the new year offers app developers a golden opportunity to make rigorous optimizations to maximize ad revenue.
For traditional network partners, this requires:
Identifying which CPMs in your waterfall are seeing the strongest impression fill and then A/B test new CPMs in that price range to see what drives incremental revenue gains.
Removing network calls with higher CPMs, but lower impressions from the waterfall as the revenue they generate may not be worth the latency.
By using rigorous testing in addition to embracing the lower CPMs that come with this advertising lull, app developers can make up the difference in their monetization.
Add more bidders to heighten competition in the down period
The start of the year marks a good time for app developers to explore adding more network bidders to increase demand for their app inventory.
App developers should examine the distribution of demand within their ad inventory and add networks that will help close performance gaps. Adding new partners will also increase competition for each impression opportunity, which will naturally improve CPMs and grow revenue.
Partner with networks that have strong demand for the app's user base, integrating those that can fill in specific geographic regions or ad formats where you have lower impression volume. This fine-tuned tactic requires developers to have a deep understanding of their audience — even as it shifts over time. Incorporating user-level data into your optimization framework will help you find these opportunities and identify ad partners to monetize those users effectively. Remember to always A/B test new networks to ascertain the incremental value they drive.
Make sure ad blocks aren't limiting monetization
Re-examine any previously placed ad blocks that may prohibit certain brands or industries from being able to serve ads on the app. Consider removing broad blocks on, say, an entire app category, and instead, narrow in on more precise blocks that still maintain app integrity and brand safety.
For example, a classic solitaire app could have banned all card-based game ads to avoid driving users to competitive apps. But what if the ad is for a casual game that leverages card elements, has an entirely different art style and game mechanic, and appeals to different gamer motivations? Is that significantly different enough from the solitaire app that it won't lure users away? It's worth testing to find out. Narrowing in on these margins opens up new viable advertising spend for your ad inventory.
Experiment with new user acquisition strategies
While the seasonal slump poses challenges to ad revenue, it's not all bad for app developers. Lower CPMs mark a great time to double down on user acquisition campaigns as acquisition costs may be lower, which in turn increases your campaign ROI. Plus, it's a chance to experiment with new performance-driven creative concepts, ad formats, and marketing strategies.
By taking advantage of the buyer's market in the media landscape, app developers can grow their daily active users — perhaps the most powerful lever for increasing ad revenue.