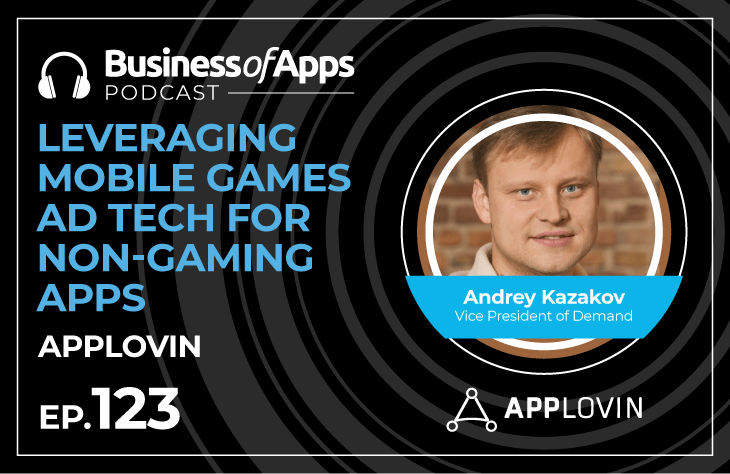 You know, quite often in marketing a strategy that was proven to be really effective in one area, finds its second application with the other.
Usually, it happens when you take a holistic approach and all of sudden you can see that your calculation of why certain ad creatives or targeting work with one audience, should absolutely work with others.
From the inception of both Apple's App Store and Google Play market, the app market is being divided between games and non-games. Analytics have been busy comparing revenues both sectors generate, number of downloads each gets, retention, and more.
In this episode, we want to show you how ad tech that has been powering mobile games' growth in fact capable to do the same for non-games.
Today's Topics Include:
For the last decade Andrey's career span across multiple companies, including Acquired.IO, which he launched in 2017, Adjust, where he served as COO, President and Chairman and now AppLovin, where he is VP of Demand
Mobile game categories that have been enjoying the growth the most
What ad tech that are proven to be really effective for mobile games can be applied to non-gaming apps advertisting
Non-gaming app market trends
What the future holds for non-games app promotion
Links and Resources:
Quotes from Andrey Kazakov:
"Gaming definitely paved the way"
"The full stack matters how you think about the data, analytics, creative, and the flow to creative ideation that is efficient and to produce it at scale and data science that powers your LTV thinking."
"Folks who approach their UA with a proper strategy and planning, and do it with the right partner, succeed."
"While the environment is challenging, there are certain players that are actually approaching their user acquisition in a more aggressive fashion and growing."
Follow the Business Of Apps podcast