Smadex is the -first programmatic DSP engineered for growth.
We are a technology company led by engineering and data , focused on uprising the global programmatic landscape through our ad tech solutions.
Using a combination of our own programmatic advertising technology, machine learning, and first-party data, we have over a decade partnering with apps, brands and performance marketers to achieve their growth goals. 
We take transparency very seriously. To guarantee our fully transparent platform remains that way, Smadex programmatic partners with the leading third-party platforms to provide innovative solutions and independent measurement at the very core of our service. 
App User Acquisition
Find, attract, and convert high-quality users,  leveraging Smadex AI capabilities
When it comes to user acquisition, the -first nature of Smadex marks the difference. Easy-to-use and with different layers of data available for targeting and optimization, Smadex's sophisticated analysis tools allow you to enrich your data as your campaign runs, and your advertising to reach your exact targeted audience. 
Scalable cloud-based infrastructure, connecting all -first ad exchanges, including Mopub, Ironsource, AdColony and Pubmatic, handling more than 1,000,000 bid requests queries per second, and dynamically rate and purchase ad space in less than 100 ms. 
Reach performance goals with proprietary AI
Smadex AI finds the best performing variables of your campaign and optimizes its bidding to gain scale while bringing positive ROI.
Not just Installs and Impressions. Combine more than 350 variables on our advanced reporting tool, giving you the insights that matter for your specific objectives.
Re-engagement
Drive retention and conversion making the most of Smadex retargeting solutions
Making re-engagement a great part of your campaigns has proven to increase overall LTV. Smadex data-led programmatic platform provides audience insights on the spot to optimize your campaigns by focusing on getting the right users in. 
With Smadex Incremental Testing platform, you can validate if your ads are influencing users to keep coming to your app. 
Increase avg. LTV of your app customers by reconnecting with upsell offers and keeping your app top-of-mind.
Programmatic Media Buying
With Smadex, you gain reach and flexibility. Run AI-powered programmatic campaigns across channels, formats, geos, and business verticals to achieve higher conversion, user acquisition, and engagement. 
Segment your user base and deliver targeted brand experiences. Smadex deep data integration enables a holistic view of the user and real-time precision targeting to identify the segments of customers who are most likely to engage with your brand.
Run A/B tests to find the right message for your audience and reach them while browsing, playing, and watching content on the best publishers around the world through our +800K exchange and publishing partners. 
Fraud prevention framework
The impact of attribution fraud can be costly and significant for brands. We take very seriously the type of traffic that goes through Smadex's pipes. Our publishing partners work with us to keep our traffic safe, while we control each impression with our validation partners.
The advertising ecosystem at your service with Smadex
Smadex programmatic offering allows marketers to reach millions of consumers globally by providing: 
Partnerships with leading -first ad-exchanges.

Integrations with leading data, brand safety, and anti-fraud partners to ensure their campaigns' compliance, scale, and performance.

A state-of-the- platform with app-level reporting for managed and self-served clients.
Smadex's high commitment to industry transparency, brand safety and fight against fraud has gained great recognition in the industry. Smadex was recently recognized as best-in-class DSP for fraud-free installs by measurement company Kochava and got IAB Gold Standard Certification and the Good Practice Principles by industry-owned media auditor ABC. 
About Us
Smadex is part of Entravision (NYSE: EVC), a global media company focused on connecting audiences through content and technology. As a global team, we work with global advertisers and keep building products used by leading advertisers worldwide.
18 offices around the world

+200 associates ready to talk with you

Global reach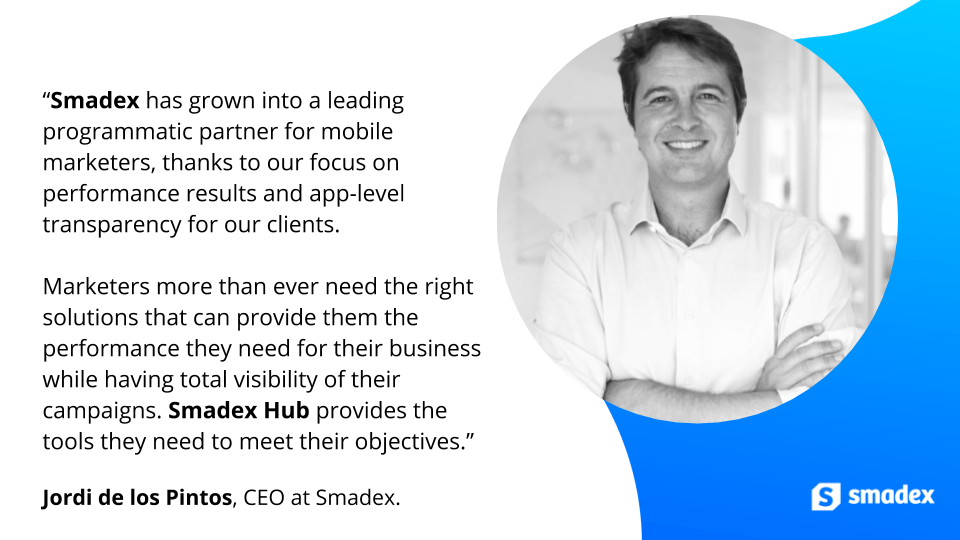 Careers
Check out the latest on our careers page here
Team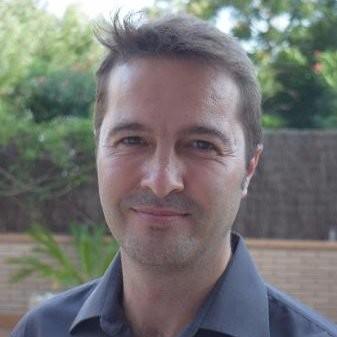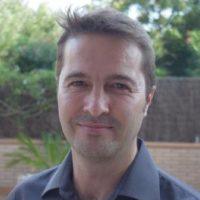 Jordi de los Pinos
Jordi de los Pinos is the founder and CEO of Smadex. Passionate about technology and entrepreneurship, he founded Smadex to fulfill his dream of creating a globally significant technology company which puts its product at the center of its strategy. After a successful exit, he continue to lead the business to contribute to its global growth and maintain our core values of transparency, honesty, and passion for technology and work ethics.
Office Locations
HEADQUARTERS
ENTRAVISION
2425 Olympic Blvd #6000
Santa Monica, CA 90404
USA
HEADQUARTERS
SMADEX
Roger De Lluria 50
Atico, 08009, Barcelona
Spain
Smadex Data
| | |
| --- | --- |
| Founded: | 2011 |
| Employees: | 500-1000 |
| Revenues: | +100M$ |
| Social Presence: | 1.5k+ |
| Website Traffic: | 2.5m+ |
Sources: Company Data, Press Reports, Linkedin, Twitter, Owler, SimilarWeb
Sorry, we don't have these details yet. If you are a Smadex representative, please get in touch to add additional information and contact options to your profile.