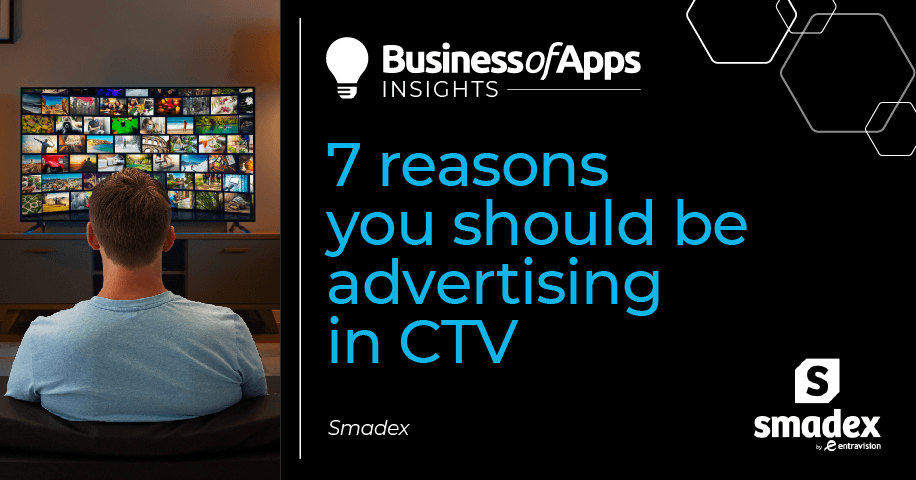 TV has changed and also the way we consume entertainment. Over the past decade consumption habits have dramatically transformed and now, users can access any content at any time and from anywhere they want. However, TV advertising has stayed pretty much the same until recently.
What is Connected TV?
Connected TV (CTV) makes reference to any television set that supports video content streaming. They are different from typical television sets since they can broadcast from the internet, local stations and cable tv. There are several types of CTV such as Xbox, PlayStation, Roku, Amazon Fire, Apple TV and others.
With the surge of Connected TV new opportunities appeared in order to reach audiences with CTV Advertising, a type of programmatic advertising placed on any TV connected to the Internet such as Smart TVs.
The opportunity of Connected TV advertising
For advertisers, CTV has become critical for a full-funnel solution to maximize reach and build their brand among their key audiences. CTV advertising is exponentially growing as an opportunity to engage users combining the perks of online advertising with the reach of TV.
Connected TV brings new opportunities for viewers to access all of their favorite content through linear TV, OTT (over-the-top) and every connected device, all in one place. This new era presents exciting opportunities for brands to reach a fragmented audience.
7 Reasons you should be using CTV advertising in your marketing mix
More control over your ads than with traditional TV
With Connected TV advertising you gain much more control over who sees your ads and how often than with traditional TV. Unlike linear television, CTV allows advertisers to, not only reach a growing audience, but to actually choose who they want their ads to be shown to.
Platforms like Smadex have precise targeting capabilities that allow ad experience personalization using data such as email address, language preferences, location and building lookalike audiences.
Precise, contextual segmentation translates into a more receptive audience which increases engagement and ultimately improves your ROAS.
Reach your audience where they are
The most effective marketing campaigns are those who meet consumers where they are and one of the best things about Connected TV advertising is its reach. According to a CTV Innovid Report, 82% of households are expected to be connected to CTV by 2023.
People are increasingly choosing CTV over linear TV because of the improved entertainment experience it offers. A study by Statista shows that people spend an average of 1 hour per day in front of a CTV device.
The growing popularity of CTV makes the perfect channel for brands to reach their target audience in an environment where they are more receptive and engaged.
Real time advanced reporting
With traditional TV ads, advertisers only receive insights about their campaign's performance after it has been running for one month at minimum. Since Connected TV is a digital platform, it allows real-time reporting you can access anytime.
Some of the most important metrics to track on CTV are:
Impressions
Completed view rate
Reach
Being able to access this type of data allows advertisers to analyze and make adjustments accordingly in order to optimize and improve their campaigns in real-time.
CTV is cost-effective
Connected TV advertising allows you to get your ads on the big screen without the big price tag. CTV offers flexibility in selecting a pricing structure, such as cost per metric or cost per view which makes it more affordable to reach target audiences on this big screen format.
Compared to other channels like web or a single device, CTV also takes the advantage in lower impression costs. It is safe to assume that users stream content in the company of others which offers advertisers more views per ad meaning reduced impression costs.
Higher completion rates
With traditional TV advertising, viewers are able to change the channel and skip commercials. CTV advertising is unique that way, because of its nature, ads are non-skippable and viewers have to watch the complete ad to continue viewing their content.
This is the reason why CTV ads have such a high percentage of video completion rate (VCR) and 100% viewability. You can check out this case study by Smadex and Holaluz, a utilities company in which we managed a 95% video completion rate with the strategy we carried out.
Algorithms make the difference
Programmatic advertising focuses on buying and selling ad inventory in real-time, using automated bids software instead of conducting manual negotiations. This process allows advertisers to spend their ad budgets more efficiently based on data and insights.
Algorithms are developed and used to automatically purchase media space which matches a previously defined criteria in order to deliver the right ad to the right audience at the right time. The algorithms are optimized for every campaign in order to "learn" and offer better results for future campaigns.
CTV fuels performance campaigns
Measuring performance in CTV and improving your CPIs/ROAS is no longer as challenging as it once was. You can now track conversions that come from CTV ads thanks to the probabilistic attribution via IP, always using an MMP.
CTV also allows you to measure brand lift correlating a CTV campaign expenditure with a lift of organic traffic, as seen in this case study.
Smadex for CTV
While linear television will always be part of the marketing mix for many advertisers, programmatic CTV advertising has the added benefits of near real-time measurability and viewability.
Smadex for CTV makes it much simpler for brands to reach their target audiences across a variety of Connected TV and set your campaigns on your own parameters for budget, goals, times of day, and geos.
On top of that, Smadex advanced reporting gives you the insights to understand how best to invest your budget:
Build and run custom reports to get the most actionable insights for optimization.
Combine more than 350 variables on Smadex's advanced reporting tool.
Compare any key metric VS any other period of time with our timeshift analysis.
Connected TV is the new big screen! What are you waiting for? Get in touch and request a demo with Smadex.