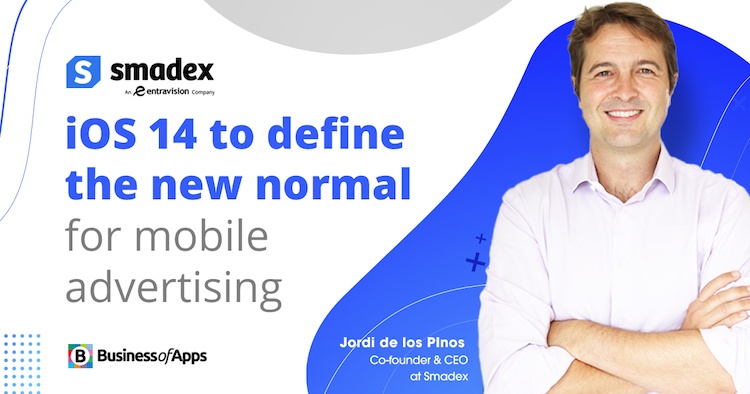 When we thought COVID-19 was stirring the waters for mobile advertising, Apple announced its upcoming iOS 14 is going to bring some crucial privacy changes, shaking much of what the industry relies on.
The privacy changes directly impact the Identifier for Advertising (IDFA), which from now on will no longer be an automatic opt-in. Instead, every app will have to ask for users' explicit authorization to use their data, which may drop IDFA consent to a bare minimum—some bet to no more than 5% of users.
Currently, this shared ID makes it possible to track users across apps and to measure mobile marketing efforts. When iOS 14 is released, if IDFA rates are as low as people predict, many attribution models and measurement methodologies will be discontinued. In this new scenario, the App Store will use SKAdNetwork to receive metadata from ad clicks and to send postbacks from the app to the advertising networks that generated the last click before the install, with anonymized attribution information. 
iOS 14 is slated to be released in September 2020, and if past iOS releases are any indication, more than half of all iOS devices will run the new OS by October 2020. We are just a few weeks away from this new normal; still, we have some important aspects to figure out—like how the programmatic value chain will adapt to the proposed SKAdNetwork or how SKAdNetwork will affect the complexity of the attribution landscape.
The ecosystem: making sense of the situation
Since the announcement back in June, every player of the mobile ecosystem has been trying to figure out how iOS 14 will affect business and how they should adapt. Similar to other industry disruptions such as GDPR or 1st Price Auction, the beginning starts messy until everything falls into place. 
The biggest impact will be on the measurement and attribution side of the chain. SKAdNetwork will serve as a mandatory actor for attribution, being the only one capable of doing deterministic conversion attribution, but only based on the last click and passing back a limited set of anonymized data up to the campaign level. Mobile Measurement Platforms will have to find ways to keep adding value while leaning into probabilistic attribution methods.  
How Demand Side partners will need to adapt to the new game
First, before a campaign begins, in order for a publisher to be able to attribute traffic source to a specific DSP, they need to add the DSP's SKAdNetwork's key to info.plist.file. 
For SKAdNetwork-based attribution, since there won't be a way for DSPs to match an install to a specific device ID, an impression, or even a click, DSPs will have to adapt their algorithms to still achieve good ROI for advertisers, by connecting all contextual signals with the limited data that, at least at the beginning, SKAdNetwork will provide. 
If probabilistic attribution by MMPs still exists after iOS14, machine learning algorithms will need to be specifically adapted to not rely on device IDs and to rely more on contextual signals to yield desired results. In our particular case, historically we've been quite successful in optimizing campaigns with Limited Ad Tracking, so we embrace this new challenge with confidence.
We celebrate Apple's steps into a safer and more private internet. As the industry moves toward better protection of user's privacy, we trust in the market's ability to adjust to the new reality and become better for final users.