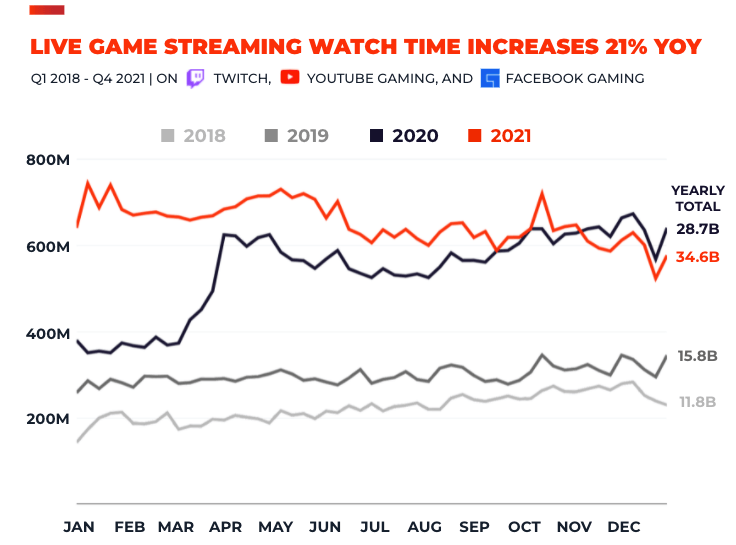 Last year, gaming fans live-streamed an average of 653 million hours of content on Twitch, YouTube, and Facebook Gaming. 
Live streaming was up 21% over 2020, according to a new report published today by gaming and esports live streaming analytics firm Stream Hatchet. 
Twitch still dominates the market for video game live streams accounting for 71% of total hours watched.
However, YouTube saw a decline in living streaming hours between Q2 to Q4 2021.
The study also shows that just 5% of the top 200 gaming influencers were women with Amouranth being the top female streamer. 
The leading 1.2% influencers generated roughly 15.8% of total estimated revenues while mega tier influencers brought in an average $841,000 per year. 
"What our latest report clearly shows is that video game live-streaming has managed to sustain a huge amount of the viewing numbers that the platforms picked up during the pandemic,"  said Eduard Monsterrat, CEO at Stream Hatchet.

"Despite this growth, we still see a huge disparity in the top 100 streamers, which continues to be dominated by men. It will be interesting to see how the major platforms continue to make themselves a truly welcoming place for female, transgender and non-binary streamers in the coming months."
Riot games dominated the live streaming charts with League of Legends and VALORANT generating 18% of all hours viewed among the top 20 games.